Concept Caravans has long been a highly regarded caravan manufacturer. Established in 2004, it didn't take long before the company became one of Australia's top five or six van builders.
But it was still somewhat surprising to learn that Concept had developed its own camper trailer range, the forward-fold FX2 and the rear-fold RX1. Considering the company's success with caravans, why the interest in canvas?
Well, caravans are typically much more expensive, anywhere from $50,000 to $130,000 and beyond. As such, an entire market of enthusiastic vanners with smaller budgets was being overlooked.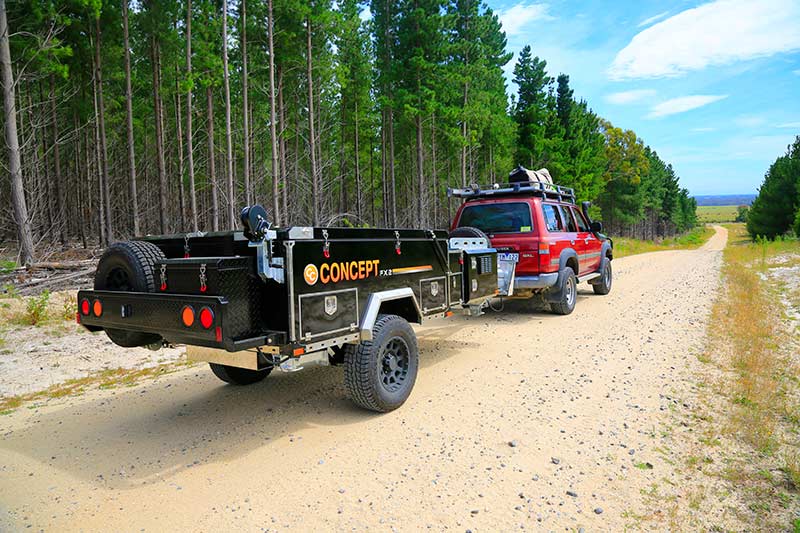 Concept Caravans co-founder Keir Smith said that a more affordable product would allow the company to introduce these people to the Concept brand and let them have the "dealership experience" – including after-sales support – missing from some other importers of camper trailers built in China.
Yes, unlike its caravans, Concept's new campers are built in China. But that's not something they shy away from. Even the VIN plate says Australian Camper Imports. The difference, says Keir, is there are certain aspects controlled from Australia, such as gas installation. Keir is also on the board of RVMAP, a national accreditation program that seeks to ensure manufacturing compliance of its members.
And so, after a brief demonstration of how to open up the FX2, I hitched it to my Land Cruiser and hit the highway.
TOWING AND SETTING UP
The FX2 has an unladen weight of 1540kg (ATM: 1990kg), and it towed very well. On the highway, at 100km/h, there was not a hint of instability. The camper has a polyblock coupling rated to 2000kg with complete vertical and horizontal articulation.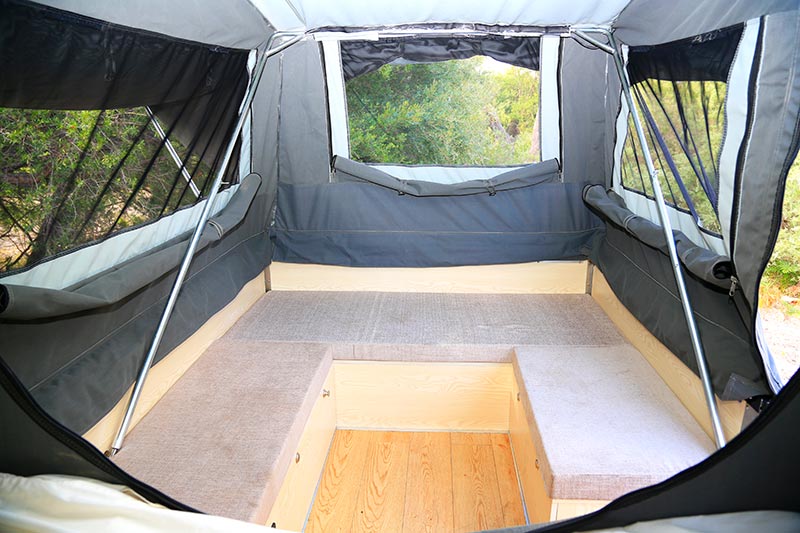 Opening the camper is a matter of folding forward a steel base to support the bed and winching the closed camper lid open, up and over, until it comes to rest on the steel base. There are two winches, one in the front and one in the rear. Once you've wound out enough slack, the straps are clipped to the opposing ends of the camper lid. The idea is to lift the lid up to vertical using the front winch, and to gently lower it using the rear winch. One person can do it (two makes it easier) and after the first or second time, you'll have it down pat.
The winches work perfectly well but a quick-release mechanism to give the required slack before clipping the straps in place would be a time-saver.
Three extendable metal 'hoops' give the tent section its shape – no problems here. Inside, simply extend each hoop (front, middle and back) until the canvas is taught and lock them in place. I did, however, struggle with the door, specifically the steps that automatically fold down. Set-up on sandy soil, the feet of the door kept slipping out from under me. I suspect, however, that on firm ground this wouldn't be an issue.
There are two living areas inside: the bed up front and the rear dining area which can convert quickly into a second bed. For privacy, the two zones can be screened off with a zippered canvas flap, or just a mesh screen to keep the bugs out of the bedroom. Of course, there are plenty of windows with mesh screens for ventilation, too. The offside, front and rear windows each have a canvas awning – just fit two metal poles either side and a horizontal tensioning pole at the top.
Internal features include a handful of drawers and storage nooks, an LED light bar front and rear, and a couple of 12V points.
OUTSIDE THE CONCEPT FX2
A 4.3×2.4m annexe is included with the FX2 but unfortunately I didn't have the time to set it up. Realistically, because the annexe is a longer job, you wouldn't bother if stopping only for the night, as we were.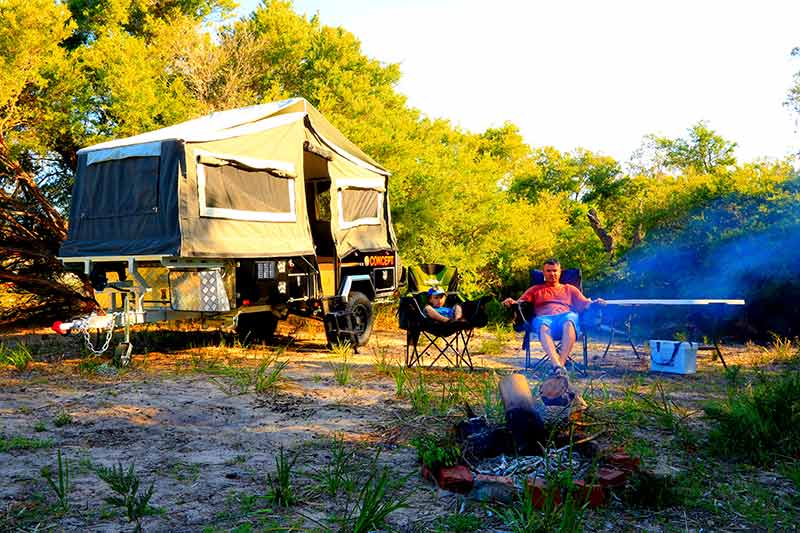 At first and second glance, the Concept FX2 truly is an eye-catching camper. There are no unsightly gaps or dodgy joins in the steel (baked enamel) body that I could see but there were one or two teething issues that no-doubt will be fixed as Concept continues to refine the camper.
For example, the FX2 has a generous nearside fridge slide; however, try as I might, I couldn't get the lower locker catch to work properly. I also thought there was room to improve on the black silastic used on the slide-out kitchen. That kitchen, however, does feature a three-burner Dometic cooktop – a quality item.
Up front is a checkerplate storage box and two 4.5 gas cylinders either side, each protected by a checkerplate stoneguard. There's yet more storage behind the fridge slide-out and in the checkerplate box on the rear bumper, next to the spare wheel.
On the offside, meanwhile, you'll find the filling point for the 60L fresh water tank behind the rear locker door. (I'd look into fitting a second tank – 60L won't last long when free-camping.) A 12V control panel and 100Ah lead-acid deep-cycle battery are fitted amidships.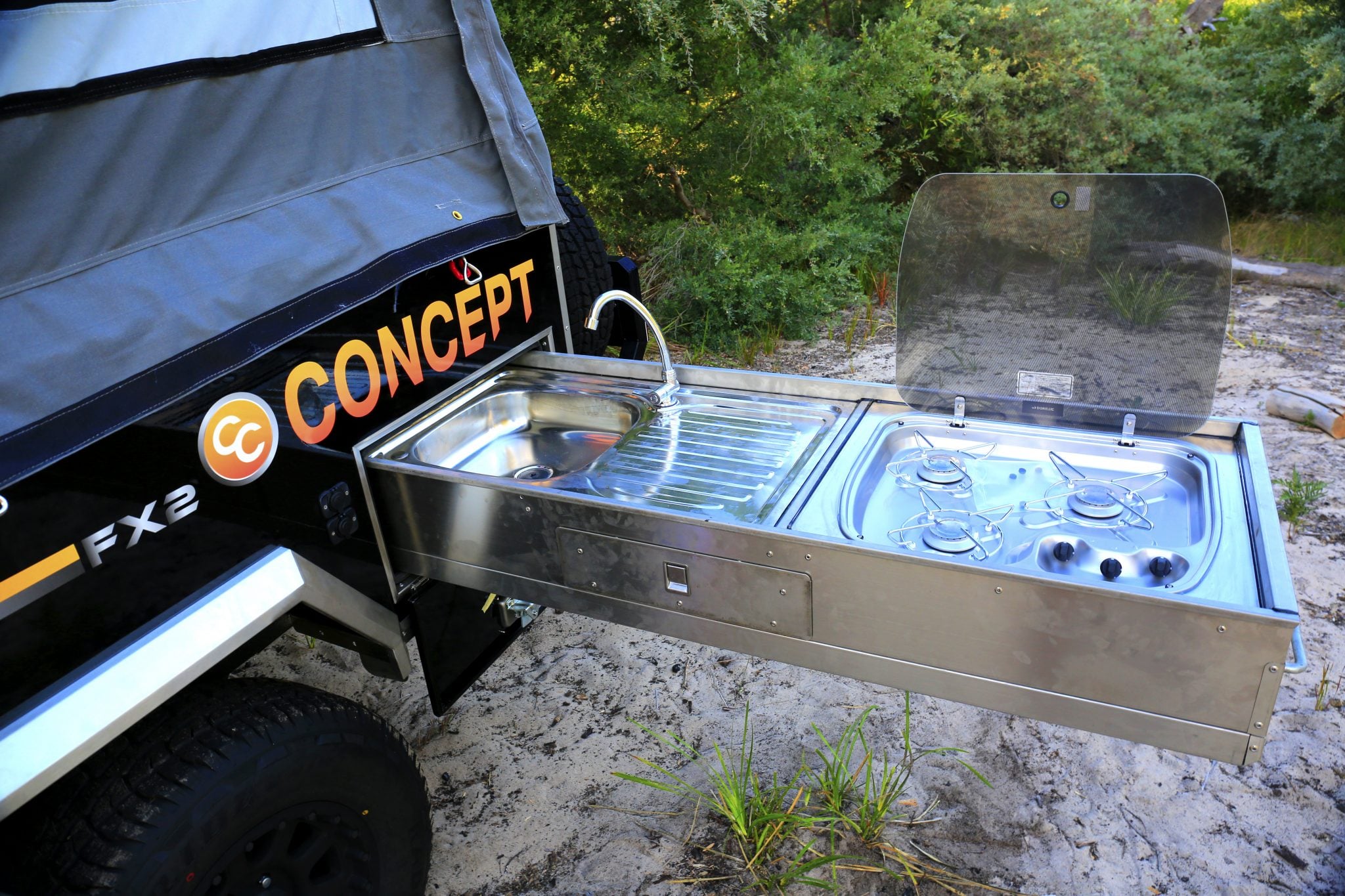 The chassis is a reinforced 70x50x3mm hot-dipped-galvanised number riding on 16in ally wheels with all-terrain rubber and independent trailing arm suspension with dual shock absorbers.
GORV'S VERDICT
Concept Caravans had been developing its camper range for about 18 months before I hitched up the FX2. It's good value for money, with an asking price of $19,990 – that's national pricing, by the way, at all participating Concept dealers.
It's also worth remembering that though these campers are built overseas, Concept Caravans takes ADR compliance seriously and has a reputation to match. The dealership back-up – not always a given when it comes to imported campers – is important, too.
Aside from a couple of teething issues, the FX2 by Concept Caravans is a reasonably easy camper to use, from setting it up to packing it down (excluding the annexe, which I can't comment on). Under tow behind my Cruiser, it was like it wasn't even there.
If you're searching for an affordable forward-fold camper from a company with a proven history in the RV game, take a look at the FX2.
THE SCORE
FIT AND FINISH –

LAYOUT –

INNOVATION –

HITS & MISSES