Touring Australia should be possible by everyone, regardless of their station in life. Over the years, some caravan manufacturers have customised wheelchair-friendly vans, allowing people in wheelchairs to enjoy the same lifestyle able-bodied people take for granted.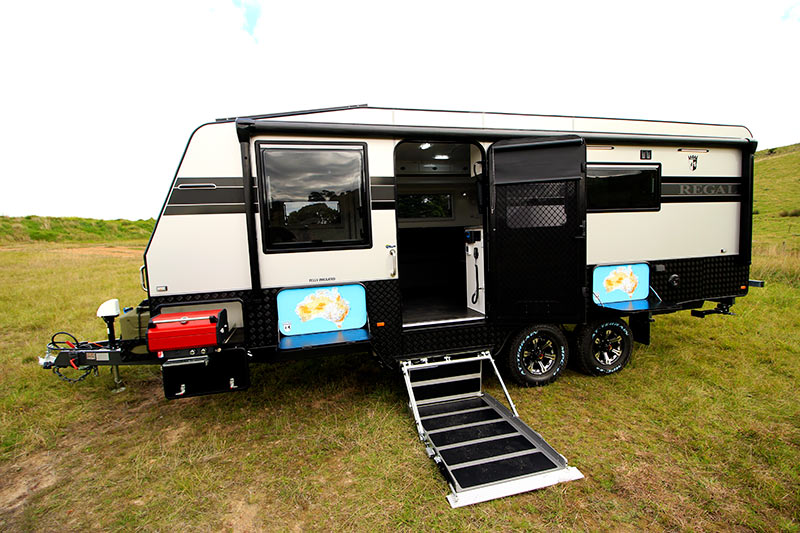 Regal Caravans has also stepped up to the mark, building for a customer this impressive van. Based on its top-end Sahara range, this new Regal Access Van appears to be cleverly thought-out – it makes good use of technology to take the 'manual labour' out of various tasks, from unhitching to closing the internal ventilation hatches when it rains.
When it comes to customising vans, few do it as well as Regal Caravans. Stepping inside the tandem-axle Regal Access Van only proved this point.
ELECTRIC LIFT
A principal obstacle to overcome is, of course, physical entry of the caravan for someone in a wheelchair. Some vans have used ramps; however, the Regal uses a 12V AMF BRUNS K90 wheelchair lift – one of the best on the market, according to Regal. T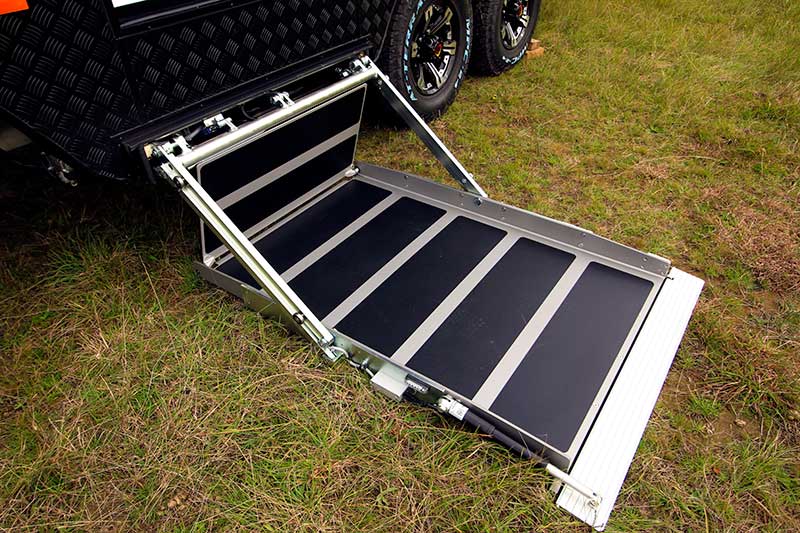 his clever lift retracts or extends from underneath the van at the push of a button, then lowers to ground level. Another button push and the lift will raise in line with the floor of the van. The lift can also pair with a smartphone app.
The interior is immaculate. Maximum floor space is clearly a necessity in a wheelchair-friendly van – Regal has achieved an excellent result by fitting a slide-out, in which sits the dinette, and by intentionally omitting a permanent table. Instead, a portable table – finished in laminate matching the kitchen bench – is supplied. The amount of space provided by this simple solution is quite impressive.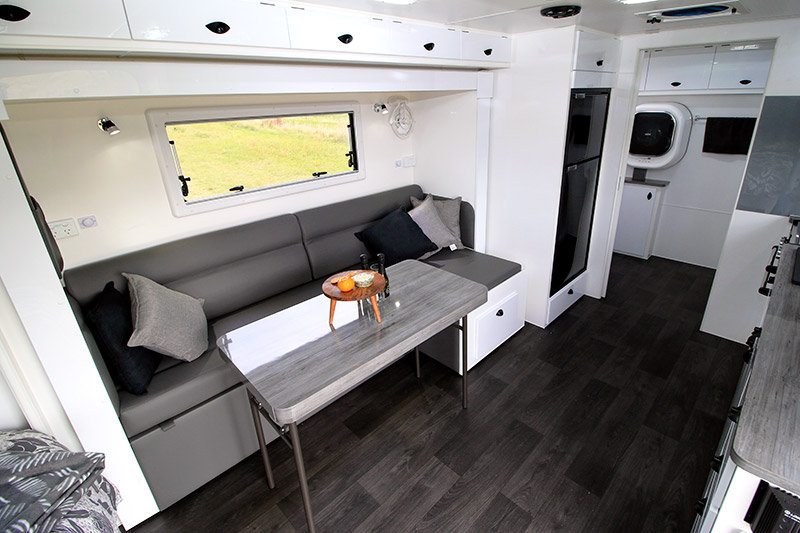 Further, by building this van on a 4in chassis with 6in main members on top, Regal has been able to do away with internal wheel boxes.
Kitchen bench space is equally impressive. Regal can, of course, build to any reasonable (and some unreasonable) requests. In this instance, the customer wanted 900mm-high benches. It is equipped with a square sink, a range of various storage options, microwave, a flatscreen TV on a swivel arm, and more.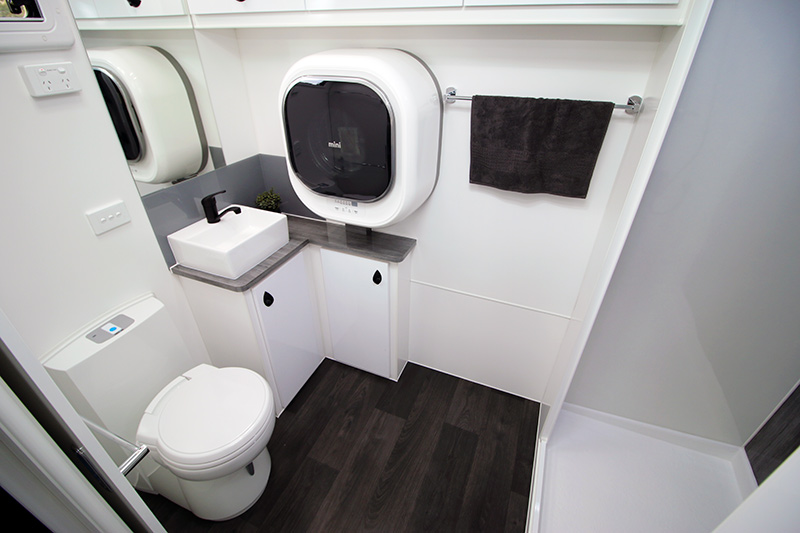 I was particularly impressed by the bathroom. The design intention is, naturally, to facilitate a wheelchair. It is spacious and sensible – the shower is among the largest I have seen in any caravan, for obvious reasons. There's also a cassette toilet, a corner vanity and a wall-mounted front-loader washing machine.
The bedroom, which is located in the nose of the van, also has something different to offer. You see, rather than being located centrally, it's offset to the offside corner. This has created a wheelchair-friendly space on the nearside – very clever. It does, however, mean the traditional 'his and hers' wardrobes have been combined into one wardrobe.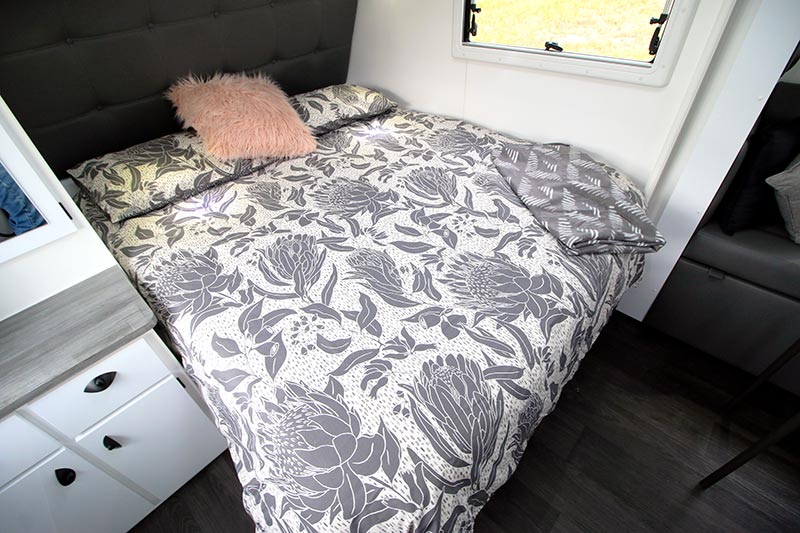 The hatches throughout the van are 'rain-sensing' units. Effectively, when it starts to rain, the hatches close themselves automatically. This makes a lot of sense, given at least one of the van's occupants will be in a wheelchair.
Plenty of other features are fitted, too, from a roof-mounted reverse-cycle air-conditioner, Sirocco fans, USB charging points, a stereo system and speakers.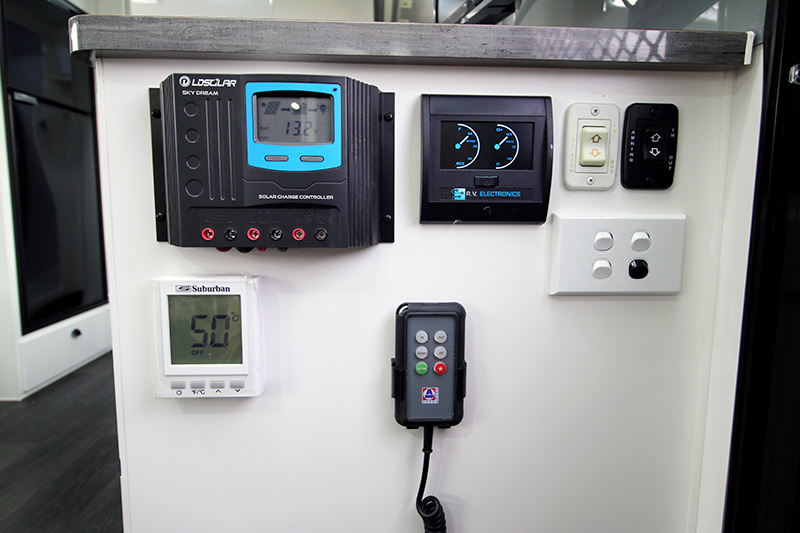 The van's various controls, including the solar regulator, slide-out and Suburban hot water heater switch are mounted low, in the entryway. The van is also fitted with an electric awning – again, this all makes good sense.
REGAL DETAILS
When I picked up the Regal Access Van, I immediately noticed that Regal Caravans had fitted it with a 12V electric jockey stand. If you've ever used one, you'll know the difference they make in terms of hitching and unhitching.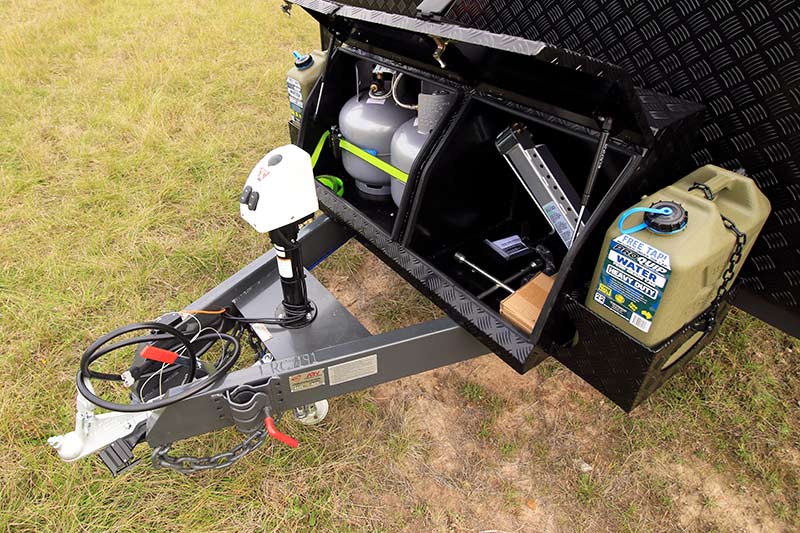 The 6in drawbar is equipped with a checkerplate storage box complete with jerry can holders either side. One of the box's compartments is dedicated to gas cylinder storage.
A tunnel boot system has been fitted to this van; however, the nearside section is equipped with a pull-out barbecue. Behind that is a fold-down picnic table which, for obvious reasons, is set a little lower than the traditional height. A second picnic table is mounted aft of the extra-wide entrance.
As is typical of Regal, the Regal Access Van is built with a meranti timber frame. This frame is clad with smooth composite aluminium and black checkerplate. The suspension is an independent trailing arm coil setup rated to 3.7 tonnes. The 15in alloy wheels are fitted with 12in electric drum brakes.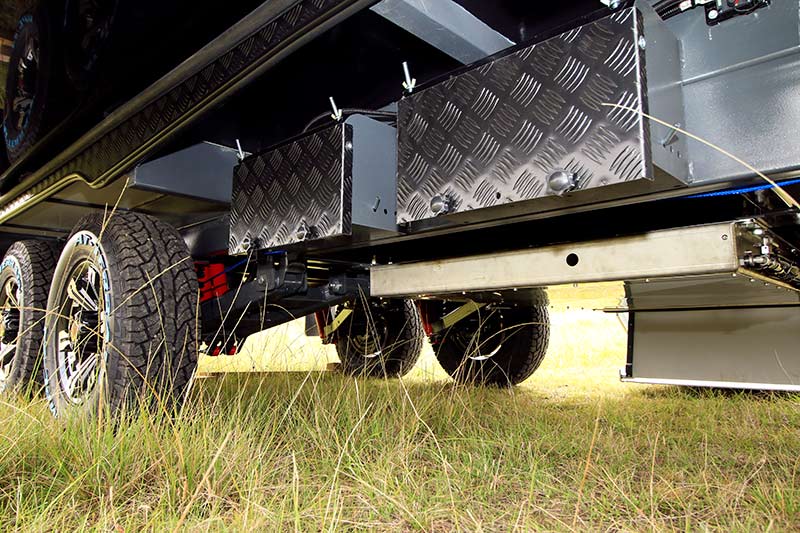 The fresh water carrying capacity is reasonably generous. One 95L tank is fitted forward of the suspension, with the other sensibly mounted between the trailing arms. A grey water tank is fitted to the rear. Each tank is protected by gal sheeting and the plumbing, etc., is reasonably out of harm's way.
Other equipment includes a dual battery system mounted to the offside chassis rail, a reversing camera, and a rear-bumper-mounted spare wheel. LED awning lights and speakers are part of the package as well.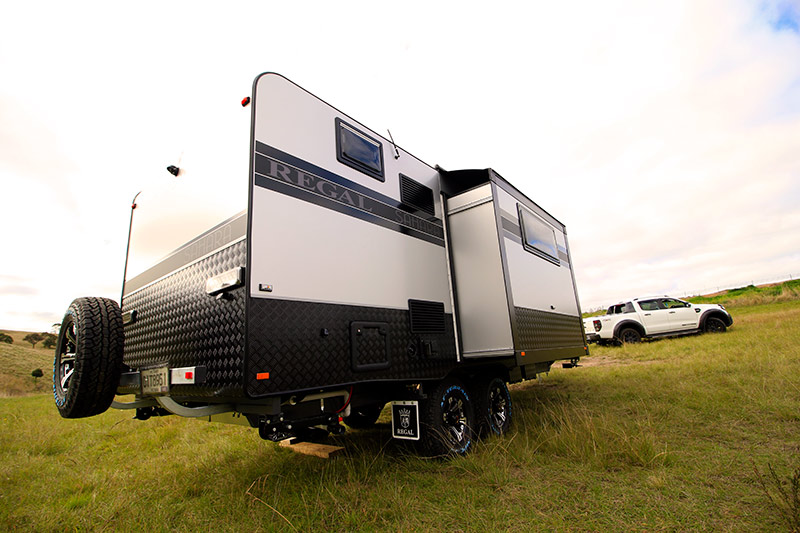 Now, you might be thinking that all of this adds up to a lot of weight. But in truth, its 2790kg Tare figure seems quite reasonable – the BRUNS wheelchair lift alone would be quite heavy. The 600kg payload capacity seems fair as well. However, its unladen ball weight is 310kg, which doesn't leave a lot of wriggle room when matching this van to the most popular heavy-duty tow vehicles, with their 350kg towbar maximum.
Having said that, it's essential to bear in mind that this is a custom build designed to suit a particular customer.
I towed this van behind a Ford Ranger, without the use of any towing aids, and had no issues at all. The van was perfectly well behaved in a variety of conditions.
GORV'S VERDICT
The thinking behind the Regal Access Van – creating a rig that allows wheelchair users to enjoy the RV lifestyle – is commendable. Of course, it's not the first such van to be built.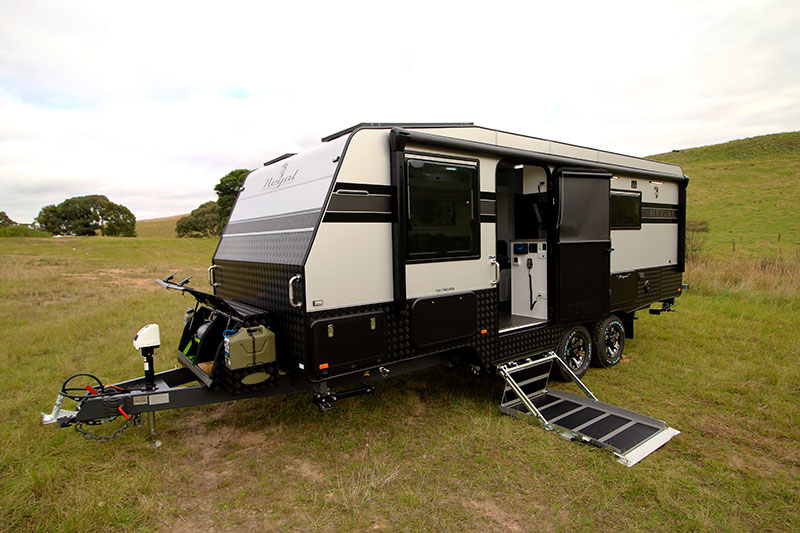 However, I feel this van displays particularly clever thinking and wisely employs technical solutions to the challenges someone in a wheelchair might face when on the road.
It has the expected Regal fit and finish, which is to say it's of high quality. Good one, Regal – you always manage to surprise me.
THE SCORE
FIT AND FINISH –

LAYOUT –

INNOVATION –

HITS & MISSES