I've said it before and I'll say it again, when it's time to go offroad, nothing quite beats a compact caravan. Others will disagree, sure, but if you've ever found yourself at a dead end with minimal space to turn around, you'll know why smaller vans often make great offroaders.
There are plenty of other benefits to sub-18ft single-axle rigs, of course, but I'll never pass up the opportunity to test one out. 
Goldstream RV has been building its 1500 Remote for some years now but it's arguably the company's most popular pop-top.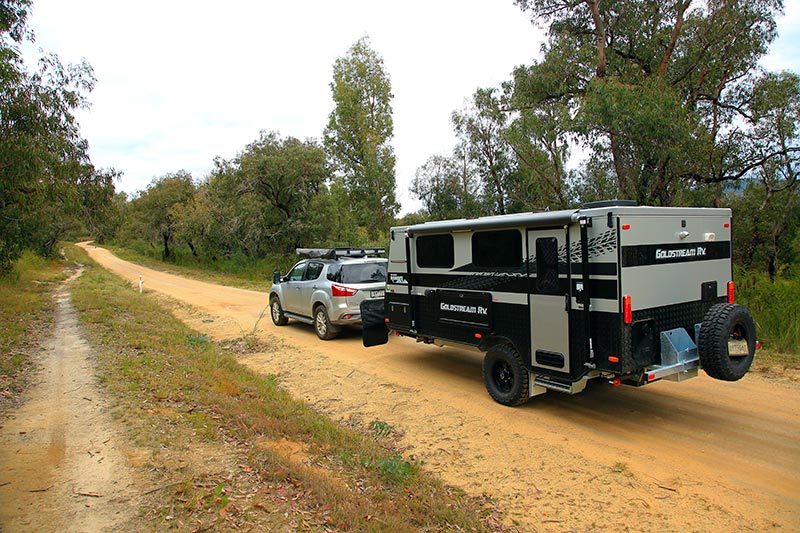 It can be packaged to suit various needs. It's available in basic spec, with the 'Adventure Pack', the 'Offroad Pack', or with Goldstream's ultimate options package, the 'Panther Pack'. Each pack provides a certain range of additional features, but if it's a rig fully specced for offroad, offgrid touring that you're after, the Panther Pack is the one to choose.
POPULAR LAYOUT
Our 1500 Remote sported the most popular layout available. With a queen-size bed in the front, a rear kitchen and even a shower and toilet, the layout makes excellent use of the available space.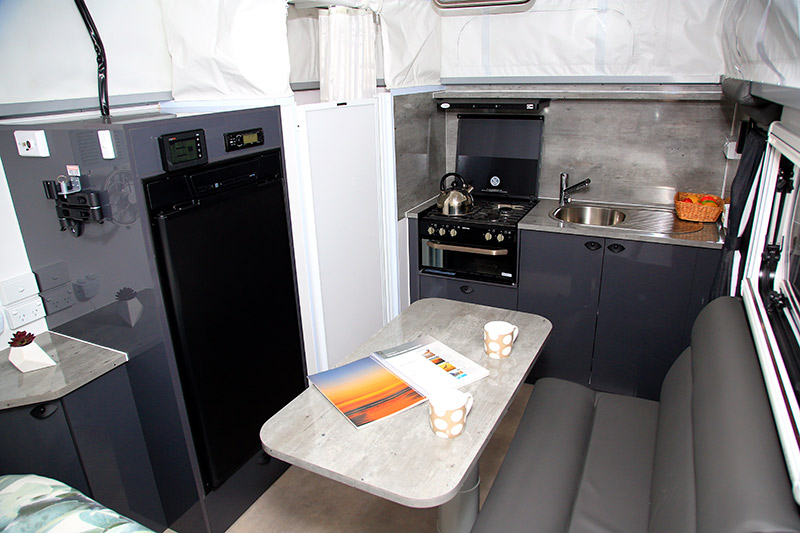 Let's start with the kitchen. I immediately appreciated the placement of the four-burner cooktop and griller (with rangehood), as far from the door as possible. Obviously there's not a lot of bench space, which is to be expected, but the fitout is first-rate. 
The sink is equipped with a flick-mixer tap as well as a separate tap for filtered drinking water. No microwave has been fitted to this van but I don't see that as loss.
Some of the under-sink storage space is taken up by the onboard hot water service – the gas line that runs through the cupboard floor is neatly gapped with silicone – but there is nonetheless enough space for items such as plates, cups, etc.
A fully-moulded fibreglass combo bathroom is tucked into the rear-offside corner, complete with a cassette toilet and variable-height shower rose – a curtain to separate the toilet from the shower has also been included.
When assessing the dinette, it's important to remember that the 1500 Remote is strictly a couple's van, with a lounge built for two. If I was to add something here, however, it would be a 12V point to the base of the lounge.
A 165L three-way Thetford fridge-freezer is mounted off the floor on the offside, with a BMPRO Trek digital display secured to the cabinetry above. This display allows you to monitor the van's water and battery levels, among other things.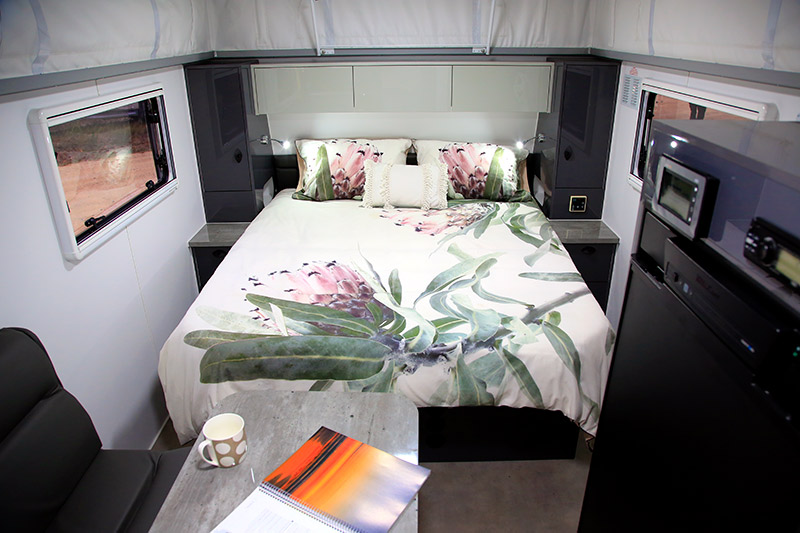 A decent amount of storage space has been fitted to the bedroom. There are three overhead lockers, deep wardrobes either side, as well as bedside drawers. Goldstream has even included niches – the perfect place to put your book or phone overnight. A 240V powerpoint is included at the base of the wardrobe cabinetry either side of the bed; while USB points are integrated with the multidirectional reading lights.
Having owned a Goldstream in the past, it's possible that I'm biased but I thought the fitout of this pop-top was all quality. The company uses quality ply, the joinery is excellent, and everything opened, closed and worked as it should. No complaints on this front whatsoever.
EXTERNAL GOLDSTREAM HIGHLIGHTS
What, exactly, do you get for your money when opting for the Panther Pack? Well, there's a lot of equipment here, much of it too numerous to list. But here are a few key features: Cruisemaster XT suspension, two 100Ah lithium batteries mounted to the offside chassis rail, BMPRO 35 HA battery management system with DC-DC charger, dual 135W solar panels, a choice of white or grey composite aluminium cladding, under-bed reverse-cycle air-con unit, Sirocco fan and much more.
Our review van was also fitted with an optional 6in extended A-frame, which tapers to 4in before the suspension mounts. The van, however, is built upon 6in main chassis members. The extended A-frame creates room for Goldstream to fit the optional gull-wing storage compartment – a brilliant storage solution, in my opinion. A mesh stoneguard protects the dual 9kg gas cylinders that sit just in front of the gull-wing box.
External storage space really is a highlight of this van – there's a gal-lined tunnel boot at the front, as well as optional rear jerry can holders near the rear bumper-mounted spare wheel.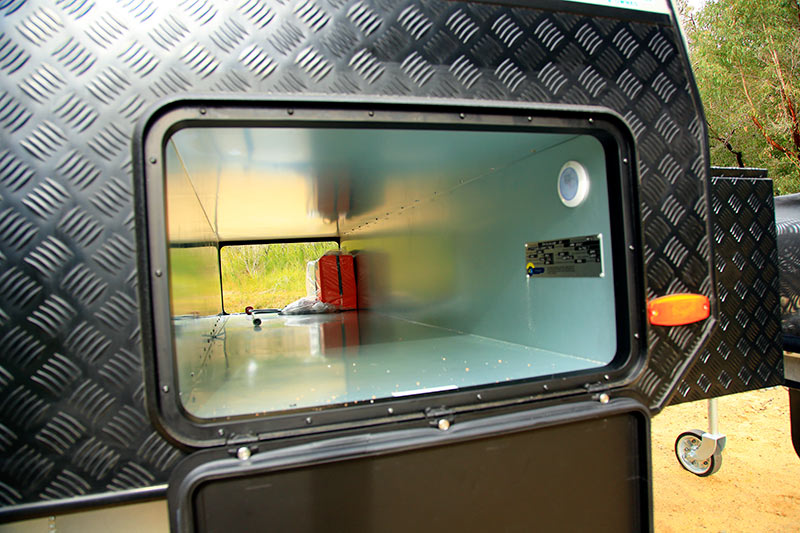 But here's something that really appealed to me: not only are the two 95L fresh water tanks (one fore and one aft of the wheels) and the rear grey water tank protected by checkerplate, the tank dump valves and all other associated plumbing are as well. It's surprising how many manufacturers overlook this. Top marks to Goldstream.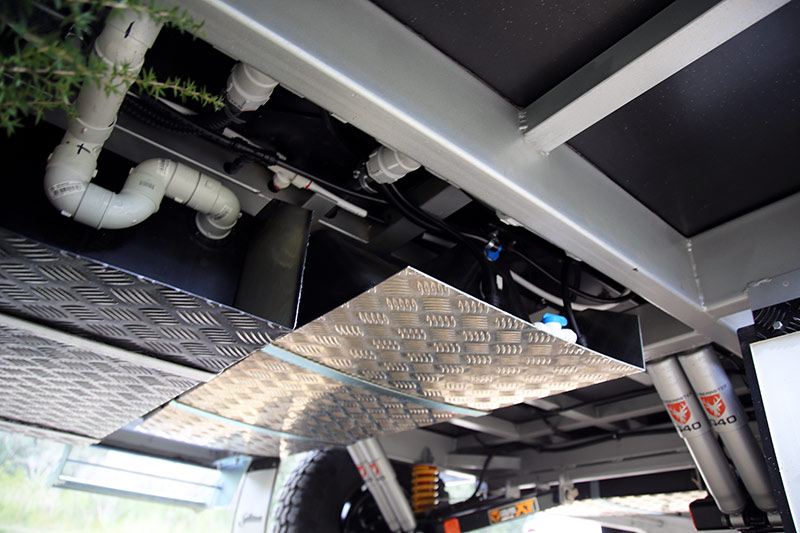 I also noticed the nearside gas bayonet coupling. Rather than mounting an exposed gas coupling to the chassis, Goldstream has instead fitted it inside folded checkerplate, complete with a small lid. Not only is this a neater presentation, it's much more protected from the terrain. Of course, you could pack your own portable barbecue but Goldstream can also fit the tunnel boot with a slide-out kitchen.
The 1500 Remote pop-top sets up in the usual way. Simply undo the four corner catches, set the awning to 'open', step inside and lift the roof at either end. I found the roof a little heavy to lift but not beyond the capabilities of most people. If lifting the roof does become a little difficult for you, Goldstream can retrofit an automatic lifting system.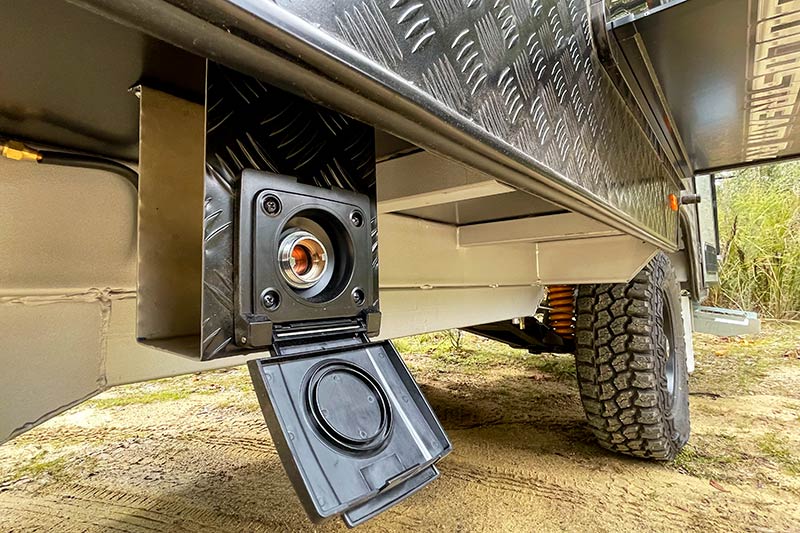 An external shower, a couple of LED light bars on the nearside, a roll-out awning, a rear-view camera and a fold-down picnic table complete the outdoor picture.
Given the amount of equipment on this pop-top, I thought its Tare weight – 1914kg – was quite reasonable, while its payload capacity of 600kg was more than fair. Its unladen ball weight was 202kg. I had no concerns about the van's towing performance – it was stable and steady at all times in a variety of conditions.
GORV'S VERDICT
As shown here, the Goldstream RV 1500 Remote Panther has a price tag of $84,990, but remember that includes a swag of desirable features, including lithium batteries, designed to make this rig a true go-anywhere pop-top. Its base price is $60,300.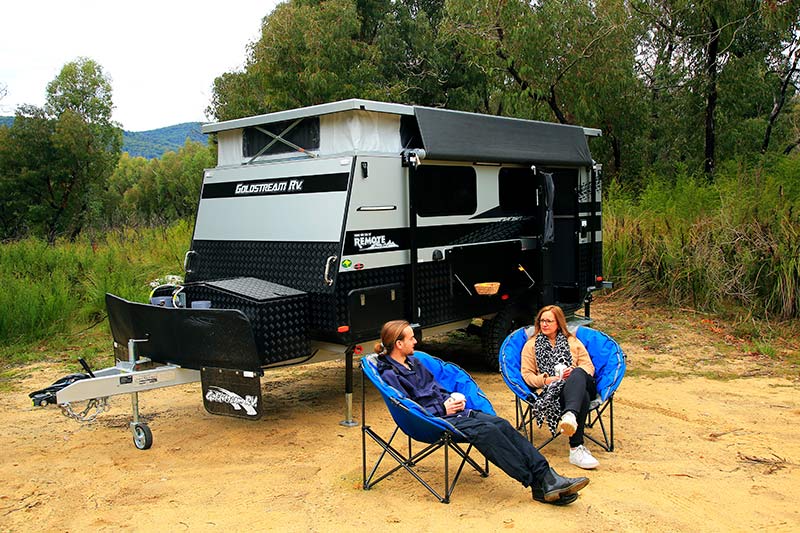 So what did I think? Put it this way: I wouldn't hesitate to tow this van anywhere my 4WD could reasonably go. It is truly equipped for remote-area travel. Solid, dependable and nicely finished. I liked it – a lot.
THE SCORE
FIT AND FINISH –

LAYOUT –

INNOVATION –

HITS & MISSES