Storage. It's one of the biggest challenges every caravanner faces, especially if they're on the road full-time. It's one thing to have plenty of places in a caravan to put things, but it's another for that storage space to be easily accessible. Nothing will boil my blood faster than having to dig through mountains of gear just to get to something I need in a hurry.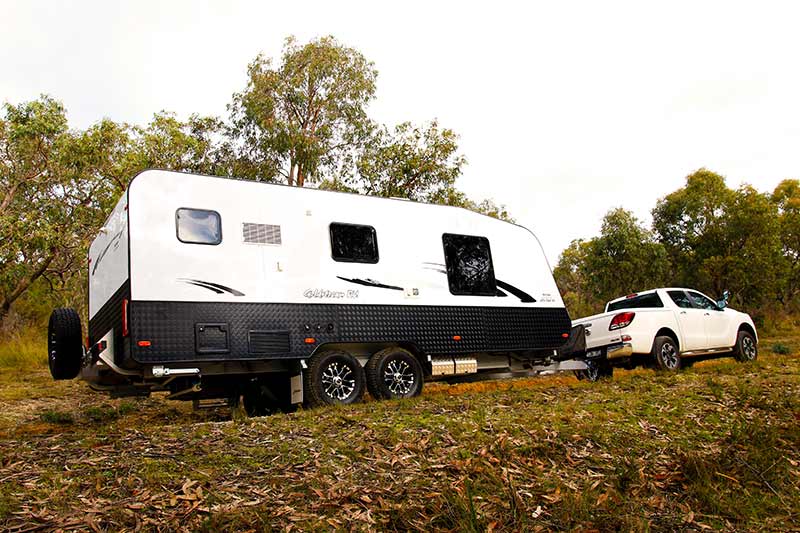 I could try meditation. Or I could trade in my camper for a van such as the Goldstream RV Australis 2150 EWB RE…
INSIDE THE GOLDSTREAM
This is a couple's van through and through. Stepping inside I was struck by how different the layout was to much of what's on the market at the moment.
Dinettes usually come in three variations: club, cafe and L-shaped. This Australis, however, has a nearside desk/storage unit, complete with cupboards and a tri-fold table, not to mention two reclining lounge chairs with footstools. These chairs aren't permanently fixed to the floor, so you can position them however you like. You could perhaps strap them down when underway, but during our time with the van, towing it behind a Mazda BT50 on open highways and undulating gravel, they did not move an inch.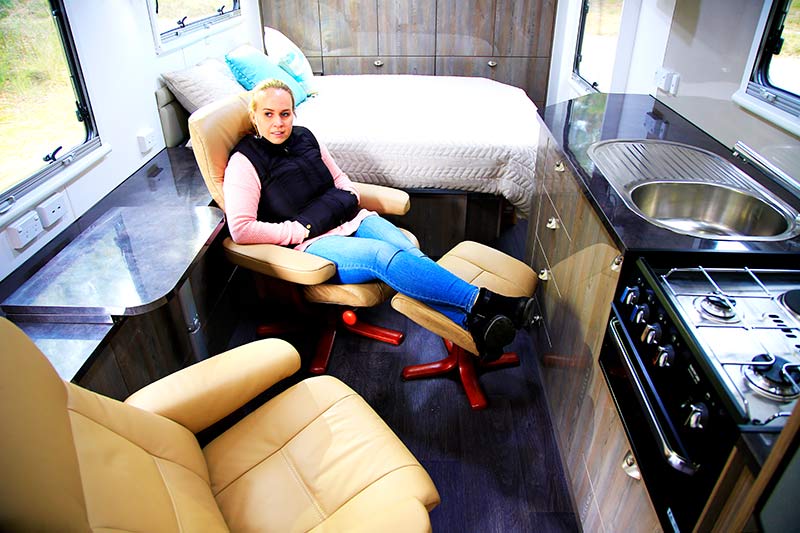 I appreciated the fact that Goldstream had fitted not only dual 240V powerpoints at the 'desk' unit but USB points, too. After all, this space will no-doubt be used for laptops, tablets, and so forth. Oh, I liked the (optional) 12V Sirocco fan that's mounted just above the forward chair too – in my experience, these fans work quite well.
As you might have guessed by the 'EWB' in the van's name, it has an east-west queen-size bed, which has allowed Goldstream to fill the entire front of the van with glossy cabinetry, complete with large wardrobes and four large drawers. Clothes storage is well and truly taken care of.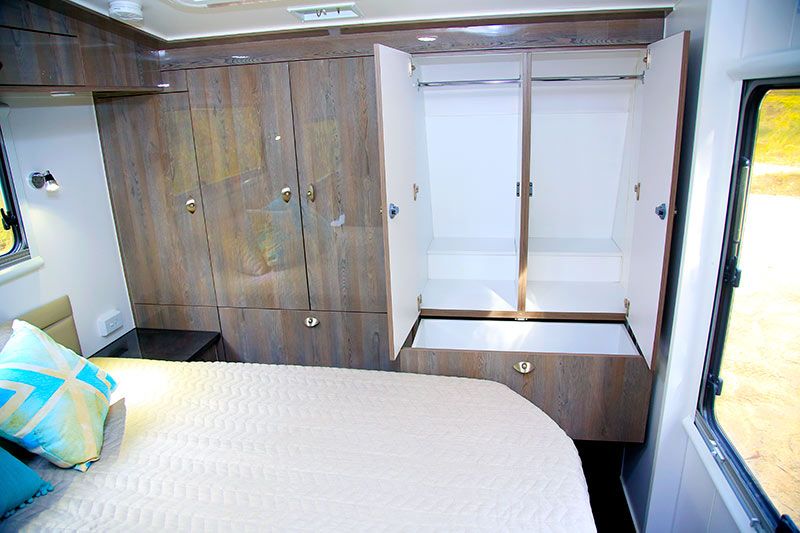 The bed lifts on gas struts, and while the storage space here is partially taken up by a slide-out kitchen, what's left over can be accessed from inside and outside.
Continuing with the storage theme, there's a large, partitioned cabinet to the rear of the entrance, an abundance of kitchen cupboards and drawers, as well as overhead lockers, including above the 190L Dometic fridge-freezer and microwave.
The kitchen, by the way, comes with a Thetford four-burner cooktop with griller but no oven. I'm sure you could option one in, but that would entail missing out on the kitchen cabinet below.
There's a stainless steel sink with flick-mixer tap, but work space in the kitchen is on the small side, although the cooktop is recessed into the bench, with a hinged section above that can be used to chop vegetables when the cooktop isn't needed.
At the forward end of the bench, Goldstream has fitted a swivel arm for the supplied flatscreen telly. Now, that's nothing particularly special; however, I did like that the 12V and antenna points were fitted up underneath the nearby overhead locker, out of sight.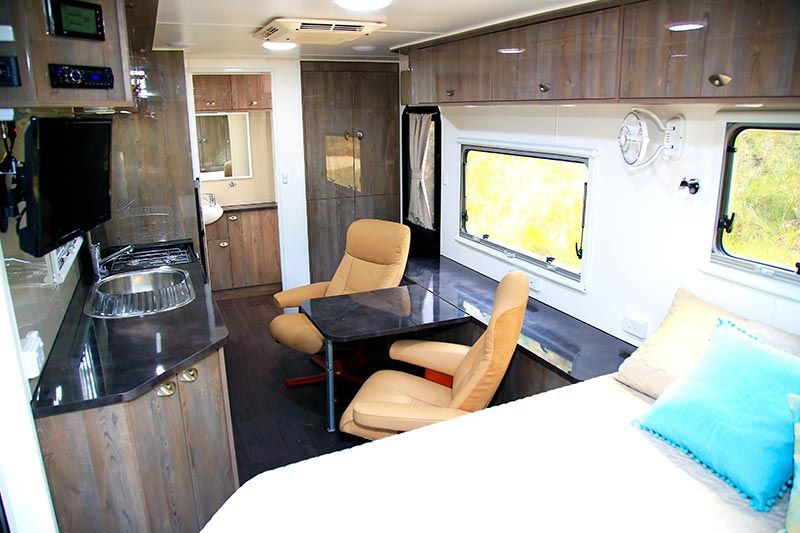 Nearby, you've got a Trek digital display, which shows the levels of the two onboard 80L water tanks, as well as state of charge of the two 90Ah lead crystal batteries and the amps input from the two 120W roof-mounted solar panels. There's also a Finch RV sound system, as well as the switch for the Truma hot water service. (I'd prefer the HWS switch within arm's reach of the bed – I like to turn it off overnight and it would be nice to stay in bed in the morning while the water heats up again!)
This van's rear ensuite is a beauty. Given the Goldstream's body length, you'd expect something spacious, and you'd be right. There's a top-loading washing machine hidden in a rear-offside cabinet, a cassette toilet, vanity with washbasin, a large mirror, and a moulded-fibreglass nearside shower in a separate cubicle with a hand-held shower rose and a 12V fan-hatch.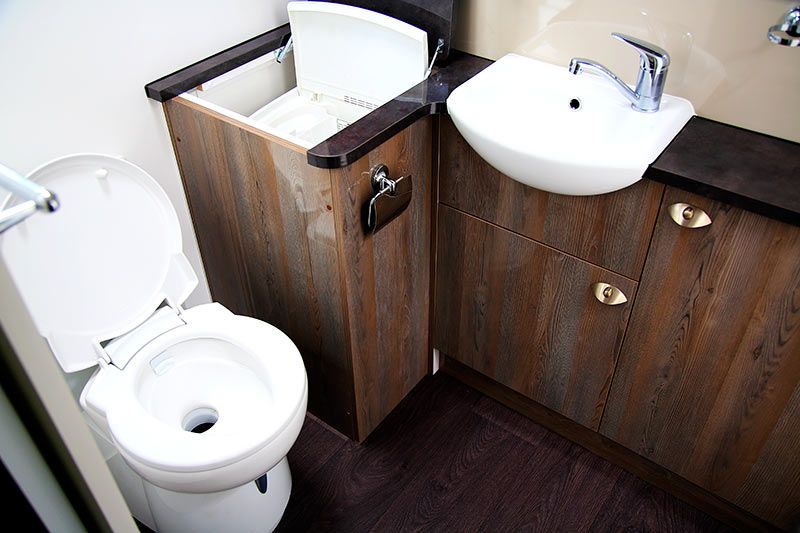 Now, this layout would not be for everybody. The two recliners somewhat impede the 'walk-through' space between the entrance and the bedroom, especially with the footstools in position; however it is still manageable, and I give points to Goldstream for trying something different – I don't think I've seen a Goldstream with a 'desk' and recliners before.
However, if you prefer something a little more traditional, an L-shaped or cafe dinette can be fitted instead of the desk, recliners and tri-fold table.
GREY WATER TANK
A van with lots of storage space needs a decent payload capacity. Fair enough, much of the internal storage is for clothes – light stuff. But this van also has an optional 90L grey water tank, and if you've filled up your fresh tanks before setting off again, with grey tank full, that's 90kg of extra weight the van is carrying. Fortunately, the Australis 2150 EWB RE's payload is a very reasonable 560kg (although this payload figure assumes 10 per cent of the ATM, 330kg, will sit on the towball, bringing the weight on the wheels, the GTM, down to the 2970kg that's noted on the compliance plate).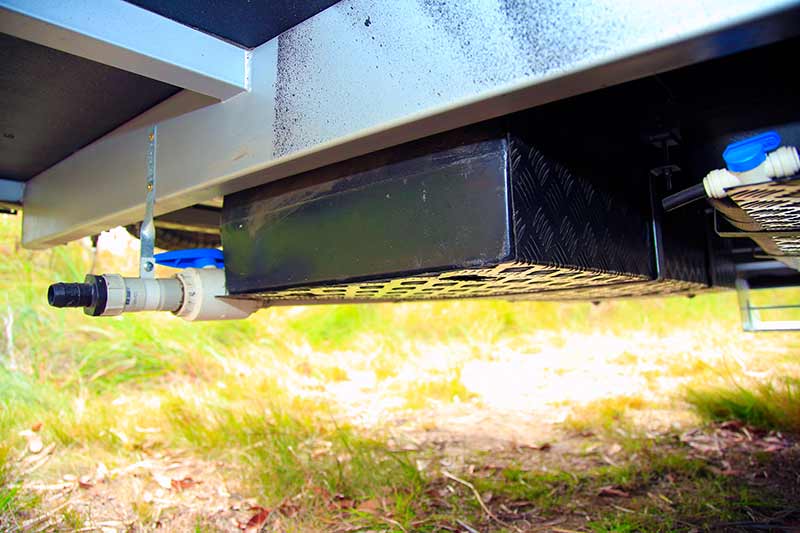 It will, however, require a considerable tow vehicle, given it can be loaded to 3300kg. Think Grand Cherokee, Land Cruiser, etc.
The Australis is built on a 6in Austrail chassis, with Cruisemaster XT independent offroad suspension, meranti timber frame with 42x19mm studs, and 3mm composite aluminium cladding.
It was decked out with Goldstream's Offroad Package (which includes the Cruisemaster suspension), along with a number of other options, including the lead crystal batteries (two AGMs are standard), which are mounted inside checkerplate boxes fitted to the offside main chassis rail, an extended drawbar, the grey water tank, and the slide-out Dometic kitchen.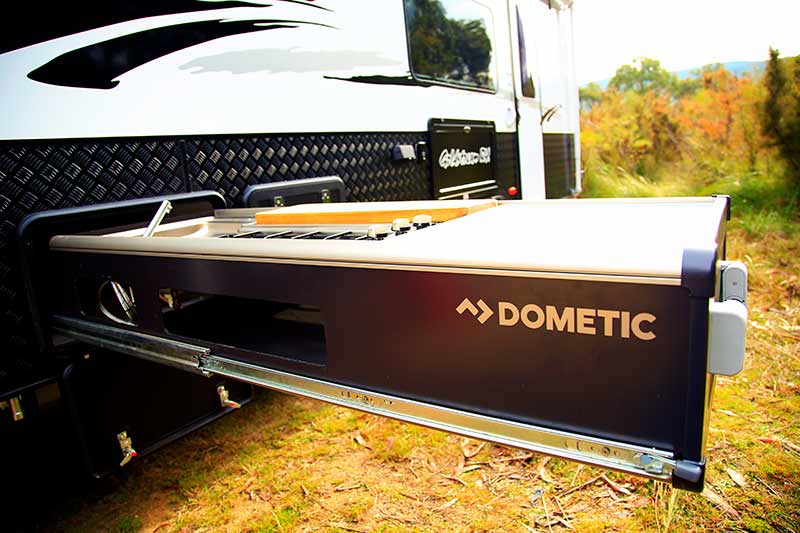 Now, this kitchen is a premium unit (known, funnily enough, as the Dometic Slide Out Kitchen). It has a sleek design, aluminium construction, three burners, a built-in sink with hot and cold water, and side storage. It's also self-supporting – there's no need to drop legs into place.
Up front, the van has dual 9kg gas cylinders behind an (optional) mesh stoneguard, front boot storage, and a DO35 coupling – no surprises and all perfectly functional – while dual 20kg jerry can holders are provided at the rear, alongside the spare wheel. A reversing camera is provided as well.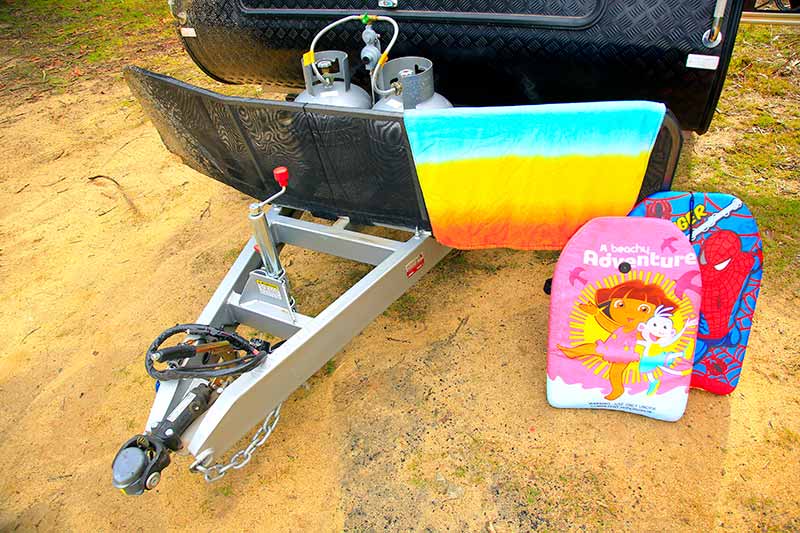 As always with vans built by Goldstream, the underside of our review Australis was neatly presented; however, given this van has some offroad capabilities, I felt the PVC grey water plumbing at the rear could do with some armour plating, especially the grey tank's tap, which does protrude slightly.
Other external features include a nearside 12V point, a roll-out awning, and a picnic table – standard, but useful, stuff.
GORV'S VERDICT
The Australis 2150 EWB RE is a substantial van with a lot of gear, built on a solid chassis with proven suspension. While its weight puts it out of contention for Prado owners, couples who want to hit the road full-time, and who have a suitable tow vehicle, will find a lot to appreciate about this van.
THE SCORE
FIT AND FINISH –

LAYOUT –

INNOVATION –

HITS & MISSES