There appears to be an attitude that the more you spend on your setup, the less likely it is that you'll encounter problems. With an AusRV Byfield XT (offroad) family bunk van that cost us upwards of $100K, we have faced some disbelief and negative comments when things within the van have broken.
To us, that kind of thinking is the same as purchasing a million-dollar house with the expectation that because you'd spent that money, nothing was ever going to break or go wrong.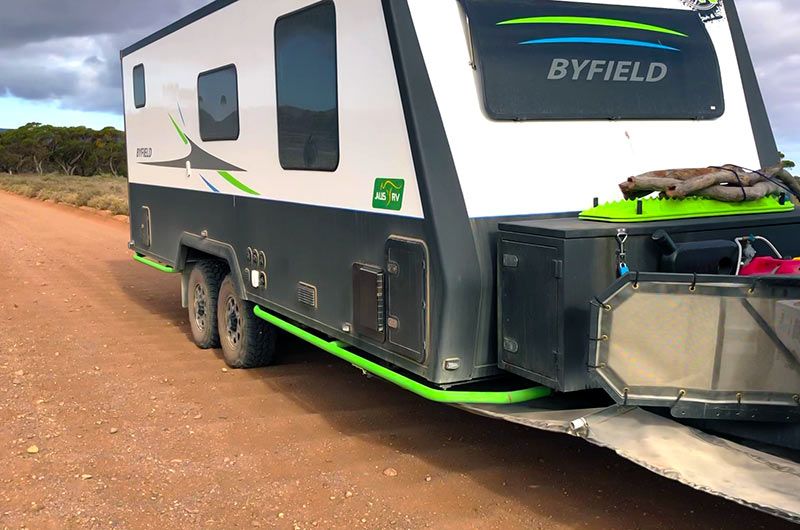 The reality is that wear and tear will occur in anything that is being used regularly, particularly something that is being put through its paces on varying terrains and used daily exploring this big, beautiful country of ours.
So, what's it been like for us following eight months of full-time life inside our caravan? Given we have crossed some of the most notoriously corrugated roads in the Australian outback, our caravan sure has had its suspension worked and its insides rattled.
With over 12,000km travelled and 259 nights in a row spent sleeping, cooking and living in our van as a family of two adults and three boisterous boys, below is the breakdown of what's broken so far and how we've fixed it.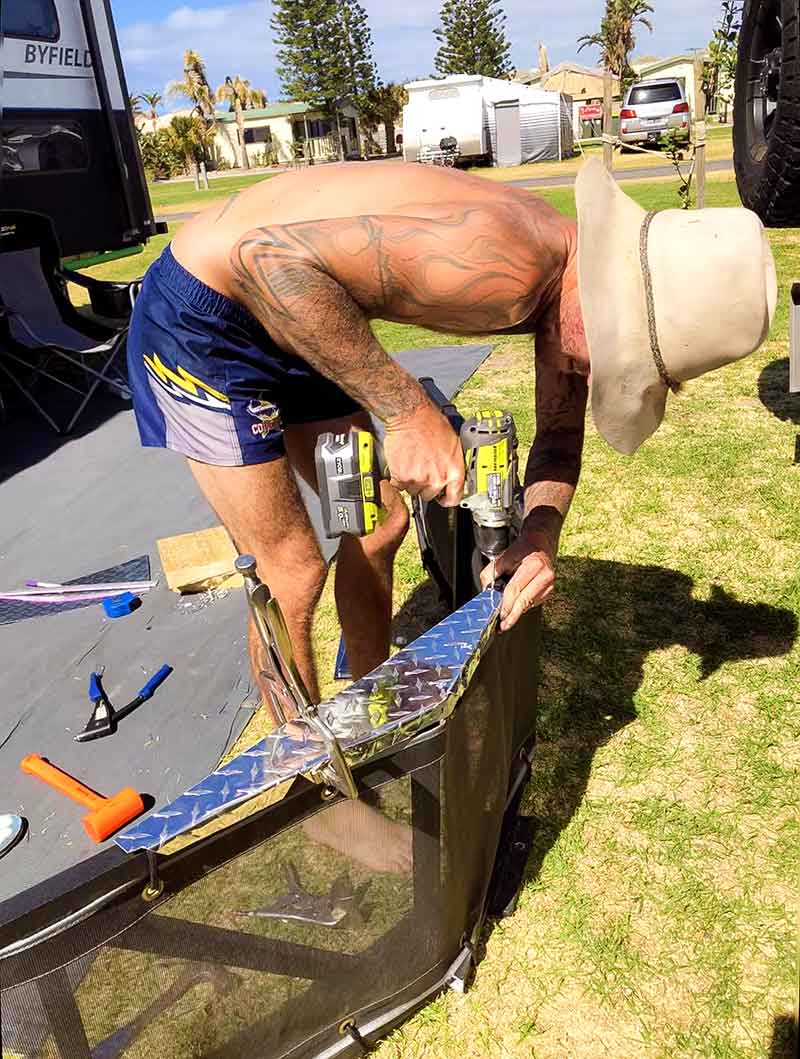 Stoneguard: The welds had completely snapped in areas due to corrugations and wind pressure.  We fixed it by using a checkerplate aluminium sheet, Sikaflex and pop-rivets to reinforce the broken joins.
Tow hitch bolt: We noticed this bolt had fallen out on the Tanami track, presumably from vibrations. We replaced it with a bolt off the rear wheel holder as we figured that had a lower priority than the tow hitch coming apart! (We bought a new one when we could.)
Broken water fitting: When there was reoccurring water leakage on the floor of the caravan next to the toilet, we wondered if it was a case of the boys not being able to 'aim', or something more sinister. We investigated within the toilet cassette hatch and could see the water fitting was dripping, so we replaced it with a spare fitting we had.
Skylight and air-con leak: One morning we woke up to a drip noise from the air-conditioner. We found some droplets of water coming through into the van. On closer inspection, we found the silicone was a little worn from the roof, so we reapplied around the worn areas, which fixed the problem.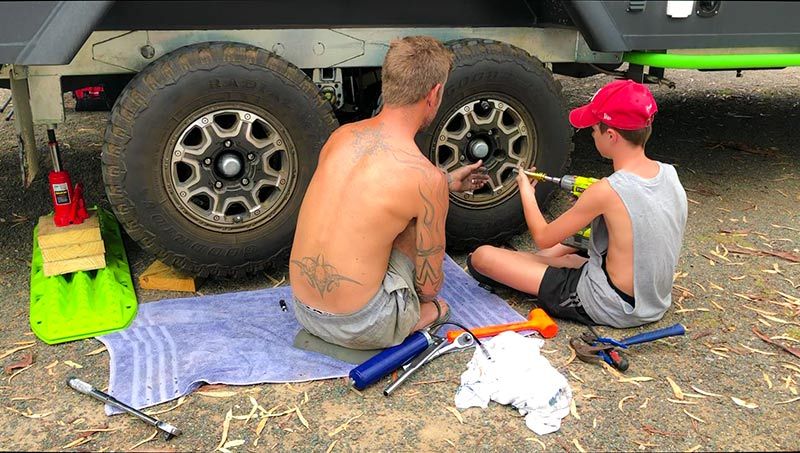 12V exhaust fan: Our shower exhaust fan stopped working because the positive wire had snapped off (again, presumably from corrugations). We re-soldered the positive back to the terminal with the soldering kit we have in our toolbox.
Shower towel rail: The result of three sometimes heavy-handed boys in the van putting their bodyweight on the rail was ruined thread on the screws holding our towel rail in place. We used adhesive glue and thicker screws to re-tighten.
Window frame: The rattle of the window frame over corrugations made one of the screws fall out. All that was needed was some adhesive glue to secure the original screw.
Draws and cupboards: Mainly in the kitchen area, two of the drawers and cupboards had loosened and been pushed out of alignment. Thankfully, this was an easy fix by pulling the draw out and tightening the adjustment screws to straighten.
Stabiliser leg: Broken from over tightening with impact driver. This was a 'MacGyver' fix, as we replaced the broken pin with a bolt Wayne had to cut down to size. Oh, and we stopped using the impact drill on the legs!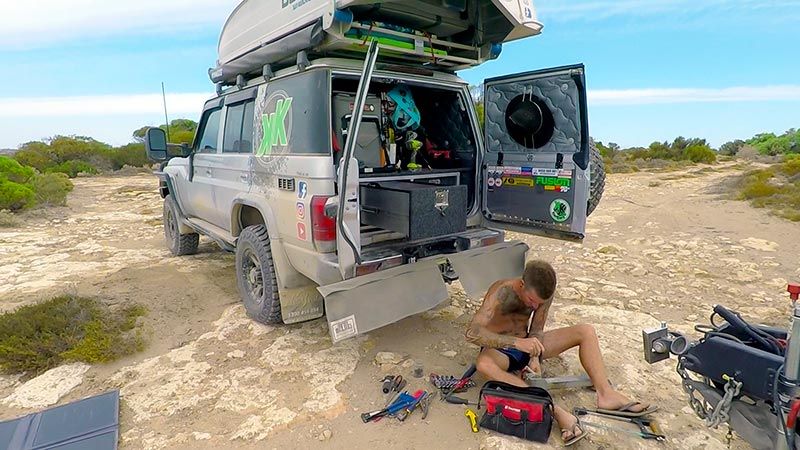 Caravan brake lights: We noticed our brake lights were out on the bumpy track to watching sunset at the Breakaways, SA, which is not what you want at night time! Thankfully, it was just a loosened wire that needed re-threading and tightening down.
Bunk curtains: Again, thanks to our boys being a little rough when using their privacy curtains, our five-year-old managed to pull his entire curtain rail down. A little silicone and larger screws were required to put it back in place.
Caravan handbrake adjustment: The cable had stretched, meaning we had to pull the handbrake up higher each time we pulled up. Using the adjustment nut and bolt, the wire was able to be 'firmed up'.
Toilet cassette: The opening panel was getting stuck thanks to broken pieces of toilet paper, so we gave it a good clean and silicone-greased all the rubbers and toilet flap.
Front door: This dropped out of alignment from our five-year-old's method of swinging/standing on the frame to open it. With a readjustment of the hinges, it's back to level.
MITIGATING PROBLEMS
For many people, including us, our caravan is a source of pride and joy. The day we picked it up from the factory was intensely anticipated. We were about to begin enjoying the fruits of our labour and we were so proud!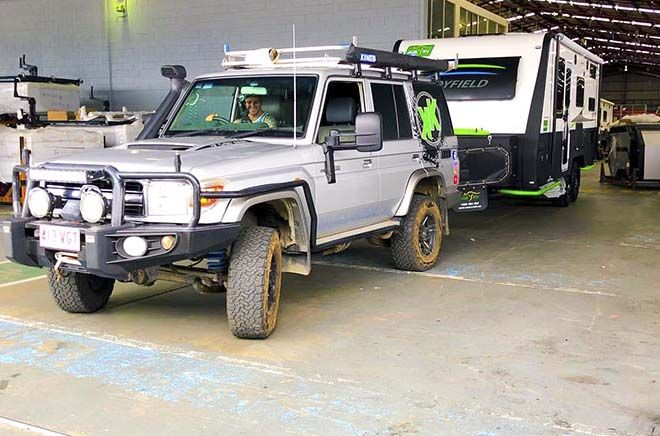 If your intent is similar to ours – to spend years living in your caravan touring the countryside, with as little cash having to be thrown at repairs as possible – our maintenance list below may be of interest.  It's what we've learned to service, not only for safety purposes but to increase the touring life-span of our caravan.
1. Grease suspension arms to keep them lubricated for movement.
2. Check wheel bearings and re-grease every 10,000kms.  
3. Periodically re-lubricate your DO35 hitch, if applicable.
4. Silicone-grease rubber seals on windows, doors and hatches to keep them from drying out and splitting.
5. Rinse out your grey water tank regularly with white vinegar to reduce smells.
6. Clean solar panels to retain charging ability.
EDUCATION IS POWER
We recommend researching maintenance for your particular caravan so you can be prepared and act quickly and confidently if something breaks or stops working.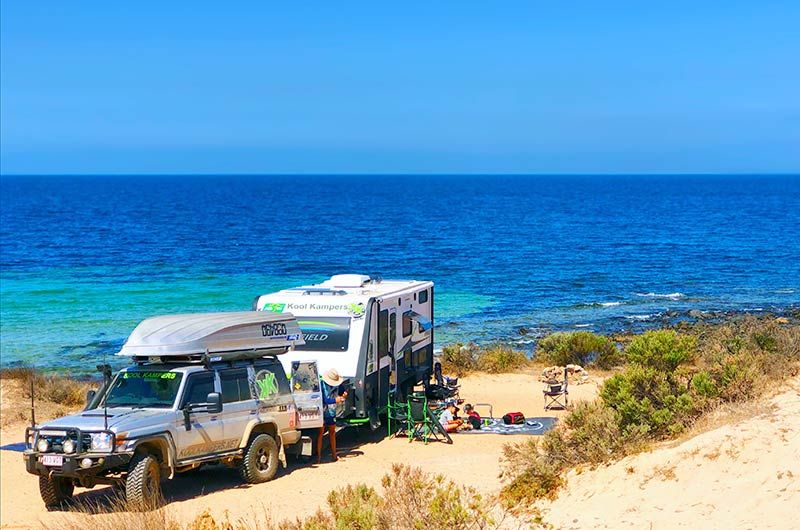 Failing that, we believe if you add Sikalex and a box of miscellaneous screws, nuts and bolts to your toolbox, there won't be too much you can't fix on the fly – or at least to tide you over until you hit the next big town and can get some expert help if required.
FOLLOW KOOL KAMPERS
Website: www.koolkampers.net
Facebook: www.facebook.com/koolkampers
Instagaram: www.instagram.com/koolkampers