There's a lot to be said for smaller vans, from little weekenders – effectively a bed on wheels – to 18ft pop-tops. They're typically light, which in turn brings numerous benefits. Less fuel, less engine wear, more manoeuvrability… and, dare I say, less stress during towing.
These were the thoughts meandering through my mind as I hauled the Paramount Caravans Thunder 186 around country Victoria. It's a rough-road-capable single-axle pop-top with independent suspension, a spacious layout incorporating a full-width rear bathroom and much more.
HOW IT'S MADE
Long-time Paramount Caravans dealership Canterbury Caravans had added a lot of gear to this rig, and it's worth noting that all of the extra equipment is added by the factory, not the dealership, so it's accounted for in the Tare noted on the compliance plate.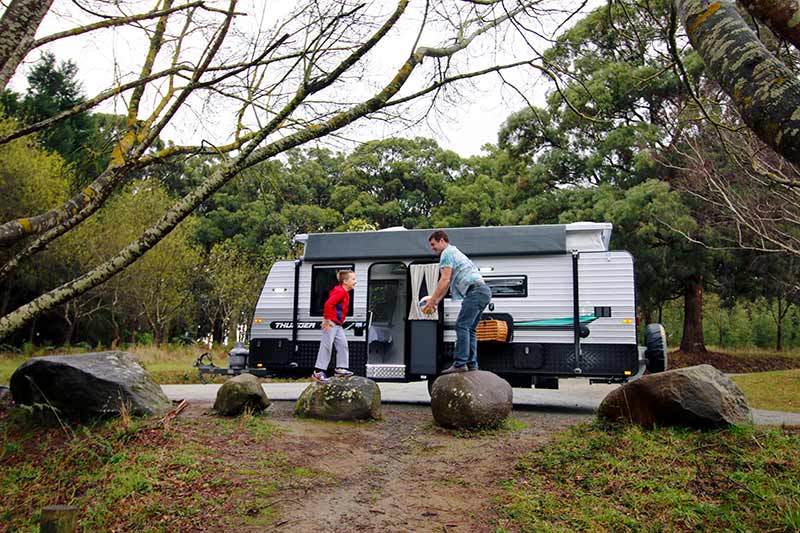 Among this optional gear is Dexter sway control, an extended A-frame, a 3.2kg top-loading washing machine and composite cladding.
The frame is made from meranti timber, with sides of traditional ribbed aluminium. The front and rear, however, is smooth composite aluminium, while the roof is a one-piece fibreglass sandwich panel.
It's all secured to a 4in SupaGal chassis with 2in raiser, 15in alloy wheels and Dexter Torflex independent suspension. The van doesn't ride particularly high – as such, there is no fold-out entry step provided.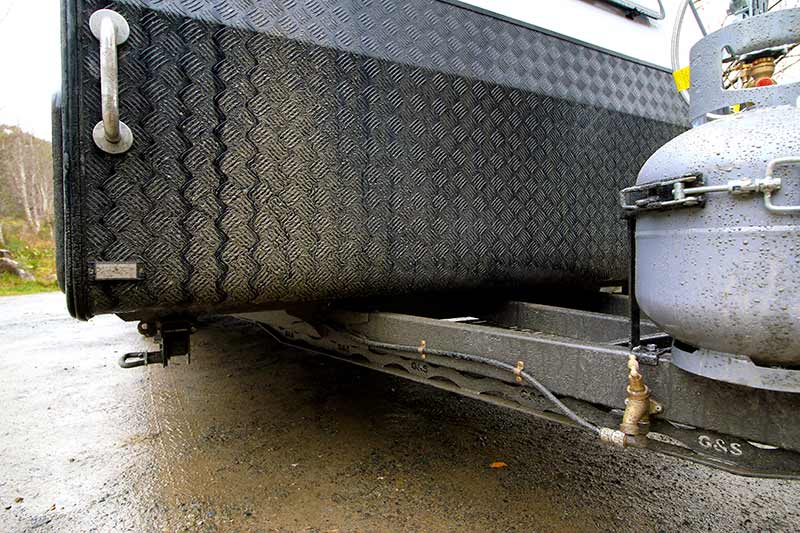 Two 95L fresh water tanks are supplied as standard, which is enough for a week or so offgrid if used sparingly. Of course, the van has a mains water inlet – it's mounted on a chassis rail well out of harm's way.
On the nearside, the Thunder 186 has a roll-out awning, an optional TV locker with associated 12V and antenna points; however, it doesn't have a mounting bracket – you'd have to rest it on the nearby fold-down picnic table. 
External speakers, LED lights, a Winegard antenna, and provision for a solar panel are all part of the package.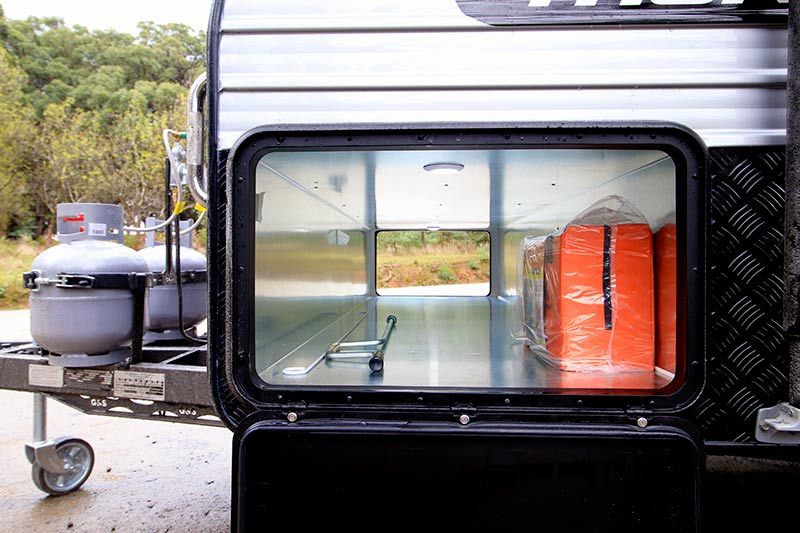 Up front, a standard ball coupling is fitted, along with two 9kg gas cylinders, a fresh water tap, and a steel tray to which you could strap your camp chairs, etc.
Instead of a front boot, the Thunder 186 has a right-through tunnel boot. Nothing unusual here.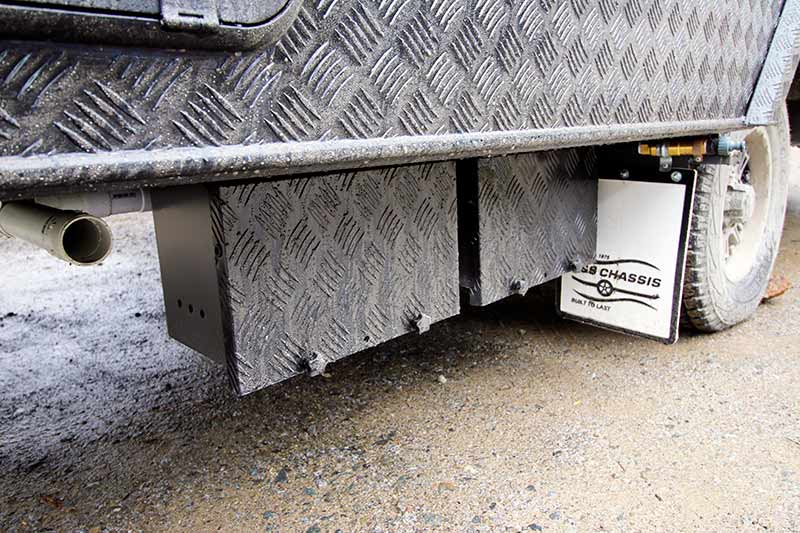 Interestingly, the Thunder comes with two checkerplate battery boxes mounted to the offside main chassis rail, behind the axle. Now, it comes as standard with just one 100Ah deep-cycle battery, but the second box is provided so that you can fit an additional battery as required.
While the van is pre-wired for a roof-mounted solar panel, one is not provided as standard equipment. However, it may be a better bet to pack a portable 120Ah panel – it can plug in and charge the onboard battery via the supplied Anderson plug.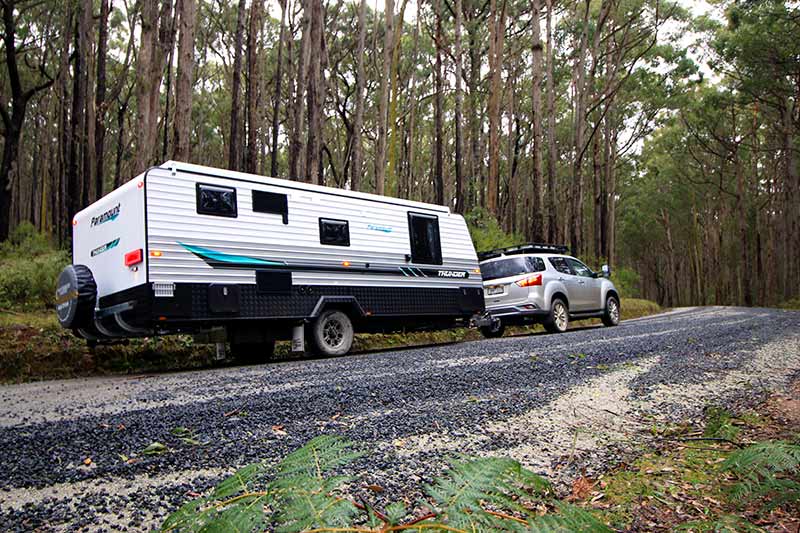 The Paramount Caravans Thunder 186 weighs 2020kg Tare, though as mentioned this figure accounts for a number of dealer-added options. A standard Thunder 186 would be lighter. With its ATM of 2500kg, it offers a reasonable 480kg of load-carrying capacity. Taking into account 190L of water and 18kg of gas, there is still 272kg to cover your food, wine, clothes, etc. In my experience, for two people, that's more than enough.
INSIDE THE PARAMOUNT CARAVANS THUNDER
The interior appears to be well-finished and it is certainly visually appealing. Most noteworthy: the amount of storage space, especially in the rear bathroom.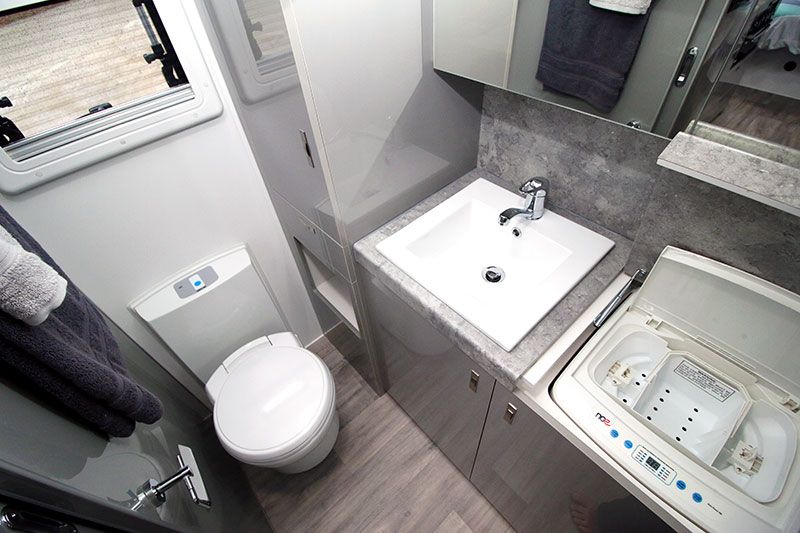 The bathroom is already home to a central vanity, nearside shower (love the mirrored door), and offside cassette toilet. The addition of a linen cupboard, too, is very welcome and quite surprising, given the compact nature of this rig.
The nearside L-shaped lounge is comfortable, and it even has a table that can swivel any which way, making access very easy indeed.
The offside kitchen comes with a four-burner Thetford cooktop and griller that's recessed into the bench. A hinged section of bench above the cooker provides a good amount of bench space when closed; however, something to be aware of is that the kitchen window pelmet prevents this lid from opening flush with the wall, angling it forward somewhat.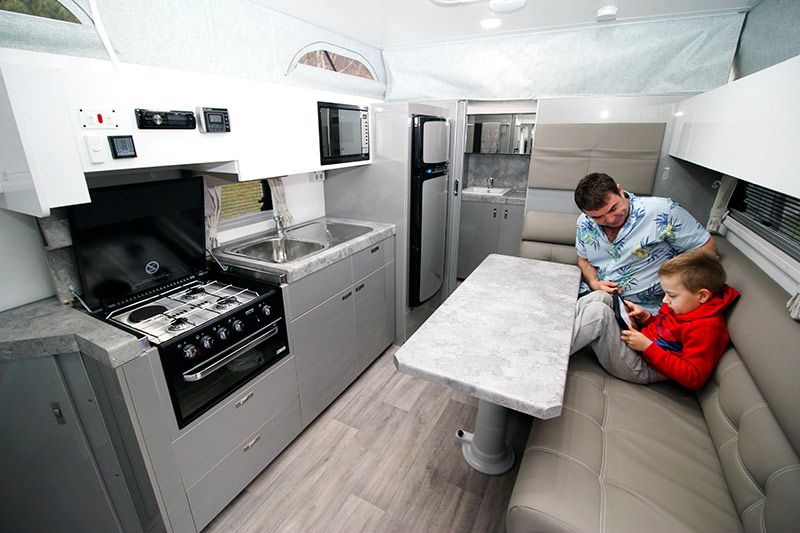 The switches for the hot water service and water pump, along with the water level indicator, sound system, and digital Projecta voltmeter are all mounted to the cabinetry above. From an aesthetic point of view, I did wonder if these would be better located in an overhead locker – a personal choice.
The Thunder naturally has a microwave – I noted how neatly it was recessed into the overhead cabinetry. The fridge-freezer is the attractive N3185 slimline Thetford unit that offers 185L of combined volume.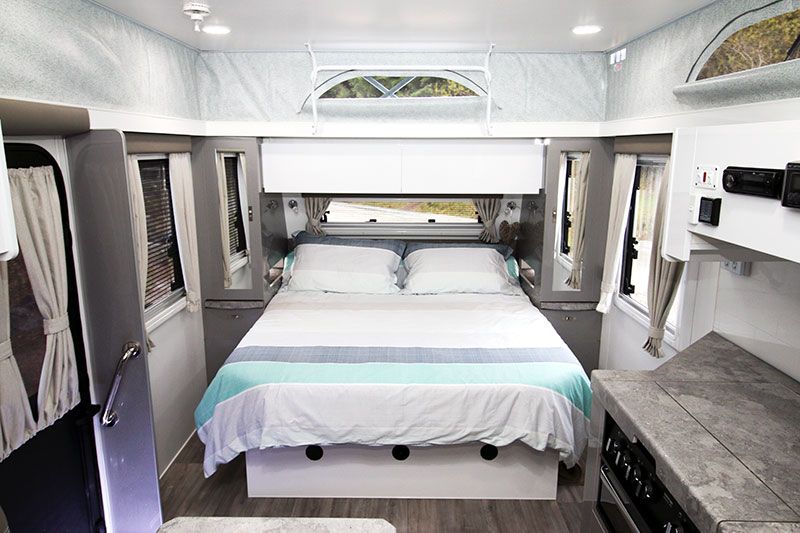 The forward bedroom has a queen-size bed; however, much of the under-bed storage space is occupied by the Finch air-conditioner/heater unit. Given there's a lot of storage space elsewhere, and the fact that roof-mounted air-cons make lifting a pop-top roof hard on the back, this is a worthwhile trade-off.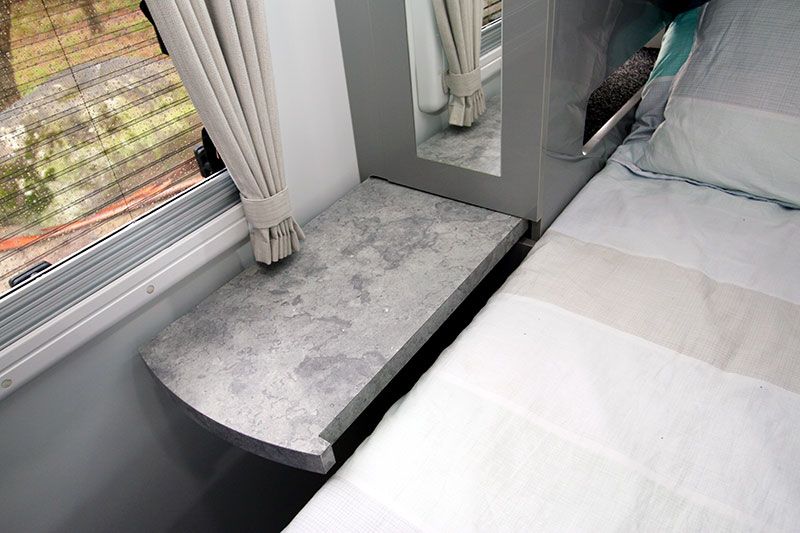 Each wardrobe has a niche with light, and 12V and 240V powerpoints, but one aspect of the bedroom design I really loved: a slide-out table each side. They're unobtrusive, work well, and no doubt would be extremely handy.
A Projecta battery charger and the 12V fusebox are neatly fitted inside a cabinet at the foot of the bed, on the offside.
Oftentimes, being quite tall, I find myself stooping inside pop-tops. Not the case with the Paramount Caravans Thunder 186, which offers about 2m of internal height. This also adds to the sense of space.
GORV'S VERDICT
I've long found Paramounts to be well behaved under tow, and that was the case here. We towed it in grim winter conditions – heavy rain and wind, and some mud – and the Thunder didn't twitch or sway on the towball. It felt well-planted to the road. 
For the Prado and Pajero owners of the world, or anyone on the hunt for a single-axle pop-top with rough-road capabilities, a proper bathroom and generous internal storage, the Paramount Caravans Thunder 186 should be on your list.
THE SCORE
FIT AND FINISH –

LAYOUT –

INNOVATION –

HITS & MISSES