My motorhome, Yemmy, was damaged a few months ago in an accident, but when he arrived back following the repairs on a tilt truck, I couldn't believe it was him! They had done a cut and polish and he looked like new.
The elusive sticker mentioned last month, which had to come from Mercedes Benz in Germany, hadn't arrived but they have since posted it to me so that's a little job to do when it arrives. I didn't believe they would hold up delivery for such a small thing!
Yemmy the motorhome arrived at 5pm and by 7.30pm I was on my way to the Melbourne Airport's long term car park, where I had a nice sleep – you won't tell the authorities, will you? I had paid to park and it didn't specify how long you could remain in your vehicle before heading to the check-in.
Jetstar must have the longest distance to get to its gate lounge – I felt as if I'd walked half-way to Tasmania by the time I got there! But my Tassie trip was great.
IS IT A BOAT OR WHAT?
While out driving with my Australian Caravan Club friend, Bernie, we were looking at some free-camping places in northern Tasmania when we came across a boat/caravan.
I wasn't able to speak to the owners but it took me back to an enjoyable time on the Gippsland Lakes some years ago when we caught up with the owners of a similar set up called an Aquavan – we went for a run in it along the Nicholson River and out on to Lake King. On the way back I was the 'captain' while the others drank coffee and watched TV!
The owners, Mike and Judy, had a different approach to free camping – they stayed overnight in country graveyards. "There were never any problem with the inhabitants," they told us!
In 'boat' mode, they just pulled up to the bank of the river or lake and moored – once they even tied up on the Yarra near Southbank, Vic, and went out to dinner and the theatre!
Here's some of what I wrote back then:
"I must admit that when I'd seen Aquavans at caravan shows, I'd passed them by with hardly a second look. Not being a boating person myself, I wasn't too impressed at the thought of launching a caravan into the water somewhere and sailing off down some river.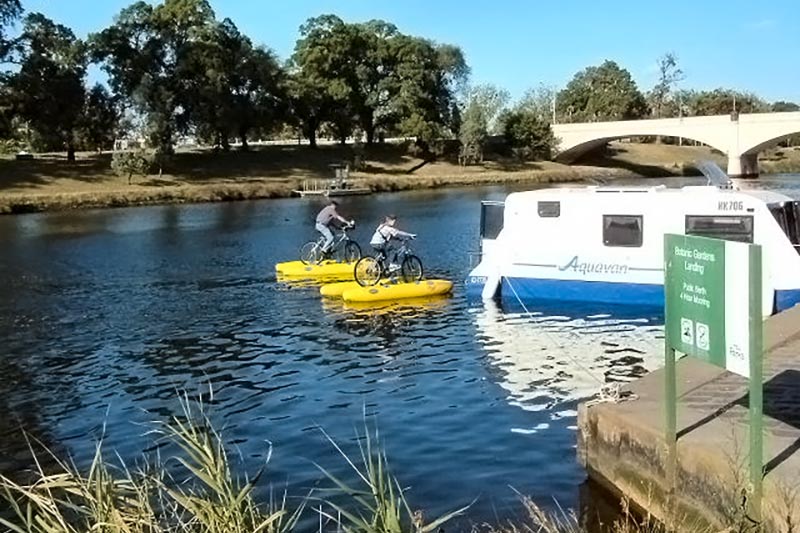 "That all changed when I received an email from Michael Pyne, a fellow trombonist and an Aquavan enthusiast. Mike and Judy invited us to visit their Gippsland home at Nicholson and become acquainted with their Aquavan.
"It was serendipity that we were on our way home from our winter sojourn up north and coming home around the coast, so could fit in a couple of days on the Pynes' lovely Gippsland property.
"The Aquavan had been back to the factory in Melbourne for a few updates and had just been brought home the weekend before our visit.
"Over a lovely meal Judy had prepared for us the night we arrived, we discovered we had a great deal in common and the red wine and conversation made a very pleasant evening pass all too quickly. It was agreed that if the weather was okay we would get our first taste of waterborne caravanning the next day, although Vi was less than enthusiastic. She likes water in views, not as something to go on or in!
"The next morning there was a strong wind alert for the Gippsland Lakes, so discretion said no boating unless the weather improved during the day. Vi was the only one not disappointed!"
The delay did allow me to have a good look at the Aquavan and view a DVD Mike had put together of some of their adventures in it.
There were shots of them exploring the Maribyrnong in Melbourne, travelling 500km down the Murray from Mildura to Mannum, sailing along the Hawkesbury, camping at all sorts of pristine riverside stops and, of course, taking in our beautiful lakes, including the Hume Weir, Eildon, Nagambie and – right on their doorstep – the wonderful Gippsland Lakes system.
WHO'S THE CAPTAIN?
"Who wants to drive?" Mike asked when we finally got out on the water.
"Me please," I almost shouted as we moved out of the Nicholson River into Lake King. So there I was, seated at the wheel, eyes roaming from the red and white marker posts that marked the channel, to the compass heading and correcting gently when the wind and current decided to push us a little off course.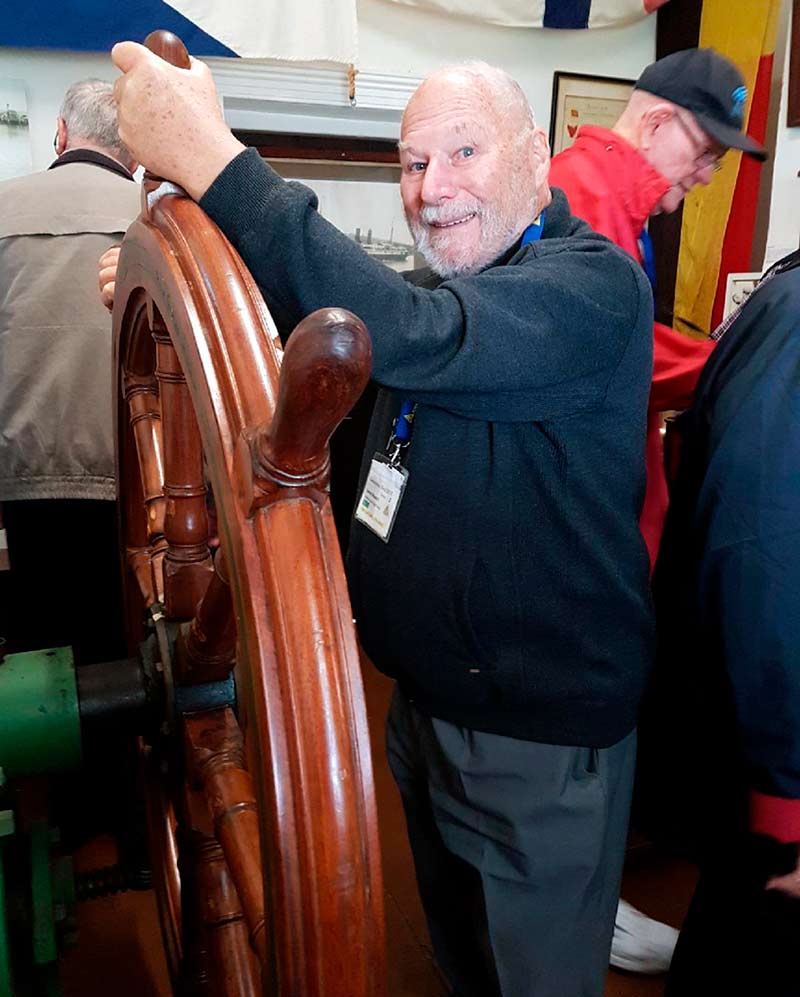 While I was doing my impersonation of a blue water skipper, Mike and Judy were busy getting a cuppa brewed. Can you imagine sitting in a travelling caravan and making a cup of tea?
Mike came back to the front. "The crew are mutinying," he said. "They say it's getting late and we need to turn back!"
"Clap 'em in irons and throw them in the brig," I replied. I soon pick up the seafaring lingo!
However, not wanting to upset the ladies, I did a 360-degree turn and headed back towards the Nicholson River. Mike took over for the run to the ramp while I drank my coffee and we watched a stunning sunset.
I don't know if they still make Aquavans – the website is 'parked' – but there are some for sale on Gumtree should you want one!
REVISED MOTORHOME TRAVEL PLAN
It is quite amazing the number of Australian Caravan Club members who are planning on doing a very similar trip to me to get to Denmark, WA, for our National Muster and AGM in October. I've changed my rough draft to include going down from Three Ways to Alice Springs and back to catch up with my No. 1 daughter and her partner, who are working at a Big 4 caravan park.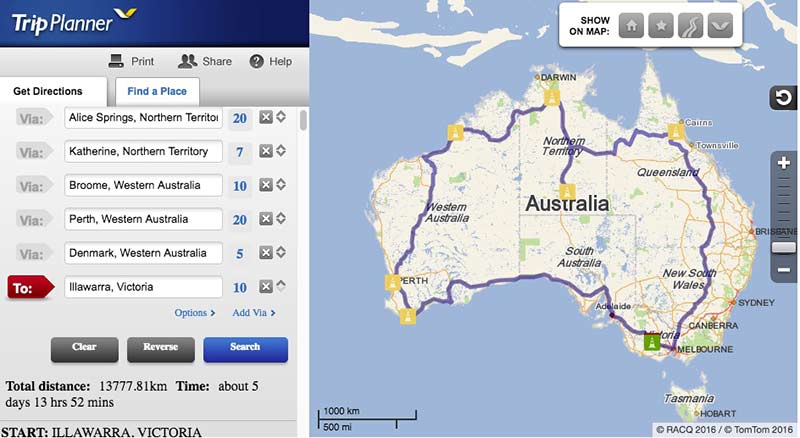 I'm also taking the inland route from Broome to Perth, deviating to catch up with friends in Geraldton.
It will be my fourth around-0Oz trip, although I've lost count of the half-laps over the years. People say, "You must have seen it all now."
I always reply that nobody lives that long!
See you down the track.