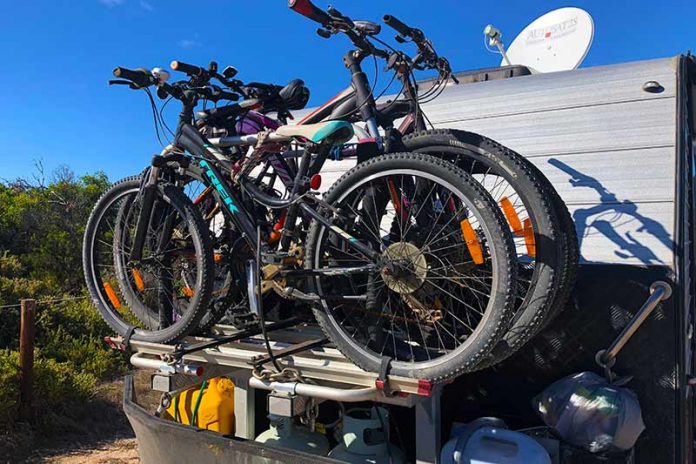 It's year three of full-time caravanning now and we at Four Hands in a Tin Can have come to the conclusion that you are mad if you continue to do the same thing over again expecting a different outcome. An easier life, happier travel partners, a better big lap, or even a more comfortable travelling pet, could be just a few tips and trick away.
Let us tell you a few of our personal tips and tricks that have helped us along this great adventure we are on…
BIG LAP MAP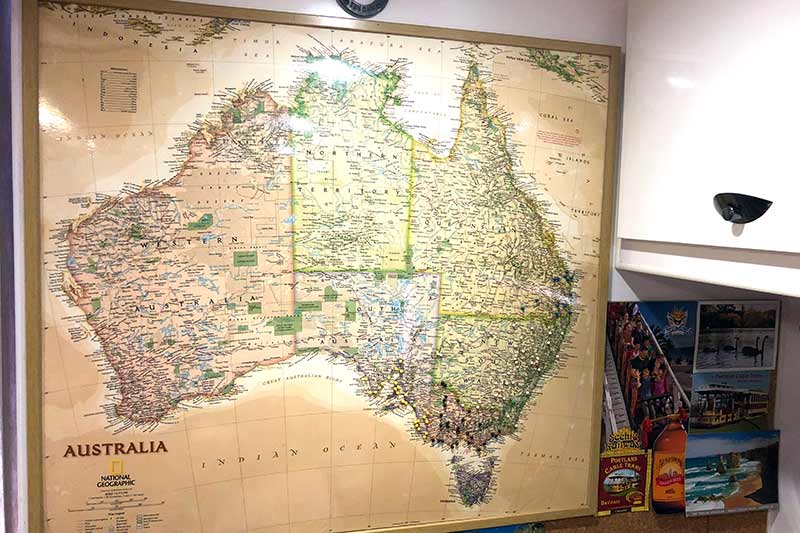 When we started out we were gifted a large map of Australia on which to mark out our route as we went. The map was a bit of art to us so we had it framed, with no glass front of course, and had the framer have the map mounted on a thick, lightweight board that we could place pins into as we went. We attached it to the wall with Velcro.
IN HOT WATER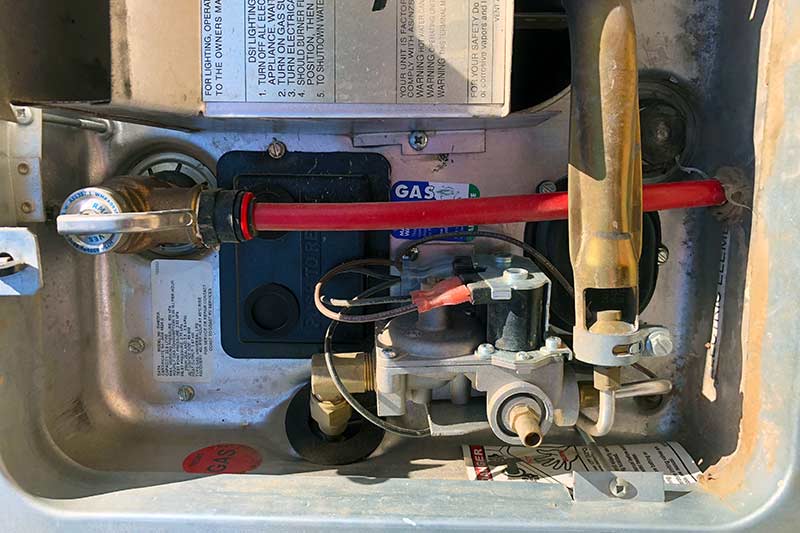 If you have a gas-electric hot water system, don't forget to turn it over to gas if you are free-camping. This will flatten your battery real quick if you don't!
Don't forget to regularly check your hot water anode and change it out if you need to. We carry a spare anode because you just never know when you will need to replace it.
DIESEL HEATER
There are plenty of ideas about diesel heater placement but we had ours placed under our L-shaped lounge, under the area with the small cushion. We were then able to have two vents, with one near the unit itself and one at the other end of the lounge. One tip about the heater controller: it is a great idea to have it near you in bed but make sure it is high enough so you don't accidentally turn it on when you rollover in your sleep!
TV VS DVD
Television vs DVD player. No contest. We had our van specs changed to include a TV with DVD player instead. We also had to have aerial splitters for the TVs so a different channel could be watched on each TV. I'm sure this decision alone has solved about a billion fights between kids and adults, adults and adults, kids and kids, and any other combination you can think of.
DESK SPACE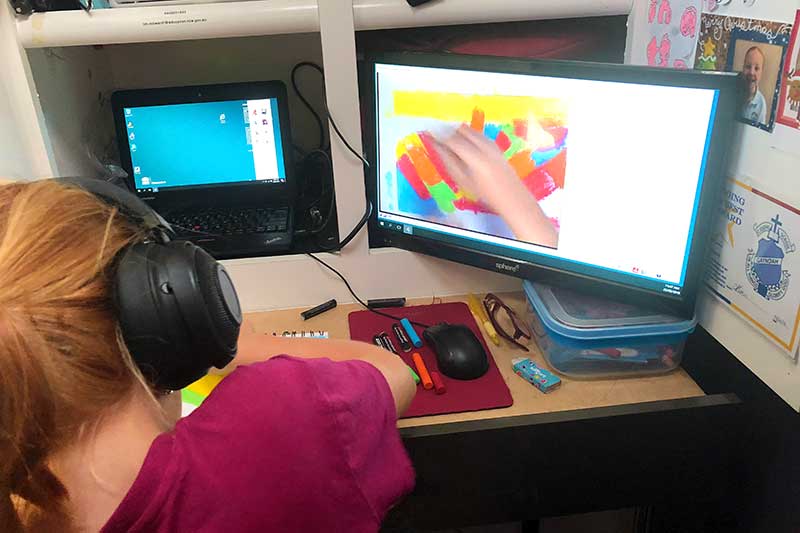 When it comes to schooling, kids need a desk space. We have a draw that is the width of two cupboard doors. To create a desk, we cut down a piece of MDF timber to be used as a desktop inside the draw. The lower shelf in the cupboard can be used to house a laptop. Add an adjustable-height chair. Add a student.
HATCHES AND HEAT
Too much heat coming through the hatches? We used a windshield sunscreen. Just cut the screen in half and insert it under the hatch sides and then close the hatch to keep it in place. We have travelled with the screen in place and left ours in when it's rained, no leaks, no bother, less heat inside the van.
BLOW YOUR PROBLEMS AWAY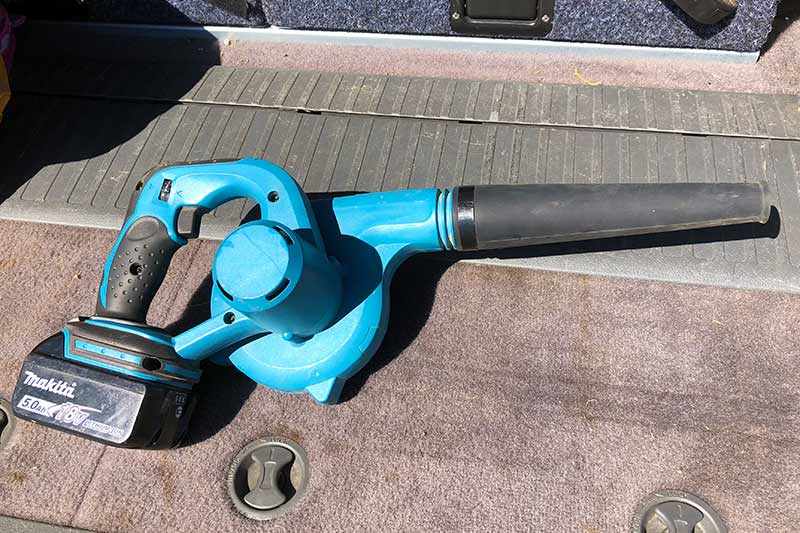 Our most-used power tool is our blower. Why? I hear you ask. Well, we use ours to sweep the outside mat (better, easier, quicker than a broom), fan the flames of a dying fire, dry-off things including the dog, and cleaning things like air-con filters and de-bugging a car intercooler.
IN THE DOGHOUSE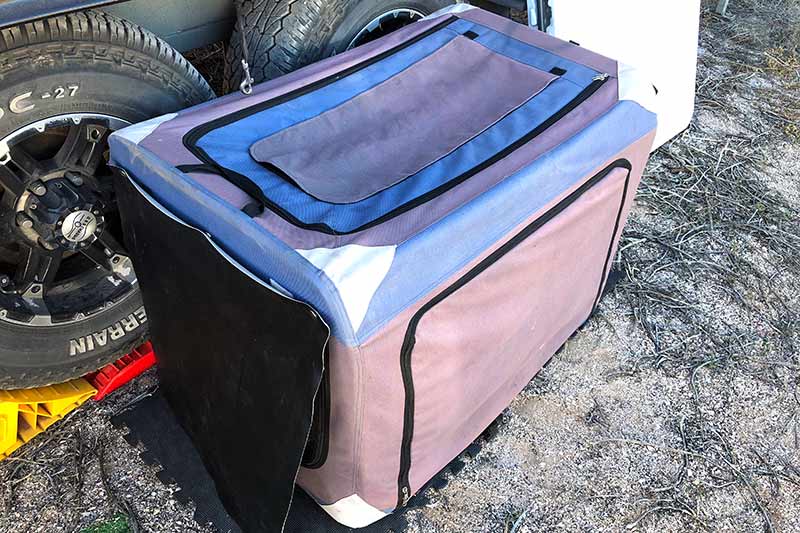 We didn't want our dog, Diga, sleeping in the van so he has his own little folding house (bought from a $2 shop). We got a canvas bed made to measure. Now he sleeps quite calmly outside.
RATS!
To protect against small critters eating vehicle wiring in the engine bay of our Land Cruiser, we cable-tied 'block' rat poison to several areas. The thought is the little critters will eat the tasty treat instead of the thousands of dollars worth of wiring. Fingers crossed. No Land Cruisers were harmed, to the best of our knowledge, in bringing you this handy tip. Rats on the other hand…
VACUUM CLEANER MOUNT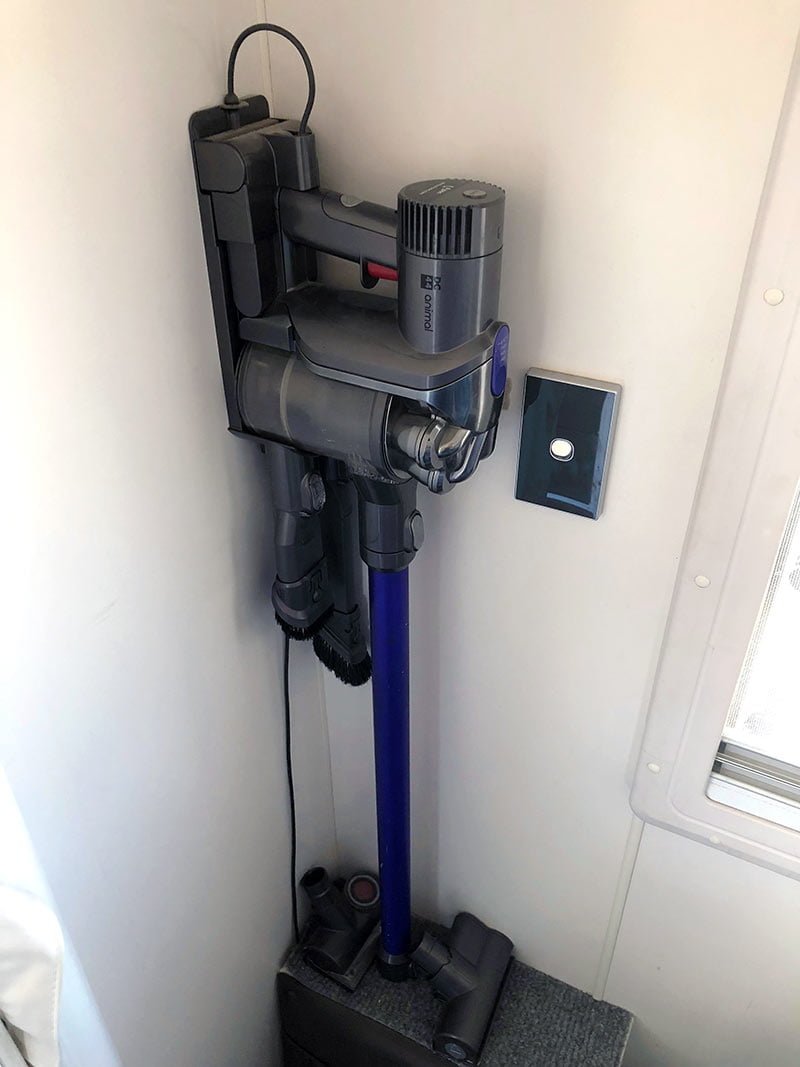 We have one of those stick Dyson vacuum cleaners – it is very handy in the van. But charging it was the problem. We ended up mounting it on the wall out of the way and chasing the power out to the outside TV box. We didn't have to do any dodgy wiring and it was as simple as drilling a hole.
TOWEL STORAGE
Towels were a big storage-taker. We solved this by making a wire basket storage area in the bathroom above the toilet. It was a pretty simple fix with a couple of wire baskets, some light laminated timber brackets and the all-magical cable ties.
LET THERE BE NO LIGHT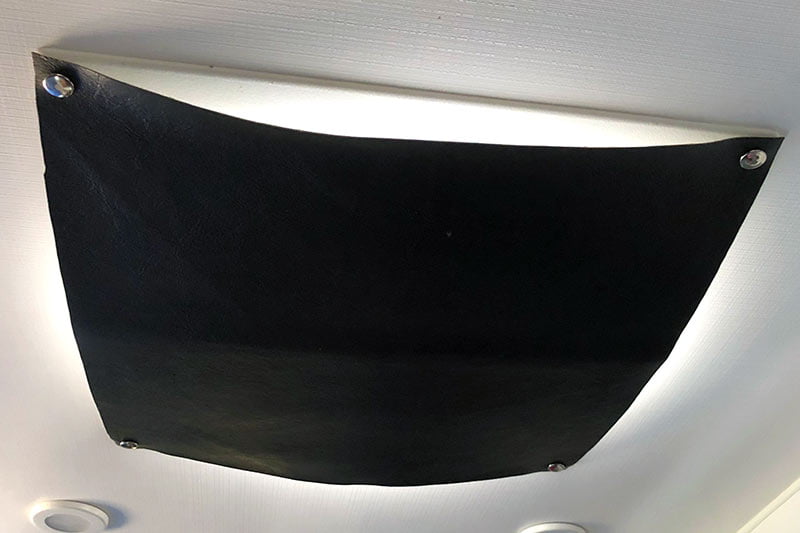 Getting the kids to sleep in past 7am was becoming very difficult, but solving the issue wasn't that hard:
1. Put up blockout curtains. We just made the track and curtains to measure and hung them. Initially we just screwed the rail into the van ceiling but this failed. We ended up using a screw and fixer that would grab onto the back of the ceiling like the ones you would use in plaster board.
2. We also covered the skylight in the bunk and bathroom area with a piece of blockout cloth, with press studs attached. The cloth cover can be removed whenever we need replaced by pressing the studs back together.
Still too much light? If your van has a frosted bathroom door, try covering it with car window tint. We had two doors that would let in light, and after applying the film to both sides of the shower door and one side of the bathroom door, we now have reduced the morning light from waking the little cherubs too early.
Why two layers in the shower? Well, because we couldn't put a cover over the shower hatch due to the water.
BIKE RACK BEAUTY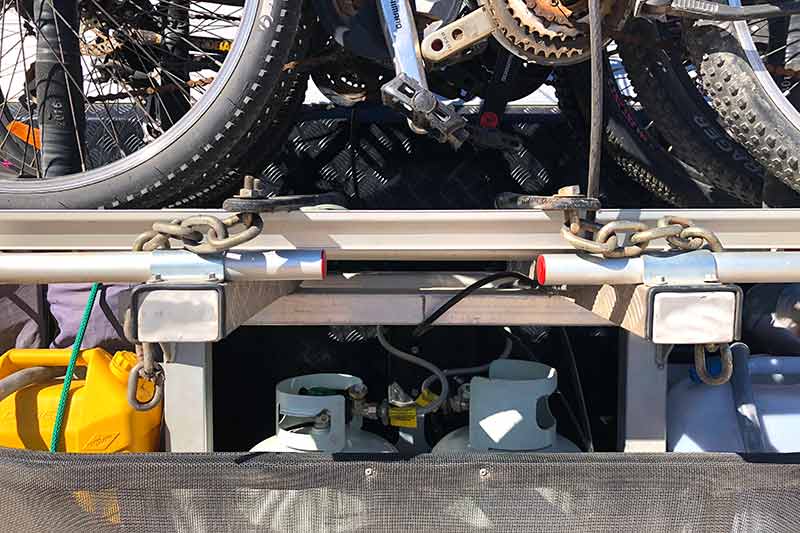 Our bike rack is a big conversation starter. It is set-up at the front of the van and can hold four bikes. It is made of box aluminium tube welded to form the support beams and it works a treat, with not too much bounce. We also had a canvas cover made to protect the bikes when not travelling. We tried driving once with it on to see how it went, and it was like we were sailing into a headwind!
DISH RACK SOLVE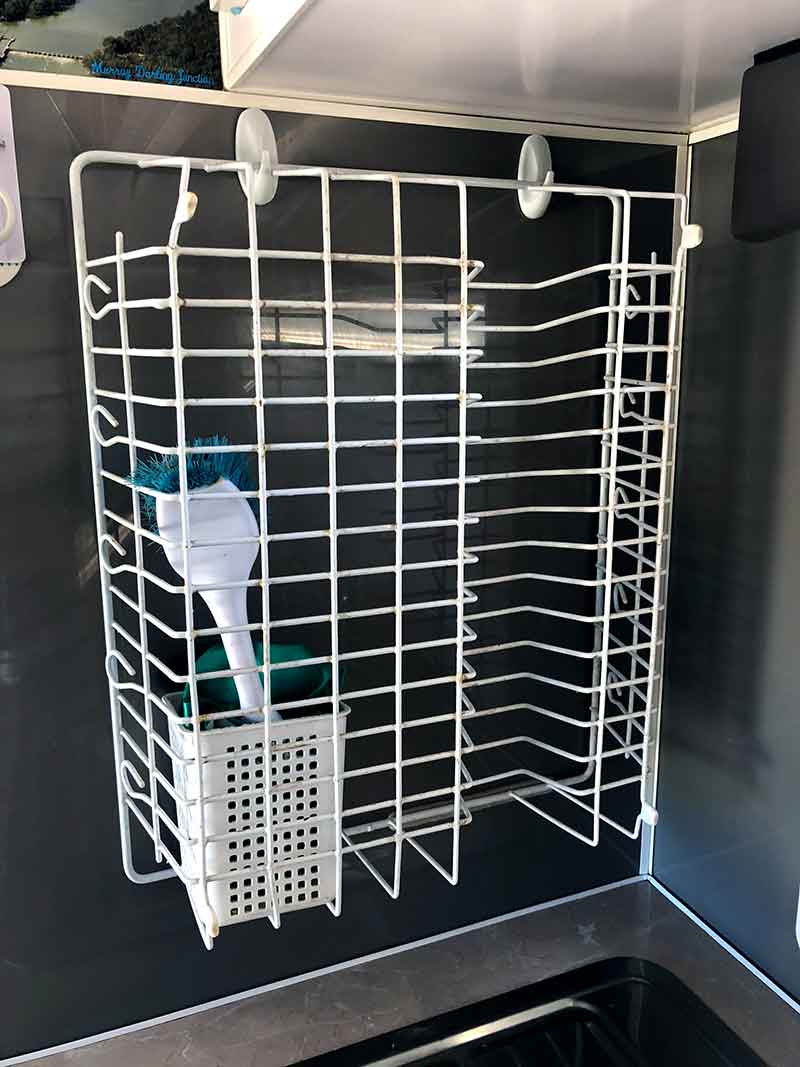 Where do you put the big dish rack when travelling? In a cupboard? Too big and bulky for that. Solve the issue by placing two hooks and a piece of felt on the wall, and hang the rack. It's out of the way, travels well and doesn't bounce around or mark the wall. Headache averted.
AWNING CLOTHESLINE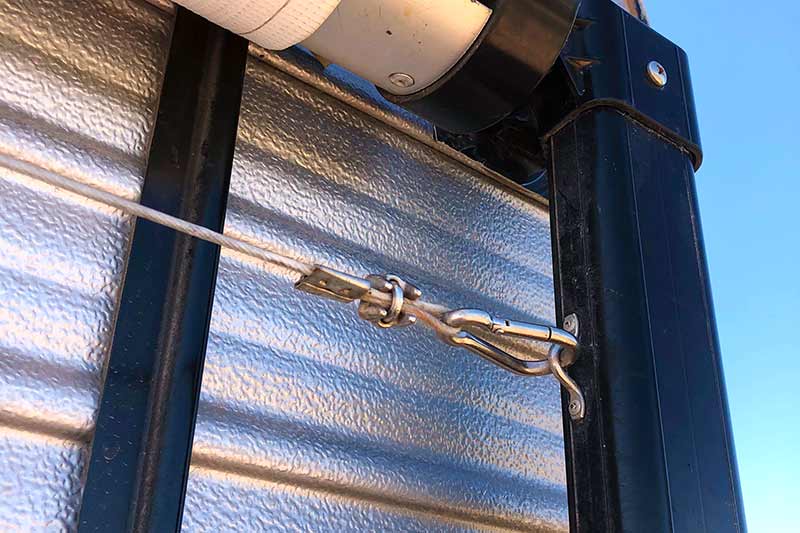 An outdoor permanent clothesline was one of the first things we made, and it works a treat. It involves some plastic-coated thin wire rope, a turn buckle so it can be tightened, a buckle with an eyelet, two carabiners and two fixing points. Make up the line to your awning, and pop rivet the fixing to the awning arms. Attach the line, tighten, now forget it's there.
Be sure to fix it high enough so it doesn't get in the way of the door opening and closing. The best thing is it's semi permanent, durable and can still be used when the awning is closed.
FAN-CY IDEA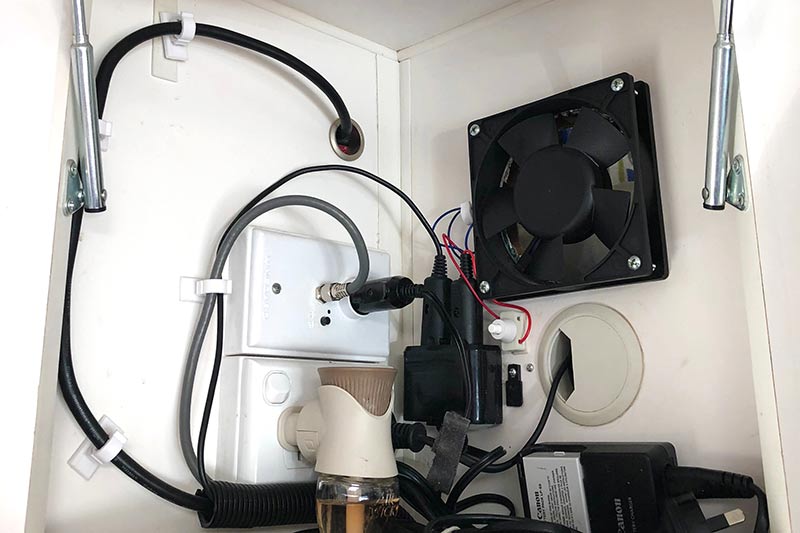 We had an issue with our microwave overheating and it's thermo cut-off switch turning it off because the space for it was small and had no airflow. Problem solved: we wired a 100mm 12V fan to a cigarette lighter-style plug, cut out a hole for the fan (we have a cupboard beside the one housing the microwave) and used a double adapter unit so one could be used for the 12V TV and one for the fan. Just install a small inline switch so the fan is easy to turn on and off without having to remove the plug all the time.
RUBBER STOPPER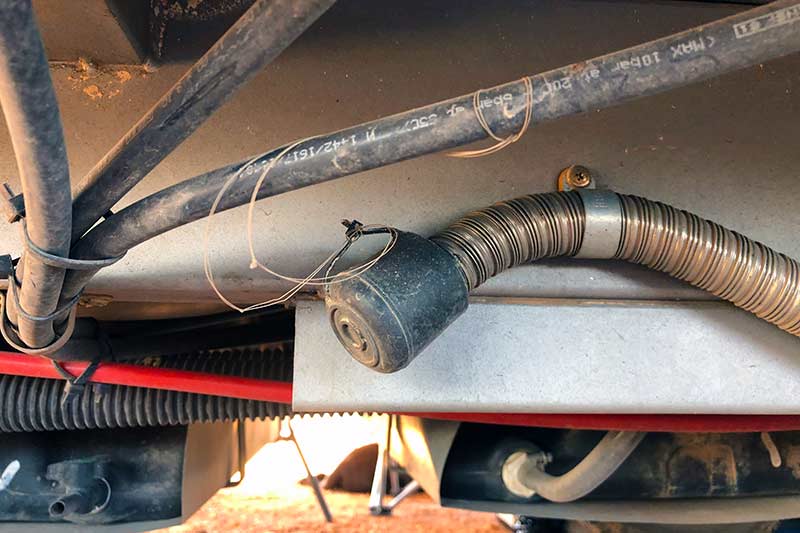 Wasp mud nests, rocks, dust and dirt can get into outdoor taps, water tank drain taps and your new diesel heater exhaust. Problem solved by fitting a rubber chair leg end over the tap or exhaust. Push a piece of fishing line through the rubber stopper, tie it off or glue it and tie off the stopper to the tap or van. The stopper won't come off while your driving along, you won't loose it when you take it off, and it's easy to put back on when it's needed to bung that tap. And it's cheap!
CHAIR IN THERE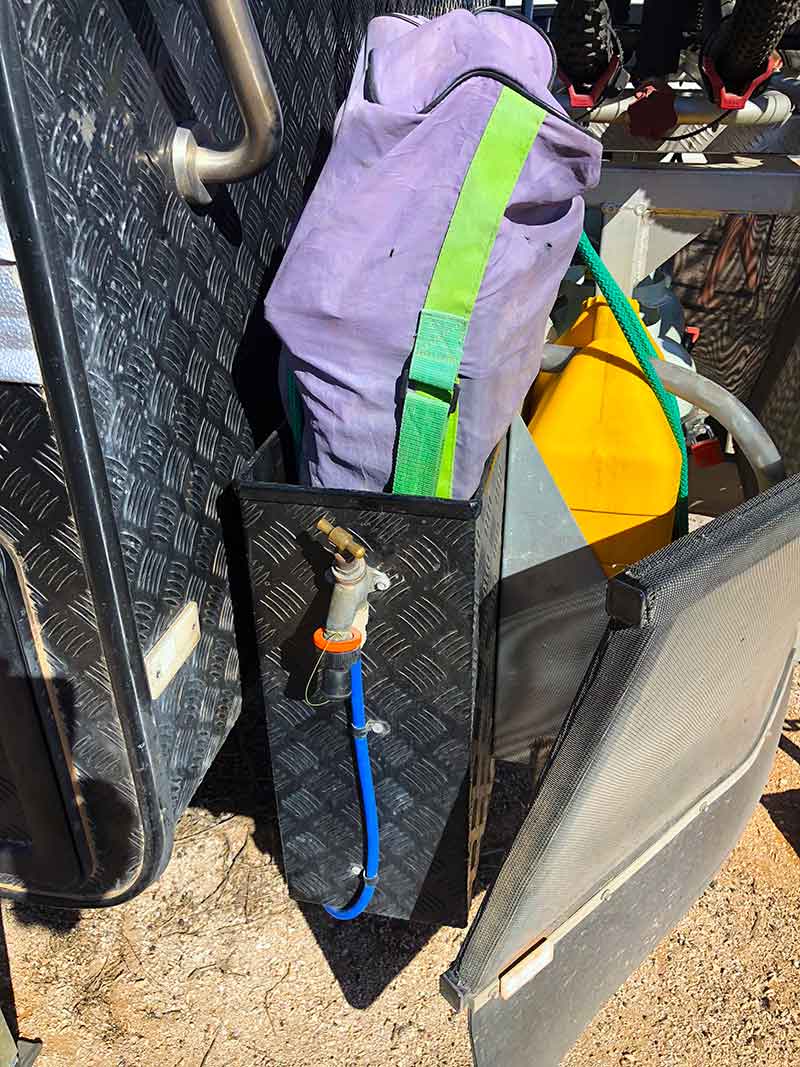 Chair storage was a difficult one to solve. This problem required something simple, lightweight, durable and weatherproof. The answer: a box that was big enough to hold two fold-up chairs and strong enough to be bolted to the jerry can holders at the front. We had some wiggle room, weight-wise, up front so the boxes were added to free-up boot storage space. Added bonus: it's now very easy to access the chairs and put them away. It's now a job that the kids can do. Did I mention it's a win-win?
LOVE THE LADDER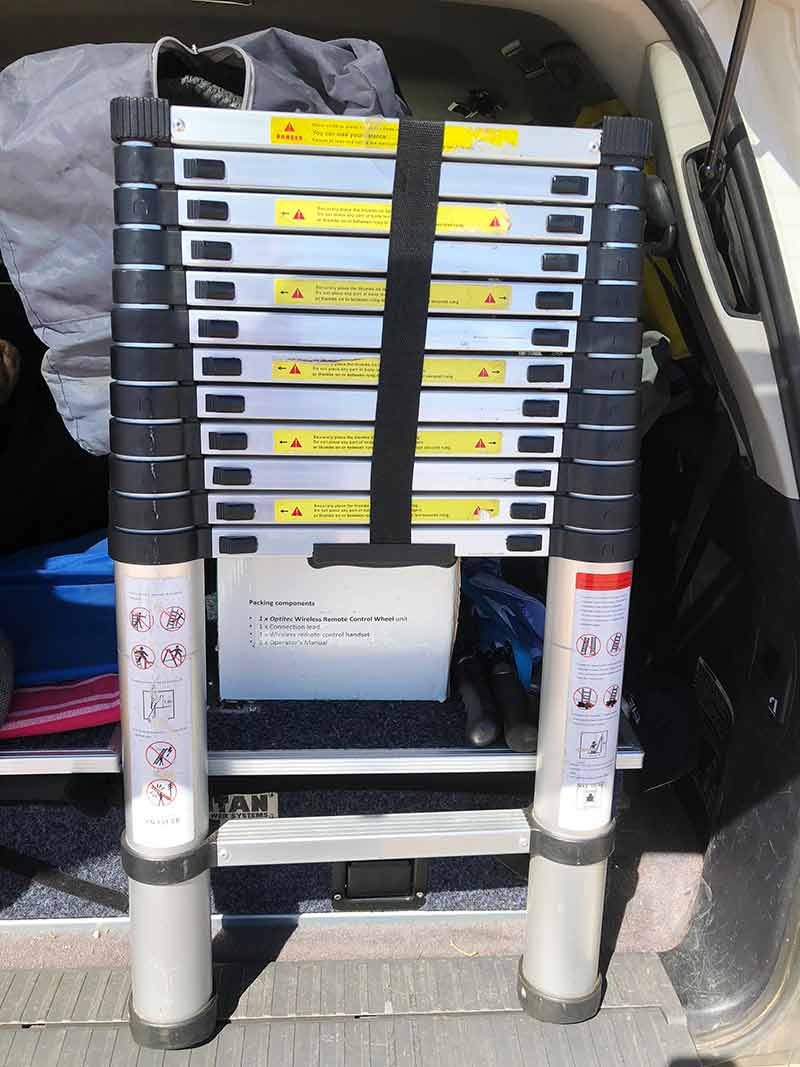 Problem cleaning the van roof or solar panels? Problem solved: carry a light, but sturdy, concertina ladder that will 'telescope' into itself. It's a handy bit of kit that allows you the ability to see what's going on.
INSECT-STOPPER
When we started travelling we couldn't understand why there there so many sandflies, or similarly-sized insects, getting into the van. We realised that none of the vents had any sort of screen behind them. The problem was solved by fitting flyscreen behind the vents.
Follow Four Hands in a Tin Can at www.facebook.com/fourhandsinatincan,  www.instagram.com/fourhandsinatincan and www.fourhandsinatincan.net