If you are in the market for a fully-featured, well-priced caravan, the Kakadu Caravans Wanderer should be on your options list.
Available from the South Australian dealership Adelaide City Caravans, which is run by the knowledgable and passionate Michael Steindorf, the Kakadu Caravans Wanderer comes straight from the factory with all the gear you'll need to get going. Sure, you could add extra equipment, but in terms of build quality and standard features, the 19ft 6in Wanderer has a lot going for it.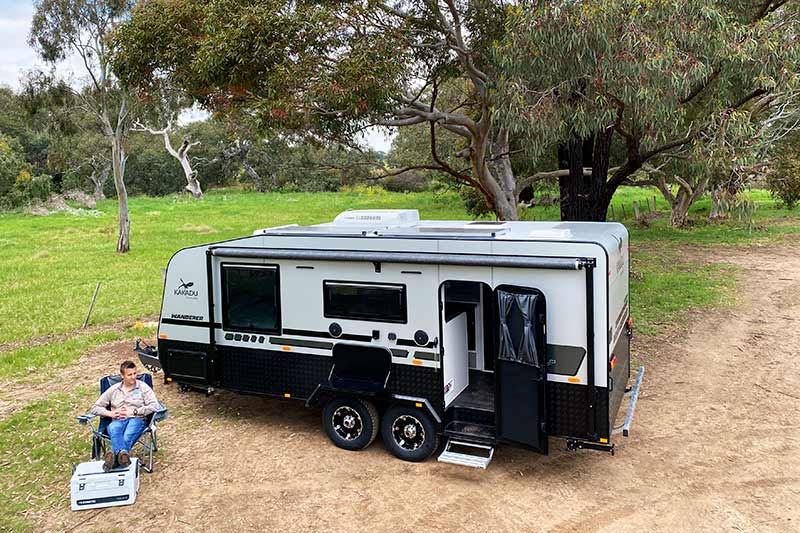 Now, although the van is unique to Adelaide City Caravans, it is available all around Australia. Michael tells us that he'll arrange delivery directly to your door, with a staff member on hand to provide a complete handover in your driveway.
STREET APPEAL
First, I have to say that the Kakadu Caravans Wanderer has plenty of 'street appeal'. It looked great behind my Isuzu MU-X and towed well, too. As I hauled it along the freeway and on secondary country roads, I experienced no difficulty whatsoever.
It weighs in with a Tare of 2300kg and offers an ATM of 3200kg. That's a payload capacity of 900kg – generous by any measure.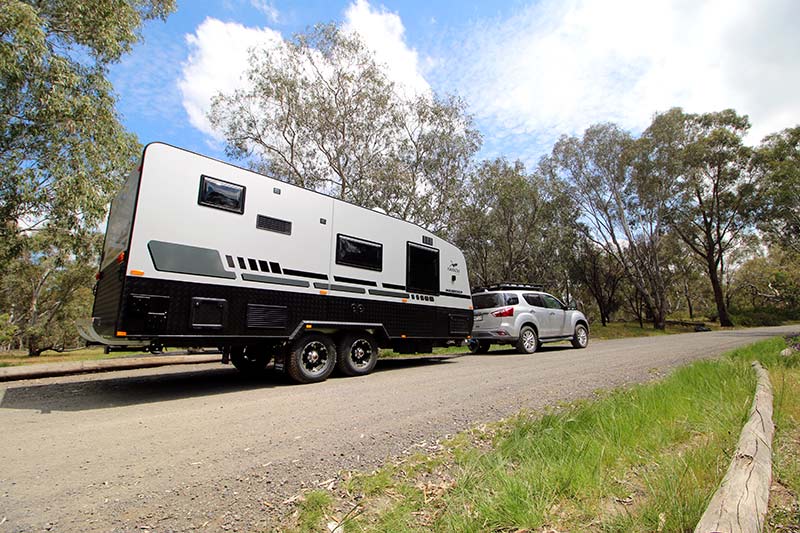 It rides on a 6in galvanised chassis with a 6in A-frame. As standard, the Wanderer is fitted with roller-rocker beam-axle suspension and 15in wheels. Now, our Wanderer was very much a blacktop touring caravan; however, an offroad version is available (known as the Wanderer Xtreme) as is a semi-offroad version (the Wanderer XL).
Nonetheless, Adelaide City Caravan has equipped this van with 600mm sides of protective checkerplate – higher at the front and back. The checkerplate is available in silver or black, while the composite aluminium body panels are available in silver or white. Personally, the black on silver would be my choice.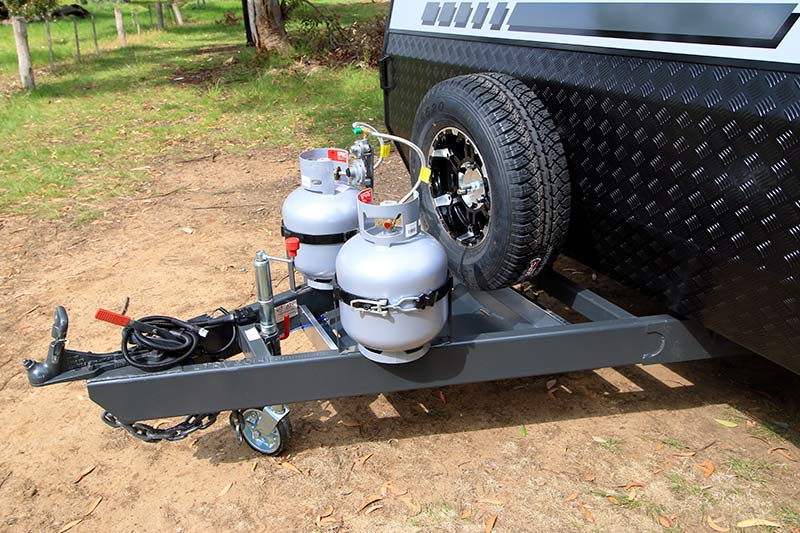 The drawbar is equipped with dual 9kg gas cylinders, a freshwater tap with stoneguard, a 50mm ball coupling and a tray; however, access to the tray on our van was a little tight due to the fact the spare wheel had been fitted just above, rather than on the rear bumper.
Along the nearside, you'll find those must-have features, such as an Aussie Traveller awning, a fold-down picnic table, a couple of speakers, awning lights, and a 240V and 12V point.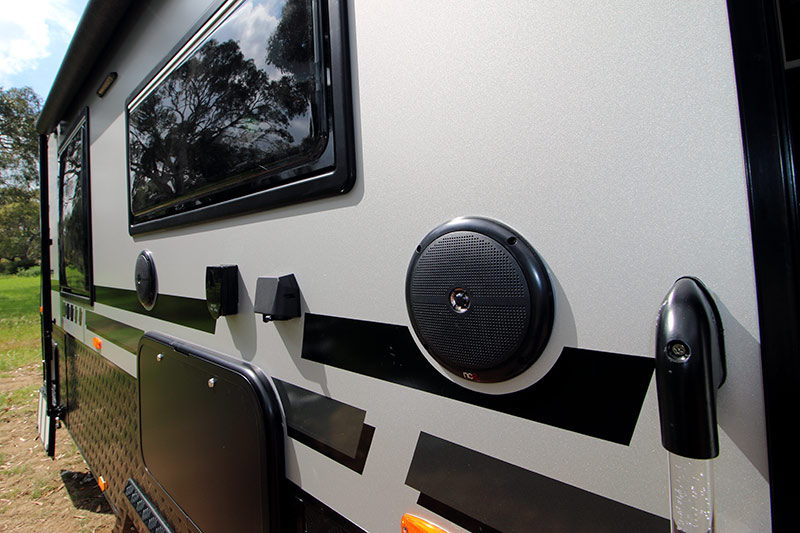 On the offside, meanwhile, you'll find a mains water inlet mounted to the chassis member just behind the rearmost wheel – it appears to be nice and high, out of harm's way.
Underneath, the Kakadu Wanderer gets two 95L water tanks, both of which are fitted forward of the axle set.
Nothing about the van's underside struck me as untoward, given this van is built for on-road adventures. In fact, a couple of things stood out, such as the fact the wiring for the electric brakes runs directly to the wheel hub, inside protective conduit – is there any worse idea in caravan manufacturing than unprotected brake wiring?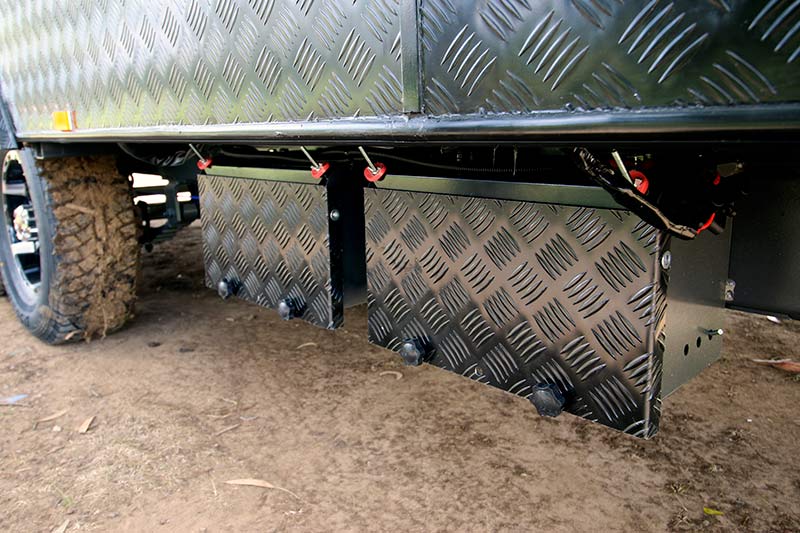 Finally, on the offside, just forward of the wheels, two 100Ah deep-cycle batteries are mounted to the chassis rail inside a steel box with checkerplate fronts. As standard, the Kakadu Wanderer gets a decent amount of solar – 300W, in fact, in the form two separate 150W roof-mounted panels.
Externally, the Kakadu Wanderer presents as a solid, dependable, honest caravan offering great value for money. Let's take a look inside…
STEP INSIDE THE WANDERER
The rear-door Wanderer has a conventional layout that incorporates a front queen-size bed (with pillowtop mattress), a nearside dinette, offside kitchen, and an ensuite in the back.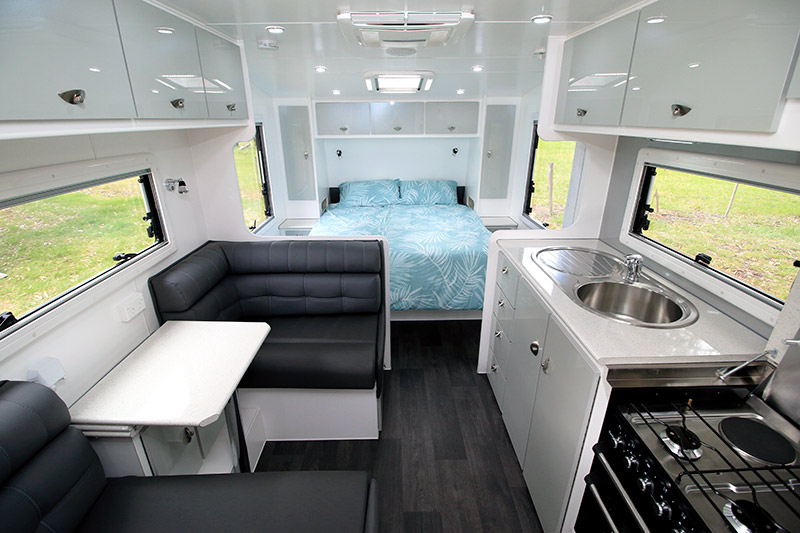 The bedroom offers plenty of space either side of the bed, three overhead lockers, side wardrobes with niches (each with a 12V and 240V point), large windows and hatch above the bed. It's characterised by lots of natural light and sensible attention to detail. 
The dinette, meanwhile, is of the cafe style, with tri-fold table, 240V and 12V point, reading lights and three overhead lockers. Optional footrests are available, too. The dinette can be swapped to an L-shaped variety, depending on the customer's preference.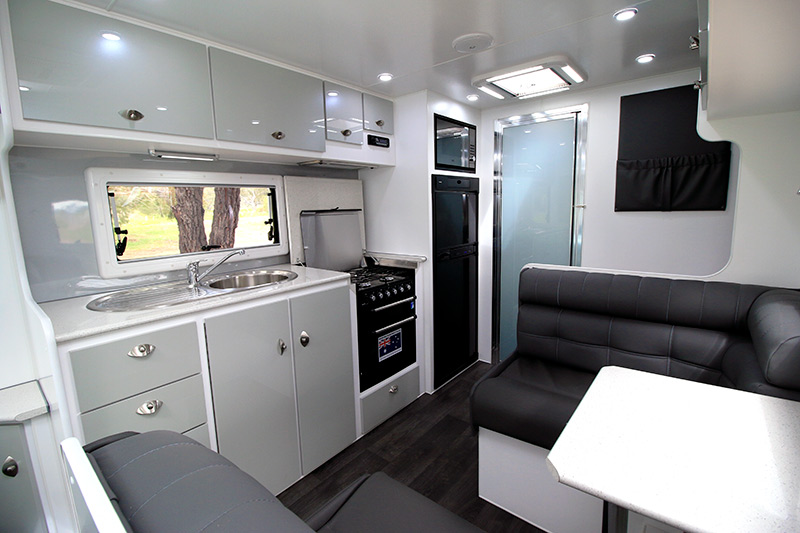 I thought the kitchen in the Kakadu Caravans Wanderer had lots of appeal. It's attractive and offers a lot of general storage options. It is equipped as standard with a Swift four-burner cooktop, griller and oven, a stainless steel sink, numerous drawers and overhead cabinets, a stainless rangehood, and a microwave neatly recessed above the 185L three-way Thetford fridge-freezer.
For extra cost, the fridge can be upgraded to a 12V compressor unit; however, there's certainly nothing wrong with the old faithful three-way fridges.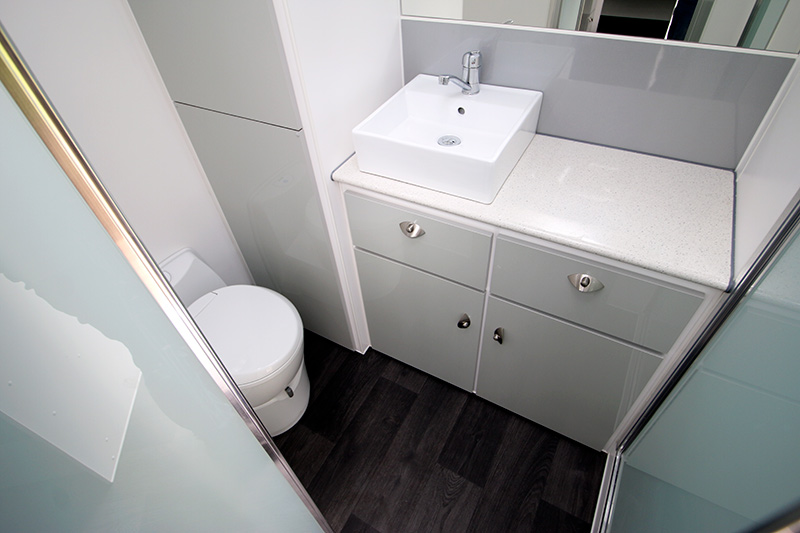 The bathroom is home to an offside cassette toilet, central vanity unit and a fully-moulded fibreglass cubicle on the nearside. There's plenty of space for linen, despite the top-loader NCE washing machine provided as standard. The vanity unit also provides more-than-adequate storage space. In fact, the entire presentation of the bathroom is of a high standard.
Among the other features on offer in this van are an Ibis 4 air-conditioner, double-glazed Ranger windows throughout, a stereo/DVD player and TV, and – notably – piano hinges on all locker doors.
Hot water is provided by a 28L Swift unit that is hidden in cabinetry below the bathroom's washing machine. Meanwhile, all switches and controls are centralised in a locker above the kitchen bench, leaving the walls, splashback, etc., uncluttered.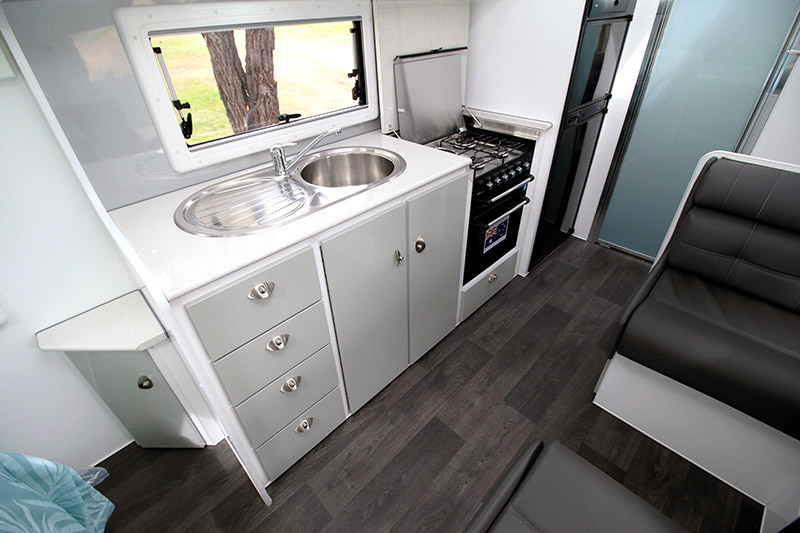 Overall, the interior is tidy with no obvious flaws to the fit and finish – it has a certain elegance, in fact. 
GORV'S VERDICT
The 19ft 6in Kakadu Caravans Wanderer is one of Adelaide City Caravans' most popular vans, and that's understandable. On price alone, the appeal is obvious.
To make full use of the van's payload capacity, you're looking at a higher-end 4WD, but there's nothing wrong with that at all.
I could quite happily hitch this rig up, head along the Indian Ocean Drive, and spend weeks on end exploring all the Coral Coast had to offer. Afterwards, a trip across the Nullarbor… and then onto Cairns. That's the dream.
THE SCORE
FIT AND FINISH –

LAYOUT –

INNOVATION –

HITS & MISSES