When Shaye Fischer and her family of four decided to take a 6000km trip to Birdsville – between Stuart's Stony Desert, the Simpson Desert and Channel Country – they never imagined the adventure they'd have.
But first, they needed to find a caravan. Shaye decided to call upon the services of Camplify, an online caravan hire and peer-to-peer RV sharing network.
[If you like this article, Like GoRV on Facebook!]
"Because of the rough terrain and long distances we had planned for our trip, we were looking for a van that could accommodate us for these requirements but was still comfortable for us to sleep in at night, particularly as we'd have our two young daughters with us," Shaye said.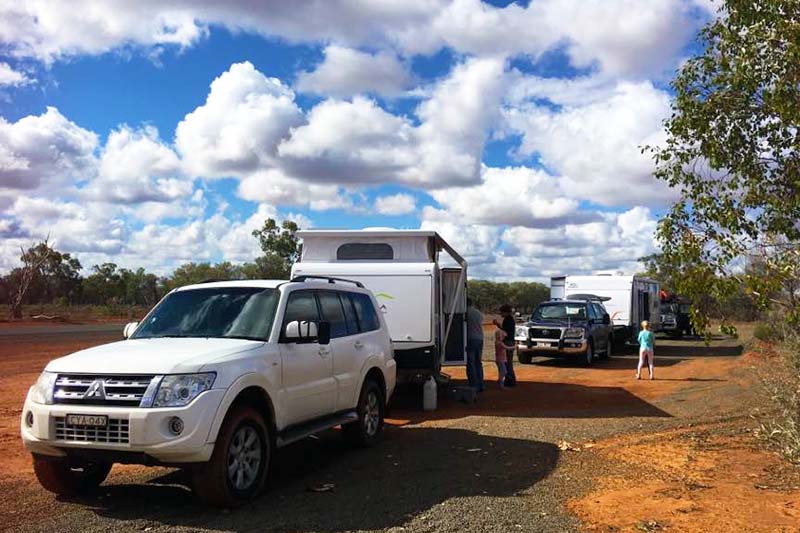 "As we had never undertaken a four-wheel-drive or desert expedition before, our expectations were a cocktail of excitement, nerves  – had we packed everything we should? – and impatience to begin our adventure.
"Add two excited little girls to the mix who didn't particularly have a great track record for travelling long distances at all, a caravan we'd never towed before, over 400kms of dirt roads, and two other vehicles and vans in convoy, what could go wrong?
"Very little as it fortunately turned out, only two bogging incidents, three flat tyres, two cracked windscreens and memories that will last a lifetime.
The purpose of heading to Birdsville? The Big Red Bash, of course, a three-day music festival staged in front of Big Red, the largest sand dune in the Simpson Desert.
RV SHARING
"I found the whole Camplify experience really straightforward. It was quick and easy for me to make an online profile and then contact the owner of the van we decided to hire through the site," Shaye said.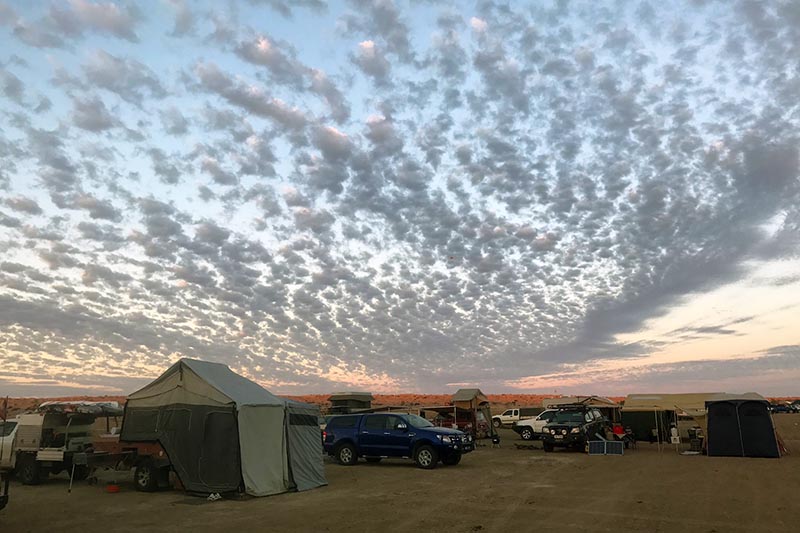 The van they settled on was a Jayco Expanda out of Brisbane. "The van was perfect for the trip. When we picked up the van, the owner went to great effort to explain how everything worked and to make sure we had everything we needed.
"So, after taking our last hot showers and coffees for quite a while, we took photos of all our troops in a row, made our favourite purchase of the trip – our new walkie talkie – and hit the road. The ever-changing scenery never got boring, with large cacti trees providing a great game of 'spotto' for the kids."
Camped next to a river at Mitchell, en route to Birdsville, the family became bogged in soft  riverside sand.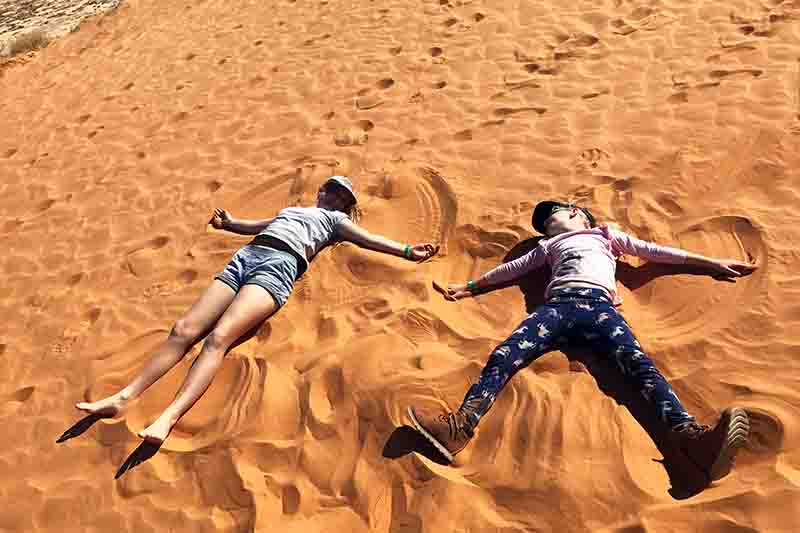 "After one flat tyre and a few other adventures, we finally made it to Birdsville," Shaye said. "We didn't realise it was another 40km to Big Red! We made it just in time to the check-in point and joined the other 7000-odd vans that had already set-up camp with fires aglow. Stunning sunsets and sunrises, fabulous fires morning and night, amazing clouds and desert, cool mornings and nights and hot days were the perfect backdrop for the music and bash.
"The three days of fun eventually came to an end and we packed up again and joined the dusty procession slowly back towards Birdsville. There was so much traffic that police directed the thousands of vans through the small town comprising one bakery, one famous pub and two servos!"