There are caravans, pop-tops, camper trailers… and then there's the Legend Groundbreaker. Yes, it's an attention-grabbing offroad van.
I'm not just talking about how this caravan is built – on looks alone the Groundbreaker, well, breaks ground. With it's curvaceous front profile, squared off rear, side nudge bars and a particularly high stance on the road, it had me immediately intrigued.
But it's no shrinking violet. In fact, it weighs in at 2983kg unladen. And given its payload allowance of 517kg, this van is beyond Prado or Pajero territory. For this review, our tow tug of choice was a Land Cruiser 200 Series Sahara. When you're towing a top-end caravan, you might as well do it in style.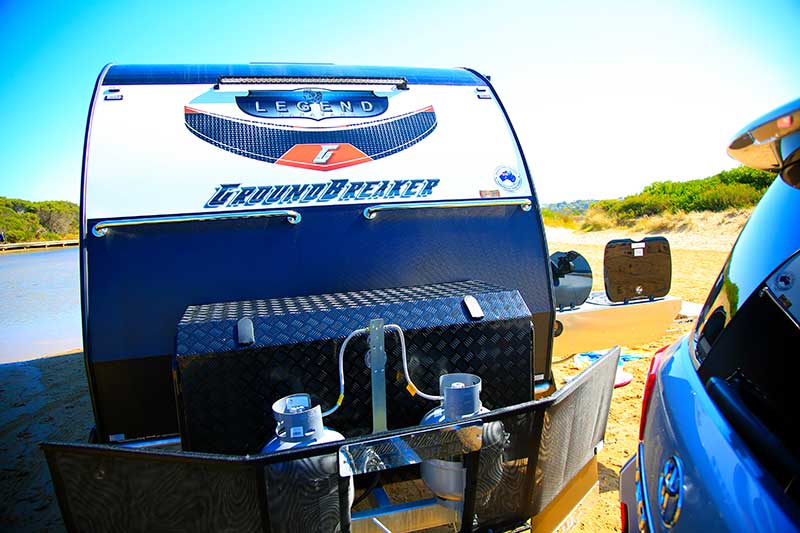 So it was with some excitement that we hitched up the Groundbreaker at Legend Caravans dealer Southern RVs in Moolap, east Geelong, and headed to one of our secret beachside spots.
ARMOUR-PLATED
The van comes in six different sizes and layouts – ours was the 21ft 6in version. In all honesty, I had no complaints with how the Groundbreaker towed. Behind the Cruiser, it was as stable as a rock, around town and on the highway at 90-100km/h.
Up front, the van is kitted out with a DO35 coupling, a couple of 9kg gas cylinders behind a mesh stoneguard, and a checkerplate storage box comprising two small slide-out trays, either of which could hold a barbecue or, say, a 2kVA generator.
Naturally, the van comes with a slide-out nearside kitchen and accompanying gas bayonet, a fold-down picnic table, entertainment hatch with inbuilt TV mount, a couple of speakers and more. I liked the inclusion of the rear tunnel boot, accessible from both sides, while there is some storage space at the front-offside, though some of this space is taken up by the external kitchen.
There's a well-configured lighting setup, too, with a front and rear LED light bar, and two LED bars under the Dometic roll-out awning.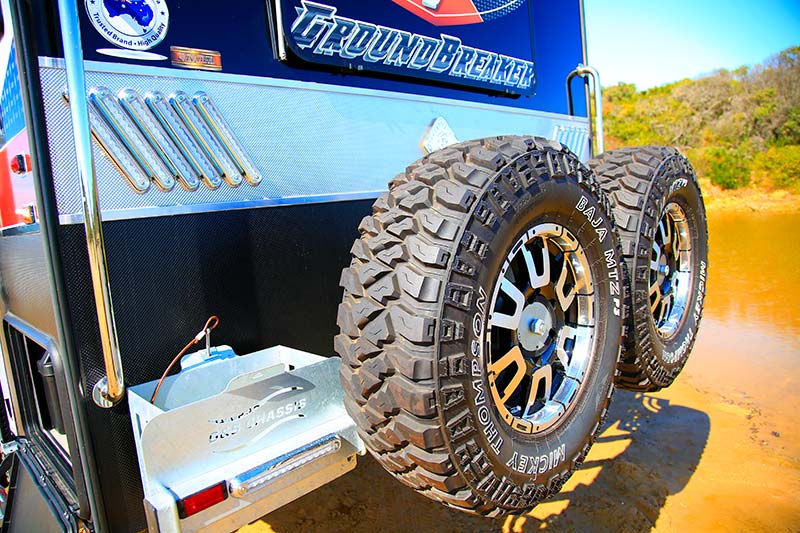 From a style perspective, the back of this van looks great. No, there's no rear cutaway but given the clearance, thanks to the 8in chassis raiser (which also gives a flat floor inside, with no wheel-arch intrusion) the departure angle is still decent. What's more, armour plating has been extensively applied underneath (the word 'Legend' is nicely etched into the rear plating). I did notice, however, that the plastic valve for dumping the water from the rear water tank was a bit exposed, as was the PVC outlet for the forward grey water tank. Everything else, however, is completely protected.
The rear of the van also gets a rear-view camera, a couple of jerry can holders and dual spare wheels on a bumper supported by four steel stays.
G&S Control Rider independent coil suspension has been fitted to the Groundbreaker – it's a system I've never had any problem with and it performed well during our time with the van.
The Groundbreaker has a decent 12V system for offroad touring. Two 120Ah AGM deep-cycle batteries, dual 150W solar panels and a Redarc 30A battery management system are included, as is an Anderson plug to also charge the batteries while the van is under tow.
Build-wise, the van can come with an aluminium or laminated timber frame (ours was aluminium) with composite aluminium wall panels. It also a waist of a protective material known as X-plate in place of the traditional black checkerplate.
Beyond mere looks, the Legend Caravans Groundbreaker offers the equipment you'd expect for its price point, and the attention to detail is up there, including a shiny Legend logo adhered to the chassis rails.
LEGEND CARAVANS GROUNDBREAKER LAYOUT
You might expect a front bedroom/rear bathroom layout. But you'd be wrong. Instead, it offers a bathroom amidships, with a separate nearside shower cubicle and cassette toilet on the offside, with a front-loader washing machine beneath the washbasin. As you'd expect, the bathroom can be closed off from the main living quarters and bedroom via sliding doors. It even gets a heated towel rail.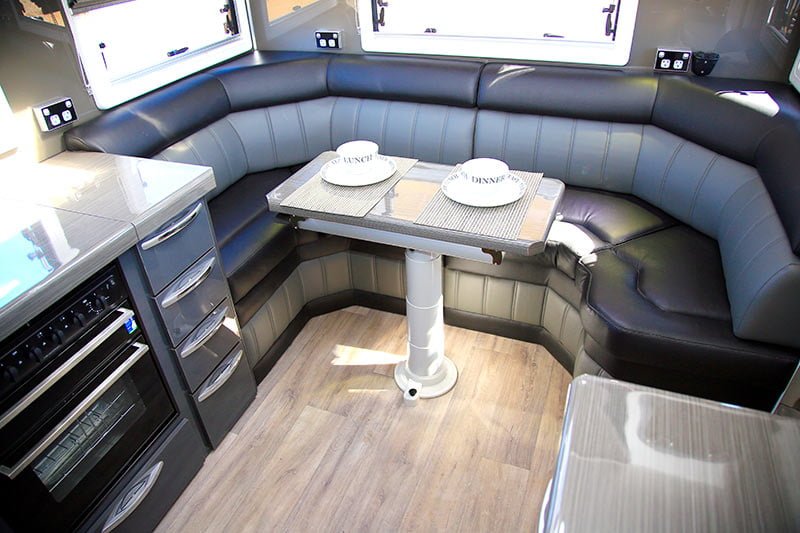 The star of the layout, however, has to be the rear leather club lounge with surrounding LED lighting, double powerpoints either side, and a 12V charging point too. Overhead lockers surround the lounge; in fact, I found the internal storage capacity of the Legend Caravans Groundbreaker to be more than sufficient for two-person touring.
The kitchen is split across both sides, with a four-burner cooktop, griller, oven and large three-way fridge on the offside, and sink and more cupboard/drawer storage on the nearside. The microwave is set into the overhead cabinetry here, surrounded by a particularly neat fascia – again, the attention to detail does set this van apart.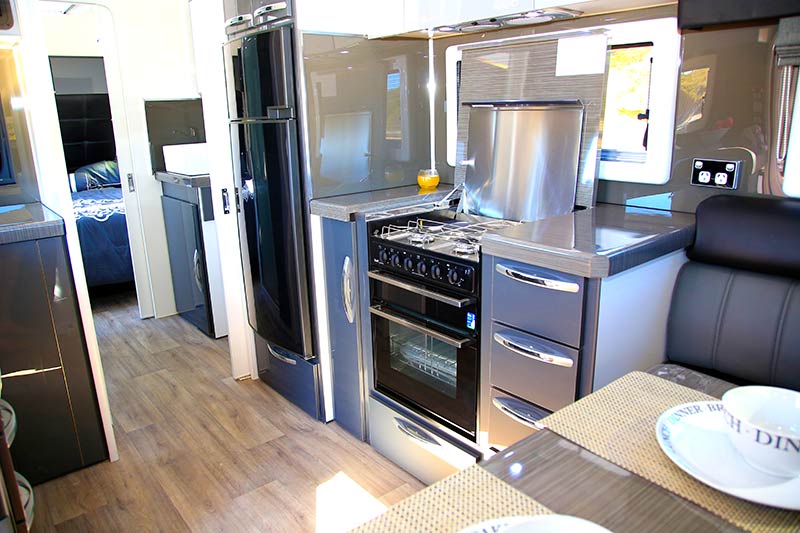 The bedroom 'feels' quite private in this layout. Some of the features include a wardrobe storage nook either side of the bed, a TV mount on the nearside at the foot of the bed (there's a TV point above the kitchen sink, too) and storage space under the bed. Our review van was fitted with a gas heater here, but this is an option. I did like, though, that the bed's supporting frame was wrapped in material, rather than left as laminated ply – it helps to make this room more cosy.
Among the 21st century gadgetry, the Legend Caravans Groundbreaker gets a Fusion 750 Series sound system (with two internal speakers), an iPod docking station, RV wi-fi and an ATS GPS tracking system, meaning the van could be readily located should it be stolen.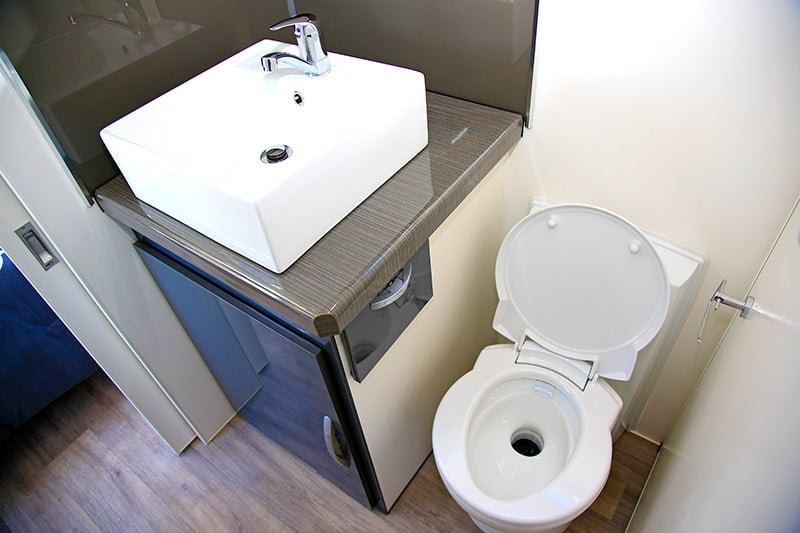 The van also has a certain aesthetic sophistication. The tall kitchen splashback wraps around the rear of the van, just above the club lounge, and LED strip lighting above the overhead lockers adds to the mood.
GORV'S VERDICT
There is more to this van than I think I've conveyed here; however, you get the point: if you like your offroad caravanning comfortable, the Legend Caravans Groundbreaker is worth a long look.
The water capacity and 12V system seem adequate for long-range travels. But it would be wise to remain mindful when loading up. The 517kg payload allowance is reasonable, but we do tend to pack more for remote touring the payload, including things like a portable barbecue and generator.
Having said that, the Legend Groundbreaker is a very appealing van – a luxurious interior, a practical exterior, high clearance and bash plates. I'd love to see the Kimberley in this rig.
THE SCORE
FIT AND FINISH –

LAYOUT –

INNOVATION –

HITS AND MISSES