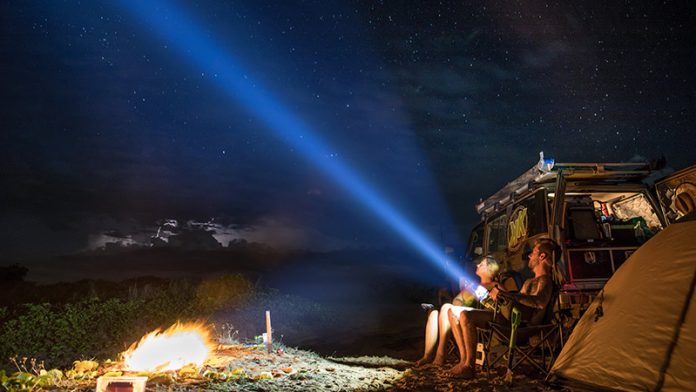 With a vision of how things are going to go on your Big Lap, your excitement builds. You can't wait for those perfect days with your family enjoying new destinations and experiences, and building countless memories together. It's going to be pure bliss! 
With a growing number of people hitting the road to do their Big Lap, we've compiled the following list of the common misconceptions that travellers we've spoken to had before they started out, and then get to the truth of the matter…
I'LL GET SO FIT AND HEALTHY
It takes a few weeks of dedication to turn anything into a habit – and if it's one you don't have before you leave, it won't magically become easier once you start travelling.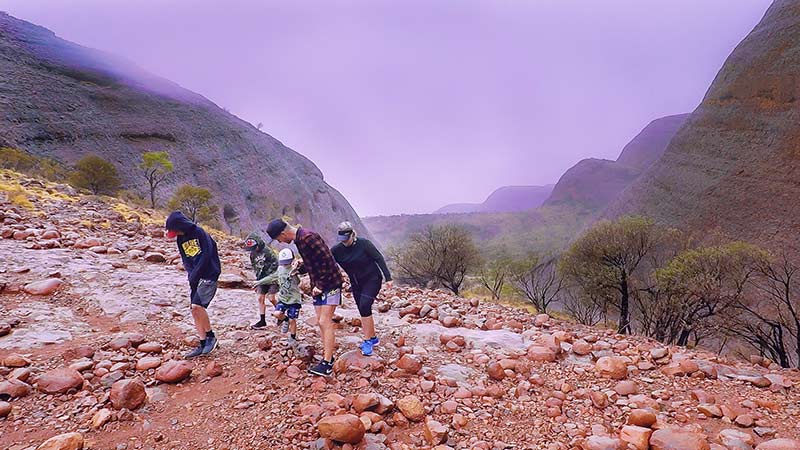 When you have irregular routines, varying weather and pesky bugs to contend with, long days of driving, no inside room to work-out and unfamiliar surroundings, trying to maintain an exercise routine takes real dedication!
I NEED TO TAKE EVERYTHING BUT THE KITCHEN SINK
Now, this relates to clothes, bedding, kitchenware and everything in-between. Honestly, take half of what you think you need – and then half it again!
Try to pack items that have multiple uses to save space, and when it comes to clothing (particularly for women), we'd suggest packing a week's worth of outfits with a handful of spares for various types of weather, and hit up op-shops or K-Mart as you pass through towns if you need more.
Trust us, cupboard space can become highly sought after (particularly if you're travelling as a family).
SCHOOLING THE KIDS WILL BE EASY
There are many varied options for schooling your kids while travelling. With Distance Ed, home-schooling and exemptions a handful of the more popular methods, a lot of people had the idea that schooling would be effortless because of the amount the kids will naturally learn on the road.
As with anything, dedication is still required and each method has its pros and cons resulting in varying stresses as you try to build a teacher-student relationship, or complete the required reporting.
Add into the mix tired or distracted kids (and parents), and the schooling fiasco can most definitely have its trying moments!
MY BIG LAP WILL BE LESS STRESSFUL THAN HOME LIFE
We're the first to admit camping generally gives us 'allll the feels'! We're happier. We sleep better. We're nicer to each other. But, when you replace the week-long holiday you may be used to with a new lifestyle, you of course will still encounter challenges, tiredness, bad moods and the likes – all within a more confined space which in itself brings a new set of challenges to navigate.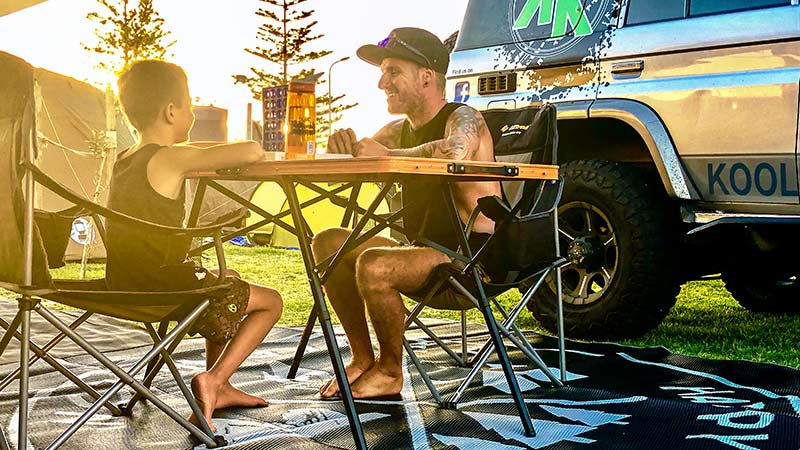 Travelling requires planning and organisation, and it's unrealistic to think you'll be 'happy' every single day. It is also exhausting at times, when doing long drives between destinations or tackling big days out on the water, bushwalking and exploring.
I'LL HAVE SO MUCH TIME ON MY HANDS
Whether you thought you'd have more time for reading, journaling, spending one-on-one time with your partner or children, taking up a new hobby, or anything else, you still determine how you'll spend those 24 hours each day.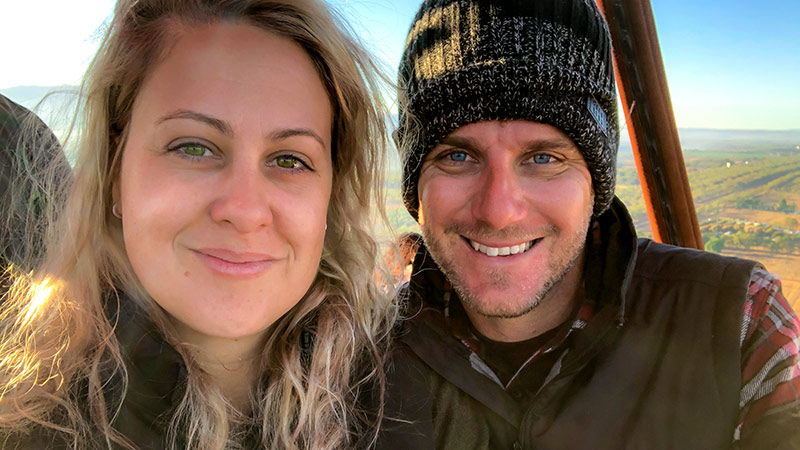 You'll be living the 'freedom' lifestyle, so technically you could 'find' some free time during the week, but we'd say a lot of spare time will be filled with planning your next destinations for your trip.
CARAVANNING AUSTRALIA IS SO CHEAP
Budgeting is as individual a topic as someone's preference to music – everyone has their own ideas about what they'll need to cover any ongoing bills they have and to keep their vehicle fuelled and fridge stocked.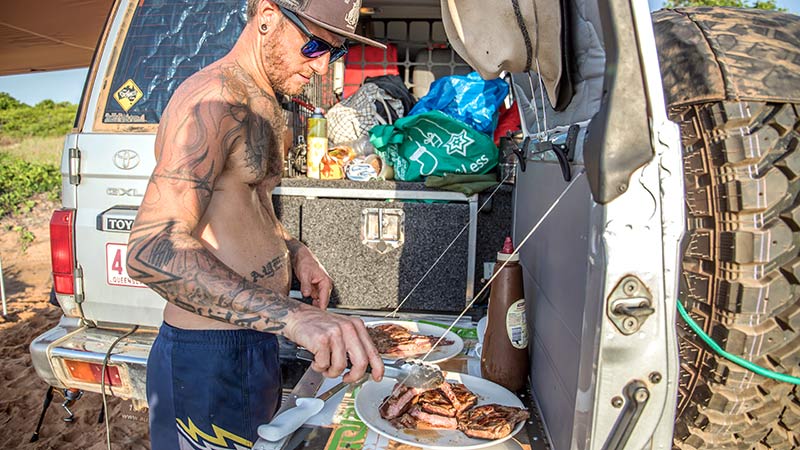 The one common misconception, however, is that people thought they would spend less on the road than they have – particularly with some blogs posting about how their costs are around $6 a day for everything – food and fuel included.
The reality for a lot of people is that if you want to do some of the touristy activities, eat the occasional meal at the local pub, and stay in powered caravan sites, your costs will increase.
We've heard a lot of people base their travels on $1000 per week. Some do it cheaper, and some still spend a grand in a matter of days.
WE CAN SEE IT ALL IN A 12-MONTH BIG LAP
Australia really is a massive country, with some destinations having large distances of nothingness between them. We have met people who have been living the nomadic lifestyle for over a decade and still haven't seen everything or been everywhere!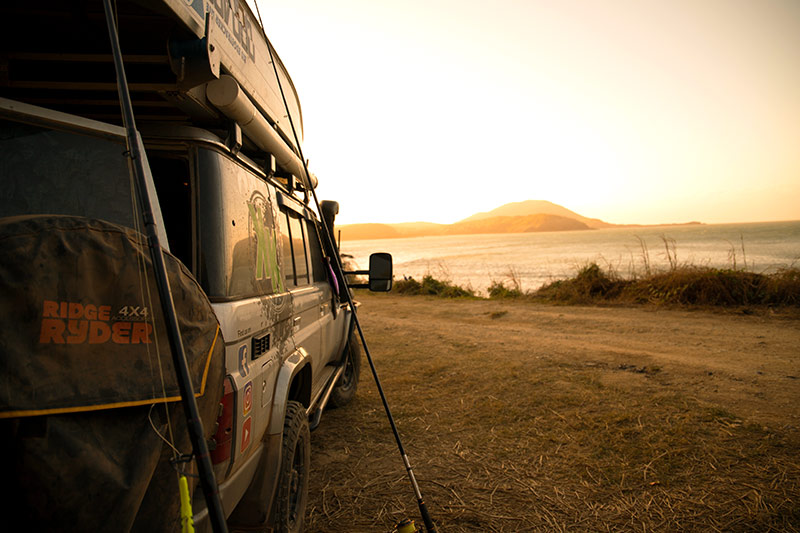 With cyclonic weather, monsoonal rains, snow, tropical summers and other seasonal conditions taking a front seat in what you will and won't be able to see and do in particular locations, it is impossible to navigate the country in a 12-month period and do it all. Prepare to miss out at times.
WE CAN JUST LIVE OFF THE LAND!
Look… this one can be a touchy subject with some of the men in the travelling community (ha ha). In a perfect world, we'd all love to catch fresh seafood every day – it just doesn't happen and in most cases it isn't for a lack of trying.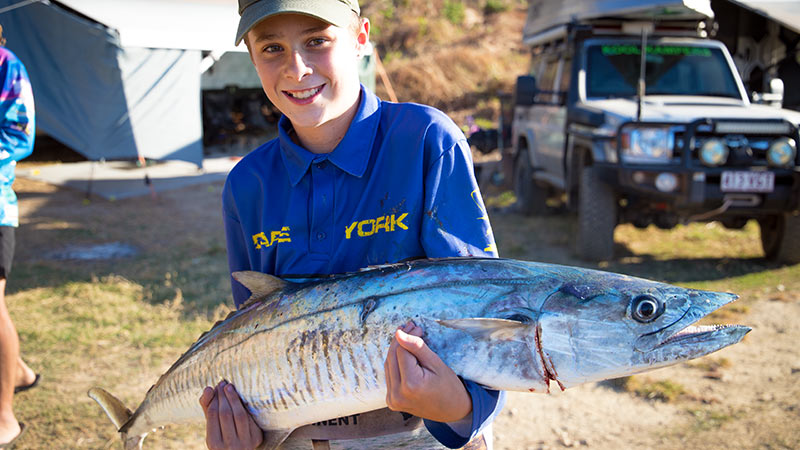 Don't let your spirits dampen if you have weeks of no luck. Some places are just more fished out than others.
MORE MISCONCEPTIONS
Here are more of the Big Lap misconceptions fellow travellers have shared with us – can you relate to any?
1. "We thought we'd never have any issues with power" – regarding solar variations in different states and weather conditions.
2. "We thought we'd be able to free-camp as long as we wanted" – regarding the limitations a lot of free camps have on your stay.
3. "We thought we'd have plenty of camps all to ourselves" – regarding the amount of people actually out there travelling to the same locations.
4. "We thought internet reception was better around Australia" – regarding obtaining a connection to get online work and schooling completed in more remote areas.
5. "We thought 'bloggers' made money to travel" – regarding keeping up with the efforts required to run their own blogs and not receiving any 'kick-backs' in their time travelling.
6. "We thought some well-known places would be more magical after seeing them online" – regarding visiting places where online pictures had been heavily edited.
7. "We thought we'd use our boat more" – regarding dragging a boat on their travels.
8. "We thought there'd be a lot more time for intimacy and romantic walks on the beach" – regarding the realities of full time travelling… with kids!
9. "We thought we'd dress up more, like putting on make-up and fancy outfits" – regarding finding their 'inner hippy' and letting themselves go a little more au naturel.
10. "We thought we'd see a lot more wildlife and animals like snakes as we trekked around" – regarding the realisation that even out in the country, Australia isn't just seething with dangerous animals 24/7.
11. "We thought we'd use our caravan ensuite more" – regarding the preference of still using the facilities at the campsites rather than inside their vans.
12. "We thought our kids would have other kids to play with everywhere we stayed" – regarding getting off the beaten track a little more and not seeing many other travelling families in free camps.
Did you have any misconceptions before setting off on your Big Lap that were quickly dispelled by reality? Let us know: info@gorvcom.au
FOLLOW KOOL KAMPERS
http://www.instagram.com/koolkampers_travelling_aust