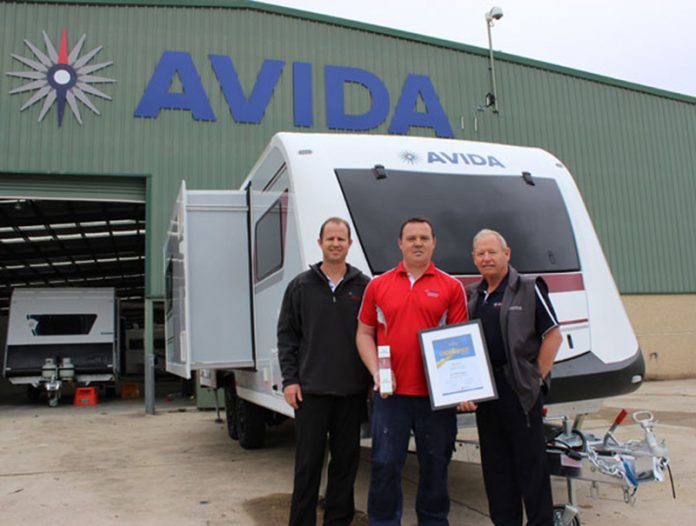 Avida team member Jon McGuiggan was recognised as Employee of the Year ­– Products and Services at the NSW Caravan and Camping Industry Association's (CCIA) annual Awards of Excellence, which was held on Sydney Harbour in November.
The awards showcased the best in holiday parks and residential communities, quality dealerships and service providers, and manufacturing excellence from across the state.
"Our awards of excellence are a hallmark of outstanding quality and service and they form a valuable part of the ongoing success of our industry," Theo Whitmont, CCIA NSW president, said.
"Our members across NSW have been instrumental in helping to deliver this success through their great products, high standards and commitment to customer service."
Jon McGuiggan (pictured with Avida CEO Ben Binns and Avida founder Bruce Binns) has been with Avida for more than 14 years. He started as a general hand, and with his shop-fitting trade skills he worked hard to gain product knowledge and the specific technical skills to build recreational vehicles.
Avida's operations manager, Jodie Harris, said, "Jon's determination to meet the business goals, his unwavering commitment to the business and his team and his 'failure is not an option' attitude make him invaluable to our business.
"Jon continues to look for ways to improve the products, processes, himself and his team, and we are delighted that Jon has been recognised for all his efforts," said Ms Harris.