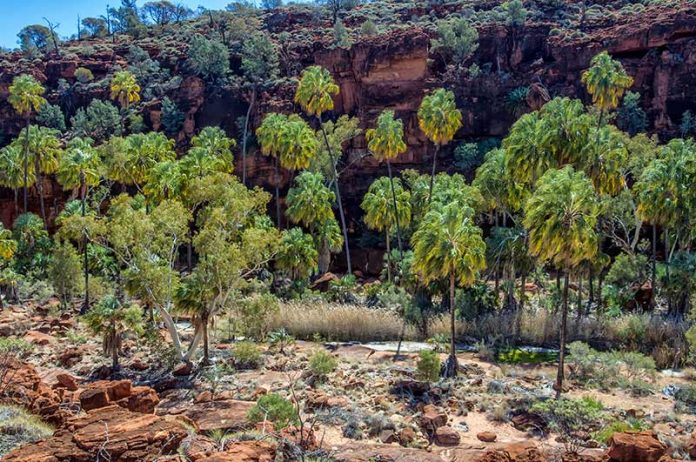 Alice Springs has many attractions that are easy to get to; however, if you want something a bit more challenging, here are three 4WD adventures. Two of these, Chambers Pillar Historical Reserve and Palm Valley in Finke Gorge National Park, suit experienced four-wheel-drivers and a vehicle with high clearance. 
Rainbow Valley Conservation Reserve is also best-suited to a 4WD, mainly to withstand the soft, sandy patches and a thorough hammering on thThe e unsealed, corrugated road leading out there. 
All three offer campgrounds: tents and actual offroad camper trailers with excellent suspension are okay for Chambers Pillar and Palm Valley; offroad caravans are okay at Rainbow Valley. 
Check the weather forecast, road conditions and park closure advisories for each of these, as rain can make all tracks/roads impassable and leave you stranded until a floodway recedes. Let's take a look at each one.
RAINBOW VALLEY CONSERVATION RESERVE
Beginning with the easiest to drive to, Rainbow Valley can be accessed via the Stuart Highway, 15km north of Stuarts Well Roadhouse (75km south of Alice Springs). If you have a standard caravan, you can leave it at the Stuarts Well Campground.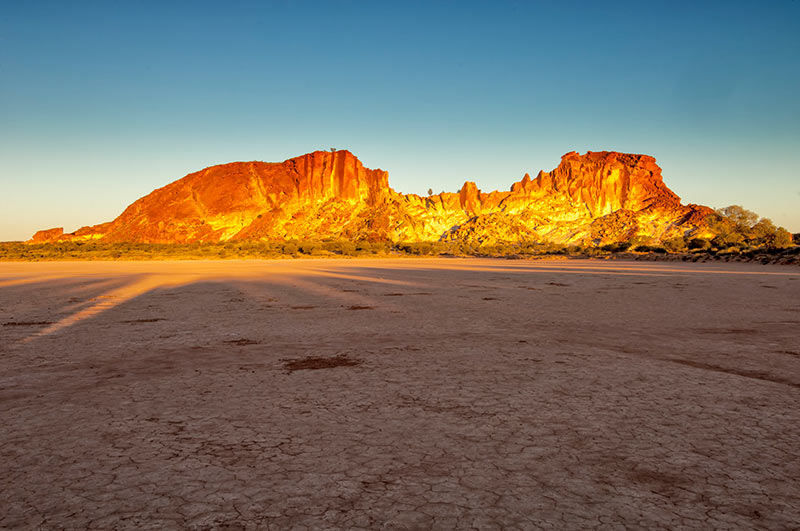 The wide, unsealed 24km road with some slippery bends will deliver you to the two Rainbow Valley campgrounds: the first accommodates camper trailers and caravans; the second is for tents. Facilities include pit toilets, barbecues and picnic tables. 
Like a massive panoramic vista erupting from an otherwise unremarkable landscape, astonishing Rainbow Valley glows with a palette of reds and oranges at sunset. There are two easy, short walks: one to Mushroom Rock and the other along a usually dry clay pan that becomes a reflecting pool after rain. A couple of scenic lookouts provide excellent spots to photograph a sunrise or sunset.
Rainbow Valley is one of those places where you can just relax. Spending a night or two here is a perfect amount of time. If you try to make this a day trip from Alice Springs to see the sunset, you will be driving back in the dark and dealing with wandering stock and native wildlife on or near the road, not to mention 50m-long road trains travelling at 135km/h on the Stuart Highway. And that, we promise, is not relaxing!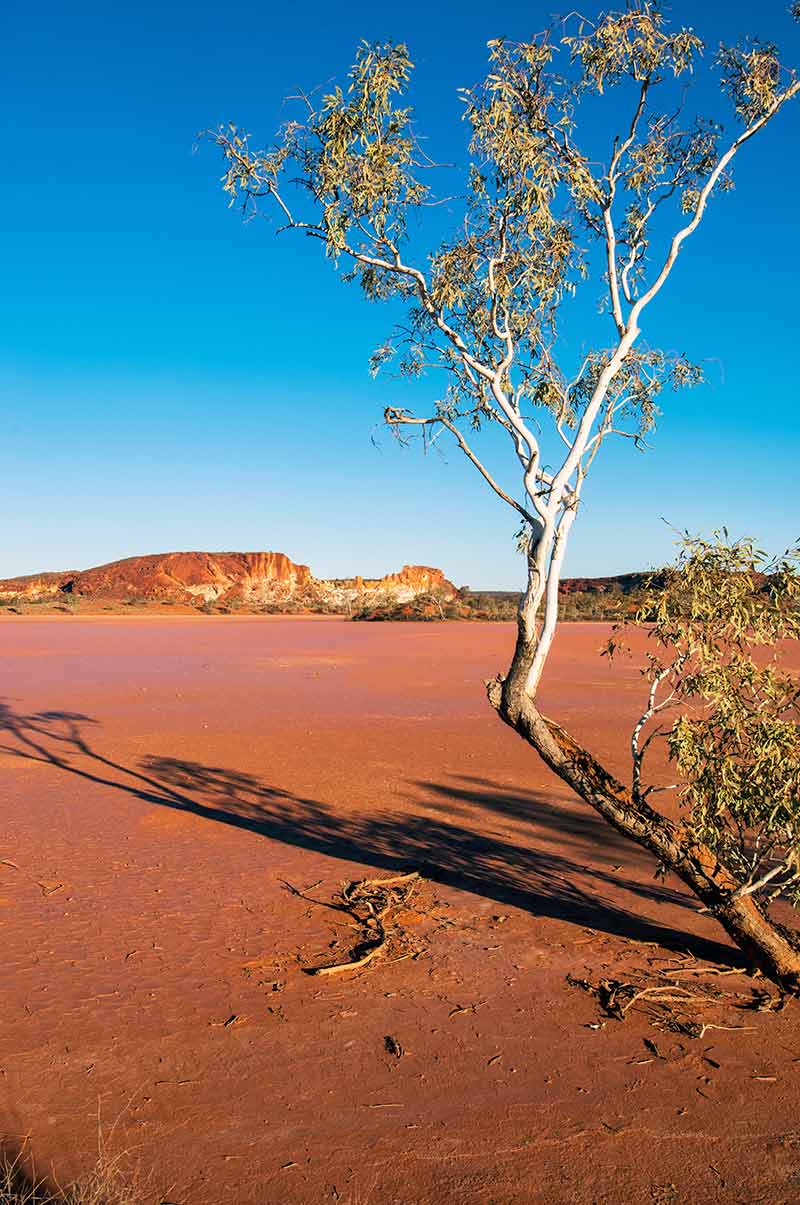 Rainbow Valley Conservation Reserve (PDF)
Camping sites must be booked in advance. Fees are payable in cash, on site, with no change given: $4.00/adult, $2.00/child (5-17 years), $10.00/family (2 adults, 4 kids). 
CHAMBERS PILLAR HISTORICAL RESERVE
While Rainbow Valley looms like a giant, three-dimensional, painted billboard, Chambers Pillar rises from a neighbouring area like a towering sandstone lighthouse in the surrounding Simpson Desert. And, aside from being a natural formation, it did indeed serve as a navigation beacon for some of the early European explorers who traversed the surrounding deserts in those feats of exploration that still boggle the mind. Of course, the traditional owners knew about this 50m-high tower long before John McDouall Stuart 'discovered' and named it in 1860. To the Arrernte, the pillar is a Gecko Dreamtime ancestor: Itirkawara.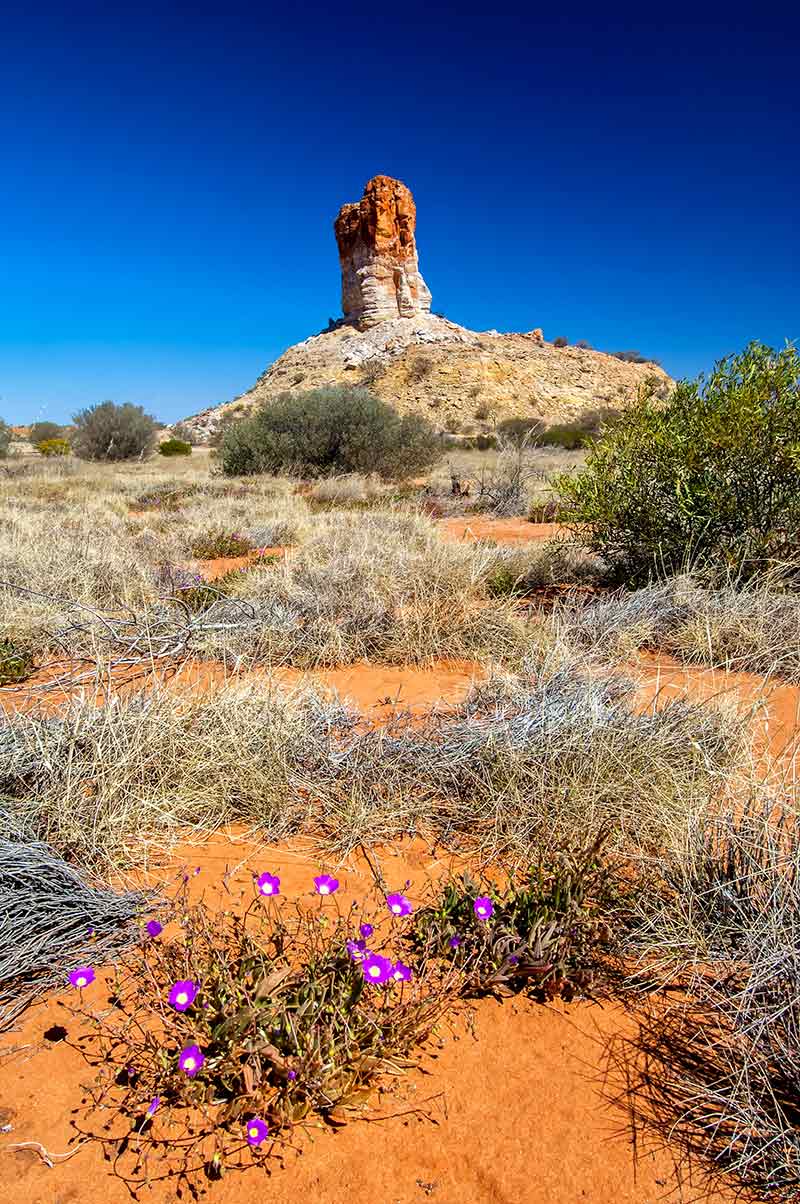 Chambers is accessed via Old South Road, which follows the general route of the old Ghan Railway and the Overland Telegraph Line. Old South becomes unsealed 14km from the Stuart Highway junction; expect plenty of corrugations and potholes filled with dust. At about 27km is a short turn-off to Napwerte/Ewaninga Rock Carvings Conservation Reserve. The flat surface of numerous stacked sandstone blocks provides a perfect canvas for the hundreds of petroglyphs. Return to Old South Road and follow the signs to Maryvale Station and Finke (Aputula) for a rough 80km.
At Maryvale, engage 4WD and drop your tyre pressure; how much depends on your load. Erect a flag to alert drivers travelling in the opposite direction to your presence. If possible, you should also monitor UHF channel 10. You will be travelling on a public access road; all other sidetracks are private. 
As you navigate the next 44km, you will encounter three gates along the way – be sure to close each of these. Expect deep sand drifts and steep jump-ups. The road narrows to a single lane in some spots, and extreme caution must be used to avoid colliding with an oncoming vehicle through the rolling dunes.
The first campground in the reserve suits camper trailers; the second is closer to the pillar and is suited to tents. Once you have set-up camp, it's time to explore. There is an easy walking track around Castle Rock, and another from the second campground to Chambers Pillar. The sunset viewing area provides the best spot to photograph the pillar.
On the pillar itself, you can see the engraved initials and names of early explorers, including John Ross and Alfred Giles, both in 1870. It is illegal to add to these historical markings. This adventure amounts to a challenging drive and the chance to relax and enjoy the serenity, which is not easy to find in our modern world.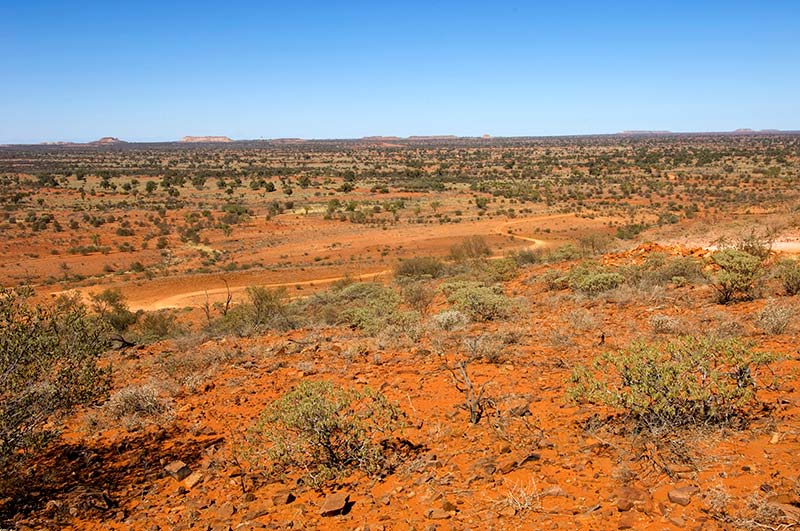 Chambers Pillar Historical Reserve (PDF)
Camping sites must be booked in advance. Fees are payable in cash, on site, with no change given: $4.00/adult, $2.00/child (5-17 years), $10.00/family (2 adults, 4 kids).
PALM VALLEY
While the distance between Palm Valley and Chambers Pillar would appear to preclude a connection between the two, they are, in fact, bound to each other by the Finke River. In the book, Journey to Horseshoe Bend, which was first published in 1969 and is considered an Australian literary classic by TGH (Theo) Strehlow (also the author of the monumental Songs of Central Australia), the author describes the final days of his father, Pastor Carl Strehlow. Carl Strehlow was the head of the Lutheran mission at Hermannsburg and became seriously ill with dropsy.
The pastor had to be carried, by stretcher, with the help of several Aboriginal companions, in extreme heat along the dry bed of the Finke River to the nearest railhead in search of medical assistance. They never reached help: the journey ended at Horseshoe Bend, where Pastor Strehlow died and was buried. Horseshoe Bend, on the Finke River, is within cooee of Chambers Pillar.
For the 4WD adventure to Palm Valley, carefully study the fact sheet for the park. It is essential to note that there are two tracks in the park: the Palm Valley route is a challenge, but an experienced four-wheel-driver with a high clearance, low range vehicle and full recovery gear should be fine. A proper offroad camper trailer with excellent suspension may be towed to the Palm Valley campground.
The Finke River 4WD route is far more remote and challenging. A man died along that track as recently as 2020. So take note of the two routes and make sure you head to Palm Valley (and not Boggy Hole).
A worthwhile stop going to, or coming back from Palm Valley, is at the Hermannsburg Historic Precinct, the home of Aboriginal artist Albert Namatjira (and Carl Strahlow). As you proceed, you will see one vista after another that no doubt inspired Namatjira's landscape paintings. Within 1km of Hermannsburg is the turn-off to Palm Valley; stop to engage 4WD and lower your tyre pressure; how much depends on your load.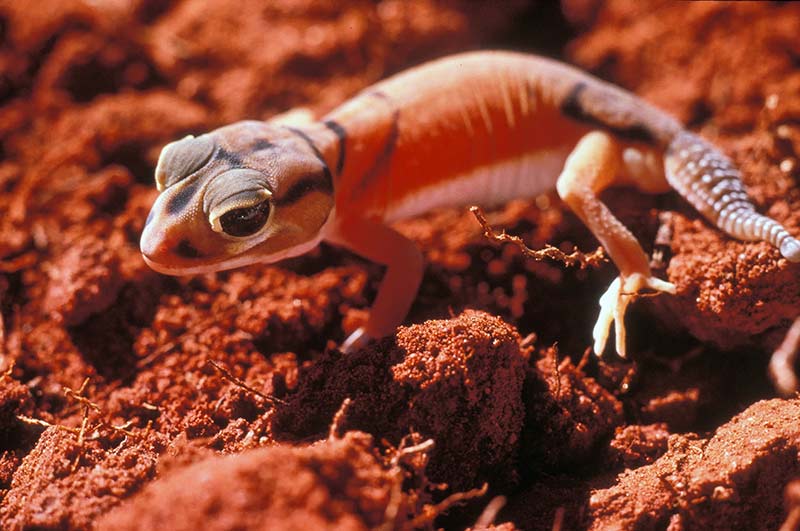 Continuing, at 4km is the Finke River Floodway. At 5km is a short bypass leading to a lookout; take it easy through the soft sand. At 14km, you leave the dry Finke River and veer right to Palm Creek, followed shortly by an information bay. At 16km is the Kalarranga Lookout with a parking bay and two walking tracks. It would be best to proceed to the campground and set-up, then return to do both the Kalarrange Lookout Walk (1.5km-return) and Mpaara Walk (5km-return) at a later time.
The campground is 1km along, and the day-use area is another kilometre. Camper trailers may not be towed beyond this point. It is another 3km to the grove of red cabbage palms for which the area is named. This can be driven if you enjoy risking damage to your axle on the uneven, hard sandstone flats. Stay between the markers and expect a very rough, slow ride that can take 30 minutes. A far more enjoyable choice is to walk. From the end of the track, you shouldn't miss the sensational Arankala 2km-circuit and the Mpulungkinya 5km-circuit.
It is the scenery, the vegetation, the geology and the solitude of Palm Valley that makes it such a worthwhile trip. Spend two, three or more nights here to thoroughly enjoy this part of the park (the campground facilities make this a comfortable stay). While Rainbow Valley and Chambers Pillar are certainly two memorable landscapes, Palm Valley is more expansive and diverse with many more scenic vistas on the walks. If you can only pick one of these 4WD adventures, then Palm Valley should be it!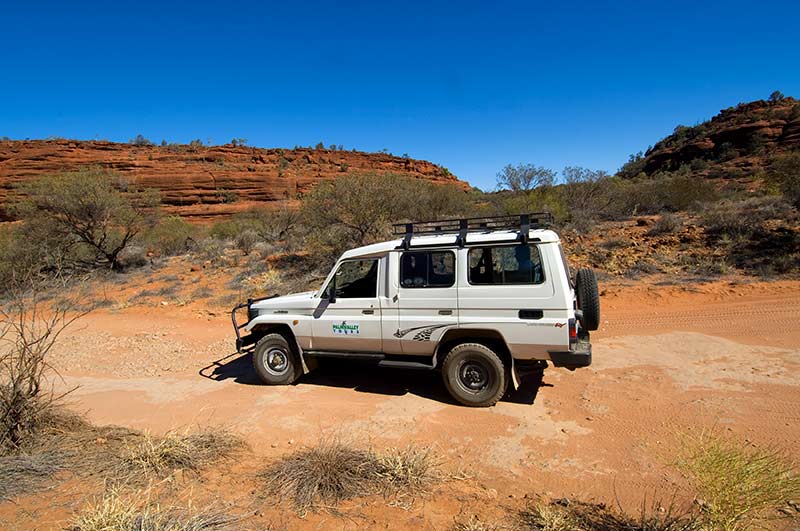 Palm Valley in Finke Gorge National Park (PDF)
Camping sites must be booked in advance. Fees are payable in cash, on site, with no change given: $10.00/adult, $5.00/child (5-17 years), $25.00/family (2 adults, 4 kids).
– Images: Steven David Miller/Natural Wanders
GENERAL 4WD GUIDELINES
Drop your tyre pressure before driving on unsealed roads, especially on sandy tracks;
If you get stuck in the sand, try lowering the tyre pressure a bit more;
Carry recovery gear, such as traction boards;
Carry extra food and water for everyone in your party in case you break down;
If you do break down, stay with your vehicle;
Carry a satphone, or at the very least, advise a responsible adult of your travel plans and when you expect to return;
Carry a complete first aid kit along with any necessary medications;
Carry two spare tyres, a reliable tyre pressure gauge and an air-compressor to re-inflate your tyres once you are back on the bitumen; and
Always leave gates as you find them.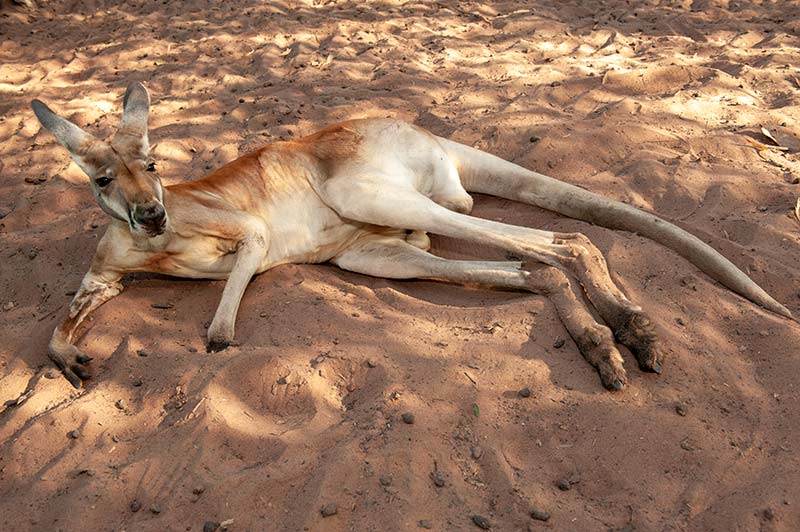 OTHER INFORMATION
A visit to the Museum of Central Australia in Alice Springs will make these adventures more meaningful in terms of the history of the area and the geology. Don't miss the movie about Theo Strahlow;
Pick up copies of the fact sheets for all three adventures from the Alice Springs Visitor Information Centre at 41 Todd Mall, Alice Springs or the Tom Hare Building Arid Zone Research Institute (Parks and Wildlife), South Stuart Highway, Alice Springs;
WikiCamps Australia has more information for the Rainbow Valley, Chambers Pillar and Palm Valley campgrounds;
Take all the supplies you will need with you, particularly food and water. Also, fill your vehicle with fuel before beginning these tours. Carry gold coins, $5, $10 and $20 bills to pay the cash camping fees. Pre-booked, daily camping fees are payable on-site (no change given). A Camping Information PDF is available;
Bring rubbish bags to take your rubbish with you;
Download Northern Territory Maps on the Go to your mobile device to find directions, walking trails and much more when you are offline;
Check ranger-guided activities on N.T. Parks and Wildlife Facebook Page;
If things go pear-shaped: Outback Vehicle Recovery;
Check park closures, particularly if closed due to rain, on the Northern Territory website;
For more ideas on places to go in and around Alice Springs, check GoRV's Alice Springs Touring Guide (it's a few years old, but not much has changed!);
If you need to report, or have rescued injured native wildlife, please contact Wildcare Alice Springs on 0419 221 128; and
For more detailed information download the Northern Territory Wildlife Rescue Information PDF.