Buying a caravan brings with it the temptation to also buy a new tow vehicle. That 22-footer isn't going to tow itself, and the hatchback in the garage wouldn't pull the skin off a rice pudding.
A new dual-cab ute or 4WD wagon will lighten the wallet by tens of thousands of dollars. Or at least $100,000 if you really want to go to town. But for us mere mortals, saddled with mortgages and raising children, such an outlay is unrealistic.
[If you like this article, Like Go RV on Facebook!]
The good news is, it doesn't have to be a barrier to enjoying the RV lifestyle. If you really want to do it, you'll find a way. This will probably require you to make compromises and to adjust your expectations. With that said, let's look at the advantages of buying a second-hand tow tug.
BUDGET, BUDGET, BUDGET
The most important decision when searching for a used vehicle: your budget. Let's assume a budget of $20K. For that money, you could get into an early 2000s Toyota Land Cruiser… with a big, hefty catch. The engine will probably have more than 300,000km on the clock and it will probably be a petrol or naturally-aspirated diesel. One will cost you a small fortune at the bowser, especially if your trailer is anything larger than a small camper trailer, and the other will be as slow as a wet week. There will also be very little left in your budget to account for unexpected mechanical repairs, registration costs and accessories (roof rack, awning, new tyres, etc.).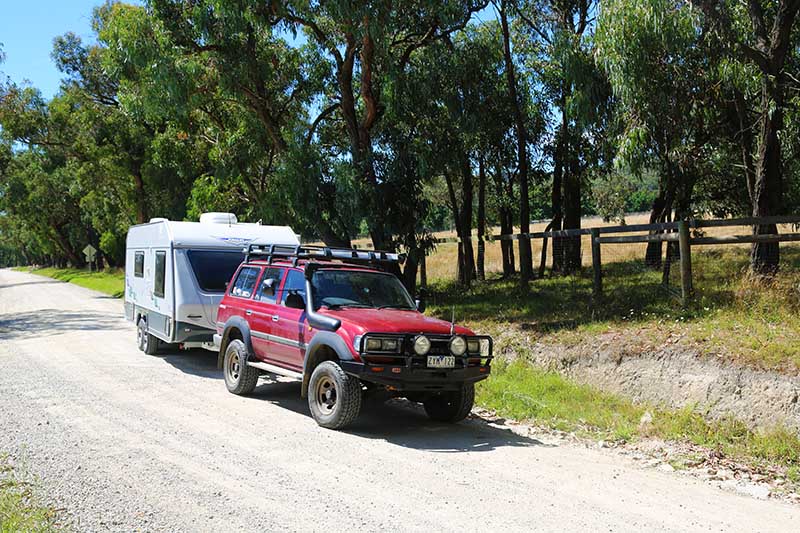 In my opinion, these factors put the 100 Series out of reach. Again, it's about adjusting expectations. If you have your heart set on a Cruiser, consider an earlier model. A mid-to-late 1990s model with similarly high kilometres could be found for between $8000 and $10,000, meaning the bulk of your budget could be spent on making the vehicle as mechanically reliable as possible. If you're lucky, you'll have enough left over to fit a new bull bar, all-terrain tyres, and even a roof rack.
Frankly, that's a better scenario. But your vehicle will be used for towing and, no matter how well you've done, for the original outlay the vehicle's engine still runs on petrol. When it comes to Cruisers, that's just the way it is.
SPEAKING FROM EXPERIENCE
I love my Cruiser. It's a 1993 model with the in-line six-cylinder petrol-guzzling engine. I bought it from a wholesaler in regional Victoria a number of years ago for under $9000. It had 237,000km on the dial, no rust, some fading paint, but it passed a mechanical inspection easily enough. Over the years, it's had a head replacement – the mechanical equivalent of open-heart surgery – a new radiator fitted, and all sorts of smaller jobs done.
Nowadays, it's as reliable as any new 4WD. It's certainly not as comfortable and there are always niggling issues to attend to, but I've spent less than $20K (including on some accessories).
That said, the petrol engine – powerful enough to haul up to its towing capacity of 2500kg, albeit very slowly up steep hills – isn't efficient. Towing around town, the needle drops quickly but, on the open highway at a steady 100km/h, a tank of fuel is good for about 450km.
THINK DIFFERENTLY
Get past the idea of badge loyalty. Toyotas, some would argue, fetch a high price because they're, well, Toyotas. When it comes to Land Cruisers, there's probably some truth to that. Why not consider something out of left field, such as a Land Rover Discovery? If you need a vehicle with a high towing capacity, an early model Disco might be a reasonable option. A 2.5L turbodiesel Discovery that's done between 200,000km and 250,000km will cost you $5000 or less.
Undoubtedly, you'll need to factor in mechanical repairs and upgrades, especially since the vehicle will be used for towing, but the starting price, compared to that of the Cruiser, has to tempt.
And the Disco example is just for starters. The Jeep Grand Cherokee is another. Between $6000 and $8000 will get you into a low-kilometre 2004/05 4.7L petrol Overland with automatic transmission. The eight cylinders will drink a lot of juice, especially when towing, but if it's only used for short trips away, as opposed to a big lap, it might be a viable option.
WHAT'S THE POINT?
Where there's a will, there's a way. The second-hand vehicle market has more options than you might realise. And, while we all love shopping for a new car, the truth is that shopping for a second-hander can be just as exciting and, ultimately, more financially realistic.