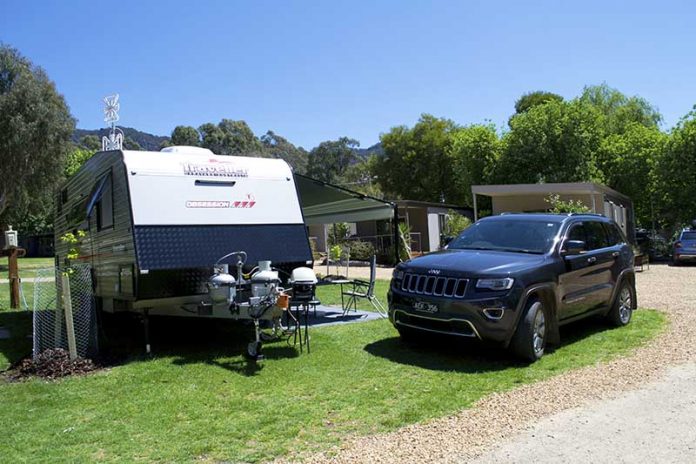 When Graeme and Robyn Pleming sold their herd of dairy cows a couple of years ago, they were no longer tied to milking twice a day. They could start thinking about enjoying their semi-retirement. Their thoughts turned to caravanning and, after much research, they decided on a new Traveller Obsession.
They had been dairy farming on their South Purrumbete, Vic, property for 30 years. Although they still own the property, they now run beef cattle, which doesn't mean constant labour as they had done for the past 30 years. Time to go travelling.
I met them when they were staying at the Halls Gap Riverside Tourist Park, Vic, where they had been having a family reunion with family members staying in a cabin and a glamping tent. This was their second stay at this lovely park and they have already booked for next year.
Graeme and Robyn are very proud of their Traveller van and told me they were very happy with the service from Traveller Caravans.
MOD CONVENIENCES
I was impressed by the number of external features, like the full-height cupboard that takes their chairs and table – it is as high internally as the shower so could store very tall things. A similar but slightly smaller storage area on the driver's side conveniently stores buckets, hoses, etc.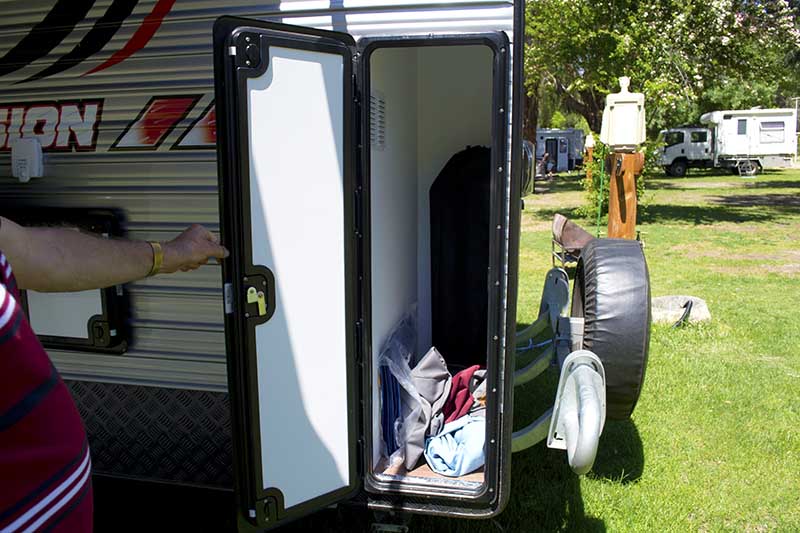 There were times during the reunion when grandchildren were entertained by the external set-up for the TV – they sat in a row under the awning as if they were in a cinema. The Plemings can also watch DVDs from outside if they wish.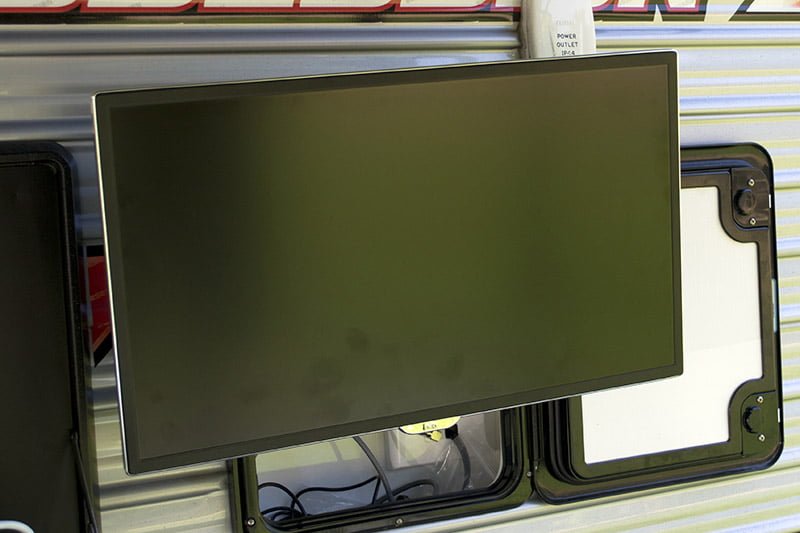 Next to the entertainment set-up is a large drop down table – very useful for boiling the jug for a cuppa.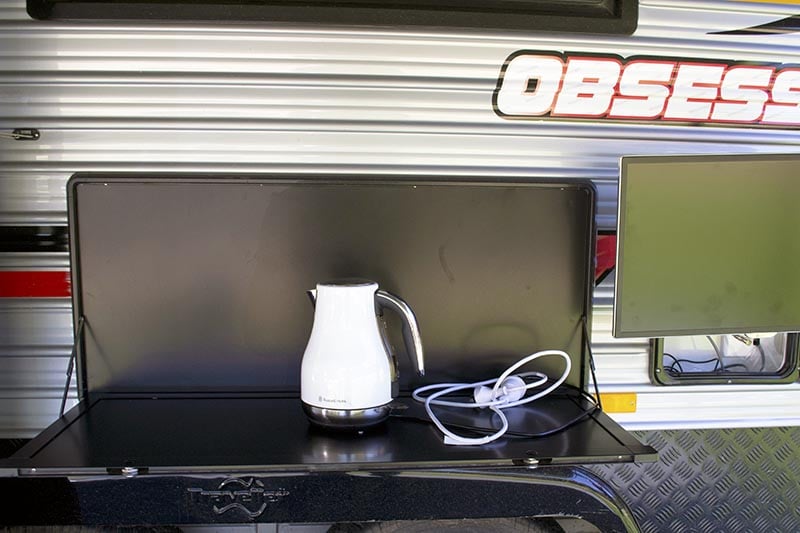 A Weber BabyQ is connected to an external gas outlet – so much easier that having to connect it to a gas cylinder. The Plemings utilise gas for the fridge when free camping and have gas heating for those nippy mornings.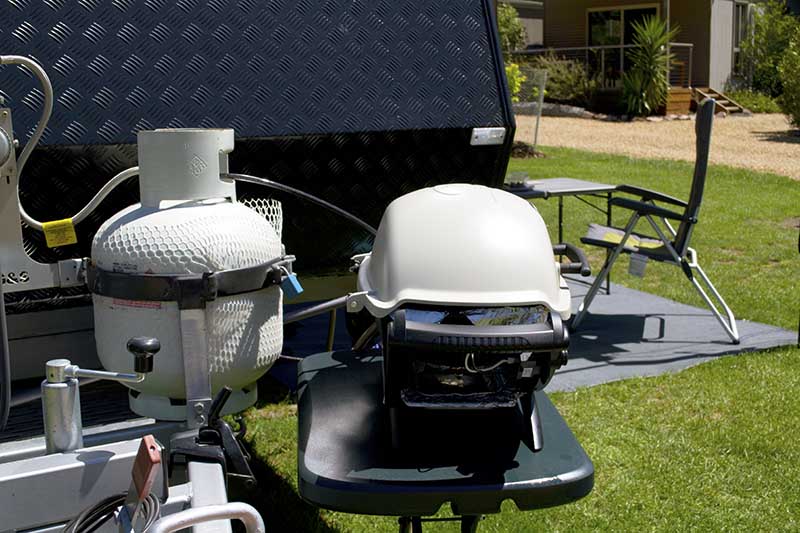 I saw that the Plemings are not too trusting – a locking cover secures their towbar and so prevents the van from being stolen by anyone other than professional thieves while both gas cylinders are padlocked.

WHAT'S INSIDE?
Graeme and Robyn settled on a very practical and comfortable layout, with a queen-sized bed at the front, a spacious lounge and kitchen in the centre, and a shower and toilet at the back. There's even a built-in washing machine back there.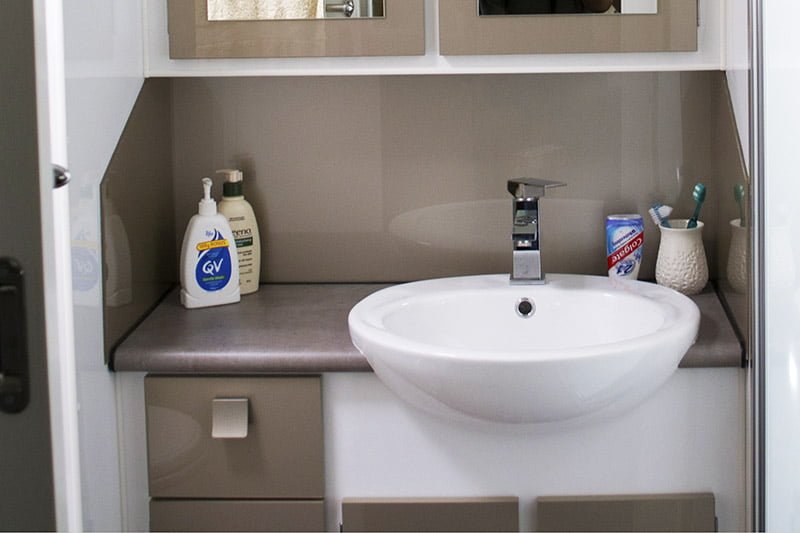 Their choice of finish for the walls and cupboards, etc., was very nice and gave an air of spaciousness to the interior.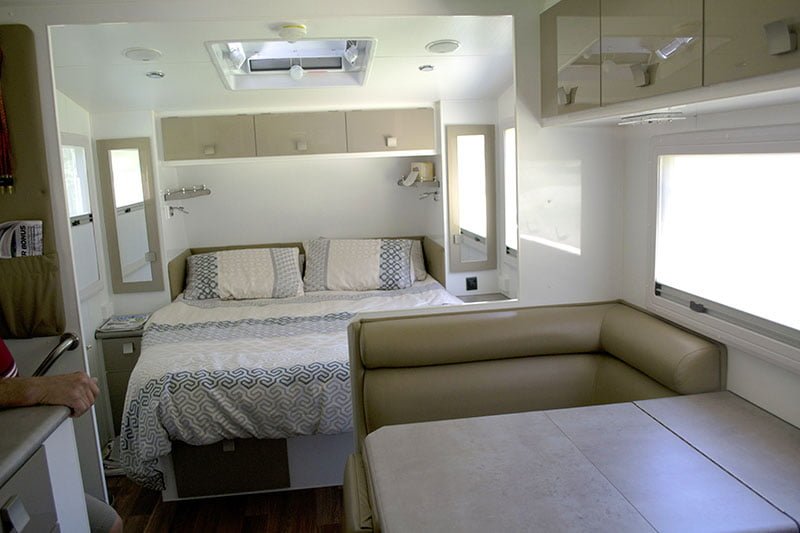 I was impressed with the comfortable seating and table set-up. The table folds against the wall,  freeing up space when not in use. Underneath are two small cupboards – just the thing for storing books, etc.
The table comes out into position very easily and is a good size. The seats even have lift-up leg rests for supreme relaxing.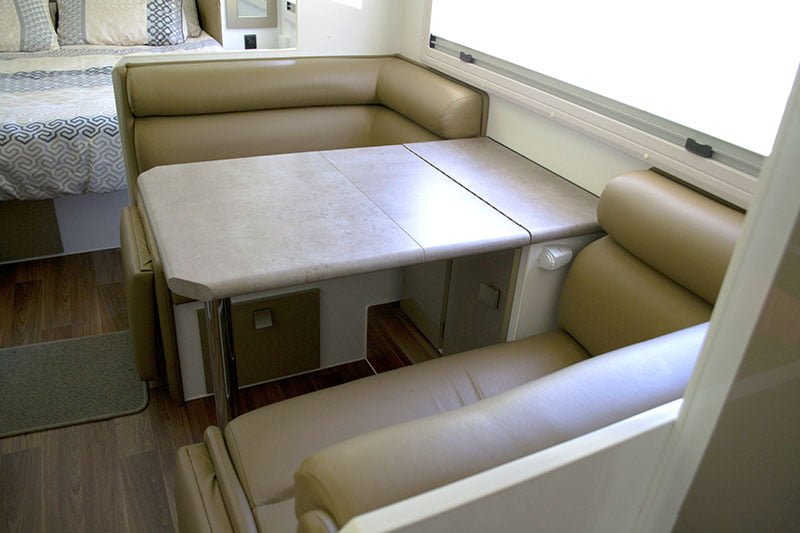 Of course there's a microwave and gas stove and a very long work bench so cooking is a breeze.
With a 120W solar panel on the roof charging the two house batteries and two 95L water tanks, Graeme and Robyn told me they can last up to a week when bush camping.
New to me were the LED lights. One press of the button and they light up with a relaxing blue. Continued pressing gives increasing brightness to the normal colour. There are quite a few external lights as well, giving good illumination under the awning and to the front and driver's side of the van.
HOW'S IT SPRUNG?
Traveller built the Obsession with tried and tested rocker leaf-spring suspension and the van is fitted with shock absorbers. The van is also fitted with Dexter sway control. Graeme told me, "I hope we never need to use it but it's reassuring to know it's there should the worst happen."
To give the van a little more height when negotiating uneven tracks, they had the van fitted with 2in risers.
A BIGGER TUG
When it came to towing the Obsession, the Plemings decided to upgrade their vehicle and bought a slightly used Jeep. It only had 2600km on the clock, and with a towing capacity of 3500kg, it's quite adequate for the job. Graeme told me that it's economical as well.
I believe Graeme and Robyn have chosen wisely and I'm sure they will enjoy lots of trips exploring this great land with their Traveller.