I've told my wife, once or twice, that once the kids have grown up and flown the nest, I'd like to downsize our rig. Why tow a large, family-friendly camper here, there and everywhere, when it's just the two of us?
Don't get me wrong: big, luxurious vans with all the trimmings have distinct appeal. But the extra expense, in fuel, tow vehicle servicing, etc., is unavoidable. And, let's be honest, there's a heightened level of awareness – let's call it anxiety – that goes into towing such large rigs.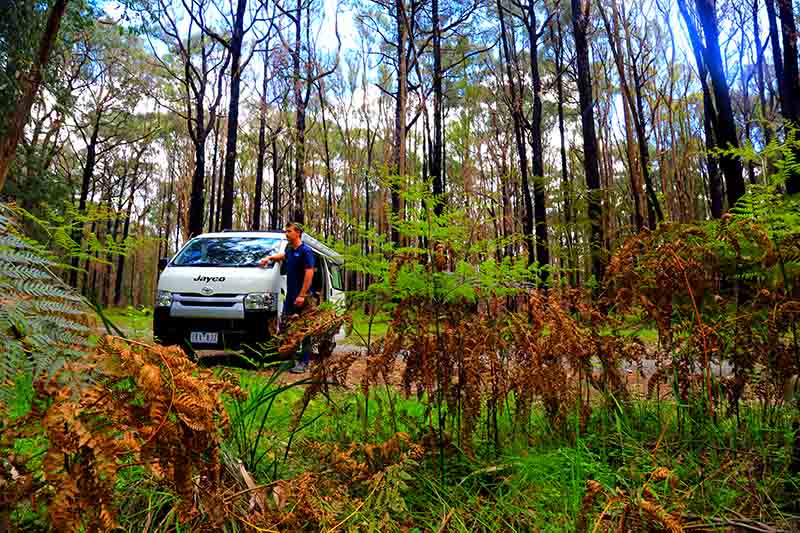 For these reasons, Jayco's new Freedom campervan caught my eye. Now, Jayco has been building motorhomes for many years. But, if I'm not mistaken, this is its first B class light commercial van conversion – the manufacturer had always stuck to cab-chassis conversions on vehicles such as the Ducato and Iveco. The Ford Transit was, some years ago, part of the line-up, too.
Now, we can count the venerable Toyota Hiace among the base vehicles of Jayco's motorhome fleet.
NEW GROUND?
Does the Jayco Freedom break new ground? Not really. While the build quality appears sound, the layout and equipment of this campervan is somewhat basic. I think, however, that therein lies the point of this rig. At $64,350 as tested, it represents a reasonably affordable way for a couple to explore Australia.
It's available in petrol or diesel. Our review Freedom – known as the TH 15-2 – had the 3L turbodiesel, available for extra outlay, though it's probably the option I'd go for. It's not a rocket on take-off, but it gets there and drives comfortably at highway speeds. Like with all motorhomes, there are a few minor squeaks and rattles that come from the living quarters but they're not off-putting in any way.
Though I'm tall (6ft 1in), I found the seating position fairly comfortable. And, of course, the cab has the main features you'd expect, such as air-conditioning, cruise control and keyless central locking. A satnav system and Bluetooth connectivity is available as an option.
SET-UP AND LAYOUT
Setting up the Freedom is about as easy as it gets. Pull over, open the 'whirr-bang' door, and use the two ceiling-mounted grab handles to push up the roof. There are no external over-centre catches to release, as with a pop-top caravan. Tall people might find the process a little uncomfortable – I had to hunch and use only upper-body strength to get the roof up. But for quick stops, there isn't much more to it.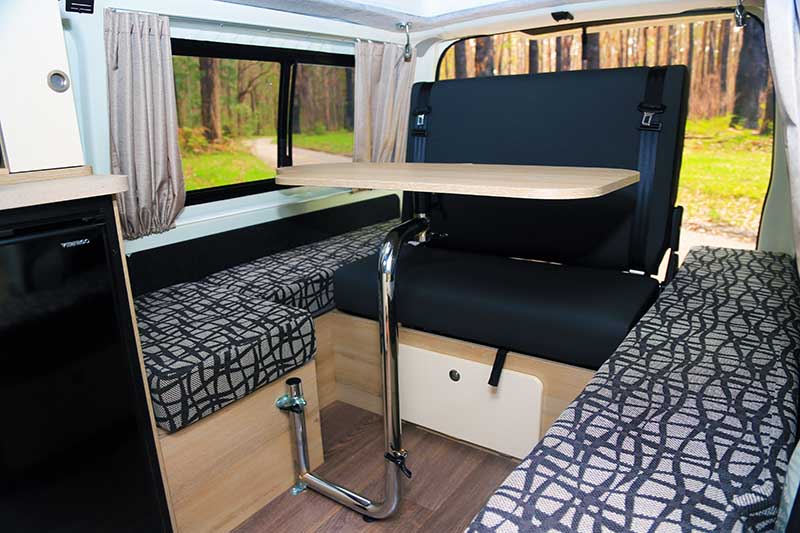 Storage-wise, you'll be making good use of the roof rack. But there are some cupboards and nooks  for pantry items, plates and cutlery.
A two-burner cooktop is built into the cabinetry just behind the cab, as is a small sink (with hand pump) and a microwave on the offside. Beneath the microwave, you'll find a Vitrifrigo 12V/240V 85L fridge. The water tank is a minimal 45L – off-grid camping for extended periods might be a challenge in the water department, but in terms of 12V power, the van has a 100Ah deep-cycle battery that can be charged by the 120W roof-mounted solar panel via the onboard Setec battery management system.
Having said that, I do suspect the Freedom will spend more time in managed campgrounds and caravan parks, where it can be hooked to town water, than in far-flung remote camps.
There is a minimal amount of bench space on offer, though a hinged table folds out of the entry door. The best bet might be to load up a portable table and have it set-up under the Fiamma awning when onsite for a few days.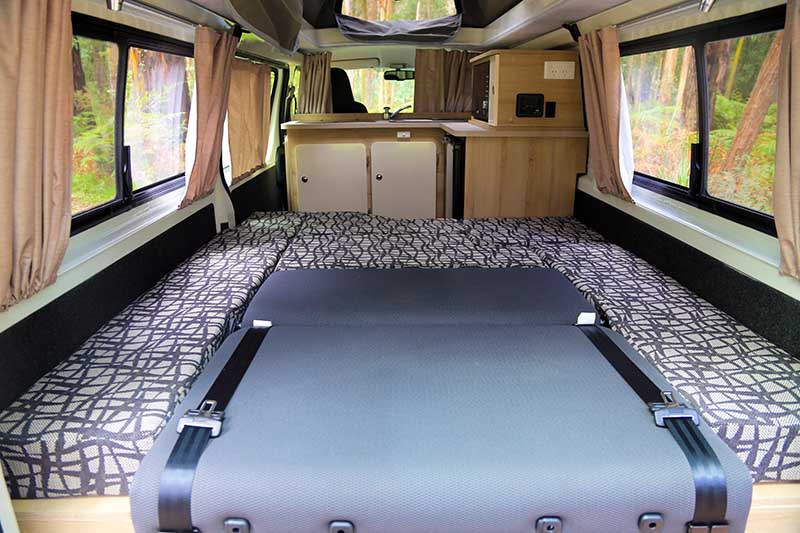 The other aspect of the layout is the dining area/bed. It includes a table that can be swivelled around for easy(ish) access to the facing seats or rear passenger chair.
This entire seating area folds down to create a bed at nighttime. Now, I won't lie to you: because the mattress is comprised of a combination of the folded-down rear passenger seat and the softer cushions of the lounges, plus a couple of matching infills, it's not the most comfortable bed in the world. It's also an irregular shape. One side is about 1.8m long, while the other is just over 1.6m long. I know which side is mine!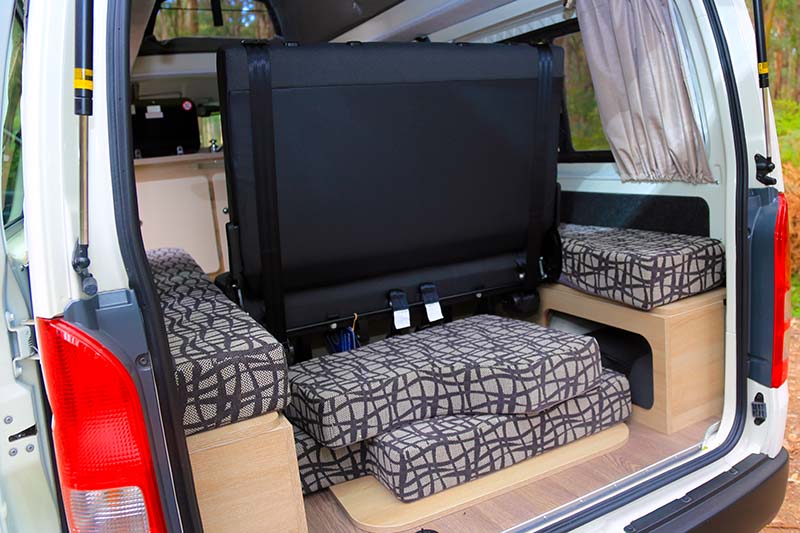 Setting it up, however, is fairly easy. Just remove the dinette table's main pole, pull on a strap to lower the rear seat, reposition the table so that it becomes a base, fit another supplied base, and then the two infill cushions provided. It's a two-minute job, tops.
Another note on storage: the very rear section of the van, behind the passenger seat, provides some space for gear during the transport stage of a trip; however, if you've piled it high, you'd need to unload this section to make room for the bed.
GORV'S VERDICT
Jayco hasn't reinvented the wheel with the Freedom campervan. Nor has it deployed innovations or new, unexpected technology. But I don't think Jayco set out to. Rather, the company has put forward a good-value, no-nonsense campervan that should be a faithful companion for many, many years.
No, it doesn't have the convenience of a large caravan or cab-chassis motorhome. But it has a lot of up-and-go appeal and it is as easy to drive in the city as it is on an outback highway.
THE SCORE
FIT AND FINISH —

LAYOUT —

INNOVATION —

HITS & MISSES