I overheard my owner, Lionel, talking to his friends about "crossing the Nullarbor". I didn't have a clue what that meant but I later found out he was talking about us travelling right around Australia and this meant crossing the large treeless plain, the Nullarbor, to Western Australia. 
This sounded exciting because up until then I'd spent my life running around Melbourne's suburbs. Lionel belongs to the Australian Caravan Club and we were to start our around-Oz trip at a muster at Bendigo with a lot of his ACC mates.
Apparently they had a great time and we were going to plenty of musters in our travels. They all wished us well as we set off on our big adventure around the coast of Australia. 
Lionel likes free-camping so we often stay in national parks and water reserves, or even in rest areas, instead of caravan parks.
Little Desert National Park, Vic, was the first time I'd ever been in a national park and it was very nice. We were the only ones there and I saw my first emus here as they came wandering past our campsite.
Before crossing the Nullarbor, we spent a couple of nights with Lionel's son, Chris, and Chris's wife, Marijana, at their home in South Australia and I was spoilt a little because Chris gave me a lovely wash before we headed off.
One evening at Eucla – about halfway across the Nullarbor – we were on our own in the bush just off the road. The road was quite good and on one stretch there wasn't a turn for more that 100km.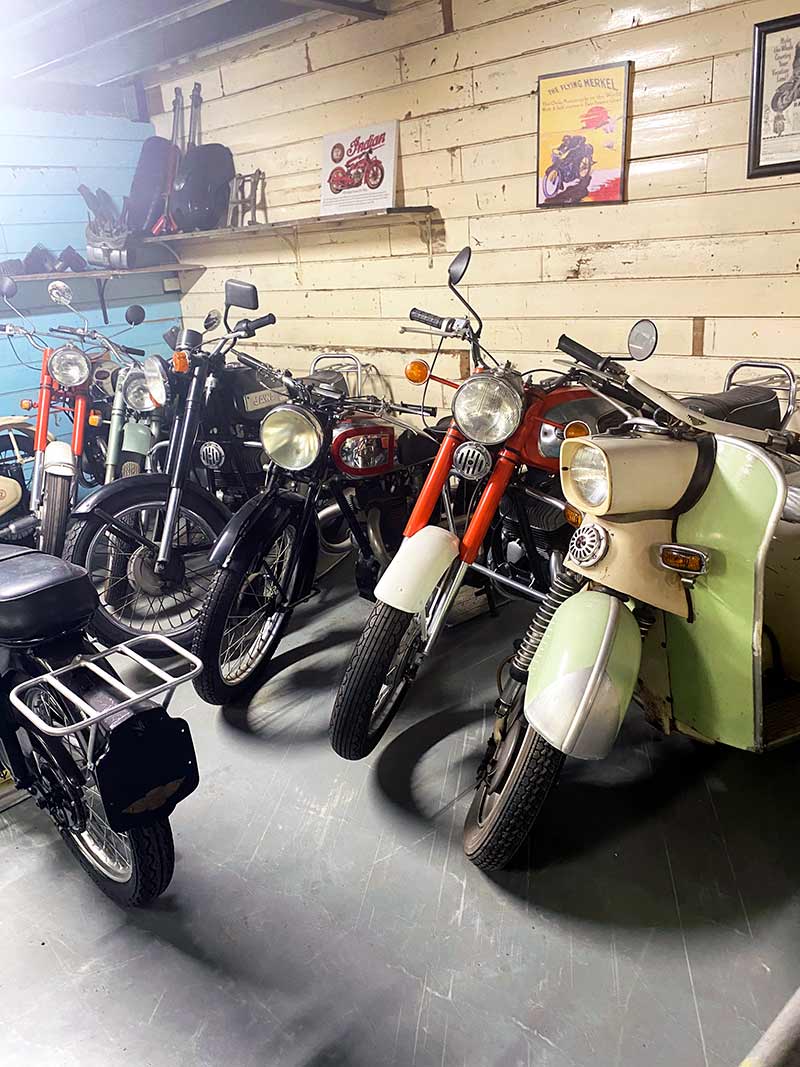 Apparently, the railway line has one of the longest straight stretches in the world but I don't know too much about railways.
I'd never been on a road like this before. It is used a lot by trucks. It was a bit sad to see all the dead kangaroos that had been hit by vehicles.
We went out to a lot of viewing areas near the cliffs and Lionel said the water we could see was called the Great Australian Bight and appeared on lots of postcards. He told me it was a treacherous stretch of water and there had been lots of shipwrecks along this coast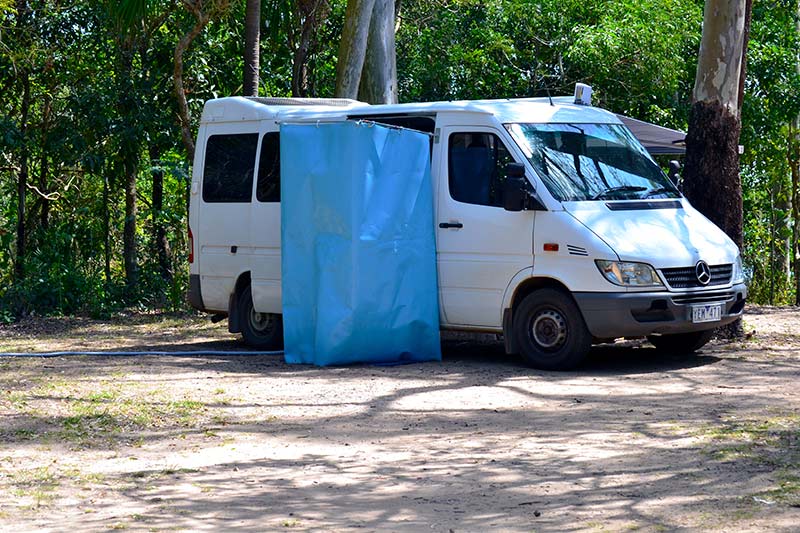 The highway eventually reached a T-road at Norseman and Lionel decided to turn left and go to a place called Cape Le Grand National Park. He and his wife, Vi, went there for the day with their friends some years ago 
This time, he wanted us to stay a few days and when we got there I could see why. It was a lovely spot but I was a bit disappointed he didn't take me on the beach for a drive.
A GLIMPSE OF THE PAST
 Our ACC Gippsland Gypsies March muster saw us at Sale, Vic, a town I've driven through many time without realising how big it was until my friend and I braved the rain and explored the shopping centre on the Saturday morning.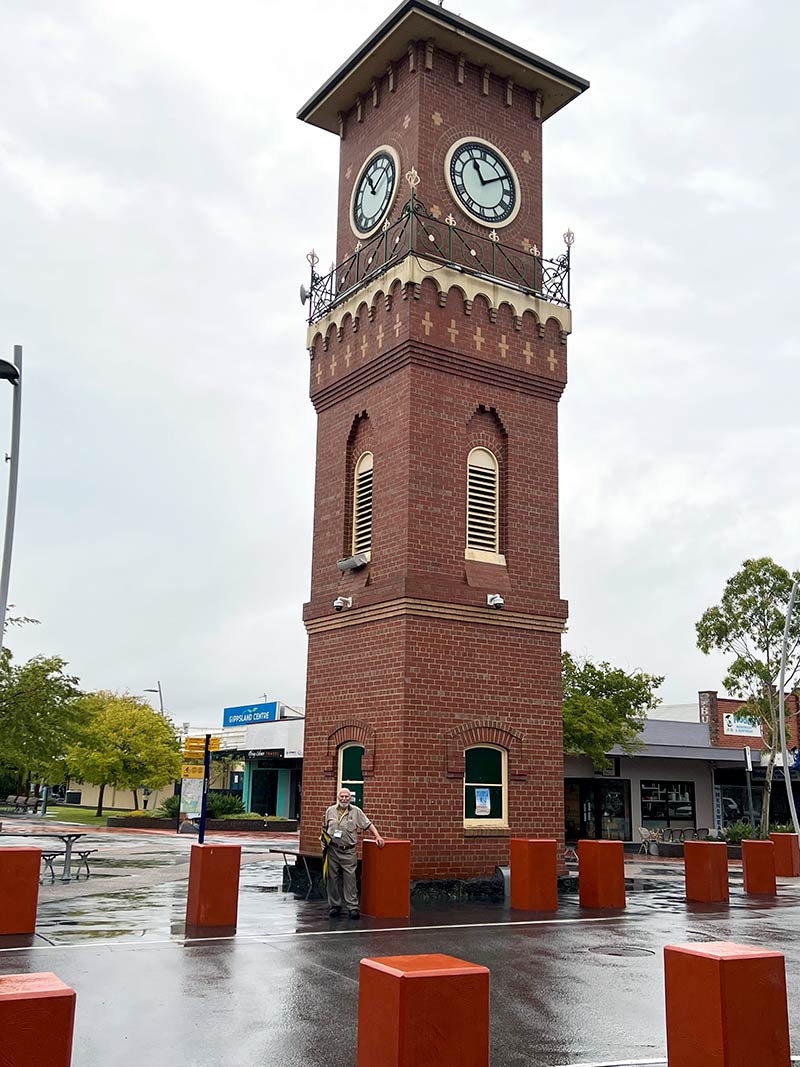 Shopping over, we were in need of a coffee before returning to the caravan park and joining the line-up of cars waiting to drive out to the Museum of Timeless Memories.
The museum was an eye-opener to the past and a few pictures will give an idea of how big and varied the collection encompassed.
The owners, Peter and Rose Smolenaars, only open the museum for groups of 10 or more and tours have to be pre-booked. The couple are excellent hosts and besides telling us about the exhibits, they include a lovely afternoon tea.
HISTORIC SWING BRIDGE
A few of us decided to check out the bridge that once upon a time carried the highway south from Sale. Nowadays it's still operational although is not open at the moment due to repairs. There was a wedding about to begin in the middle of the bridge while we were there.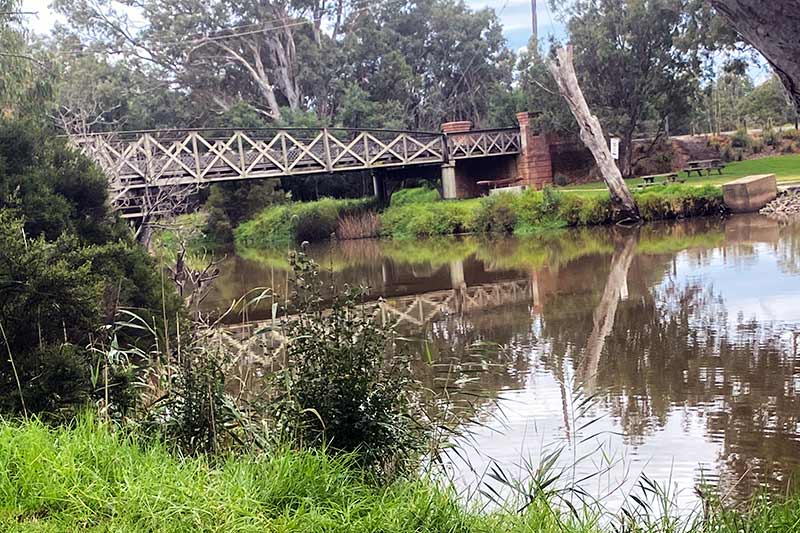 On our way back to the highway we saw these lovely murals under the highway bridge.
SALE ART CENTRE
A short walk on Sunday morning took us to the Sale Art Centre and a welcome coffee looking out at the riverside view. That was followed by a leisurely stroll through the art galleries.
MY REVISED PLANS
I believe I told you I was going to an Apex 40 gathering in Darwin in May but I wasn't quite decided on whether I'd drive up the centre to Darwin and then to Walkamin, Qld, or if I'd go to Walkamin first and then fly from Cairns to Darwin and back.
Thinking about the dreary section between Port Augusta and Alice Springs, I decided that I've done that trip enough times so I've settled on the flight from Cairns after driving to Walkamin.
I'm going to an ACC Lone Trekkers gathering at Beechworth during the Anzac weekend and going on from there to my Far North Queensland winter abode at Walkamin.