With the arrival of spring, let's hope the news gets better on the virus front. Even here in far north Queensland we are sticking to the rules in the caravan park. Last night we had a trivia night here at Walkamin but maintained our social distancing. 
By the way, did you know that Julia Gillard was born in Wales? There were lots of interesting questions and some surprising answers.
I was appointed score-keeper and adjudicator and that saved me having to answer questions.
HOW GREEN IT WILL BE
The new owners of the Walkamin Caravan Park are busy putting in an extensive irrigation scheme that will ensure the park stays green through the year. There are trenches and pipes all over the park and the system will even include a new, modern dump point.
UPSETTING MY VICTORIAN FRIENDS
I mentioned recently that I had no internet reception at Kidmans Camp near Burke when we had our first Australian Caravan Club (ACC) Gippsland Gypsies internet happy hour but had participated through my mobile phone.
Our second internet get-together was easier because I have good reception here in Walkamin and was able to join in without any trouble. I did upset my Victorian friends a little by telling them the temperature up here that day (33 degrees) and then holding up my mobile phone that showed a message from the weather bureau that warned of strong winds and rain in the Gippsland area. They were not amused!
A WEEKEND AWAY
Quite by chance I found out that the ACC Rainforest Ramblers were holding a muster near me at Yungaburra, so I took the opportunity to meet some new RVing friends.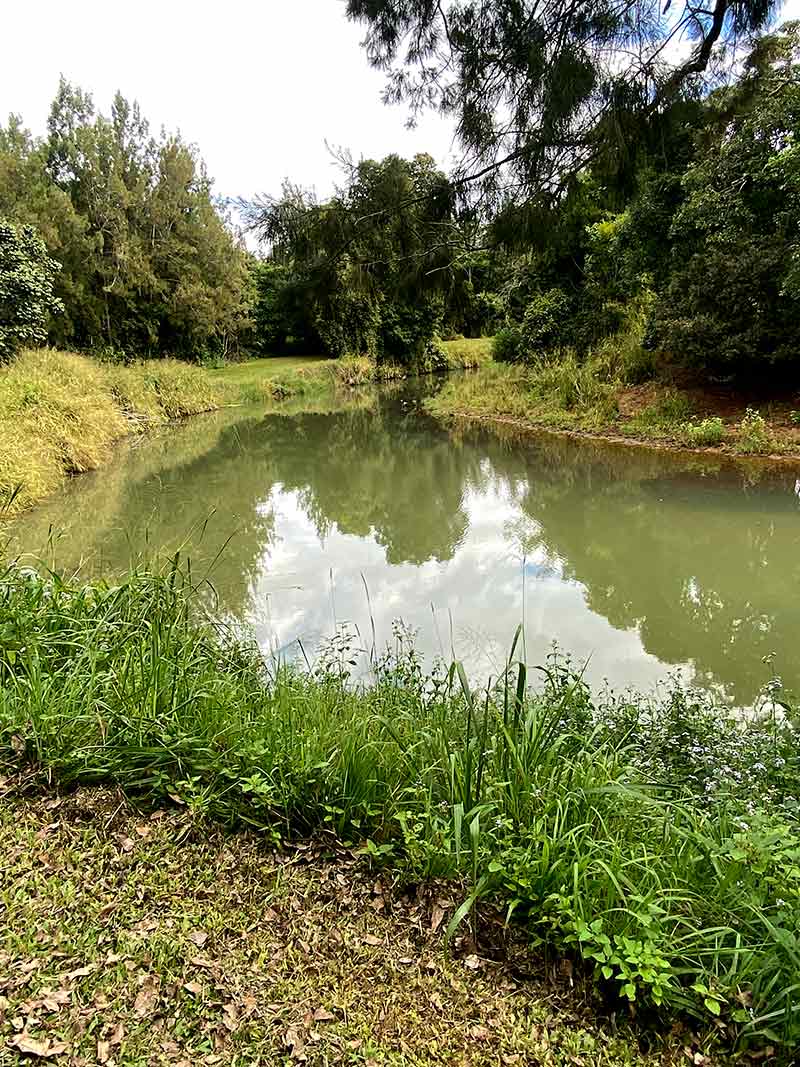 The muster was held at Bonadia RV and Nature Park, a working maize farm that's also a wildlife sanctuary. It is a great spot with plenty of opportunities for walking as paths lead down to the Barron River – one of far north Queensland's iconic streams.
The park boasts powered and unpowered sites, and clean amenities. It also has a large hall/camp kitchen where we held the branch AGM and elections. As a former chairman of the ACC I was asked to chair the elections – with an excellent result that bodes well for the branch.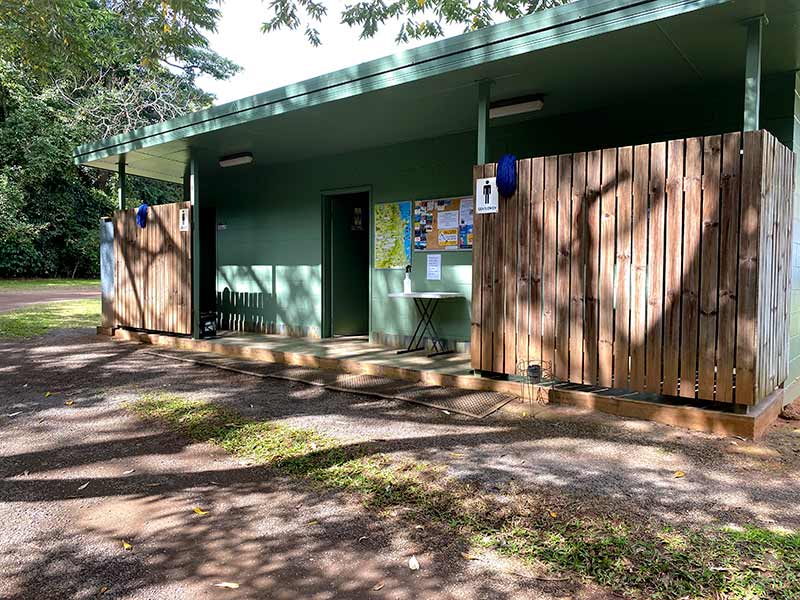 A bonus was that one member had brought one of his guitars along and kept us entertained one evening around the campfire in another building. I'm told he has another eight guitars at home!
BEFORE THE INTERNET
We have become so dependent on the internet these days that nothing should surprise us anymore, but it did come as a a shock when I got word that Gaye, a former neighbour, had died and her funeral was to be shown via YouTube.
It was certainly different and I felt privileged to share the ceremony, although from a long way away as the funeral was in Mornington, Vic, and I am on the Atherton Tableland.
BLAST FROM THE PAST
You probably all know that I play the trombone and am a member of the Stawell City Band when I'm home.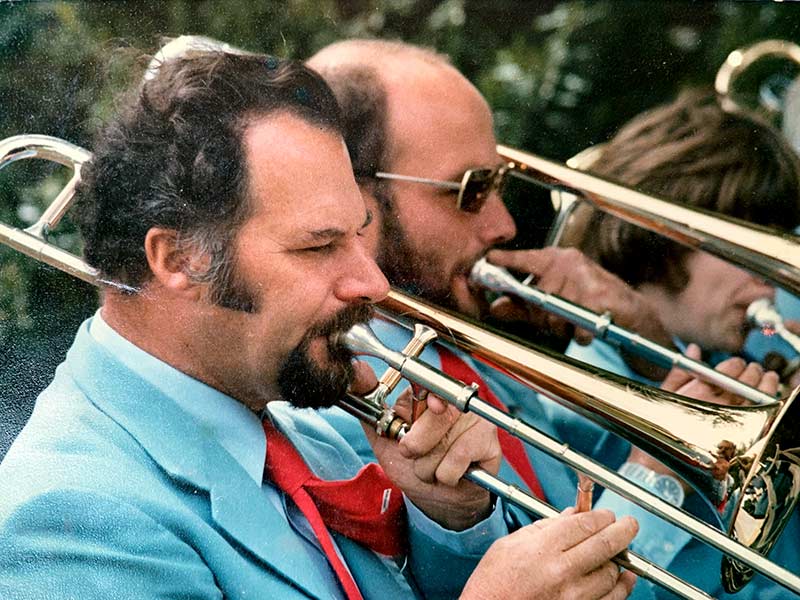 Quite out of the blue came a picture of me and fellow trom player Mike performing many years ago. We both looked very much younger back then when we played with the Mornington Youth and Citizens Band.
As I was ringing Mike's number to thank him for the picture, an incoming call came in from Mike and we had a great chat about old times.
SAWMILL AT YUNGABURRA
There are lots of interesting things to see on the Atherton Tableland and I'm lucky that my friends Paul and Carol take me with them when going sightseeing.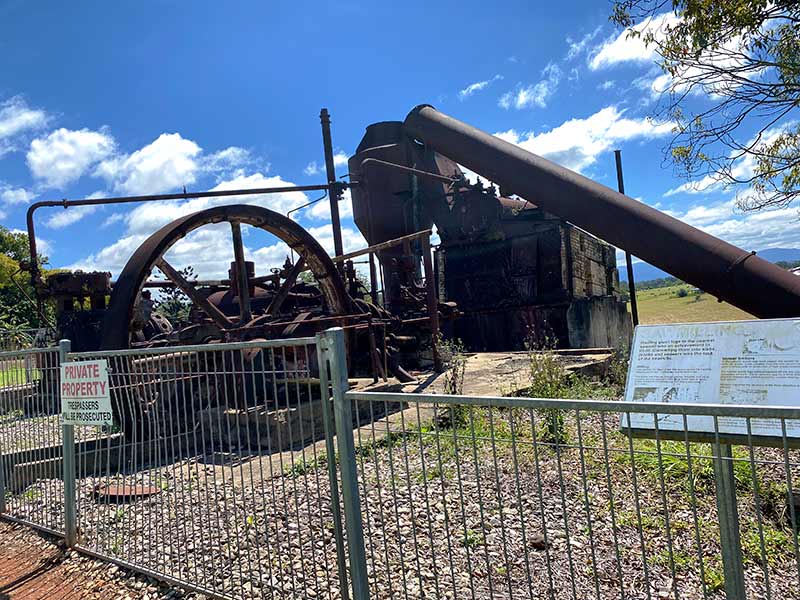 In Yungaburra we came across the remnants of an old sawmill – it must have been a huge enterprise back in the day.
Another time we went to lovely Lake Barrine. I'm told that a man drowned in the lake but they couldn't find his body until it came to the surface in Lake Eacham a few weeks later. It seems the two volcanic lakes have an underground connection. 
Paul and Carol's little dog Matilda keeps an eye out to make sure we don't go astray!
PLENTY OF GLASSES
Because I'm diabetic and need to keep my weight down, these days I usually just drink a few small glasses of port or larger glasses of sugar-free ginger beer at happy hour but I was clumsy recently and broke my only small glass.
I mentioned it that night and the next day a lovely little glass appeared on my outside table. Later that day some friends appeared with another two small glasses they had bought at an op shop for me!
My cupboard had quite a few huge wine glasses but when I mentioned they were too big for ginger beer, a perfectly-sized glass appeared on the table next day! It's good to have friends with well stocked cupboards.
A SUNSET TO FINISH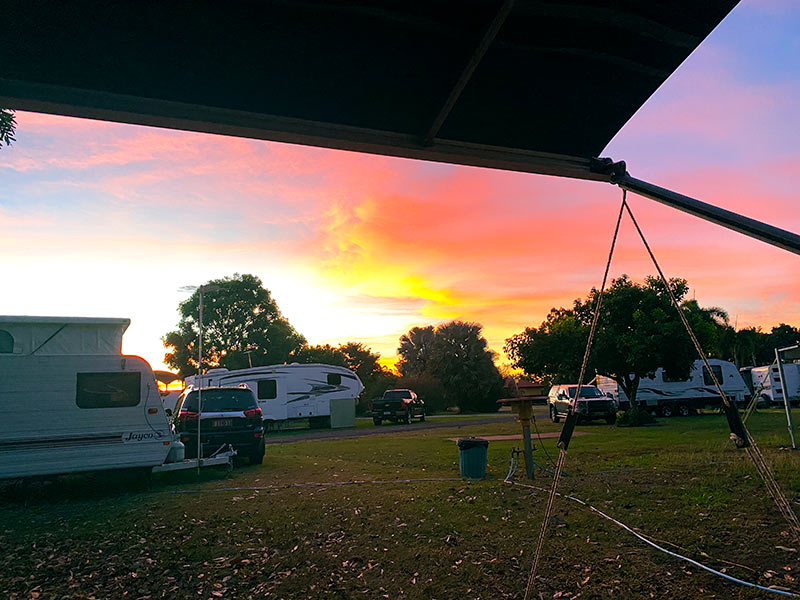 Depending on the weather, we get some nice sunsets up here at Walkamin – this one was taken from under my awning the other night.