Well, Yemmy made it to Denmark, WA, and back but has since had a gearbox transplant because he was having a 'flare' when changing between second and third. My friend, Eric, used a gearbox from an ex-ambulance that had been in a crash and swapped it over. While Yemmy was at Eric's place in Gippsland he also had some minor issues fixed. Now, with fingers crossed, he's ready for our next adventure, our ACC Christmas Muster at Lakes Entrance, Vic.
Coming back from Denmark, I realised that it was the 11th time I'd crossed the Nullarbor, stretching right back to when the road from Ceduna to the Western Australian border was unsealed. A cordial bottle came undone in a drawer on that trip and leaked into the underclothes in the drawer underneath. Add red dust and you can imagine the mess!
There seem to be more emergency landing strips across the 'Treeless Plain' these days but fortunately I haven't had to use one. Some wags have changed a sign from Balladonia into BallaGNOMEia and placed a family of gnomes in front of it!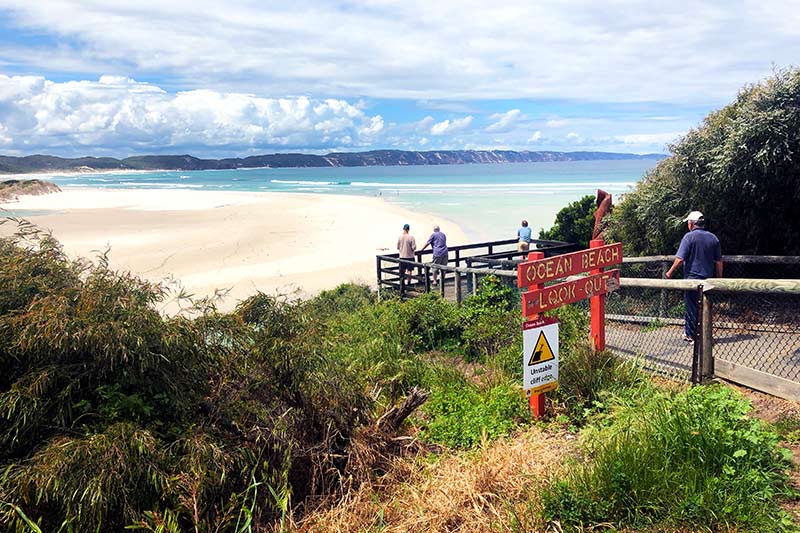 The National Muster at Denmark was great, with members from all over Australia there – some had even come the long way around, making it an excuse for an around-Australia trip.
The BIG4 caravan park where we held the muster was great, with lots of spacious sites and lots of friendly roos. The managers and staff went out of their way to make our stay a happy experience.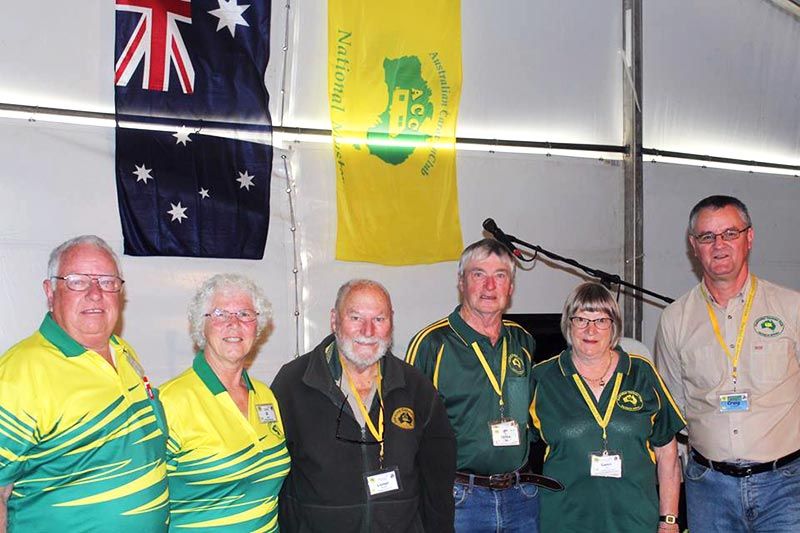 At the Annual General Meeting, three members were voted in as life members, and as the only other life member present, I was included in the picture after the meeting.
BUSH CAMPING
I love bush camping and Yemmy is set-up for everything needed for prolonged bush stays. On the Denmark trip, most nights I camped in lovely secluded spots away from the main road with no one else in sight.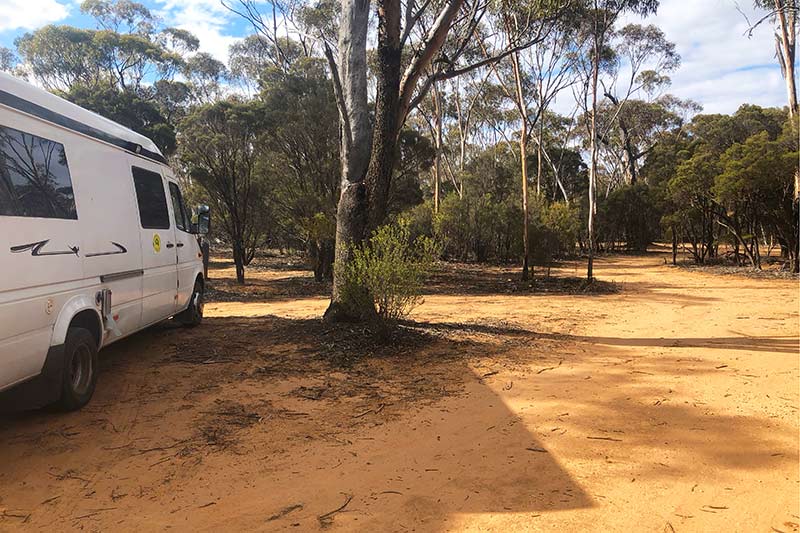 I did pay for a night in the beautiful Cape Le Grande National Park near Esperance, WA, and would have stayed longer if the freezing cold wind had stopped!
WHAT TIME IS IT?
I was away when daylight savings came in so there was no one to alter the clocks! I was spotted by one of our band members at the supermarket on the way home from my trip and he contacted me about a play-out at the Stawell Show the next day. The clocks told me I had plenty of time to get there but, of course, they were all an hour slow. 
When I realised the error I had just 15 minutes to get there! I arrived to cheering and clapping just as they were about to play the first number. Phew! My phone automatically adjusts but the clocks need a human to change them.
CHANGE OF HEART
There was a time when I said I'd never use Facebook but, since joining, it gives me great pleasure. An instance was my recent 87th birthday when I had more than 70 birthday wishes from Facebook friends. I had phone calls from my three children as well and that meant a lot.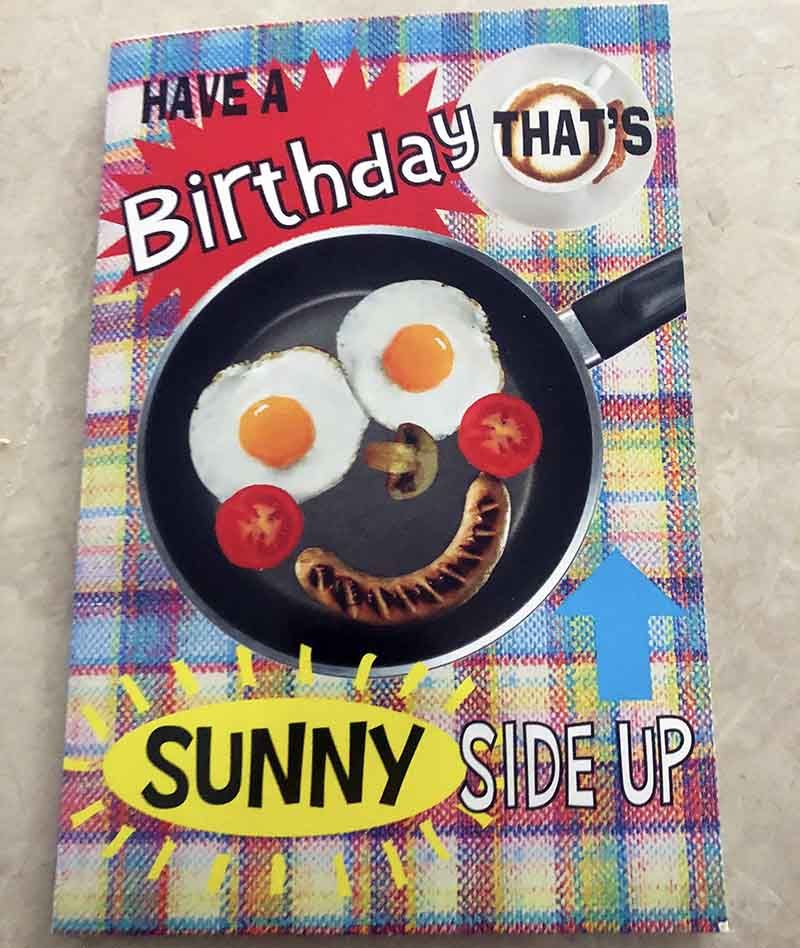 Best of all was the card waiting for me when I got home from Gippsland that night. It was from daughter Sue and son-in-law Shaun, plus every animal we have, including the dog and cat, the six alpacas all by name, plus the four big chooks and three little chooks.
MY READERS
I'm always pleased when I meet up with people who read the column and I've had a couple of examples this week.
I belong to an international Mercedes Sprinter forum called Sprinter Source with an Australasian section. A post this week was headed 'Lionel and Yemmy' and said: "From memory, Lionel had trouble with his diff and Eric helped him out, here's more of his adventures: https://view.joomag.com/gorv-digital…1540351442/p54".
And another: A couple of years ago at an ACC National Muster in New South Wales, a chap came up and asked about my plastic trombone. He had played trombone in English brass bands but hadn't taken it up here after he and his wife emigrated to Australia. After a chat, he bought a plastic trombone but didn't like it. I caught up with Richard and Linda this week at the Green Lake campground at Ararat where some members of the Bushwhackers Branch of the ACC were camping and to my pleasant surprise his wife had bought him an expensive trombone and he now plays regularly. He said it was thanks to me he's now playing again.
Best of all was that he told me they keep up with my adventures through GoRV – and some of the other members took note of the URL to start getting it.
I hope you all have a very enjoyable Christmas and that 2019 brings you good health and happy travels.
See you down the track.