Goldstream RV has launched a new 'Premium Package' for its series of wind-up campers. This package is loaded up with all of the gear you're likely to need when you're on the (off)road.
If you're familiar with Goldstream, you'll know it has a similar package for caravans (the Rhino package) and pop-tops (the Panther package). Until now, anyone interested in up-speccing a Goldstream camper could pick and choose from a range of bolt-on accessories and creature comforts. But, according to Goldstream's Mitch Damyon, as the company approaches its 25th anniversary, the time was right to bundle all of the most popular additions – as determined by customer feedback – into the one pack.
The result is the Premium Package fitted to our review camper, a Storm RL, which turns a standard on-road camper into an offroad weapon.
GOLDSTREAM STORM
First, a necessary disclaimer. I own a Goldstream camper, a Wing III. And I love it. Strictly speaking, this alone disqualifies me from reviewing another Goldstream, but I prefer to think of my Wing III ownership as making me more qualified. After all, I've spent considerable time in it, towing it all over the place and camping in remote places. So here are my impressions.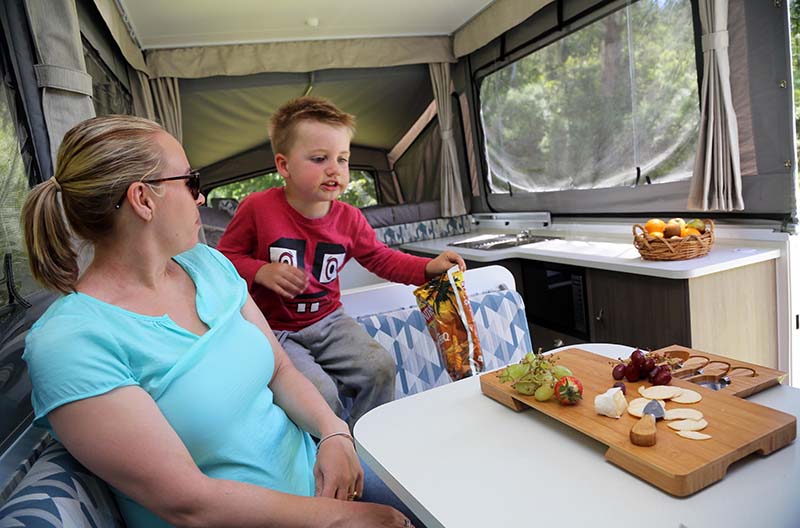 First, as with the Storm RL, construction of the Goldstream campers hasn't really changed over the last couple of years. It's still a meranti timber frame with smooth aluminium cladding. I still like the distinctive shape of the wheel arch and the well-protected underside.
I also still like the ease of set-up. If it takes you more than 10 minutes, you're either doing it wrong or just need more practice. Undo the corner over-centre clips, wind it up until the stainless-steel rope, which acts as a guide for the height of the roof, is taught, pull out the beds and fit the tubular support poles, erect the internal canvas tensioning bars for the bed areas, and you're more or less done. But here's a tip: always unzip the bed flies before cranking up the camper, unless you've packed a ladder, that is.
Outside, you'll find a couple of speakers, an LED light bar on the nearside, a rear slide-out barbecue with nearby gas bayonet, and Fiamma 45S awning (a good piece of equipment, in my humble opinion).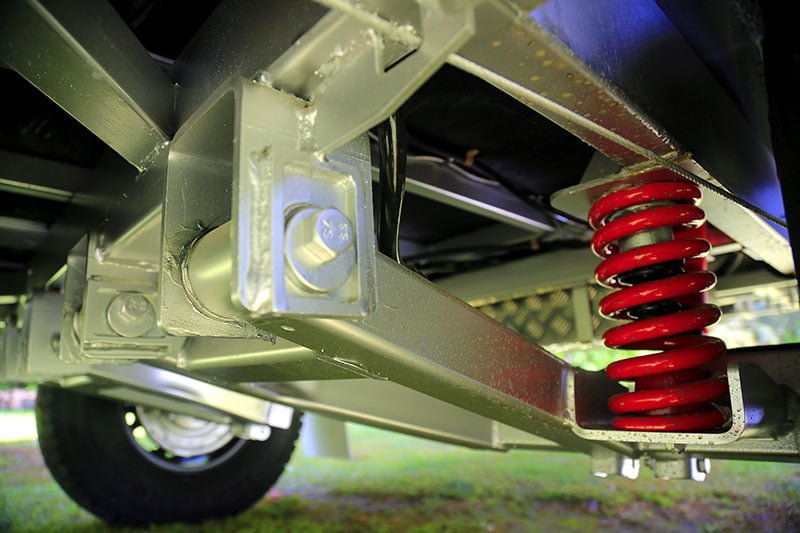 Upfront is a D035 offroad coupling, a couple of 9kg gas cylinders behind a mesh stoneguard, and a front boot with 100Ah deep-cycle battery, regulator for the roof-mounted 80W solar panel, and 15A charger. Is 80W of solar enough? For serious remote-area travel, not really – you'd want at least 300W for that. But for short stays, to keep the lights on and water pump going, it's probably fine (assuming good sun). In time, you might augment it with a portable panel and/or a DC-DC charger.
Behind the main boot is a tunnel boot, with access from the nearside only, so it would pay to pack accordingly. You'll find at the back of the camper a couple of jerry can holders and spare wheel mounted to the bumper.
Two 60L water tanks are mounted beneath the camper, protected by checker plate. That's enough for a few days out bush, in my experience, but I always take a couple of 20L jerry cans to extend my range.
LOVE THIS LAYOUT
Various layouts are available, naturally, but the one in our review Storm RL is very appealing. With a club lounge at the front, kitchen in the back and, of course, the two-large slide-out beds, the interior is incredibly spacious.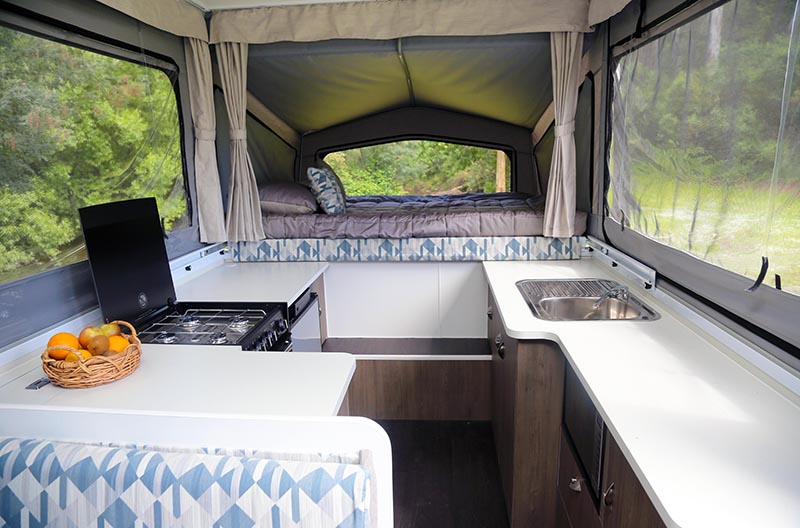 As you'd expect, the front lounge can be converted into a third bed. The cabinet on the nearside, to the left of the entrance, is fitted with a radio/CD/DVD player that comes as part of the Premium Package, and because the cabinet is hard up to the lounge, access to part of it is from the top.
I'd make one small suggestion to this lounge: instead of butting up against the cabinet, I wonder how it would look with about 300mm of clearance so that kids with dirty feet can clamber up to the bed behind the lounge without dirtying clean fabric. The less treading on furniture the better when you're camping, I reckon.
The other half of the camper is all about the kitchen, and it's a cracker. Heaps of nearside bench space and plenty on the other side, lots of storage, including a little bin for veggies and the like accessed through a hatch in the bench, a four-burner cooktop and griller, a Thetford AES fridge… and it doesn't feel crowded at all.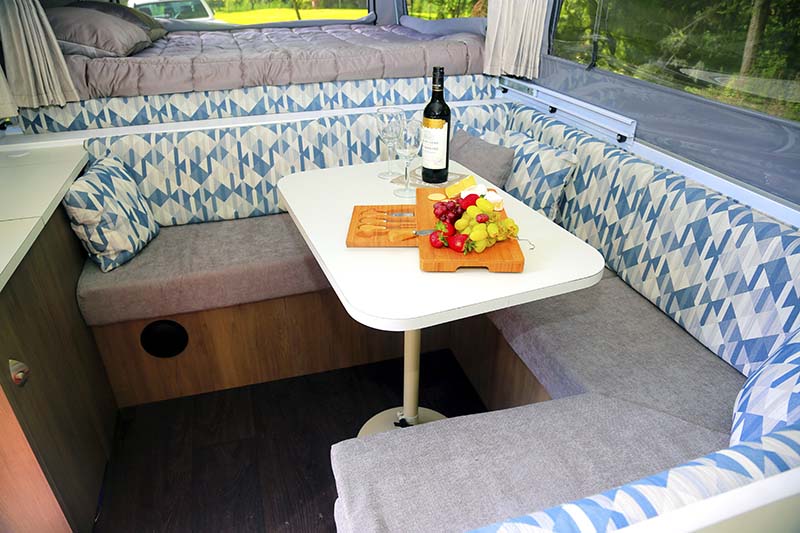 To me, this layout makes sense: when you're cooking, you're out of the way of people coming in and out of the camper.
The 'breakfast bar' is a winner for me, too. Unzip and roll up the nearside canvas wall to really open up the camper to the great outdoors. Imagine parking up alongside a lake or beach and taking in that view…
GORV'S VERDICT
There are numerous advantages to a camper such as the Storm RL. A caravan with comparable living space would have a larger 'footprint', it would be much heavier, and it would probably be more expensive.
Yes, there's a bit of setting up and fettling involved, but they're also easier to store and they're a breeze to tow. My personal camper is more than happy to do highways speeds behind my 80 Series, and the Storm RL, behind a Mazda BT50, had no difficulty at 100km/h.
Fitted with the Premium Package, it's a ready-to-go-bush beast with an awesome layout (other layout options available, too) and it's built to a high standard. I know I'm biased. But on this, I'm also right.
PREMIUM PACKAGE
The Premium Package can be fitted to whichever Goldstream camper takes your fancy. But what, exactly, do you get? A fair bit, actually, and speaking as a Goldstream Wing III owner, some of these items I just wouldn't be without…
Upgraded 6in chassis
A D035 offroad coupling
A 'breakfast bar' (nearside canvas wall that unzips and rolls up)
Dual jerry can holders
A 15A battery charger
Dual 9kg gas cylinders with change-over regulator
Radio/CD/DVD player
Al-Ko Enduro Outback coil suspension
80W solar panel
Bed-end flies
12V external power point
16in alloy wheels
Fiamma awning
New external decals
THE SCORE
FIT AND FINISH –

LAYOUT –

INNOVATION –

HITS & MISSES