Hitting the road, towing a caravan or camper trailer, means you need a good, reliable tow vehicle. Coincidentally, there's also been a shift to utility-style vehicles. That's not surprising, considering vehicle manufacturers have made them more 'car-like' in comparison to the typical farm or tradie utes of old. However, there is a trade-off when buying these vehicles. 
Manufacturers design them to suit the typical buyer who, nine times out of 10, has a comfortable ride listed high on their priority list. But when you're towing an RV or perhaps take some roads less travelled, you don't really fall into that 'typical buyer' category.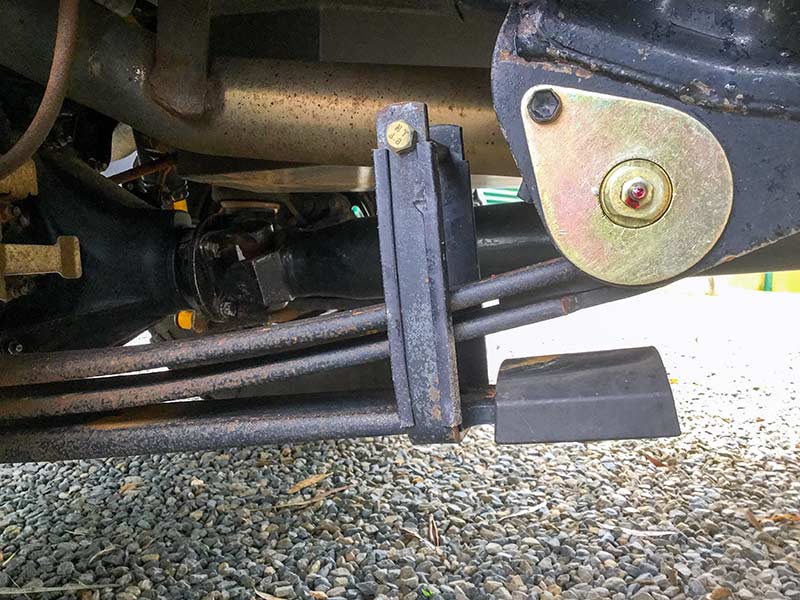 When hitching up, you're ultimately transferring a percentage of weight and load to your vehicle. The bigger the RV, the bigger the load. You'll find the suspension, as supplied by the manufacturer, often favours lighter loads. So if you load it up with a constant rear-end load, the ride and handling characteristics will change from smooth and comfortable to potentially awful. A vehicle needs a complete front and rear suspension that works in harmony. In this article, we're focusing on the vehicle's rear springs using parabolics…
PARABOLIC SPRINGS EXPLAINED
Parabolic springs aren't new, but it's only been in recent times that companies have began offering a range to suit the more popular utility models. Beforehand, you had to be prepared to compromise when fitting out an aftermarket multi-leaf spring pack. They've been widely used within the trucking transport industry for years. Big trucks and trailers are loaded to their maximum allowable capacities in order to carry as many goods and supplies as possible around country.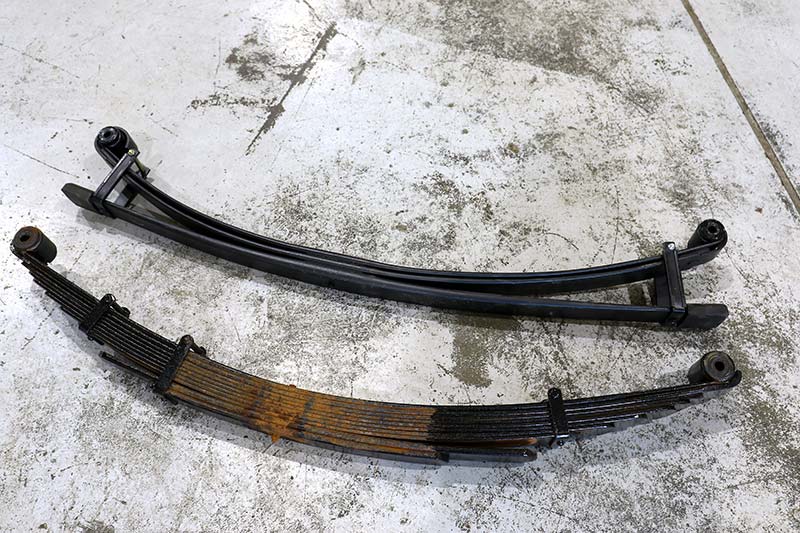 A parabolic spring pack looks different to the typical multi-spring pack. Let's start with the base spring at the bottom of the pack. The centre of this spring is much thicker, decreasing in thickness the further you follow it to its outer edges, resulting in a tapered profile. This single leaf alone can cope with high loads and the varying forces applied to it, in comparison to a multi-leaf spring pack which distributes the load over multiple leaves.
A parabolic setup, however, will have additional leaf-springs to assist when a higher constant load is required. These additional leaf-springs have what's known as a 'military wrap' at the fixed end of the spring where they're rolled. The idea is it provides improved safety for offroad conditions. In order to reduce the friction between the leaves for a softer ride and less noise, inter-leaf polyblocks and silencer pads are included.
When parabolic springs are manufactured, companies can use high chromium steel that undergoes special heat treating and stress-peening processes using a parabolic tapering machine. This results in a spring that is less prone to sagging. It also allows the spring to flex more readily and provides improved traction and a smoother ride.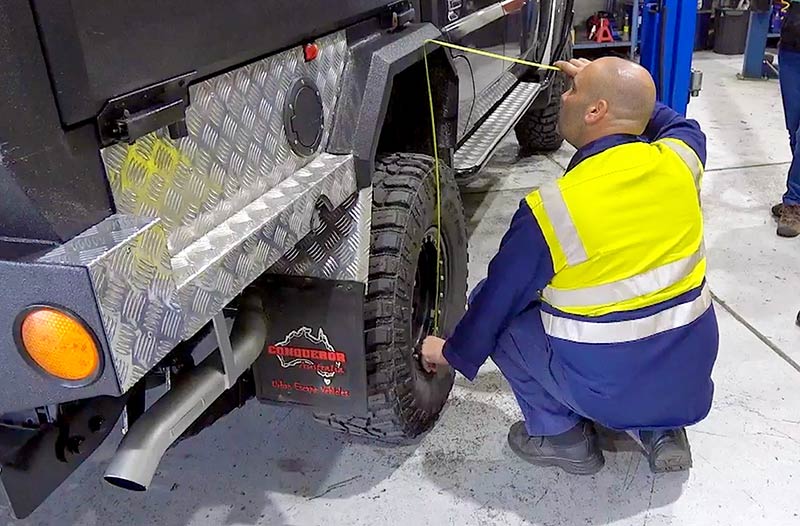 They're also much lighter than traditional leaf packs and available in a few different sizes. The lightest parabolic pack has three leaves, with a mid-range pack having four. A military-spec heavy-duty pack, which has five leaves, has now become available as well.
All parabolic packs are lighter and thinner in width compared to a 10/12 multi-leaf pack, so there's a ground clearance benefit as well. 
OUR PARABOLIC SPRINGS EXPERIENCE
After deciding to change out the traditional leaf rear suspension on our dual cab Land Cruiser, we initially fitted a three-leaf parabolic pack. We noticed the improvement immediately after leaving the fitment centre. The ride was smoother over minor road imperfections because of the inter-leaf flexing. But the big test came when we did a 10,000km run on bitumen, sand, dirt, and rocks, all while towing. We travelled from South Australia to the Kimberley via the Buchanan Highway, the Gibb River Road and then through the Great Sandy and Gibson deserts across a variety of terrains.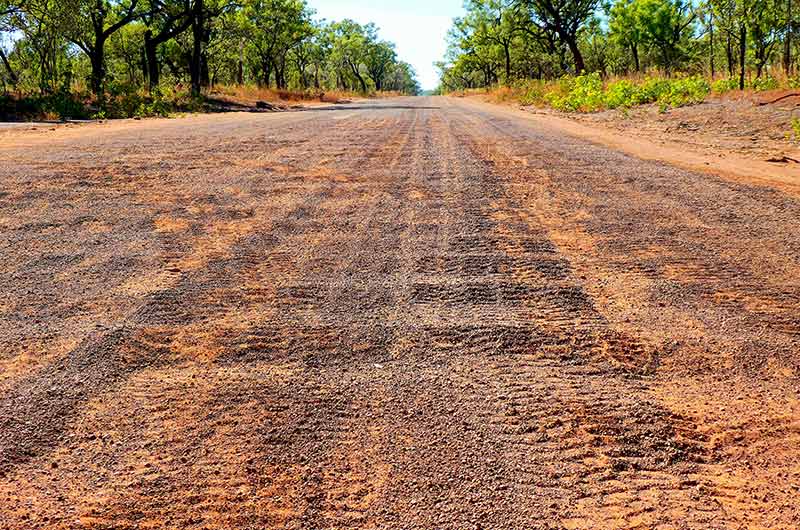 That trip was a cracker! We found highway touring a breeze and not too dissimilar to our initial thoughts after leaving the fitment shop. But the real test came once we ventured offroad and lowered our tyre pressures. This is where the parabolics copped a real good workout. Dirt road travelling was fine, although we found the rear suspension would bottom out at some of the washouts and large sudden dips in the roads. The shockers were then taking all the load as the spring set was just too light.
We knew in the long term the shockers couldn't continue being the answer to the bottoming-out issue. Overall, we liked the improved ride and handling. There was a noticeable difference with the flexing parabolic springs when driving over rocks and in sand, and they smoothed humps and ruts with ease.
After returning from that trip, we swapped to the four-leaf parabolic pack to see whether it would overcome our bottoming-out issue. The testing ground for the next trip took us up the bitumen of the Stuart Highway before turning off towards Birdsville via the Simpson Desert. From there, it was a trip along Googs Track before returning home via a combination of Nullarbor and coastal roads. This trip was a good mix of sand, gravel and rocky tracks, with some bitumen highway driving.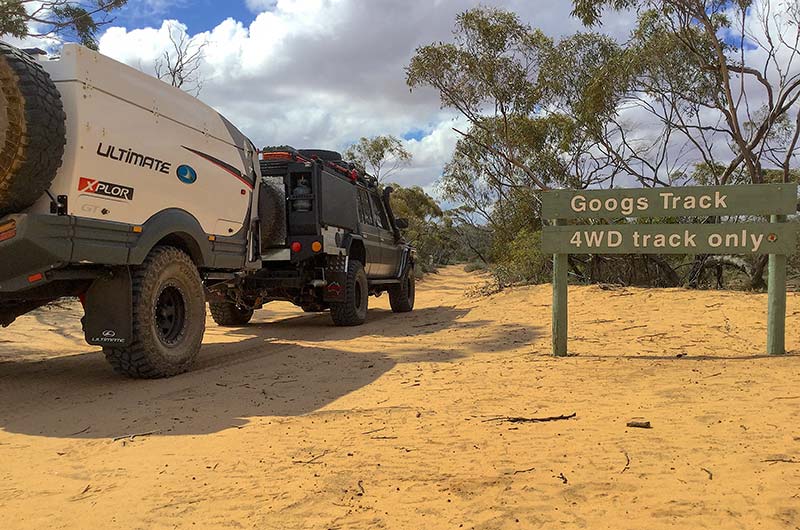 We experienced highway driving results very similar to the pack with three leaves. The Simpson crossing via the Rig road went without issue, and the suspension absorbed the ups and downs of the sand dunes well. It was smooth driving along gravel roads, and the ruts and sandy holes along Googs Track weren't a problem. We decided to go exploring and disconnected the camper at one stage, noticing a remarkable difference in suspension travel without bottoming out. Clearly the extra leaf assisted in carrying our load and although a bit stiffer than the three-leaf setup, it was still much better than our original 10-leaf pack.
SUMMING UP
When setting up the suspension on a dual cab ute, it can be a challenge to find a system that will be suitable for towing heavy loads and driving when the vehicle's unladen. And when the scenario is compounded by adding a variety of different terrains and driving surfaces into the mix, it really comes down to trade-offs. However, by their very design, parabolic springs meet a wider set of load-carrying parameters. We don't plan on changing ours out any time soon.