It's not often we're invited to literally put the boot into a caravan. But so confident is Roadstar Caravans in its brand new GT Sport MkII, which we were first to review, that company owner Ken Nizam insisted we take out our frustrations on the caravan. You see, Ken wanted to prove just how strong the fibreglass sandwich panels were.

"Hit it," he said.

We did, pounding the panels with our fists until they hurt. The panels were undented and unmarked.

"Now kick it," Ken urged.

Okay. This was getting interesting. Traditional cladding would buckle the instant my boot made contact but this, Ken assured, was not a traditional van.
FIRST GO AT FIBREGLASS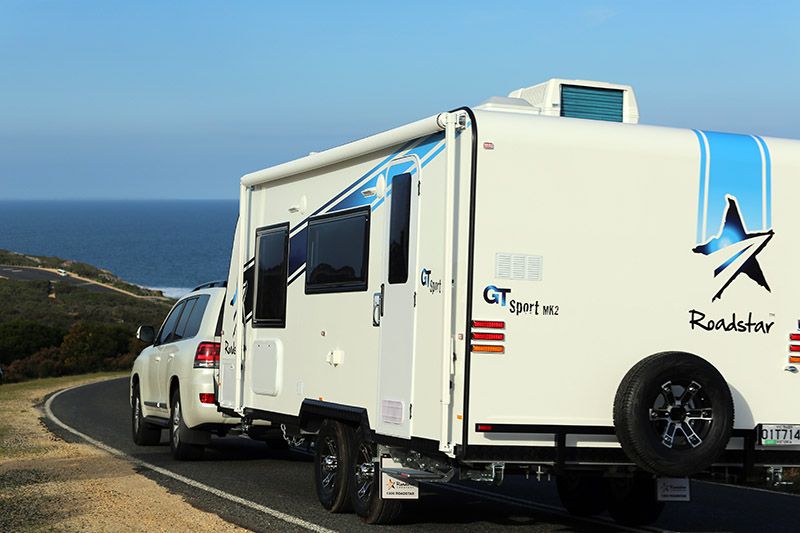 The GT Sport MkII represents Roadstar's first attempt at fibreglass sandwich panel construction. Beforehand, the company specialised in composite aluminium construction.
Before  that, it was all about meranti timber frames and aluminium cladding.
But Ken had a larger vision for his company and sees fibreglass sandwich panel as the future. To him, this caravan raises the bar.

The GT Sport MkII's structure comprises three main components: two one-piece fibreglass walls and a one-piece front, roof and rear section. These are bonded and fully sealed with Novatio, a special MS polymer sealant exclusive to Roadstar.
OTHER FEATURES
Externally, the van isn't brimming with features. There is, however, a full-width tunnel boot, Torflex independent suspension, a couple of 9kg gas cylinders on the drawbar, as well as a fold-down picnic table.
The van is pre-wired for solar as well as a reversing camera. After all, when it comes to fibreglass sandwich panels, it's easier to run such wires when the van is being built, rather than afterwards.
I did wonder about the exclusion of a front window. It's not a major issue as it's far from gloomy inside but a window at the business end of the van would add to the ambience, no doubt.
Underneath the van, all wires and plumbing is out of harm's way, and the two 95L water tanks are protected by a stoneguard; however, the dump valve on the tanks jut out from the tanks and would be vulnerable to stone-strike.
INSIDE THE ROADSTAR
Internally, the GT Sport MkII hits the sweet spot. It is fully equipped for comfortable touring, but the thing that really grabbed my attention was how all electric wiring ran neatly behind the cupboards and overhead lockers. This means that if ever you need to access the wiring, it's just a matter of removing the back panel of the relevant cupboard.
Because this was Roadstar's first fibreglass sandwich panel van, Ken said the company had to completely overhaul the way it builds its internal furniture. "It's all CAD-drawn and CNC-cut, so all the joins are precise and neat. This is not the sort of thing that could be easily reproduced by just any caravan manufacturer."
With complete cooking facilities, plenty of storage and a few other neat inclusions, the GT Sport MkII is eminently liveable. The bathroom, while not huge, is of a reasonable size and there's even a wall-mounted washing machine.
GO RV'S VERDICT
The GT Sport MkII is light and packs in plenty of features. With a Tare of 2030kg and ATM of 2480kg, the payload capacity is a little over industry standard for a tandem-axle van. A Prado would tow this van nicely.
We're pleased to see Roadstar continue to develop its range, rather than resting on its laurels. Ken reckons fibreglass sandwich panels are the future and has plans to role them out across the range. Having said that, customers who prefer composite aluminium cladding will still be able to opt for it.
But what about our kick-and-punch test? Well, try as we might, we failed to put a dent in the GT Sport MkII. All we managed was a bruised fist and a sprained ankled. Roadstar is pretty confident in the strength of this van, backing it with a five-year warranty on the body structure.
Having unloaded all of our frustrations and anger on the fibreglass panels, failing to leave a mark, we can see why.
THE SCORE
FIT AND FINISH – 

LAYOUT – 

INNOVATION –

Strength of fibreglass sandwich panel construction

Overall light weight

Ability to access internal electrical wiring behind the cabinetry
We'd like a front window

Water tank dump valves are unprotected