Who says you need to go big in order to be comfortable on the road? Whoever entertains such notions has obviously never considered the Metrolink by Nova Caravans.
Specifically, I'm talking about the Nova Metrolink 166-1R, which we hitched up in the closing days of 2020. As we poked our nose through this van, we joked that it reminded us of the TARDIS – small on the outside and deceptively large on the inside.
In truth, Nova Caravans has used the limited interior space remarkably well, creating a caravan that offers the best of both worlds: plenty of living space and a compact towing footprint.
The Metrolink first appeared on the Australian market about eight years ago, and according to Nova national sales manager John Sills, this 16ft 6in (interior length) van was the manufacturer's best-selling caravan every year since it's inception… until 2020, when it was knocked off by the 20ft 6in Nova Bravo with side club lounge layout.
METROLINK INTERIOR
The interior of the 166-1R is complete Nova class. Nova has always done a good job but it seems to me that in the last few years, the company has lifted its fit and finish to a new level.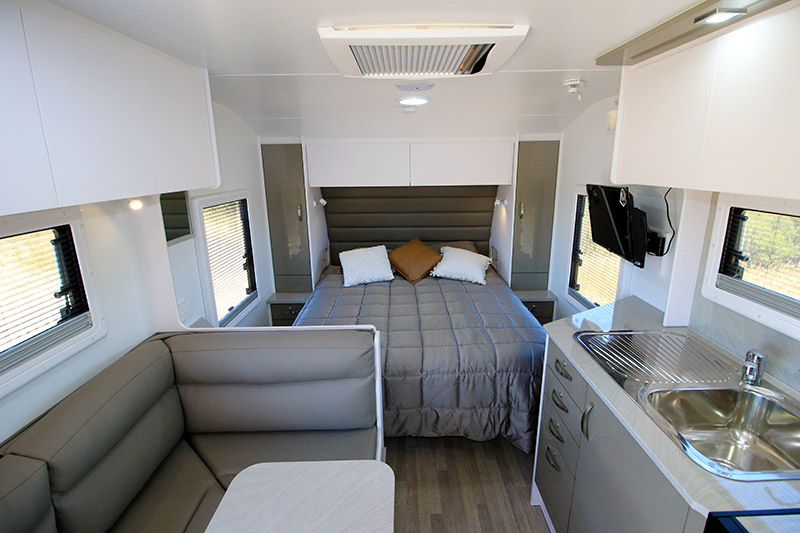 The front bedroom seems as spacious and kitted-out as any I've seen in larger vans. There's a few overhead lockers and side wardrobes, though the hot water service takes up some of the space in the offside wardrobe, and a large under-bed storage space. 
Each wardrobe is fitted with a side niche complete with a 240V powerpoint; however, a 12V point wasn't fitted in either niche – I'm sure, though, that Nova could fit them at customer request.
Because this Metrolink is fitted with a gal-lined tunnel boot in lieu of a front boot (which assists in keeping the length down), the under-bed storage area is slightly compromised – but there's still enough room for those bulkier items.
A flatscreen TV is mounted to a swivel arm to the offside wall at the foot of the bed, such that you could watch the telly from bed or the dinette. The relevant connections hidden in a discreet cupboard above.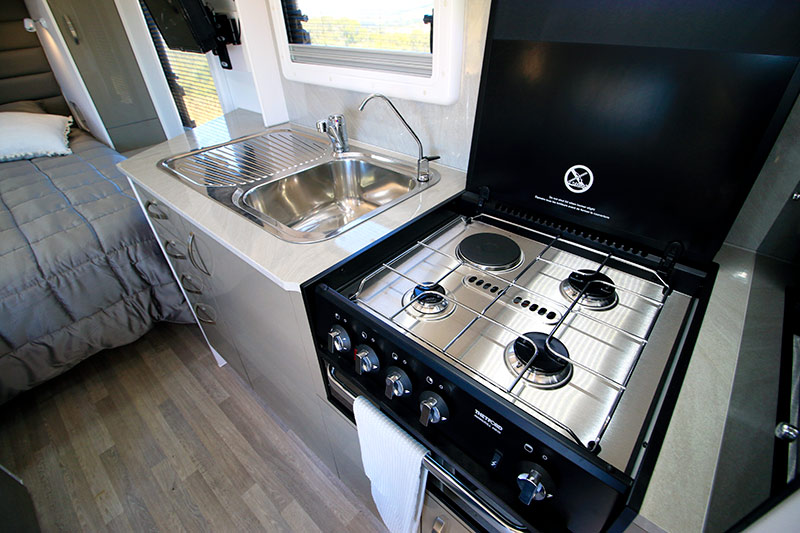 Now, to achieve the living space that Nova has here, there have been some inevitable compromises. In this instance, the kitchen is on the small side – bench space is limited to the glass lid of the four-burner cooktop (which includes a griller – an oven is not fitted as standard). I think it's fair to say that you'll be using the dinette table during meal prep. 
Having said that, general storage in the kitchen is adequate, with three overhead lockers, a few drawers, an under-sink cupboard and a large drawer beneath the griller.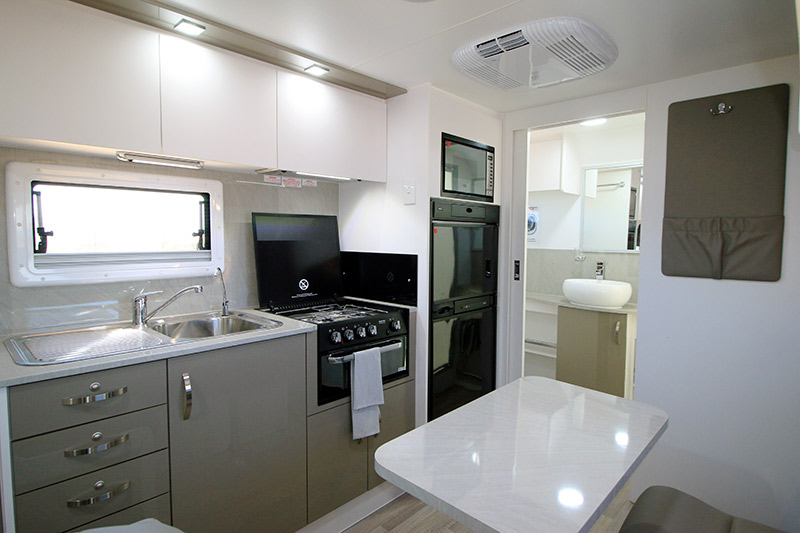 Opposite, you'll find the compact L-shaped dinette, which is upholstered in 'Vegas' leather. Two people will sit comfortably here. There is a 240V powerpoint in the dinette's leg space, allowing you to, say, plug your laptop in.
A 184L Thetford fridge-freezer is fitted between the kitchen and rear bathroom, with a microwave recessed very neatly into the cabinetry above. 
Finally, the bathroom contains all of the required features, even if the bathroom itself is on the narrow side – like the kitchen, some space has had to be traded here in order to create the generous living space elsewhere. That said, the fitout is of a high standard – as expected from Nova – and the trade-off seems worthwhile. There's a cassette toilet, a central vanity, and a nearside shower comprised of a separate, fully moulded fibreglass cubicle.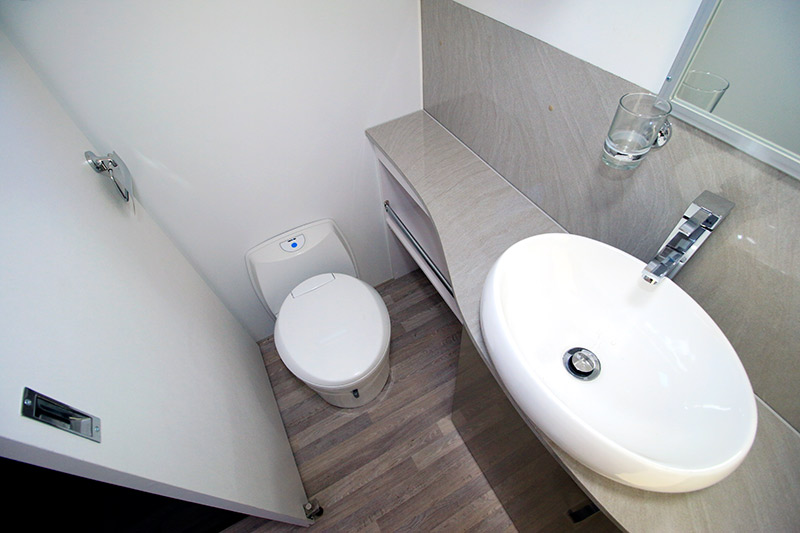 Other features found throughout include a roof-mounted air-conditioner, stylish LED light fittings, a Projecta battery management system for the onboard 105Ah deep-cycle battery (a 170W roof-mounted solar panel is standard, too). Overall, it's a classy interior fitout.
CONSTRUCTION
The Nova Metrolink rides on a 6in SupaGal chassis. The body is built from Nova's composite aluminium Pro-Al walls. The roof, meanwhile, is a one-piece fibreglass that runs from the very front to the very rear. The roof and wall panels come neatly together with a subtle J mould. The floor, meanwhile, is 12mm marine ply.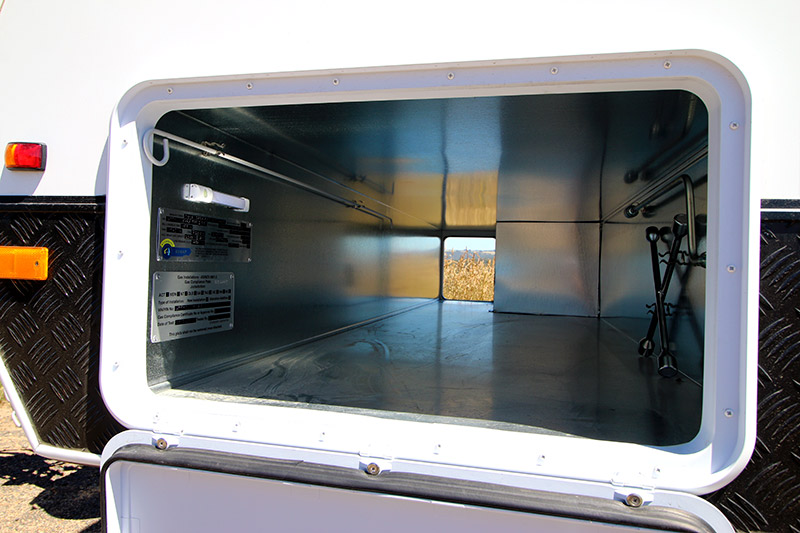 While our the front and rear of our van was finished in white, for 2021 customers can expect it in gunbarrel grey, and Nova's even throwing in a few additional features as standard, such as a reversing camera, gas bayonet, and the aforementioned dinette upholstery.
Being a blacktop touring caravan, the Metrolink gets a beam-axle leafspring suspension setup, with two 80L freshwater tanks – one is mounted either side of the axle. A grey water tank isn't provided as standard on this particular model.
Nova has fitted two 9kg gas cylinders on the drawbar, which also sports a standard 50mm ball coupling and a centre-mounted 8in jockey wheel.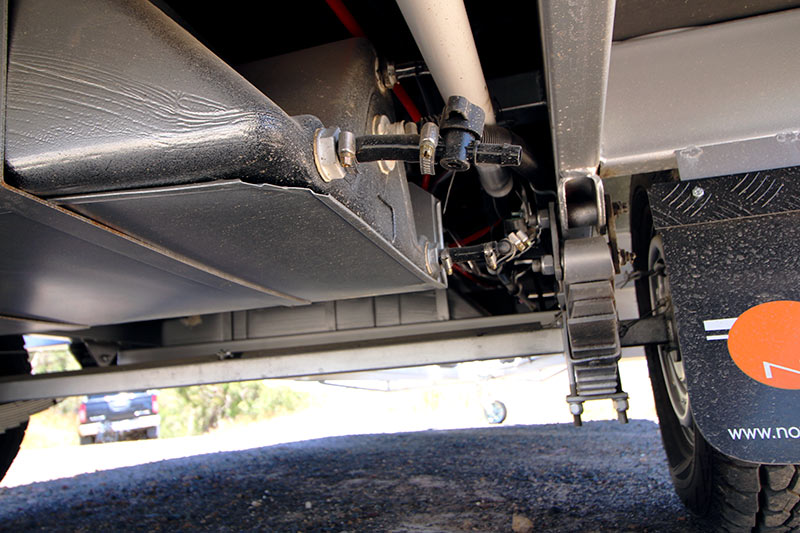 Every Nova caravan leaves the factory fitted with Al-Ko Electronic Stability Control, and the Metrolink is no different. Not that I've ever had any dramas towing a Nova caravan before, mind you, but the ESC is certainly appreciated.
In terms of weights, our Metrolink 166-1R tipped the scales at a respectable 1967kg Tare. Taking into account its ATM of 2389k, it offers a payload capacity of 422kg. For two people packing sensibly, that seems adequate. And it puts this particular van well within the towing capabilities of many mid-weight 4WDs.
The standard items can be found on the nearside, such as a roll-out awning, an awning light, a picnic table, a very low skirt of black checkerplate, a speaker, and a 240V and 12V powerpoint.
GORV'S VERDICT
Overall, the Nova Caravans Metrolink 166-1R should prove to be an attractive option for couples who want a spacious layout inside a single-axle, relatively compact van that is quite easy to tow.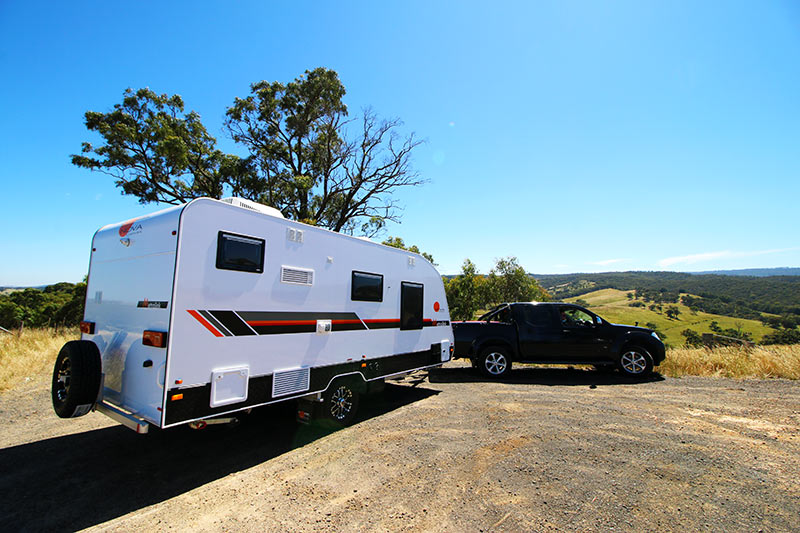 As mentioned, the interior fit and finish is of excellent quality, while the exterior presents very well, too.
It might not have every creature comfort, but the Metrolink 166-1R offers more than enough for convenient, comfortable caravanning.
THE SCORE
FIT AND FINISH –

LAYOUT –

INNOVATION –

HITS & MISSES
Appealing touring package at a reasonable price
Spacious, inviting interior with excellent fit and finish
Reasonably light weight and well within the towing capacities of most mid-level 4WDs
No kitchen bench space – for understandable reasons
I'd like some 12V points in the wardrobe niches and at the dinette
Some external speakers would be welcome