iDeal RV is a relatively new company in the Melbourne caravan scene, albeit with a history that spans eight-plus years in designing caravans. 
iDeal has sold more than 50 vans in just four months. It's an impressive record and, from what we could see, the vans are built to a high standard by Latitude RV for iDeal. This could well be a winning formula for 2021.
There's something to be said about having a solid van for serious touring and the ability to free-camp off the grid. iDeal's range of offroad-style vans for couples and families is proving to be a popular choice. The company also supplies on-road vans, as well as offering customisation to really tailor a package to suit varying tastes and travel needs.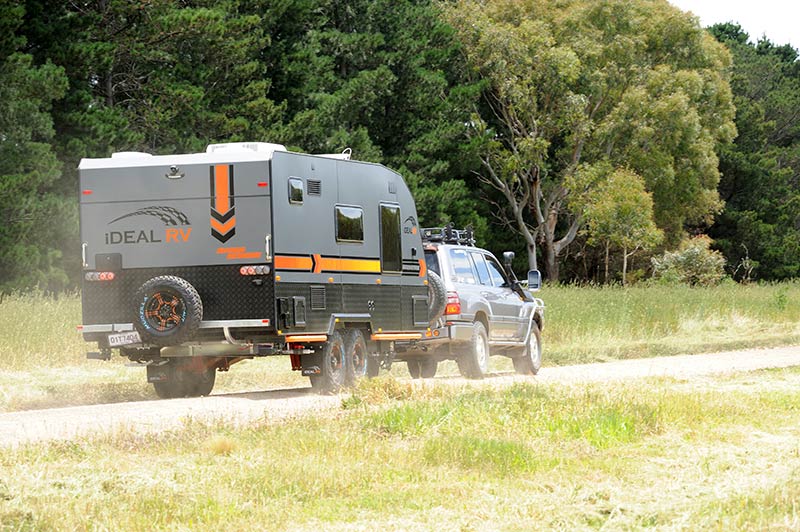 Our review van was the Rugged Extreme 19ft 6in offroader and it's an excellent example of the quality work iDeal sets when its vans are built.
ON THE INSIDE
I have to say I liked the bright and airy interior of the Rugged Extreme. It's a proven layout suitable for a couple to tour with, featuring a queen bed up the front, kitchen and club lounge in the middle, and an ensuite across the back.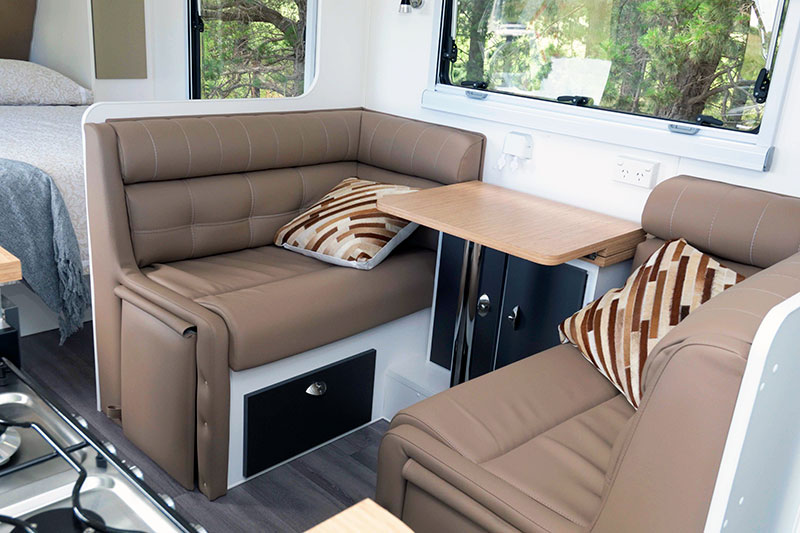 Tan faux leather is used for the dinette seats, which also feature built-in leg rests. There is some storage underneath the tri-fold table and seats and plenty of overhead cupboards around the roofline. My only critique here is that a securing strap is needed to stop the tri-fold table from being bashed around on rough roads.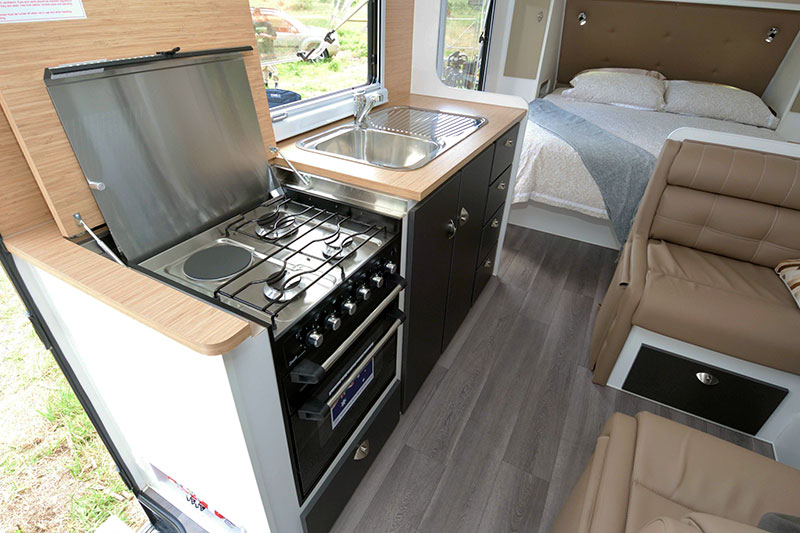 Quality appliances have been used throughout the van, including a Dometic 184L fridge, Swift oven and griller, plus stainless steel rangehood, NCE 25L microwave and a full entertainment system, including a 24in LED TV.
In the ensuite is an NCE top-loader washing machine, ceramic basin and good-sized shower. There's also a BMPro Genius battery management system and an RV Electronics water tank gauge, used in conjunction with an InstaPower power monitoring system.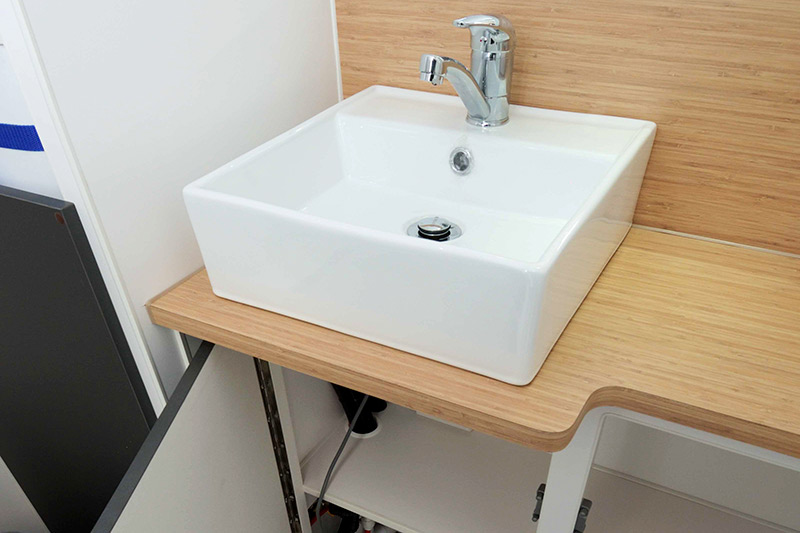 There's reasonable storage in the kitchen, and the addition of a slide-out pantry is a good one. There's also great storage in the ensuite and yet more under the queen-sized bed.
iDeal has used a hinged door between the living space and the ensuite. This is quite a different look as this would usually be a sliding door for this space. I didn't mind it; however, when opening the door I found it hit the fridge, which over time would leave marks if the owners weren't on the ball.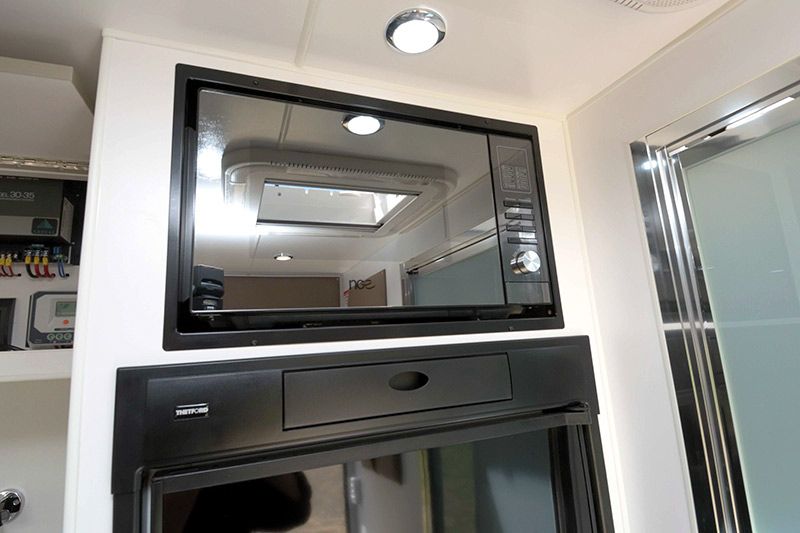 As I said, I liked the light interior and the Nikpol woodgrain benchtops add a textile feel to the van as well. It's a classy look inside this van and one that many tourers would enjoy.
iDEAL RV BODY WORK
iDeal has created a serious-looking body that features bucketloads of black checkerplate and smooth-sided silver aluminium composite bodywork, all mounted on a meranti timber frame with full insulation. All the Aussie Traveller windows are double-glazed with midgeproof screens, offering excellent natural light into the van as well as good ventilation.
There are plenty of features around the body as well, some of which include stainless steel grab handles front and back, a full-width tunnel boot, black awning, picnic table, drop step, external shower, two 100Ah batteries, gas bayonet and plenty of lights and a reversing camera.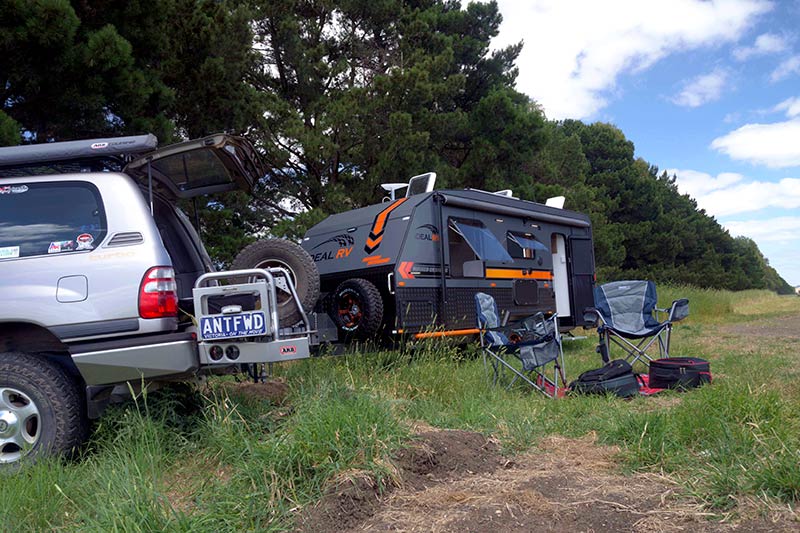 Up on the roof are twin 170W solar panels, hatches for the ensuite, bedroom and entranceway, and rounding out the package is an Ibis 4 air-conditioner and Dometic antenna.
Underneath are twin 95L water tanks and a 95L grey water tank, a requirement for off-grid touring in many parts of Australia these days. The underneath is also pretty well protected with shields and pipe protection.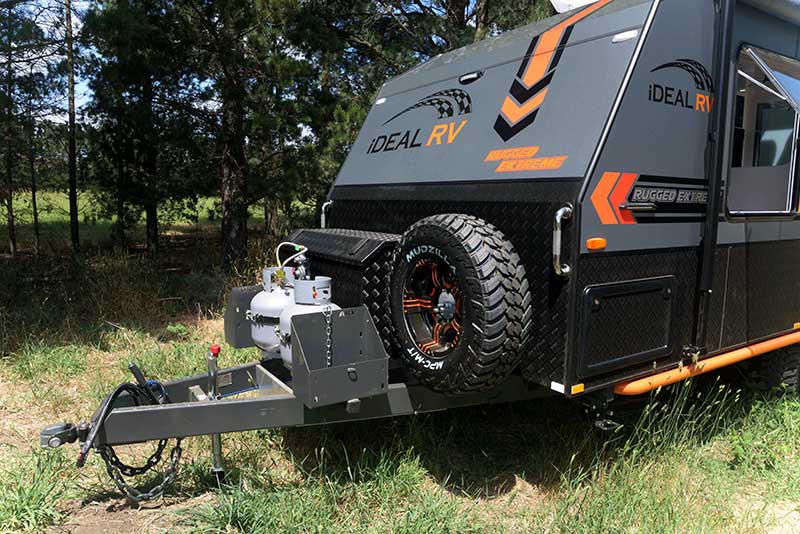 The mechanicals used throughout the Rugged Extreme are designed for serious dirt road touring. The strength comes from a 6in SupaGal chassis running from the A-frame to the axle, with 4in SupaGal box steel sections and a 2in raiser. iDeal has also added some colour coded protection rails for rougher offroad work.
Add to that the 3.7-tonne ARV offroad independent trailing arm coil-spring suspension with twin shockers, 12in electric brakes and neat 16in alloy rims shod with 265/75/R16 Mudzilla tyres.
Upfront on the extended A-frame are twin 9kg gas cylinders, a 9in side-winder jockey wheel and a spare tyre, which is in an unusual spot for a spare to be located. There is a generator storage box, jerry can holder and an alloy floor for wet gear as well.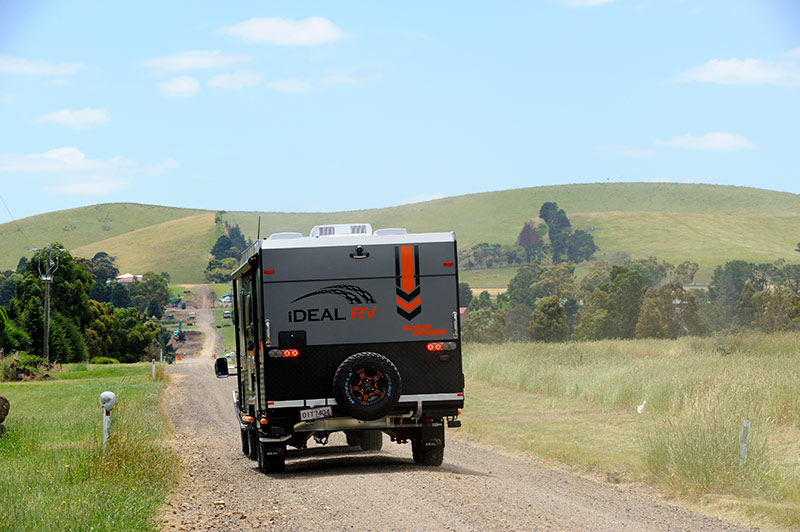 Offroad articulation is handled via a DO35 coupling. Down the back is a three-arm bumper that houses a second spare. All up, this Rugged Extreme offers a solid mechanical package.
Towing this iDeal van up the Hume, it sat well on the back of my Cruiser. Considering that the van looks pretty beefy, the approximate Tare weight of 2760kg is manageable. The van felt well balanced and behaved nicely.
We didn't do a great deal of dirt-road driving; although for the small amount we did it behaved well. It even managed some good articulation with aplomb. The Rugged Extreme should prove to be a solid touring van with excellent manners across a range of surfaces.
GORV'S VERDICT
This is a lot of van for the price tag, and iDeal is happy to customise vans, within reason, to suit a range of touring needs. The interior features a standard and popular layout and is ideal for two people who want a bit of space to move with a high level of spec. I liked the lightness of the interior with contrasting browns.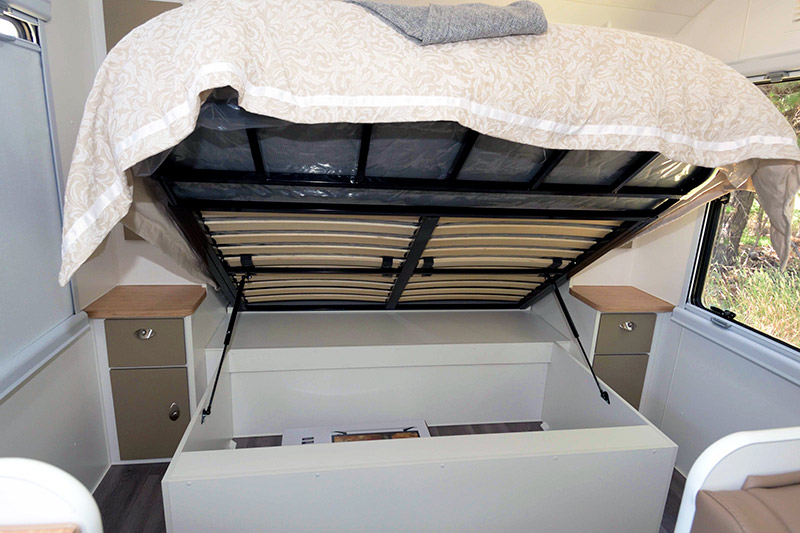 Aside from the ensuite door and the tri-fold table needing securing, which can be sorted easily, there wasn't much to dislike. The Rugged Extreme is well worth checking out as a smart touring package.
THE SCORE
FIT AND FINISH –

LAYOUT  –

INNOVATION –

HITS & MISSES