A couple of months ago, I was poking my nose around the EzyTrail factory in Kilsyth, Vic, when a sleek caravan with a touch of Euro-flair caught my eye. 
EzyTrail has long been known as a manufacturer of offroad camper trailers and, of course, hybrids. And so, in a sea of smaller trailers, the half-finished, larger EzyTrail Winton 18 seemed out of place.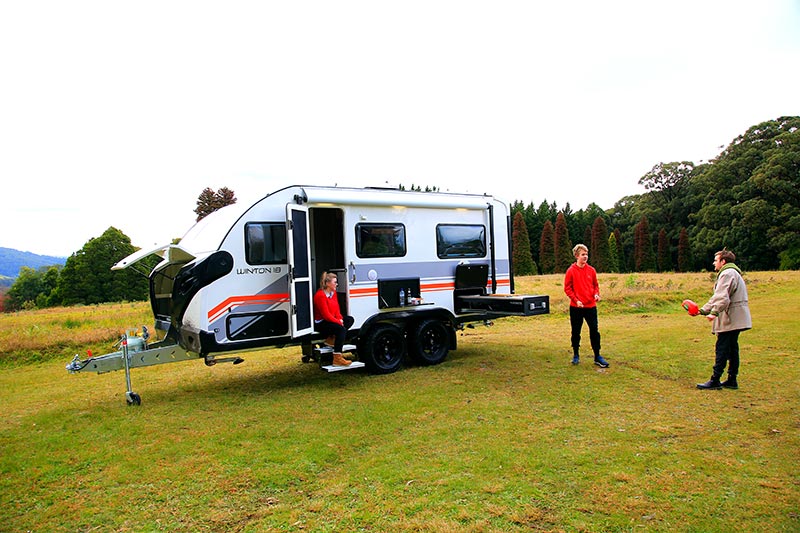 This caravan represents EzyTrail's first foray into caravan manufacturing. With its curved front profile, various mouldings, tall stance and narrower width than typical Australian caravans, the Winton 18 was begging for a closer look. As soon as the van was finished, we lowered its 50mm ball coupling onto our vehicle's towbar, extended the mirrors, and hit the road.
INSIDE THE EZYTRAIL WINTON 18
The Winton 18 is, like all EzyTrail rigs, mostly made in China, with aspects such as the electrical work, gas fittings and plumbing completed in Australia. I hasten to add that EzyTrails are made to Australian specifications, and the company has earned a decent reputation. It is also a member of the Victorian Caravan Industry Association.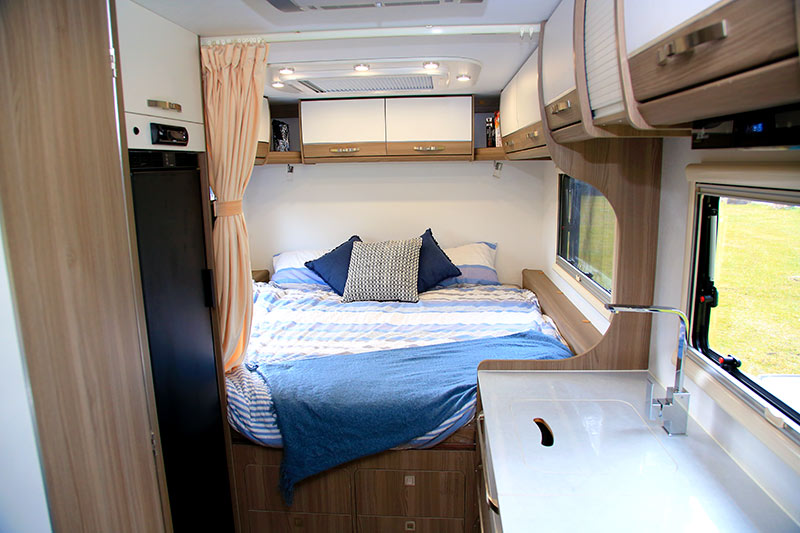 The interior of the EzyTrail Winton 18 stood out to me for two reasons: 1) it features a surprisingly large forward club lounge, and 2) it comes with a king-size bed, made all the more impressive by the fact it's oriented north-south in the rear of the van, rather than east-west as you might expect.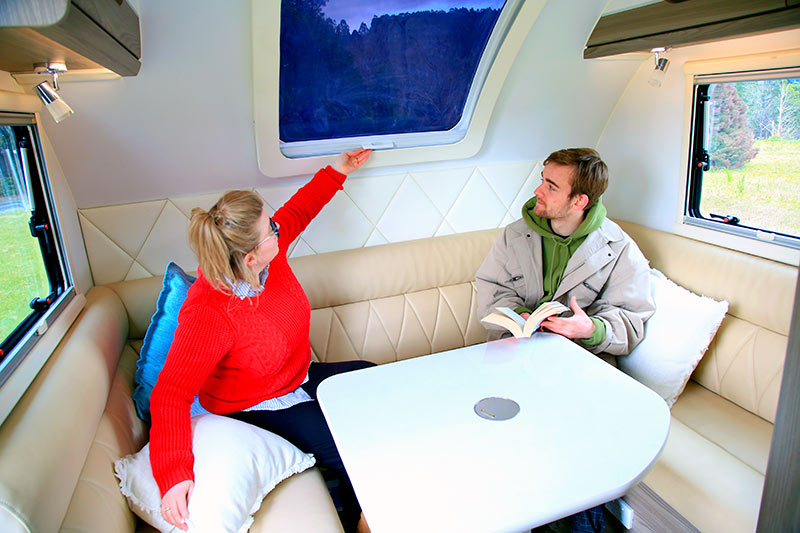 The so-called 'moon roof' at the lounge is an obvious highlight. It neatly follows the curvature of the front wall, and even comes with an integrated block-out blind. Aside from allowing you to enjoy the night-time stars from the comfort of the dinette, it lets in a significant amount of additional natural light. Similar designs can be found on European vans, but very few Aussie-built vans have adopted this fantastic idea.
Though it's only an 18-footer (internal), the EzyTrail Winton even manages to fit a decent-bathroom, which is positioned amidships on the offside. It is a combo fibreglass unit complete with a Dometic cassette toilet, washbasin, hand-held shower rose, a mirror, and even a bit of storage space. While a bit of silicone is used at the joins, in our van it was applied by a practised hand.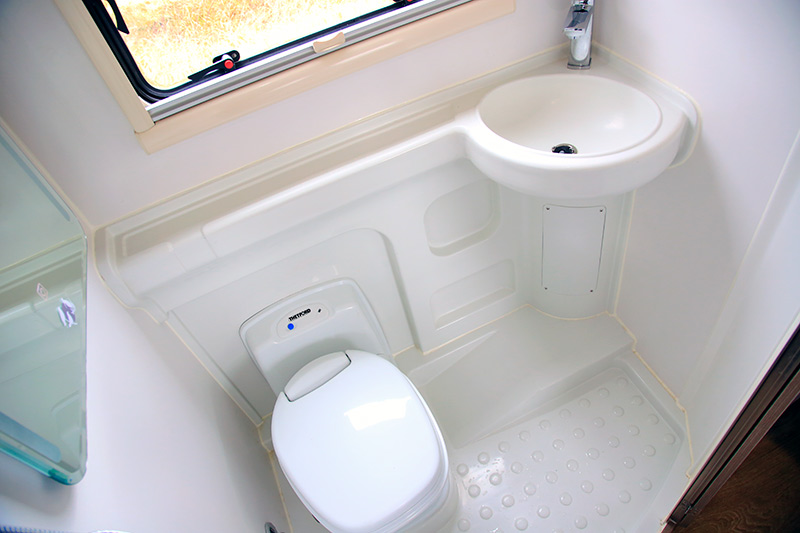 Between the bathroom and bed is the fridge. Our van was fitted with a 150L Thetford compressor fridge-freezer as standard.
Directly opposite the bathroom, EzyTrail has fitted a well-appointed kitchen. Among the features, there's a four-burner Swift cooktop, griller, oven, and a stainless steel sink. The sink is recessed into the benchtop, with a neat colour-matching insert to sit on top to increase bench space.
The same goes for the cooktop; however, the hinged lid was a tight fit on our van – it seemed a millimetre or two too wide, and therefore rubbed on the surrounding bench when being opened or closed.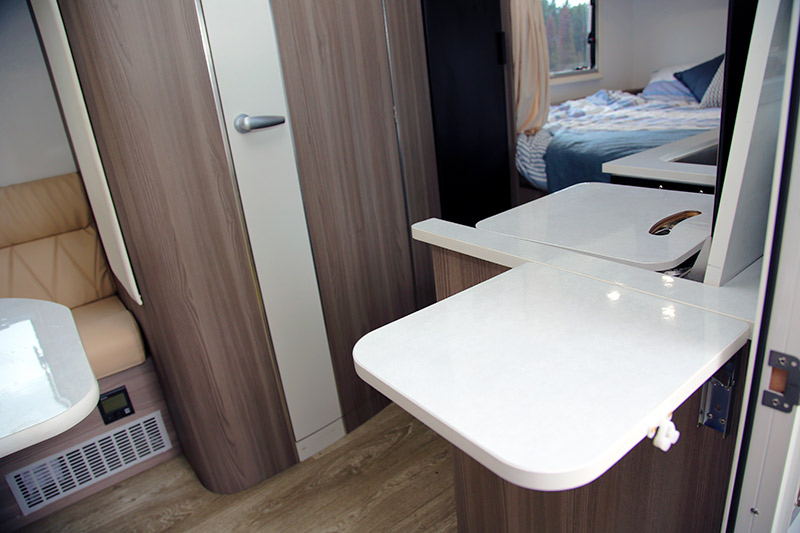 A feature that I appreciated was the hinged bench extension piece. However, I found it caught on the van's door handle when the door was closed. 
Throughout the layout, EzyTrail has made good use of available storage space. The bed is surrounded by overhead lockers, there are four excellent drawers beneath the bed, and there's a reasonable amount of storage space in the kitchen and at the dinette.
Among the other noteworthy items within this intriguing van are the reverse-cycle air-conditioner, a Truma hot water service – our van, however, was fitted with the optional Truma Combi hot water/space heater system, and even multi-directional LED reading lights with integrated USB charging points.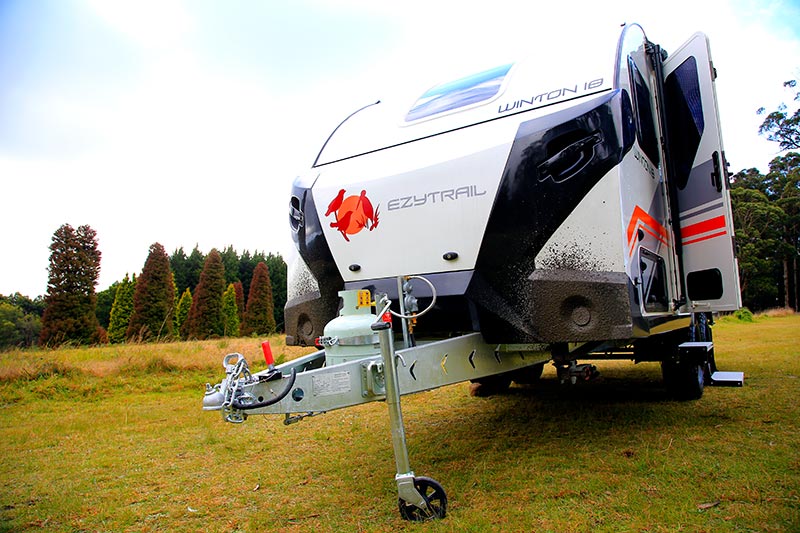 The upgraded 700x400mm skylight above the bed is a winner, as it really does help to brighten up the back of the van. (A 400x400mm skylight, rather than the larger unit, is provided here as standard.)
Finally, the Winton 18 had as standard the Projecta PM300 battery management system (with dual 100Ah deep-cycle batteries). This system incorporates a digital display, mounted above the door, along with buttons that allow the user to isolate various electrical functions (lighting, fridge, etc.). It all adds up to a striking interior.
OUTSIDE THE WINTON 18
The EzyTrail Winton 18 is built on EzyTrail's own F3 chassis that comes with a lifetime warranty. The C-section chassis members are made from 300x3mm folded steel, while the drawbar is 360x4mm steel. Lightening holes – an engineering principal that reduces weight while increasing strength – have been created along the length of the chassis.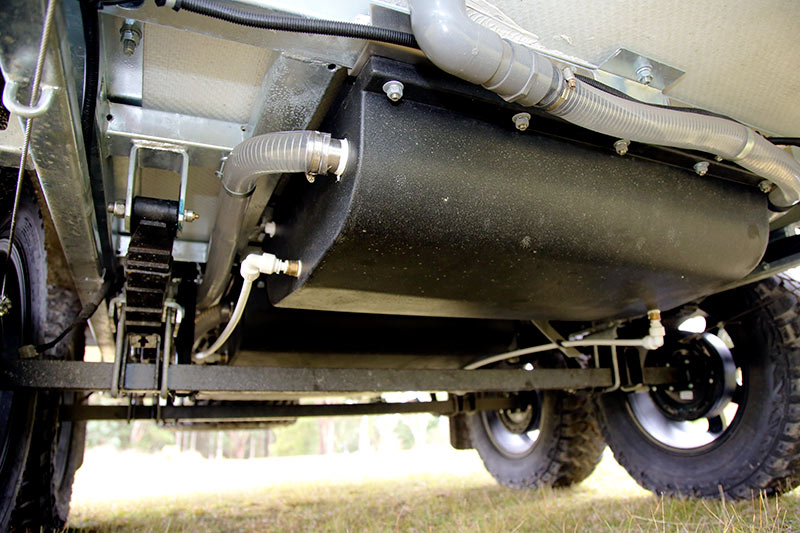 The walls are aluminium sandwich panel, while the floor is a one-piece honeycomb structure. It all appears to be quite strong and nicely finished off.
Our van was fitted with an optional slide-out Dometic kitchen. A gas bayonet is provided, along with a couple of plastic taps to hook into the water supply. I thought these taps looked a bit vulnerable and would seek to protect them somehow.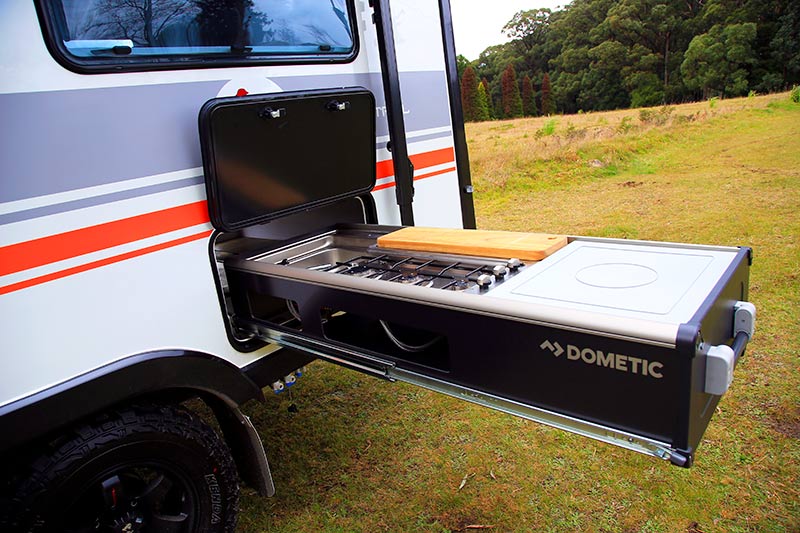 Now, should you do without this outdoor kitchen, you'll have one of the largest tunnel-boot storage systems available in a van of this size. And even with it, the offside still offers a reasonable amount of space.
On the topic of storage, there's a locker towards the front as well as a truly large front boot. Rather than being a checkerplate add-on or similar, the lid of this boot matches the rest of the van in style. EzyTrail fits a shelf inside, too, which you won't get with your typical front boot setup.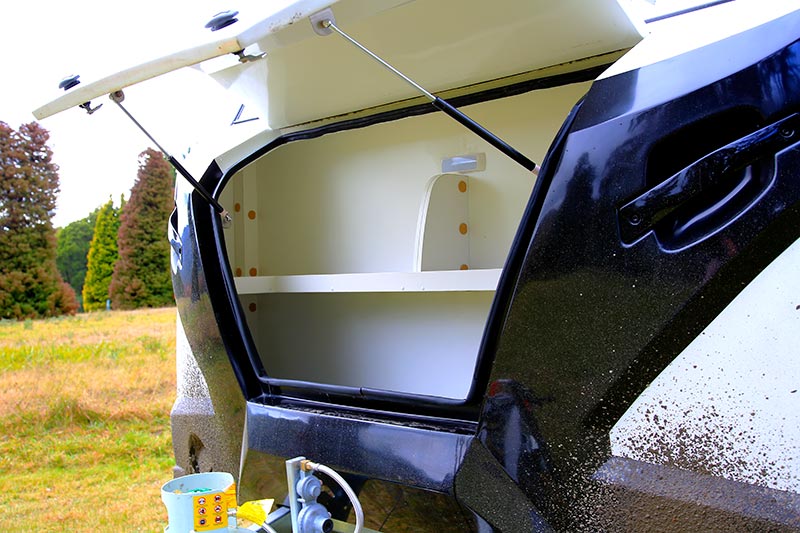 Lastly, I found the EzyTrail Winton 18 to be a pleasure to tow. It rides on tandem roller-rocker leaf-spring suspension with shock absorbers. Our rig had upgraded 17in alloy wheels, but 15in wheels are standard fitment.
The van was reasonably manoeuvrable and showed no hint of instability as I hauled it on gravel tracks and in traffic. Furthermore, EzyTrail warrants this van to travel on any gazetted road in Australia.
GORV'S VERDICT
Our review Winton 18, which was fully specced up with optional extras, weighed 2280kg Tare with an upgraded ATM of 2750kg (and upgraded GTM of 2450kg).
However, as standard, the Winton 18 weighs 2100kg Tare and has an ATM of 2500kg, giving it a standard payload capacity of 400kg.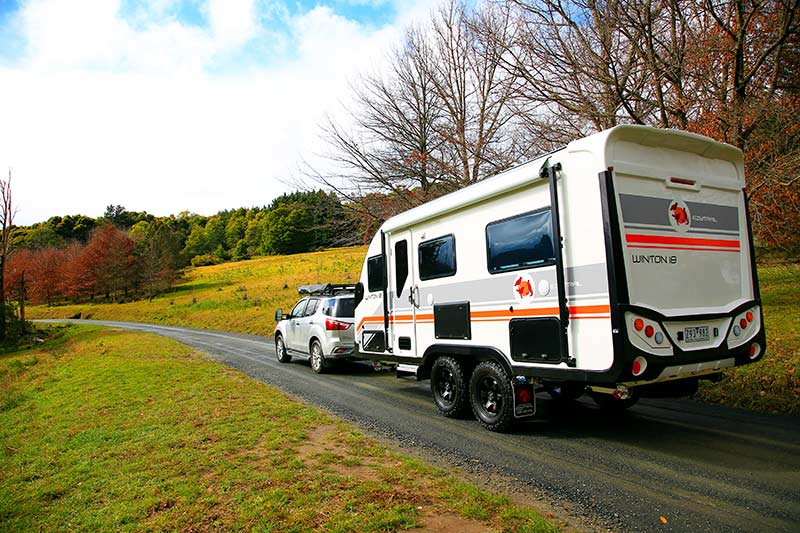 Assuming the van was fully loaded to 2500kg, its Gross Trailer Mass of 2200kg means the loaded ball weight would need to be 300kg – a reasonable 60kg increase over its 240kg unladen ball weight. In fact, 300kg is this van's maximum ball weight – all vans will be required to stipulate maximum ball weight in the future as part of the forthcoming Road Vehicle Standards Act and EzyTrail is getting ahead of the curve by stipulating it now. 
Our Winton 18 was only the second one off the production line, so while there were a few areas in need of refinement with our van, I'd imagine these issues would be ironed out in future versions.
As it is, though, the EzyTrail Winton 18 is a seriously interesting caravan for touring couples. It is visually appealing, the layout offers features normally found in larger vans, and it is good thing to tow.
THE SCORE
FIT AND FINISH –

LAYOUT –

INNOVATION –

HITS & MISSES