Earlier this year, Crusader Caravans introduced an entirely new range to its stable of caravans. Known as the CRV range, it is comprised of three distinct models: the high-end Hurricane; the mid-spec Gladiator; and the entry-level Esperance.
Both the Gladiator and Hurricane are offroad-capable rigs and boast a decent amount of equipment as standard. The Esperance, meanwhile, is built for blacktop touring and staying in holiday parks, and is equipped accordingly.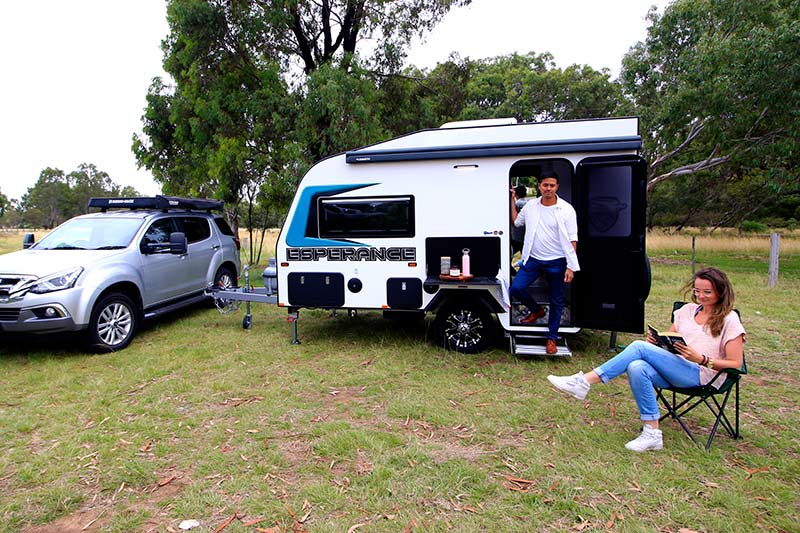 The three models in the CRV range have a similar aesthetic: a curved front profile, flat roof, and a squared-off rear wall. Each ride on a single axle and have a certain 'hybrid camper' look about them. the principle difference between the models is the size and equipment – each has a similar layout.
Undoubtedly, they are striking vans that have generated some excitement among new-caravan buyers. In fact, Crusader sold quite a few units, sight unseen, upon launching the CRV range.
GoRV was the first to check out the Gladiator; now, it was time to hitch up the Crusader Caravans Esperance for a close look.
CRUSADER CARAVANS ESPERANCE: LAYOUT
Our review Crusader Caravans CRV Esperance was a pre-production model. As such, there were a few items that Crusader Caravans plans to change. Our van sat quite low; future vans will sit 2in higher. Additionally, the taillights that were mounted to the van's rear bumper bar are set to be moved to the body of the van itself, which I believe is a good move. As they are, they have to be plugged into a separate 12V point on the body. Moving the lights and hardwiring them seems a better proposition.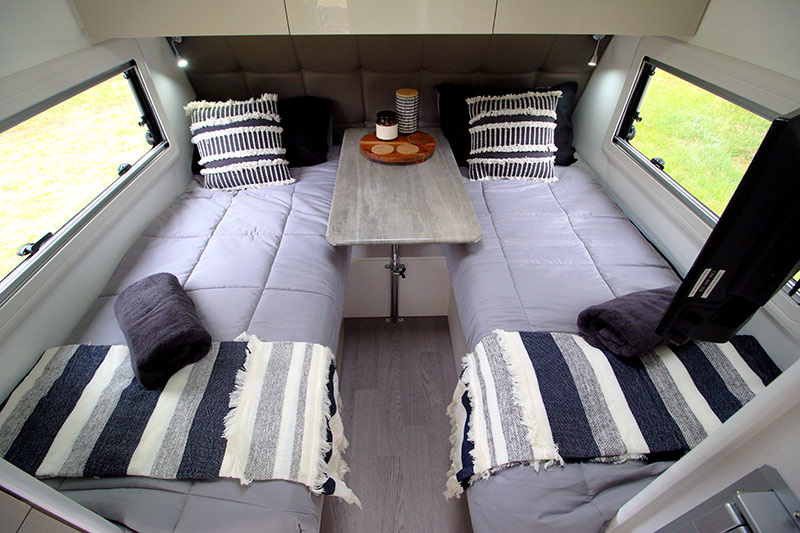 Further, our van had an unladen ball weight of just 67kg. Some would say that's very light; however, I honestly felt no pitching on the towbar when towing the Esperance. Crusader Caravans is nonetheless planning to increase that to 90kg. Either way, it's a very manageable ball weight that should suit many tow vehicle types.
There will be a few other changes as well, but mostly of a cosmetic nature.
Stepping inside, I couldn't help but be impressed. Here was a van measuring just 3.95m (external body length) and yet, it didn't feel cramped at all. It provided all of the must-have comforts – including a combo bathroom – and I felt that the layout compromises were mostly reasonable, given what this van is trying to achieve.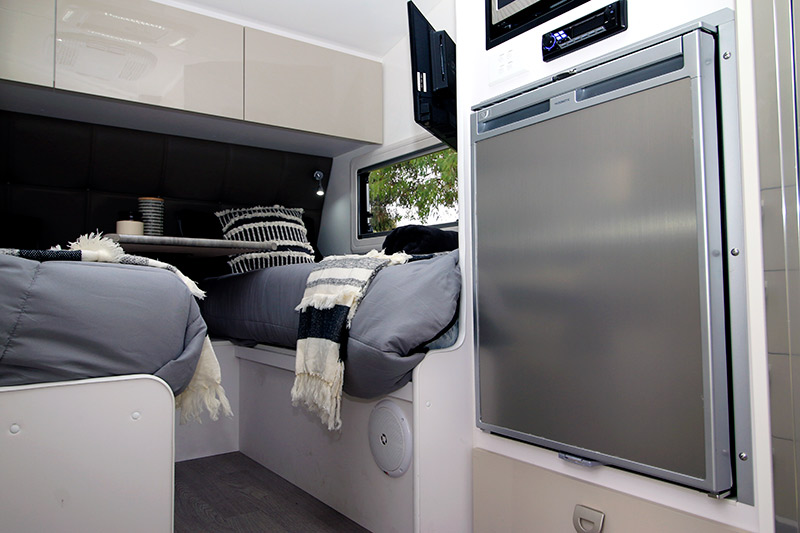 The layout sports two single beds in the front, a nearside wardrobe that is actually quite spacious, a 108L 12V compressor fridge and microwave, a sizeable bathroom in the offside-rear corner, and a small kitchen across the back of the van.
The dinette situation is clearly a compromise. A table is clamped to the furniture between the twin single beds, and the beds act as seats. Personally, I don't mind this setup. The single beds, I'll point out, can convert to a double. It's a matter of fitting a supplied timber base and zipping the two mattresses together. It's a little awkward, and finding a spot to put the table when not in use might be a challenge, but it works.
To be honest, in their single configuration, the mattresses don't suit anyone over 6ft tall. But with the mattresses zipped together, you're able to angle your legs a little, or sleep in an east-west configuration for extra leg room.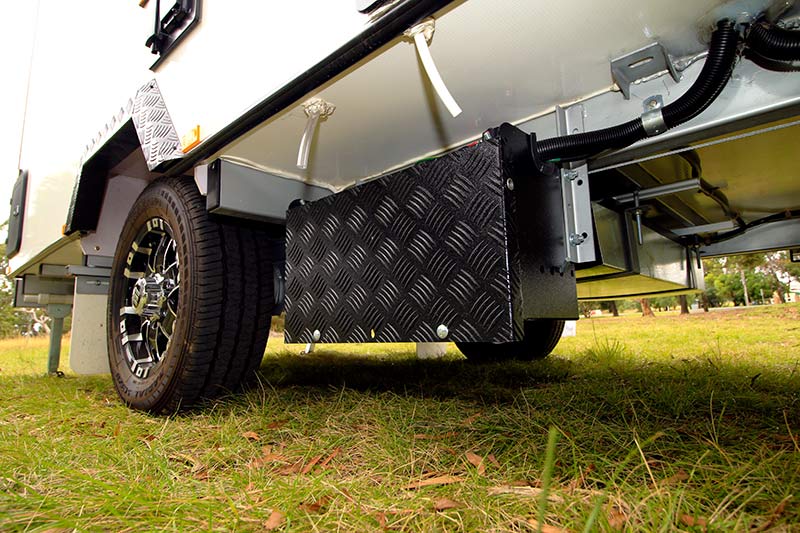 The van comes standard with a 105Ah battery, which is mounted to an offside chassis rail behind some protective checkerplate, along with a 190W roof-mounted solar panel and a Projecta PM200 battery management system. Crusader readily admits that the Crusader Caravans Esperance is intended for holiday-park stays rather than extended free-camping, and there's nothing wrong with that at all. This is one of the reasons the manufacturer supplies a compressor fridge rather than a three-way unit – it's expected that the van will always be plugged in, either into an outlet at a van park or into the tow vehicle, topping up the battery as you drive to your destination.
For similar reasons, the capacity of the supplied water tank is on the low side: 62L – the thinking being, of course, that you'll usually have access to a fresh water supply.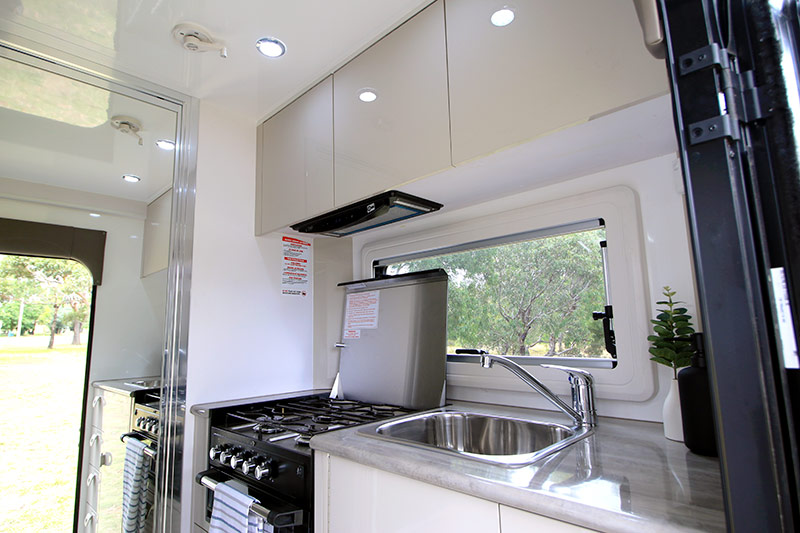 None of this is a criticism. In fact, in an age where caravans are getting bigger and heavier, and being equipped to keep you going for more than a week in remote areas, it's refreshing to see a van that takes the opposite approach.
Among the standard features, the Crusader CRV Esperance has a remote lighting system, a 24in TV, Sirocco fan, a four-burner cooktop with griller, a reverse-cycle air-conditioner, double-glazed windows, and more.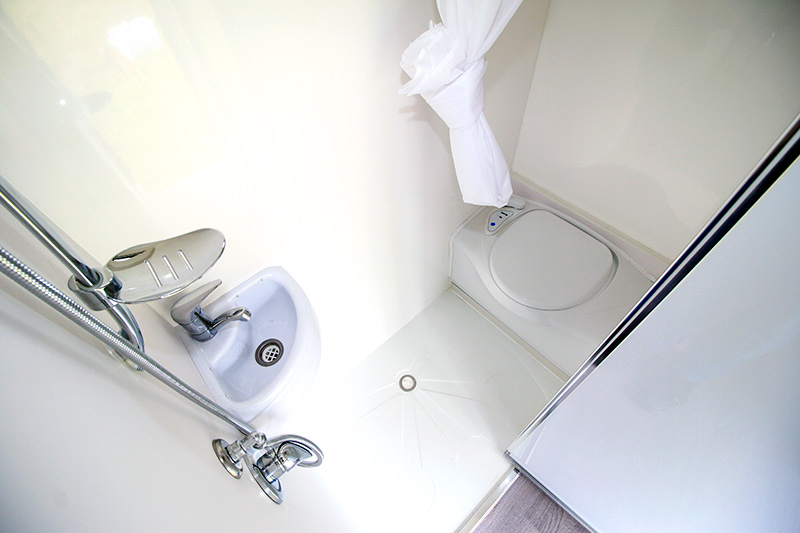 Internally, the Crusader Caravans Esperance is an intriguing and well put-together package. Even though the layout involves some compromises, I felt it was nonetheless quite liveable for two people. It's undeniably attractive, offers a number of storage solutions, and aside from a couple of unsightly globs of silastic under the sink, I didn't notice any fit-and-finish issues.
OUTSIDE THE CRUSADER CARAVANS ESPERANCE
The CRV range gets the full Crusader Caravans composite-construction treatment. The walls and roof are each a one-piece fibreglass sandwich panel. The joinery is finished with a neat J mould – no unfortunate blobs of silastic that I could see.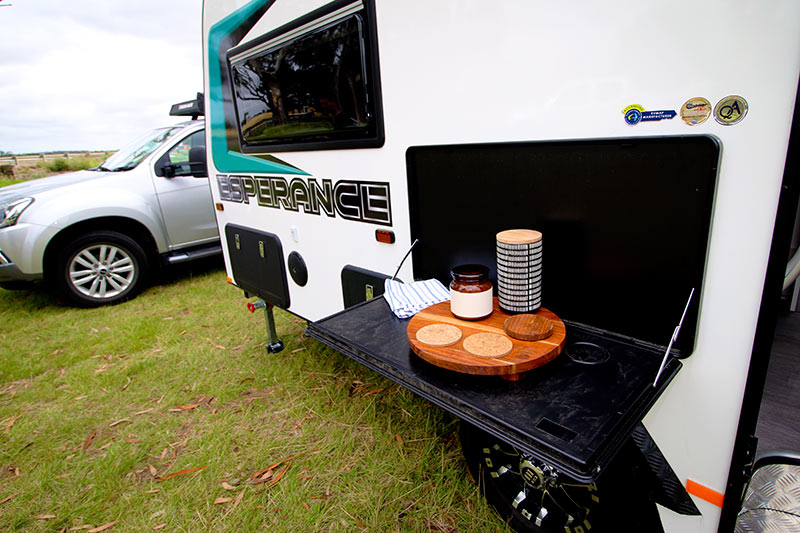 The rig is built on a 4in chassis built by Intelligent Engineering, while an independent torsion suspension system rated to 1800kg has been fitted. I suspect the van would do just as well with a simple leaf system, but I'd happily take the independent system.
The van's undercarriage is good and 'clean' – nothing appears particularly vulnerable, and the honeycomb floor system appears strong. Honestly, the comparison between this van's undercarriage to some other on-road caravans is night and day. It's clear Crusader has put a bit of thought into it.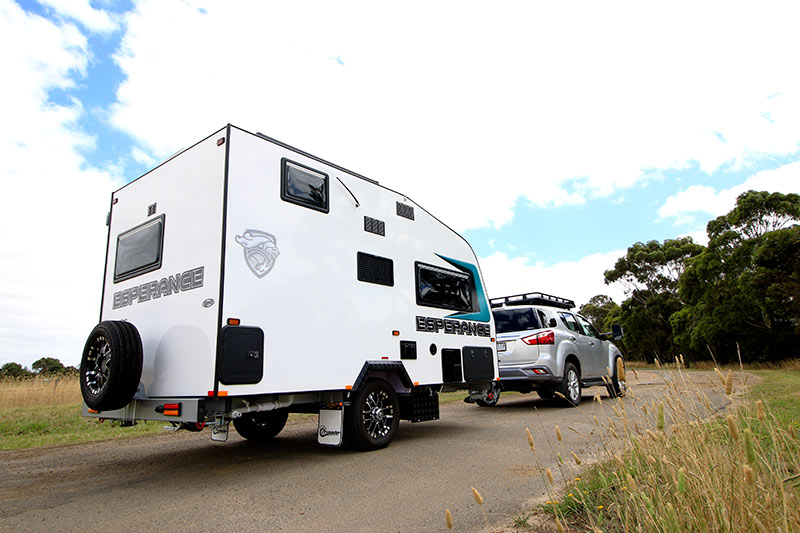 A 3m awning has been fitted to the nearside, along with some speakers to suit the Bluetooth-capable stereo inside. External storage is limited to a front tunnel boot. Dual 9kg gas cylinders are fitted to the drawbar.
I think there's scope to spec-up the exterior a little. The sandwich panels are tough, but a stone guard on the A-frame would offer the front of the van a little protection. Meanwhile, a separate 12V point somewhere near the fold-down picnic table would be appreciated. Having said that, the separate 'entertainment locker' contains a 12V point along with the aerial connection.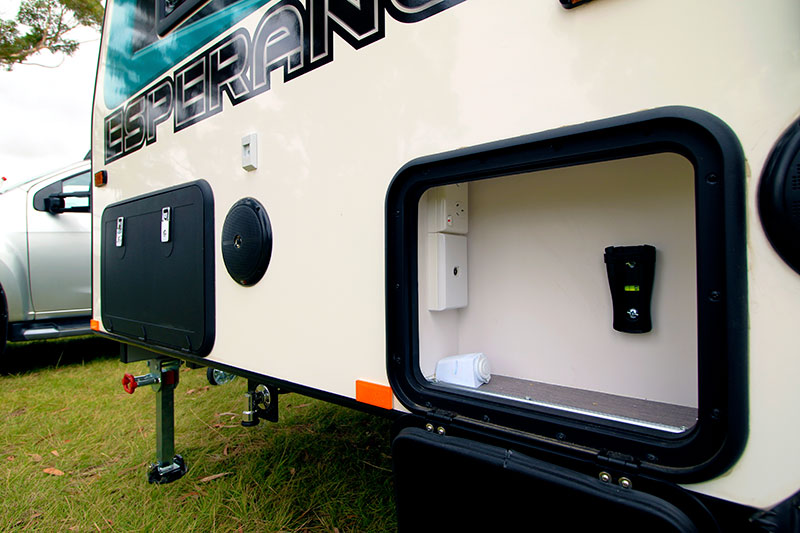 This van really was a dream to tow. My MU-X barely noticed it was there, to be honest. It's Tare of 1350kg and ATM of 1800kg make it an excellent match for many tow vehicles.
GORV'S VERDICT
It's small. It's lightweight. It's strong and well made. For a little blacktop touring caravan, the Crusader Caravans Esperance has a great deal to offer. Touring couples would do well to have a look at this or one of the other vans in the range.
THE SCORE
FIT AND FINISH –

LAYOUT –

INNOVATION –

HITS & MISSES
Great fit and finish throughout
Personally, I loved the layout, including the inclusion of a bathroom in such a compact van
Light weigh and suitable for a wide range of vehicles
I'd like a separate external 12V point
When making up the double bed, where will your store the dinette table?