I've said it before and I'll say it again, if you're in need of a genuine offroad caravan, seriously consider going compact. Sure, there are plenty of big, beautiful offroaders that are truly made to go anywhere. But if you've ever tried to turn around a 20-plus footer because you've made a wrong turn down a tight bush track, you'd appreciate the benefits of smaller trailers.
That's why the new Mars 13 Hybrid appealed to me. It was launched a little earlier this year by Mars Campers as a companion to the company's other 13ft rigs, and there's more than enough here to warrant a good look.
INSIDE THE MARS 13 HYBRID
It's fair to say that Mars Campers has come a long way in recent years. The company now has thousands of rigs on Australian roads. While the vans are predominantly made in China and finished off in Mars Campers' Springvale, Vic, and Rocklea, Qld, factories, the company has gone to considerable lengths to ensure full ADR compliance.
The secret to the Mars 13 Hybrid's success rests in its extendable rear bed section. It is not the first rig to feature this fold-out bed setup, but it appears to have been well executed nonetheless. 
To set-up this pop-top, it's a matter of first raising the roof – just unclip the over-centre catches as per normal, step inside and lift. Then, it's a matter of removing the retaining pins that keep the rear bumper (with dual spare wheels) upright, and gently lowering them to horizontal. As you'd imagine, there is a bit of weight involved, so a bit of assistance might be needed to lower the wheels.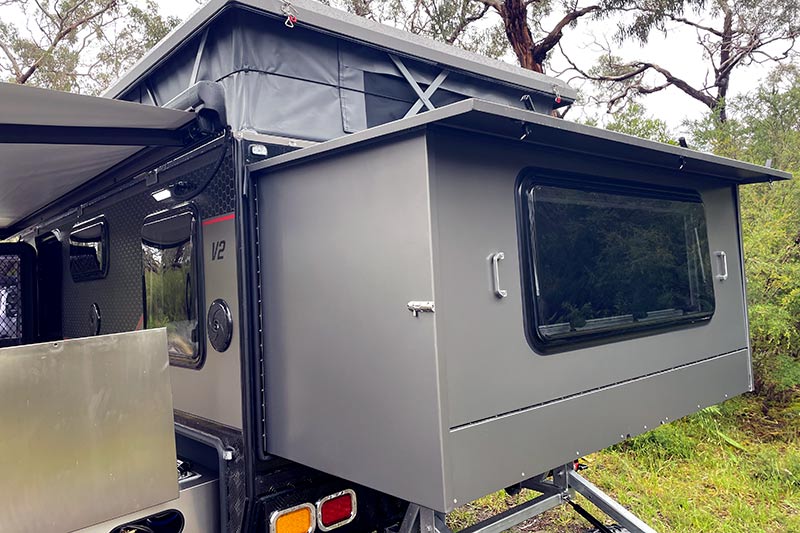 Then, unfasten the rear wall, which will lift on gas struts to form the roof of the bedroom. Two side walls can then be swung outwards, and the bedroom floor lowered. These different aluminium panels lock together easily enough and everything feels quite secure.
You can then step inside and position the innerspring mattress. The mattress of the Mars 13 Hybrid is split into two sections that are stitched together. This allows it to be folded in half when it's time to pack the camper up.
The layout itself doesn't break new ground – it's similar to what you'll find on comparable hybrids – but it is very well executed, in my opinion. The first feature that caught my eye was the clever addition of a bunk. Essentially, Mars has provided a foam mattress to sit atop some rear-offside cabinets. To create the necessary length, a flip-up 'shelf' is provided, along with a foam infill to match the mattress. For safety, the company has also fitted a bunk rail that can be raised or lowered as required. Neat.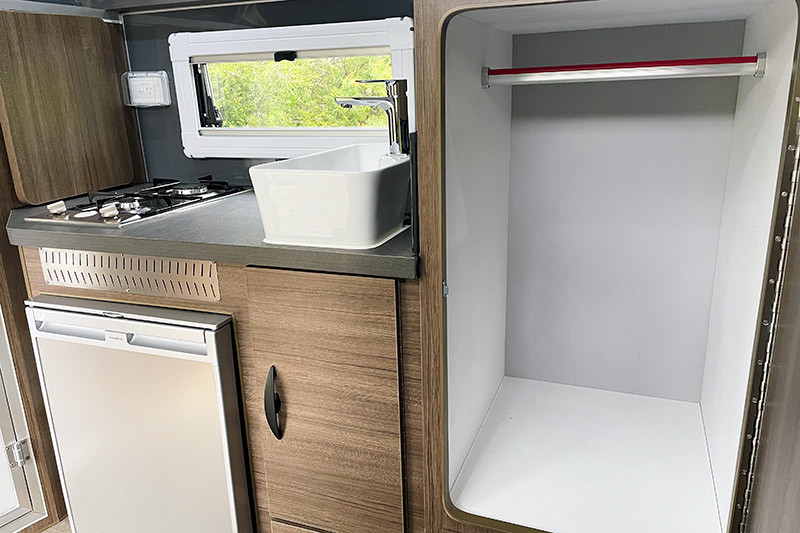 The kitchen is, as you'd expect for a rig such as this, on the small side. However, I really liked that Mars included a flip-up shelf nearby. The kitchen comes with a small two-burner stove, a raised sink with flick-mixer tap, and an under-bench Dometic CRX110 fridge-freezer. Storage and bench space here is on the minimal side, though. However, between the kitchen the rear bed, Mars has fitted a generous wardrobe.
Directly opposite is a small two-seater lounge. However, a fixed dinette table is not provided; owners might need to provide their own portable table.
Before stepping into the Mars 13 Hybrid for the first time, you would be forgiven for assuming that there is no on-board bathroom. However, in the forward-offside corner, a fibreglass combo bathroom has been installed, along with a zip-up privacy section above the walls. Naturally, the bathroom comes at the expense of living space.
Among the highlights inside this van is the control panel hidden by a door at the front of the van. This control panel includes the 240V RCD as well as a digital display that provides the percentage of remaining water in the generous 190L water tank and 100L grey water tank.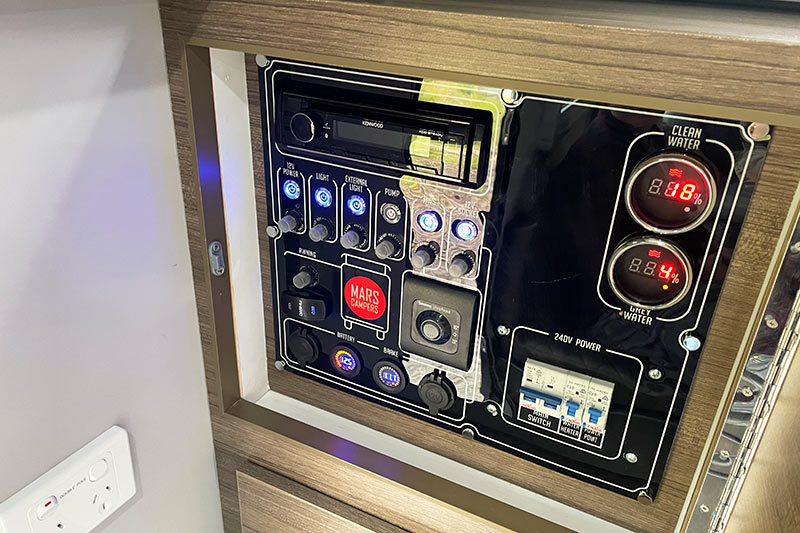 The panel also features a digital indicator for the battery's state of charge, a switch for the Truma gas hot water heater, the switch for the van's electric awning, along with a standard 12V point. Finally, there are individual switches that allow the user to isolate things like the hot water heat, water pump and various lights. There's also one main switch for all 12V functions, so if you're heading out and want to save the battery, just flick that switch.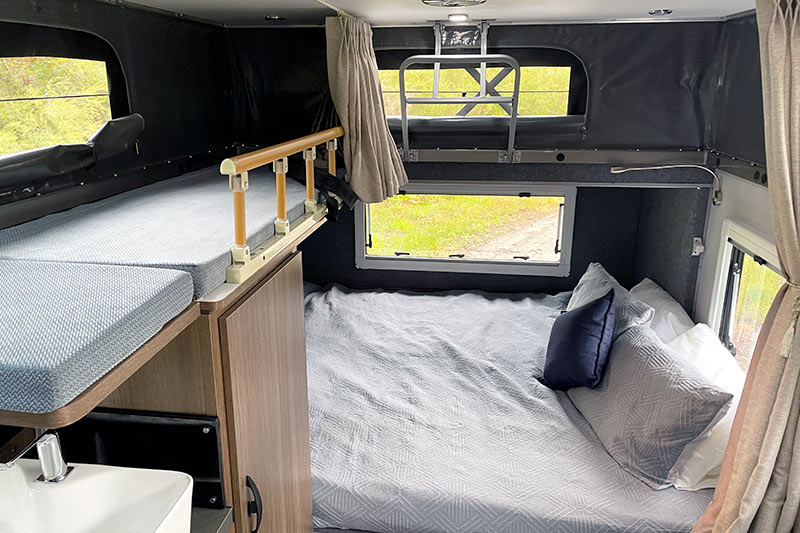 The living space inside the Mars 13 Hybrid is undeniably limited, but that's the point. This van is about living outdoors, with the size of the van itself kept low so as to allow its owner to more easily access the best spots in the country. Therefore, much depends on how this van is equipped on the outside. Let's take a look.
EXTERNAL LIVING
There are a quite few things to appreciate about the Mars 13 Hybrid's exterior. First, there's a large storage box on the A-frame that holds not only the gas cylinders but would easily accommodate some water jerries and more. Moving rearwards, you'll find a hatch for a slide-out tray.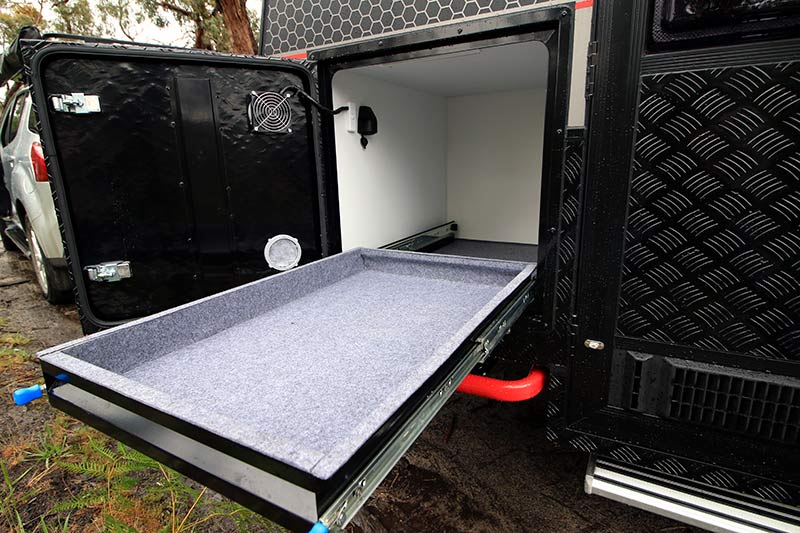 This tray would accept a portable fridge up to 60L in size – in fact, Mars has provided a 12V point within the cavity for just this reason.
Finally, you'll find a pull-out stainless steel kitchen at the rear of the van. This kitchen is nicely equipped and the gas/water connections are nearby. The kitchen does, however, take a few minutes to set-up. There are some fiddly screws involved with the stainless steel covers, etc., and you'll also need to fit a couple of supporting legs.
I noticed the external GPO is behind a waterproof housing, which seems like a good idea, and there are a couple of speakers, too, not to mention scrub bars front and rear. I really appreciated the electric awning, by the way. The manual kind are fine, but you can't beat just pressing a button!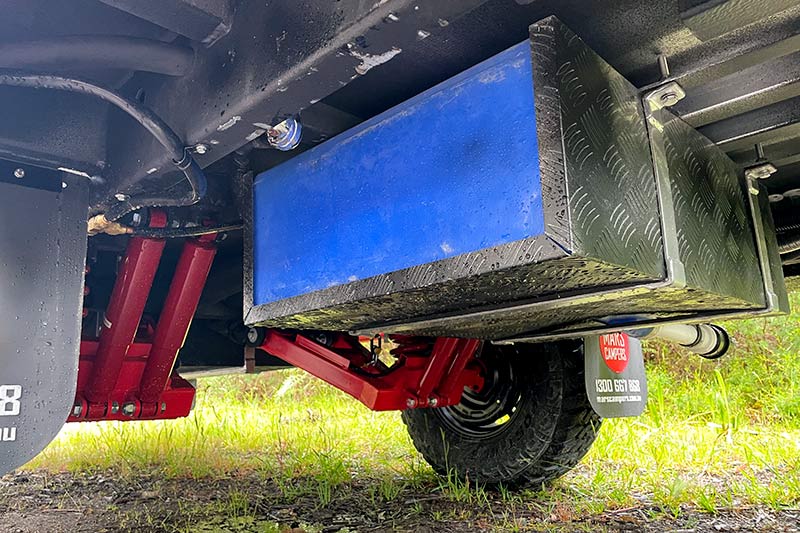 The water tanks are wrapped in protective black checkerplate. The only component that looks a little vulnerable it the outlet on the grey water tank.
The 12V system is above average on this van. As standard, it comes with three 100Ah deep-cycle batteries and a 1000W inverter. In terms of solar, however, you really need to option in a solar panel – one isn't provided as standard, which seems a shame since this van is all about free-camping. Your choices are a 300W panel on the roof or a 200W portable panel that you'd plug into one of the van's Anderson plugs.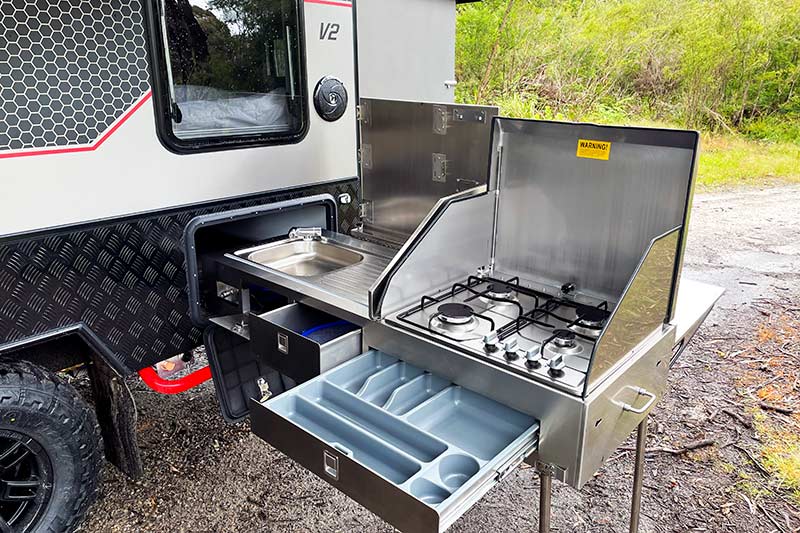 On the offside, you'll find an external shower and hatch access to storage space. The 15A powerpoint is behind a waterproof housing as well.
GORV'S VERDICT
The Mars 13 Hybrid rides on an independent coil suspension with two shock absorbers per wheel. It towed without drama behind my 4WD and managed nicely on some steep undulations.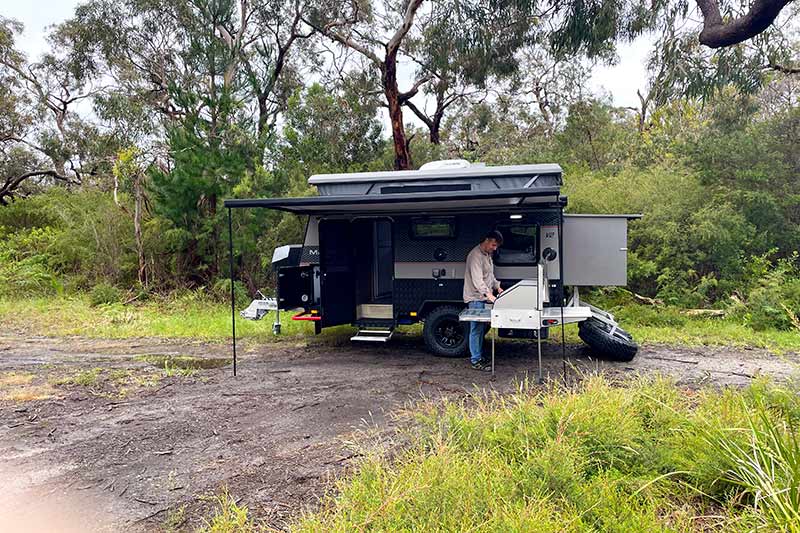 There are plenty of other features too, such as a standard reverse-cycle air-conditioner and optional diesel heater. Suffice it to say, though, that this rig comes from the factory almost ready to hit the bush – you'll just need to add a solar panel.
THE SCORE
FIT AND FINISH –

LAYOUT –

INNOVATION –

HITS & MISSES