Hilltop Caravans has been manufacturing caravans for about five years. Frankly, the company had mostly flown under my radar, a sort of quite achiever in the industry.
Though it is a relatively small outfit, building about four vans a week out of its factory in Campbellfield, Vic, it seems to have developed a loyal base of customers.
Nonetheless, I was unsure of what to expect as I arrived one winter's morning. The van I was to review was a new Macedon, a top-end 21-footer built on a SupaGal chassis with a meranti timber frame and composite aluminium cladding.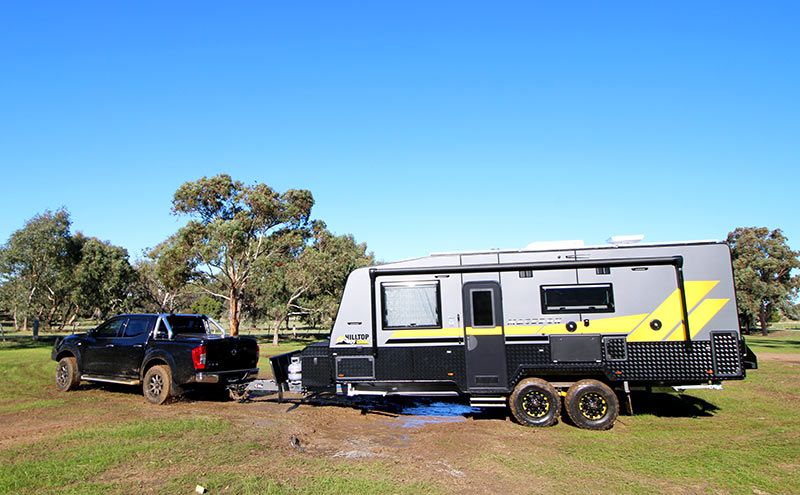 At first glance, the Macedon appeared to be a well-sorted caravan, sturdy and sensible. And then I stepped inside…
HILLTOP CARAVANS MACEDON BATHROOM
A breath of fresh air. Loads of wow factor. Choose your cliche. The bottom line: the Hilltop Caravans Macedon is a beauty.
Internally, it employs new appliances and makes excellent use of space. The bathroom, incidentally, is one of the best that I've seen in a long time.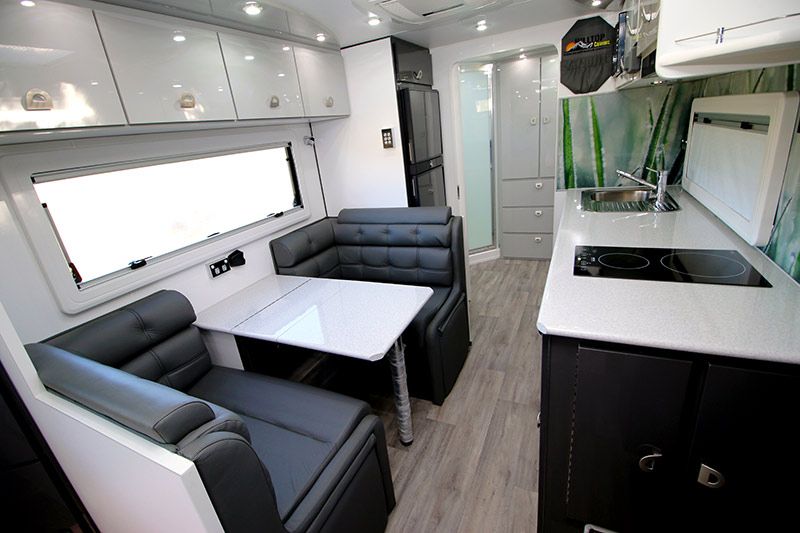 The layout comprises a forward bedroom, a nearside kitchen and offside dinette, and rear ensuite. The bedroom is fitted with the usual bedhead of overhead lockers and side wardrobes; however, each bedside table is fitted with a wireless charger – just drop a compatible phone or tablet on the black 'pad' and technology will do the rest.
Each wardrobe is also fitted with 240V and 12V powerpoints, while one 12V Sirocco fan is fitted to the roof at the foot of the bed.
A foot-of-the-bed cabinet hides a Winegard antenna signal booster and necessary TV cabling. The Macedon is also equipped with a Satking satellite TV setup, along with RV Wi-Fi and the latest Fusion sound system – the head unit is mounted to the overhead cabinetry in the kitchen, and of course you can control it from outside via the control module in the entertainment locker.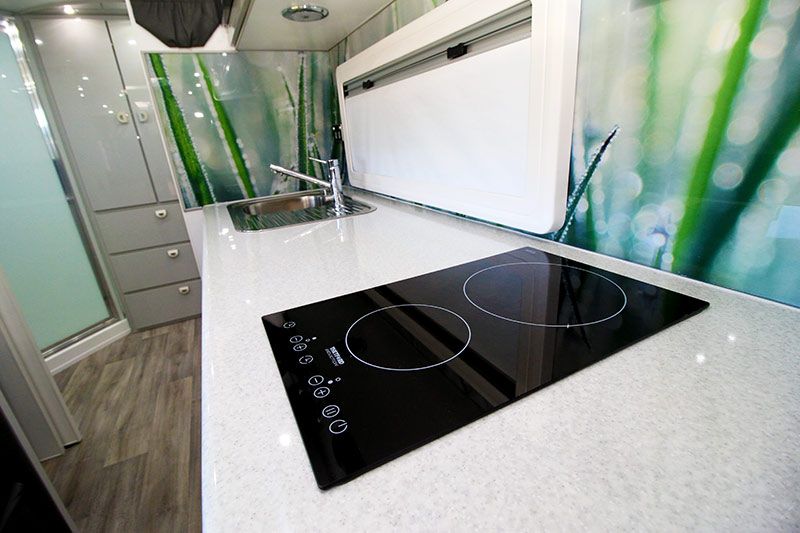 The kitchen is not only visually appealing – especially the strikingly colourful and patterned acrylic splashback – it is highly functional. Hilltop Caravans has fitted an electric induction cooktop rather than a standard four-burner gas stove. But how will I use this when free-camping? you ask. Well, the Macedon is also equipped with three 120Ah lithium batteries, which should allow the cooktop to run at full heat for more than an hour.
The kitchen also has a griller and oven, loads of bench space and general storage, including a pull-out pantry, and, what's more, the fitout is almost seamless.
The dinette has leather upholstery, a tri-fold table, 12V and 240V powerpoint, flip-up footrests, and overhead lockers. Between the dinette and bathroom is the newest 12V compressor fridge-freezer from Dometic.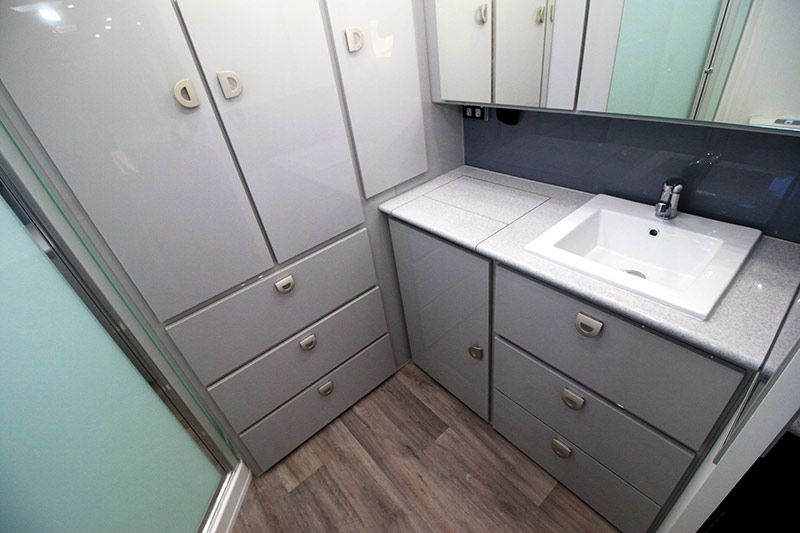 The bathroom, with its offside corner shower, rear linen cupboard above three drawers, offside vanity unit and washing machine, instantly won my favour. The layout is, in my opinion, a cut above  the standard full-width rear ensuites with their nearside showers, etc., and the amount of storage options is impressive.
Incidentally, I noticed that each shelf in the rear cupboards could be removed to make room to hang clothes – Hilltop Caravans has also fitted rails.
Throughout the Macedon, Hilltop Caravans has used piano hinges to secure the doors of all lockers, and the facings of all furniture are done in acrylic rather than laminated plywood, resulting in a consistently smooth finish.
In addition, a 2500W inverter is mounted on a dinette seat. This inverter is wired to all powerpoints, giving you 240V power off the lithium batteries wherever you're camped. Did I mention that the Macedon had a combined 640W of solar panels on the roof?
OUTSIDE THE HILLTOP CARAVANS MACEDON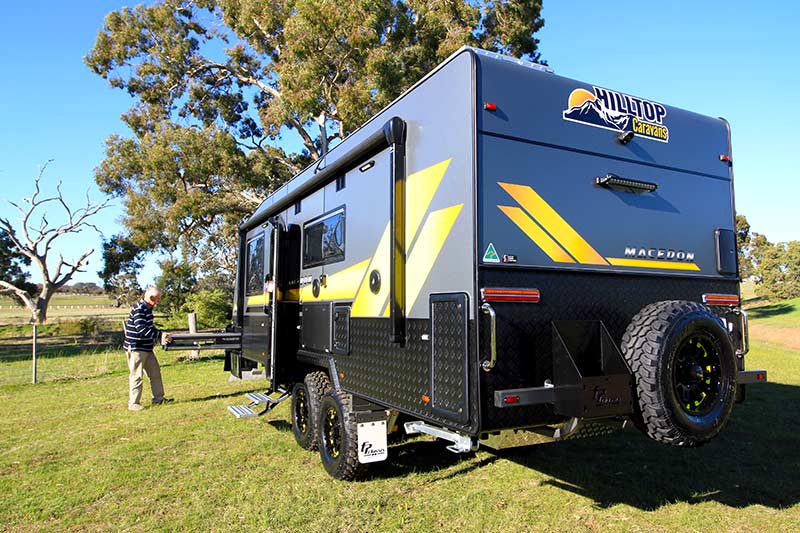 On the outside, the Macedon 21ft looks fairly conventional. Awning. Front checkerplate storage box. Rear bumper. However, there are numerous features worth talking about, and the aspects that appealed most to me aren't immediately obvious to the casual observer.
Crawling beneath the van, I was pleased to see a sheet of aluminium protecting the floor, as well as neat cabling and plumbing. Nothing was hanging loose or low, and the electric brake wiring was in a protective sleeve running directly to the brake drum.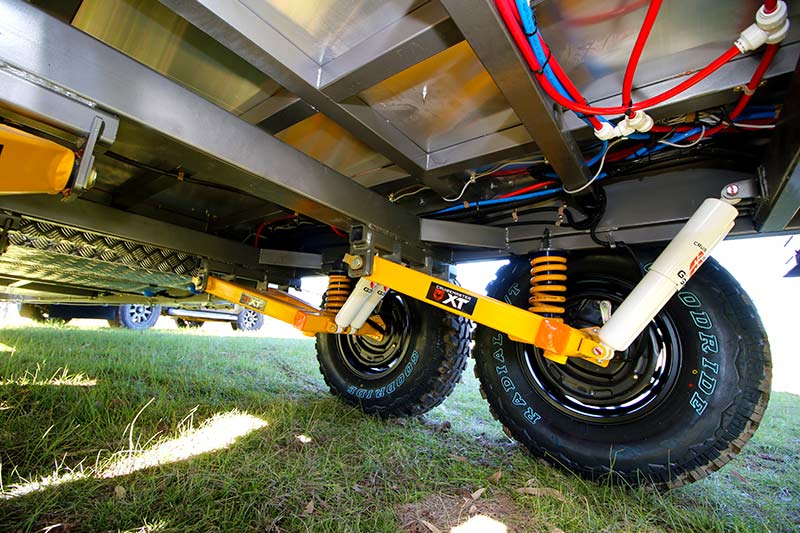 Each of the three 110L fresh water tanks, as well as the 110 grey water tank, were protected by checkerplate. Very little to complain about here, though the valves to dump water from the fresh water tanks are unprotected. 
One fresh water tank, by the way, is dedicated to drinking water, while the other two are for general use. Accordingly, they run off separate water pumps.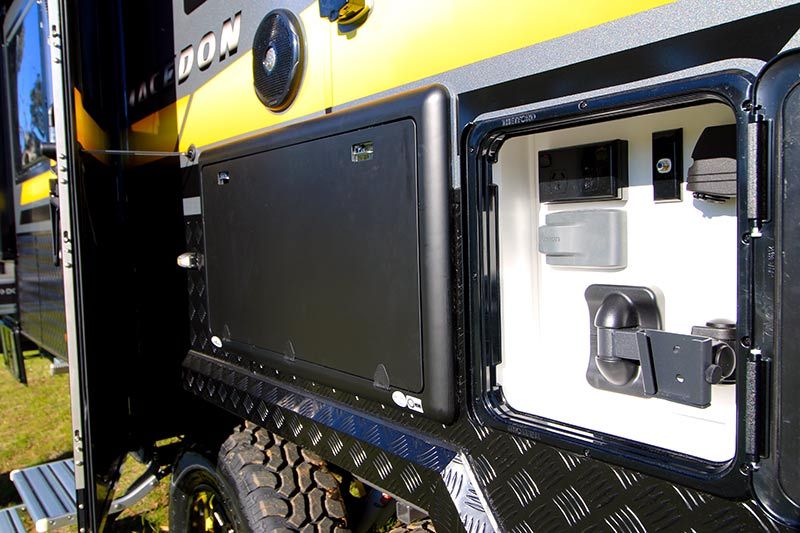 If I was to complain about anything – and I'm nitpicking here – it would be over the untidy silicone job where a water line at the offside rear entered the floor. Not a big deal, but given the high standards elsewhere, it seemed incongruous.
Being a high-end caravan, the Macedon has been fitted with an electric awning with LED strip lighting built into the roller. The awning opens and retracts at the push of a button, and it will automatically retract when it senses strong winds. No more panicked awning pack-ups when a storm unexpectedly blows through.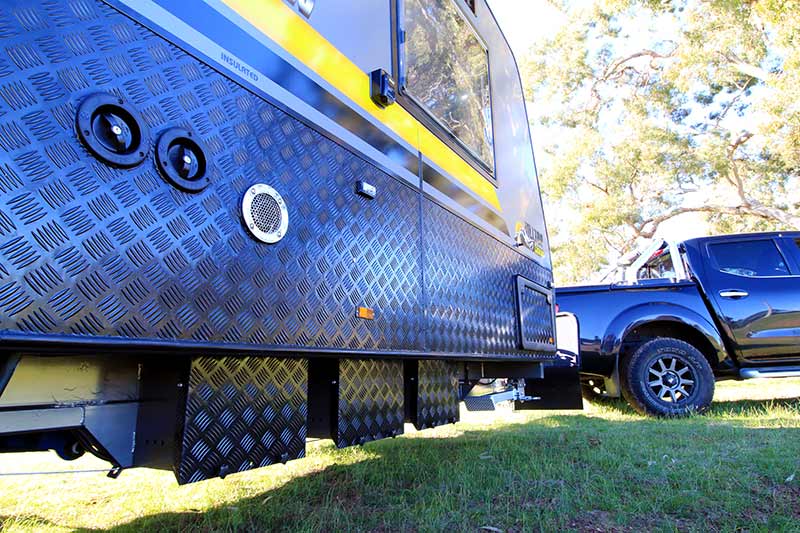 On the offside, you'll find dual water fillers and the three lithium batteries mounted to the main chassis member, protected by checkereplate.
Up front, meanwhile, is a storage box built out of checkerplate. There's storage on the nearside for the jockey wheel, etc., and a slide-out tray on the offside to suit a 2kVA generator. The lid of the storage box lifts to reveal some shallow storage space, too.
And what would a top-of-the-line caravan be without a slide-out kitchen? In the Macedon's case, a Dometic unit with hot and cold water and three gas burners.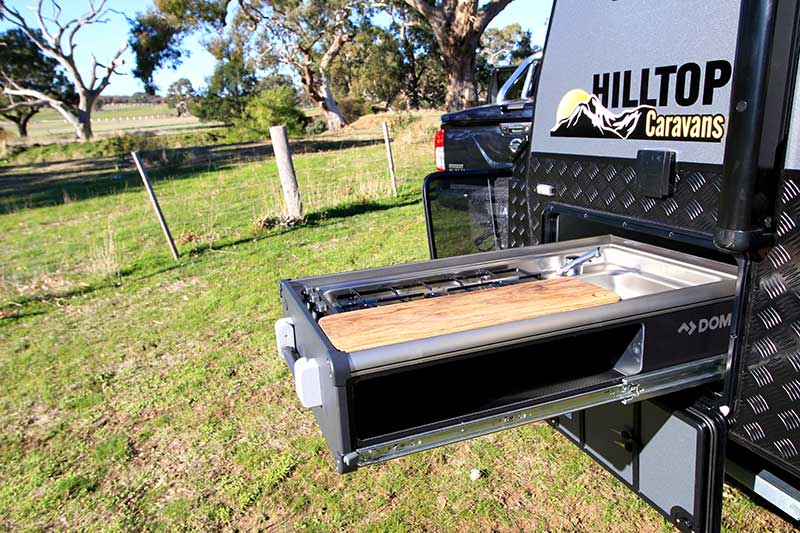 There's even an external shower and a reversing camera… there's not much that the Hilltop Caravans Macedon is missing. A chandelier, perhaps? Oh, a diesel-fired heater. No, it's gone that as well.
GORV'S VERDICT
As an offroad caravan, the 21ft Macedon is well set-up for free-camping, with its solid 12V system, grey water tank, decent fresh water storage and entertainment system.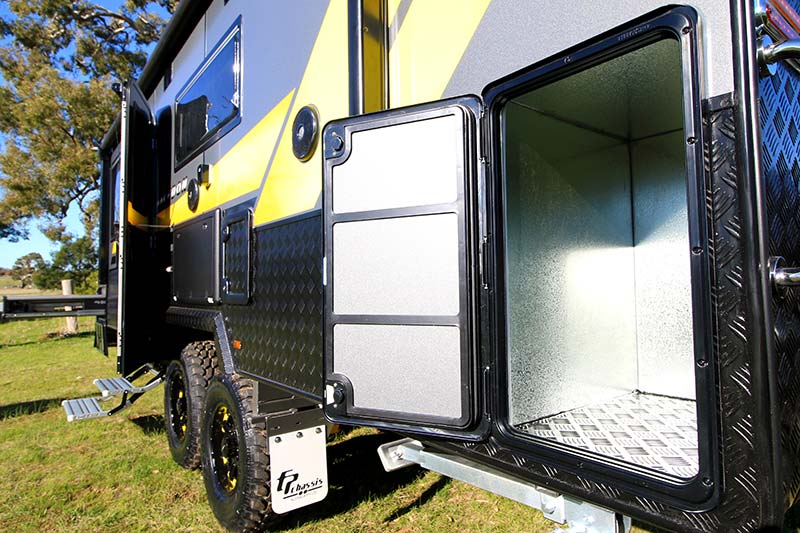 Now, this caravan will require a substantial tow vehicle. At Tare, it weighs 2940kg. Its ATM of 3500kg gives it a reasonable payload capacity of 560kg.
If you want every comfort at your fingertips in a well-built rig, and your budget allows, I recommend giving the Hilltop Macedon a good, long look. It's not what I was expecting – it's much better.
THE SCORE
FIT AND FINISH –

LAYOUT –

INNOVATION –

HITS & MISSES