Australis Caravans is an all-new manufacturer, headed up by Mark Chadwick and business partner Aleksandar Nastevski. Alex has been in the industry for over 10 years (design and drafting), and Mark for over 15 years (sales and management).
Mark Chadwick has been working in the caravan industry for a long time. We chatted candidly about the current state of the industry. After all, it is an unusual time to start a business, coming off the back of the pandemic and shutdowns.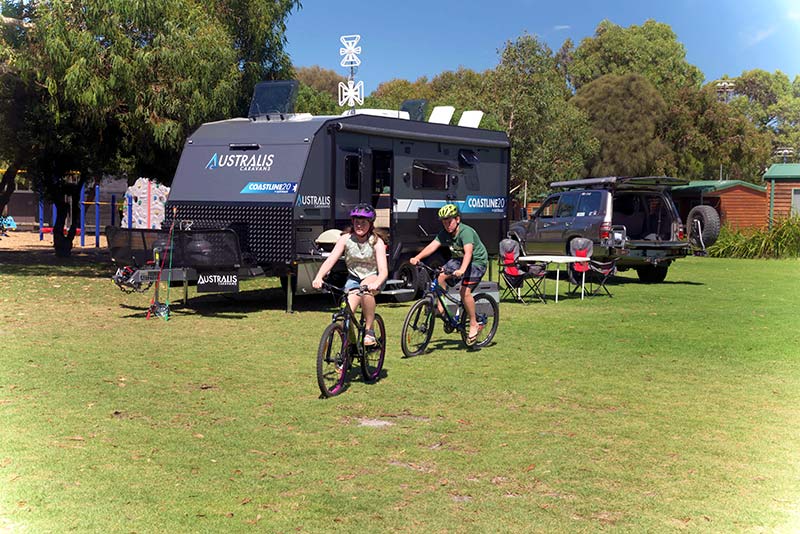 Mark was excited as he talked about the challenge of starting the business. He explained that Australis had five bunk van models in the Coastline series: an 18ft 6in single-axle, the 20ft east-west bed (our review model), a 20ft 6in island bed model, a 21ft 6in side club lounge model, and a 22ft 6in mid ensuite model. These vans are designed for travelling with kids. The future looks exciting too, with other models on the drawing board as well.
All these vans come with an impressive list of standard features, and with the ability to customise plus add plenty of options, Australis seem to be on the money for value for money and, as you'll read, pretty spot on for build quality as well.
AUSTRALIS CARAVANS BODY WORK
At first glance, the Coastline 20 has a smart, smooth and cool look: silver over black, black trimmings, a splash of white and some trendy decals.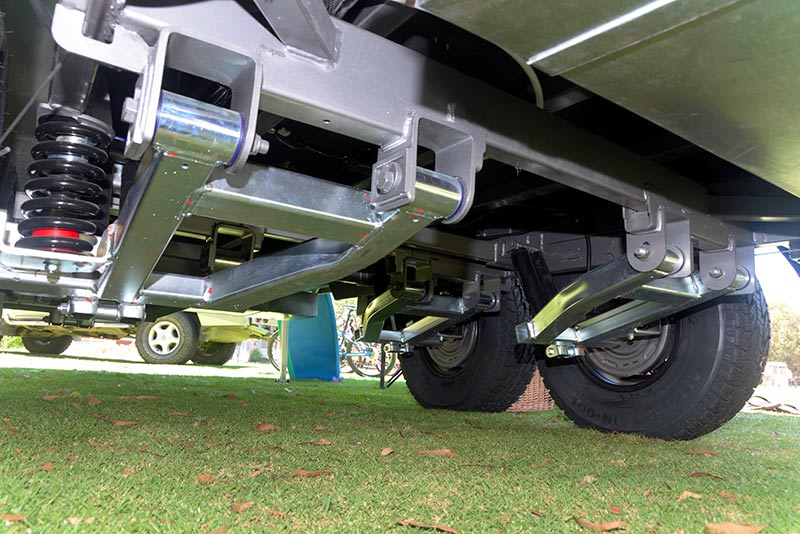 This offroad van is built on a RoadKing 4in chassis and a 4in raiser, while the A-frame is 6in. Mounted on the A-frame is an 8in jockey wheel, stainless steel mesh floor and a sizeable black checkerplate toolbox with a slide-out tray for a generator, twin jerry can holders and plenty of storage. A large rock screen with stone flaps protects twin 9kg gas bottles and the storage box, while a DO35 coupling, tap and a Webasto diesel heater fuel tank round out the package.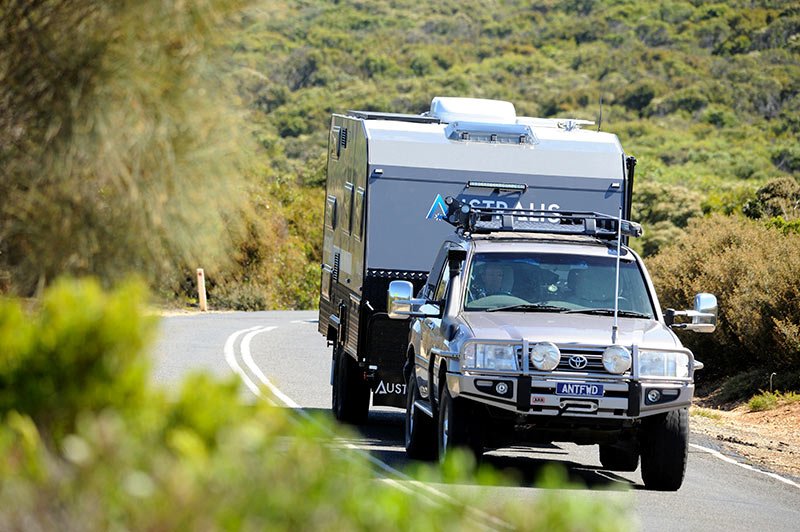 Mechanicals and extras underneath the van include a 3.5-tonne Al-Ko Enduro Cross Country suspension system with dual shocks, 12in electric brakes, 265/75R16 AT tyres and alloy rims. The rims are a cool black. A-Ko ESC is standard.
The Coastline 20 is set-up for off-grid touring, featuring twin 95L water tanks with a filter system plus a 95L grey water tank, all with gal shields for protection and full monitoring from inside the cabin. Twin 105Ah AGM batteries provide 12V power, and solar energy is generated from two 190W panels up on the roof. Everything is managed by a BMPro 35HA lithium-ready system with smartphone connectivity. There's all the usual gear underneath, and overall it was very tidy.
The meranti timber frame is fully insulated, and the front, back and walls are clad in flat aluminium while the roof is fibreglass. Around the body are Aussie Traveller double-glazed windows, plus hatches in the roof for the ensuite and main living areas. A picnic table, slide-out barbecue tray with an external gas bayonet, an exterior shower, reversing camera, LED lighting everywhere, and an Aussie Traveller awning in charcoal, just to offset the black, set the family up for outdoor living.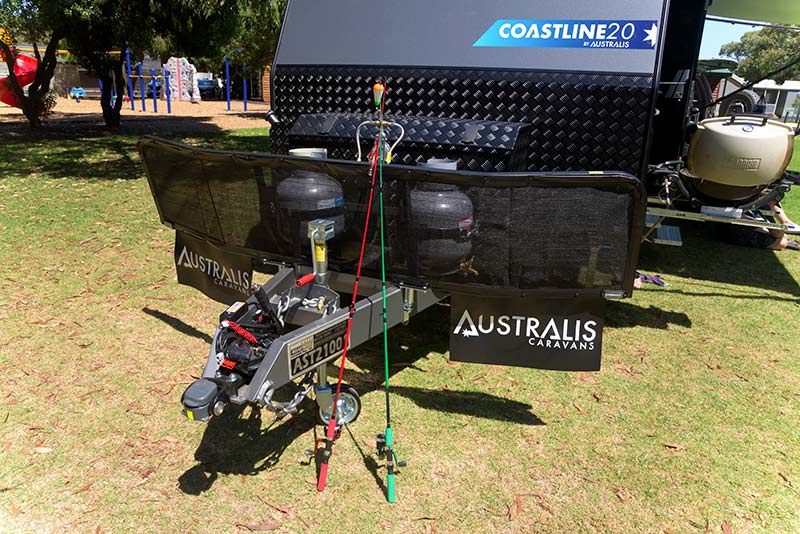 Oh, and I should mention a large hatch opens to expose a massive boot on the nearside, which allows for a fantastic amount of storage. This van is built with a payload of 740kg.
ON THE INSIDE
On entering the Coastline, what leaps out is an east-west bed across the front wall. Not everyone is a fan of this style of bed, although it's excellent for space-saving in such a small van. Overhead cupboards with hidden catches, a wardrobe dressed in black and tan vinyl leatherette wall create a classy look.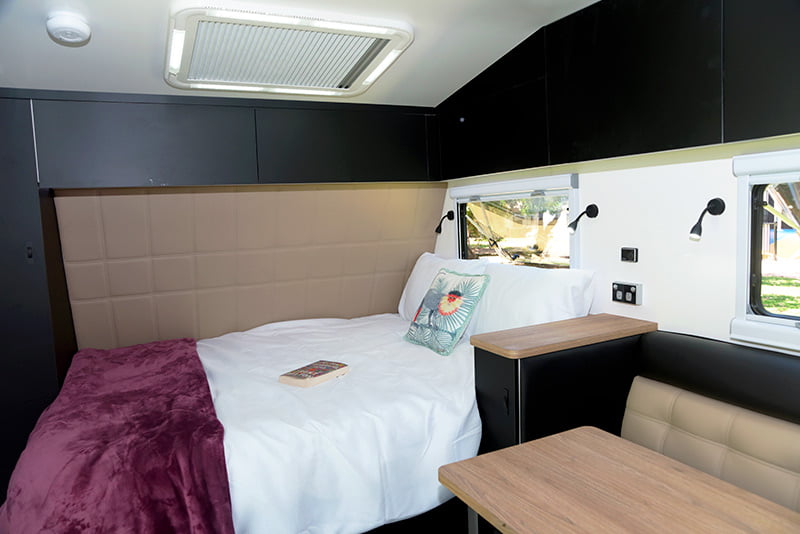 I should point out that all the cupboards and furniture feature a neat, modern look with CNC-cut components, hidden catches and soft close drawers.
An L-shaped dinette to suit four or so people in comfort runs from the bed across the offside of the van to the fridge, with the bed able to double as a seat if needed. Trimmed in black and tan vinyl leatherette, the seating is very comfortable.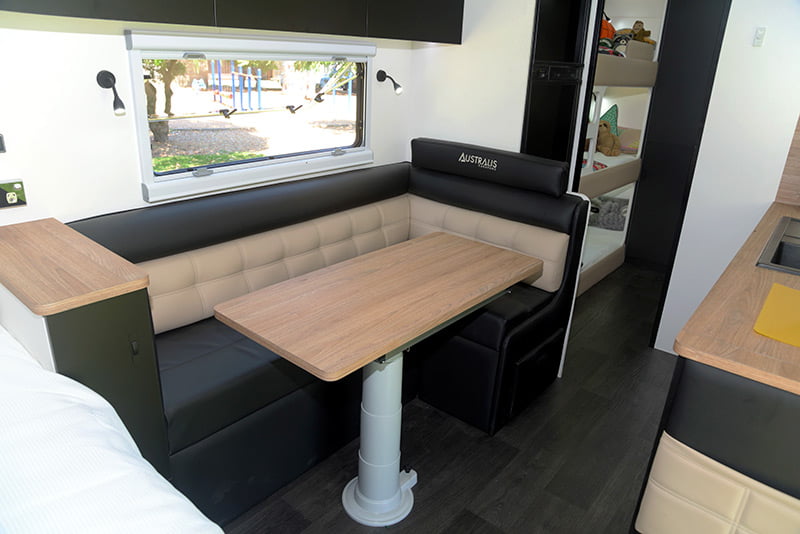 There is plenty of storage in the overheads plus a cupboard between the dinette and the bed. A neat woodgrain-finish swivel table adds to the smart look of the interior and can also drop down with an infill cushion to create yet another bed.
Opposite the dinette is the kitchen with its flashy black sink and fittings and, again, a bucketload of storage space. Appliances include a Thetford fan-forced oven with an NCE rangehood, an NCE 25L microwave, and to keep all the food and drink cold for the family, a Thetford 182L three-way fridge.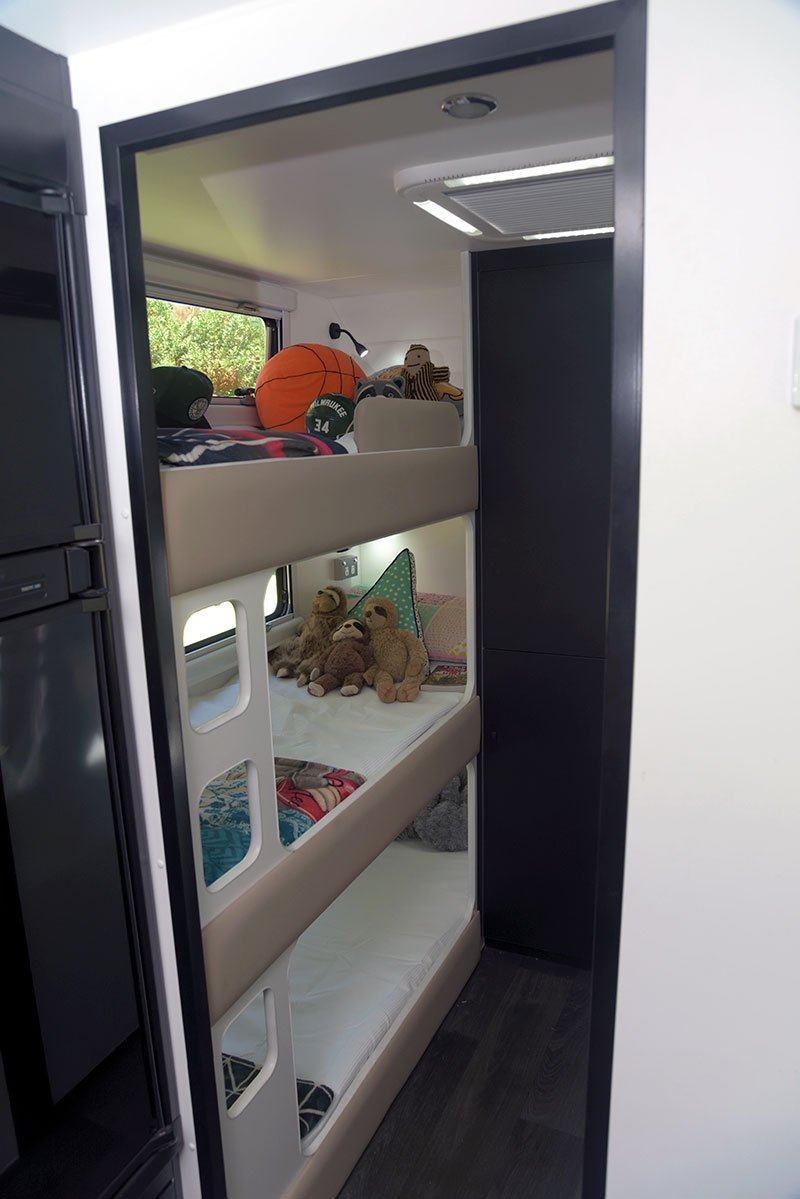 The back section of the van is essentially divided into three rooms. A small walkway separates three bunks on the offside of the van and leads to a large wardrobe. Nestled neatly inside the wardrobe on the floor is a Euromaid 5kg front-loading washing machine.
Opposite the bunks is the ensuite. Opening one door reveals a Thetford swivel toilet and vanity with a timber-look benchtop. A corner mirror gives the illusion of extra space, and the light is excellent.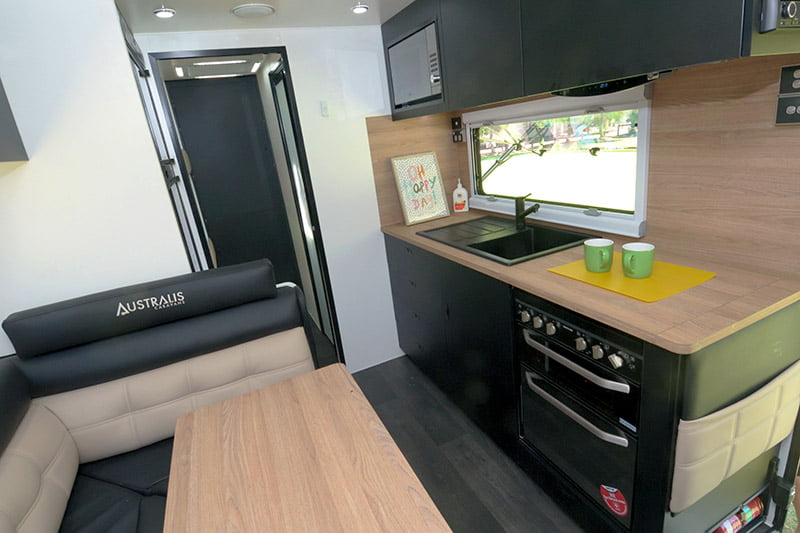 To the left of this door is another door that opens to reveal a shower, and while a bigger bloke like myself might struggle to get through the door easily, there's certainly enough space for showering once inside. It's a good use of space that will suit the whole family.
Extra electrical gear inside the van includes an Ibis 4 AC system for cooling and a Webasto diesel heater with a monitor for those chilly mornings and evenings. An NCE 24in smart TV with Winegard Sensor and HV antenna, plus a DVD/CD player, handles the entertainment.
The interior is light and airy. The layout is simple, practical and very neatly finished. For the first-time build of this Coastline, the Australis team has done a top job.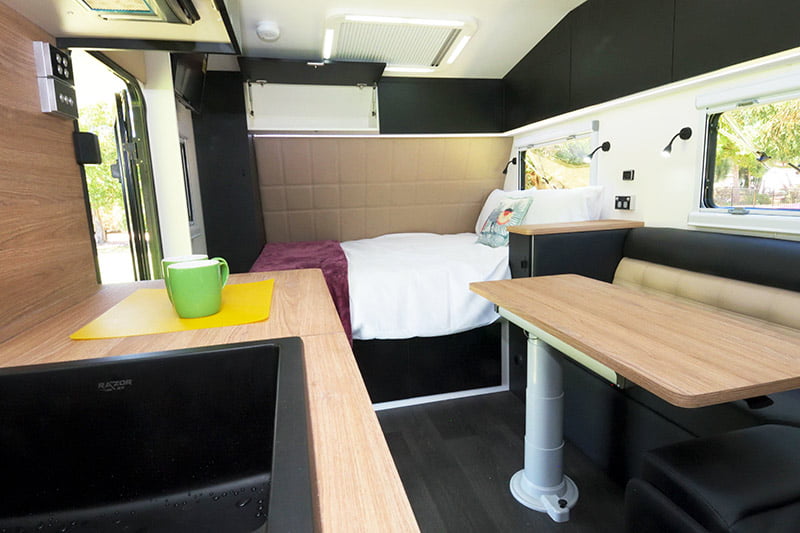 I hauled the van from Campbellfield to Torquay, Vic, and around the coast. I have to say that the Coastline sat well behind the Cruiser and showed very respectable road manners across a range of surfaces and speeds, from as low as 40 up to 100km/h on the highway. Manoeuvring the van at the Torquay Foreshore Caravan Park (www.torquaycaravanpark.com.au) was a breeze. It was a safe, comfortable ride.
GORV'S VERDICT
With a driveway (ex-Melbourne) price of $74,990, this Coastline 20 is a serious contender in the family van stakes. It's got loads of standard features and a time-proven layout that is practical, enjoyable and liveable!
THE SCORE!
FIT AND FINISH

LAYOUT

INNOVATION

HITS & MISSES