The rain was pelting down and a heavy mist had descended. I had a 22ft 6in Atlantic New Generation hitched up, and in those conditions, I couldn't say for sure that I'd chosen the best testing location.
But the gravel tracks stayed firm as I towed the van deeper into the bush. In 4H, I motored through puddles and fog, trusting my equipment and wondering if Victoria's weather would ever improve.   
The Atlantic New Generation is one of Atlantic Caravans' best-selling caravans and is available in a range of layouts, from 20ft 6in to our range-topping 22ft 6in unit.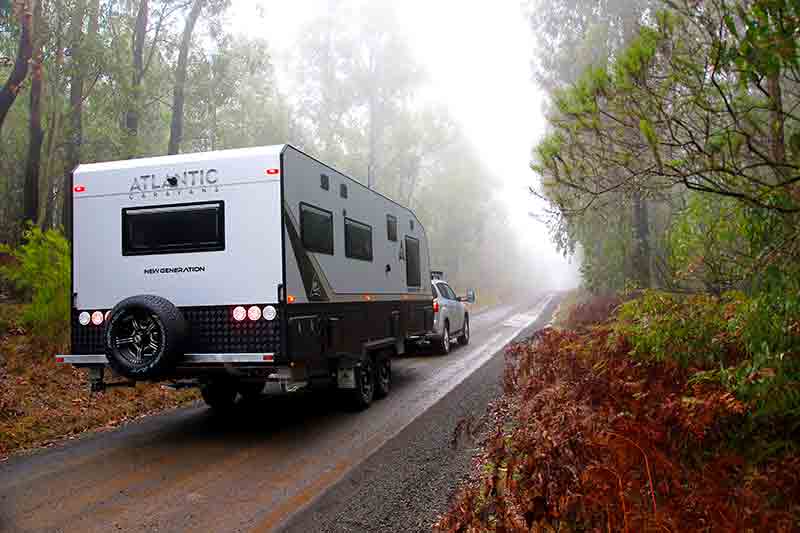 In standard format, it is basically a blacktop tourer, though suspension upgrades are available that should give it a bit more range. Atlantic caters for the offroad set, though, with its fully kitted-out High Terrain.
OUTSIDE THE ATLANTIC NEW GENERATION
It's fair to say that the Atlantic New Generation 22ft 6in is built in a traditional manner: a meranti timber frame clad in smooth composite aluminium. The angular front profile is pure Atlantic Caravans.
The van certainly has sound underpinnings, being built on a 6in main-member RHS chassis atop a 6in drawbar – there is plenty of steel underneath this van. The tandem-axle leaf-spring suspension is mounted to a 2in chassis riser, which has given the van a flat floor with no intruding wheel arches. I did feel that the brake wiring could be neater, though.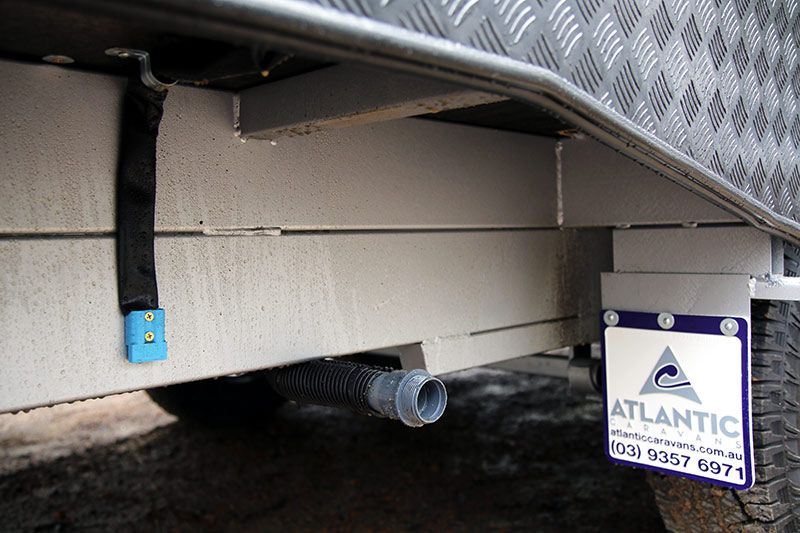 As standard, the Atlantic New Generation has a 150W solar panel fitted to the roof, along with a 100Ah deep-cycle battery inside a protective steel box mounted to the offside chassis rail. An Anderson plug is screwed to the chassis behind the offside wheels, allowing you to plug in a secondary solar panel when at camp.
Atlantic Caravans has fitted two 9kg gas cylinders to the drawbar, a checkerplate-protected fresh water tap, a centre-mounted jockey wheel, and a ball coupling – this van is a blacktop tourer, not an offroader. Having said that, it does sport protective black checkerplate all around and it tackled minor undulations and gravel tracks with ease, as you'd expect.
The Atlantic New Generation eschews the traditional front boot in favour of two tunnel boots, one at the front and one at the rear; however, space in the rear boot is hampered by the internal lounge base. Nonetheless, it didn't seem like external storage space was lacking on this van.
The nearside comes with a full-length rollout awning, a fold-down picnic table, a couple of speakers, a box with optional TV mounting point and relevant connections, a pull-out entry step, a grab handle that lights up at night, and a couple of LED awing lights.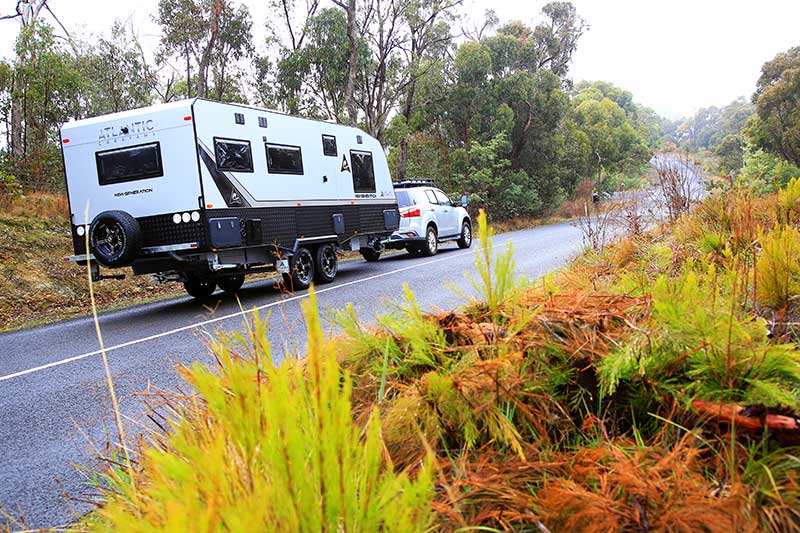 Now, being the largest of the New Generation range, our 22ft 6in model weighed 2680kg, with an ATM of 3265kg. This equates to a payload capacity of 585kg, which seems reasonable for a van such as this. On the towing front, I had the van at 90-100km/h on the open highway in gusty, rainy conditions behind my MU-X, and have no issues to report – it was as stable as expected.
INTERIOR HIGHLIGHT
Unquestionably, the highlight of this van is the interior. With its rear club lounge, offside kitchen, split bathroom and front bedroom, it is built for entertaining. The coloured LED lighting that glows from beneath the overhead lockers sets a certain classy ambience.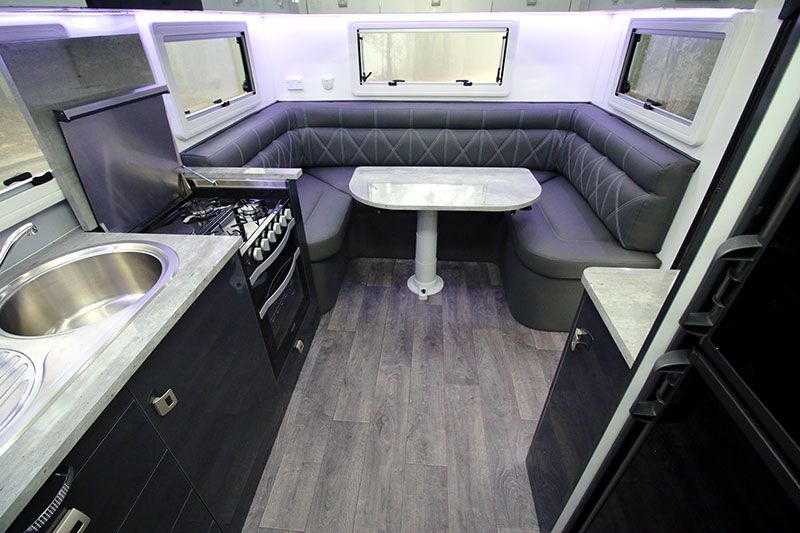 The club lounge is spacious and comfortable, and comes with an easy-to-use swivel table. It is surrounded by windows and overhead cabinets, and Atlantic has also fitted a 240V and 12V point to the offside rear wall. I reckon the same on the nearside would be useful, too.
The kitchen gets the usual gear, including a full oven, but a standout feature is the optional extendable bench, which slides out like a drawer just below the draining board. It's a neat solution to a problem common to many caravans: a lack of bench space. Naturally, a large fridge and microwave are part of the package, too.
Separating the kitchen from the bedroom is a split bathroom, with a separate extra-large moulded-fibreglass shower on the nearside and the toilet on the offside. The toilet includes a vanity with washbasin, a washing machine beneath the benchtop, and numerous drawers and cupboards.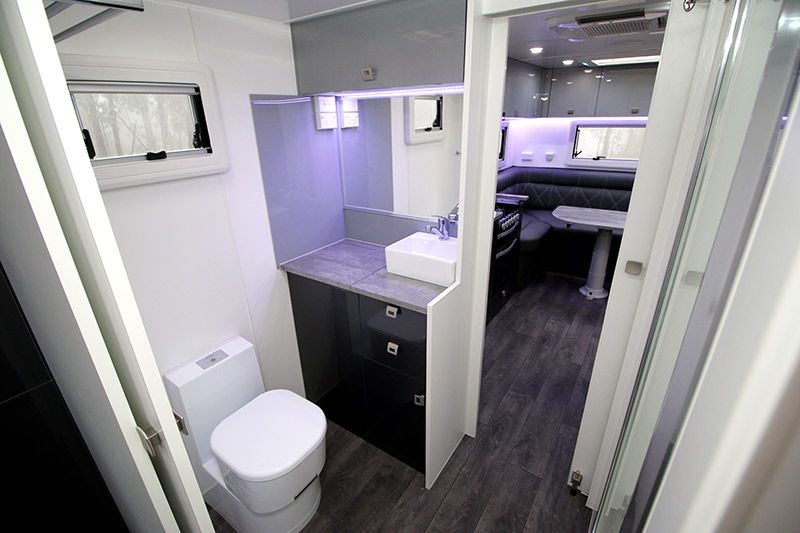 Sliding doors either side of the bathroom offer a sense of privacy and separation from the front bedroom. With overhead lockers, corner cupboards, and wardrobes that each contain a 12V and 240V powerpoint, the bedroom isn't lacking anything. Even the bed base is upholstered, lending the space a certain plush feel.
As always, the mattress base lifts on gas struts for access to the storage space beneath. The tunnel boot does intrude somewhat into this area, but there's room left over for some bulky items.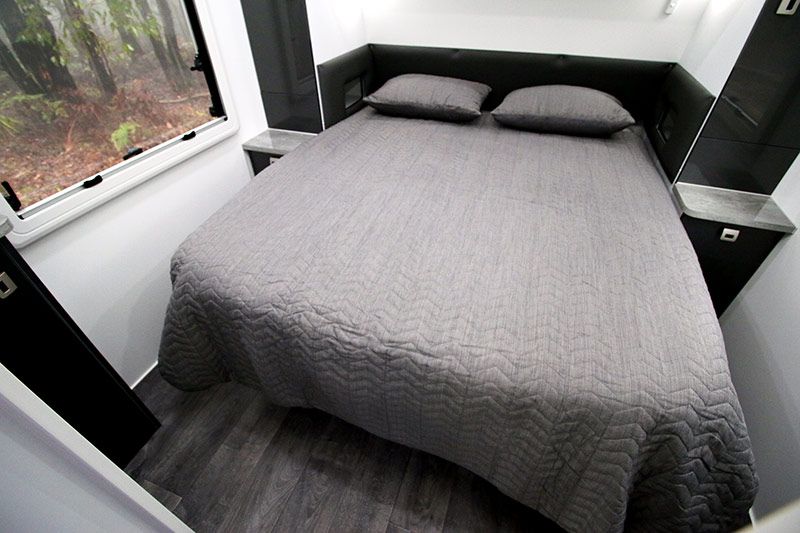 In terms of electrics, the New Generation 22ft 6in is fitted as standard with the popular BMPRO BatteryPlus 35 battery management system, along with a Trek digital display which gives at-a-glance updates on the van's levels, from water to remaining charge in the battery.
An Ibis Aircommand air-conditioner, 24in flatscreen TV, a DVD/CD/MP3 player with two ceiling-mounted speakers, a nearside storage cupboard next to the fridge, a gas-electric hot water service and much more are included, too, and I must admit that the van felt like home during my time with it.
There were no problems regarding the internal fit and finish; indeed, the things I would change are matters of opinion or personal preference (such as fitting an extra 12V point above the club lounge). Then again, we've come to expect high standards, especial in terms of the internal fitout, from Atlantic Caravans, and this New Generation measured up.
GORV'S VERDICT
As the largest in the New Generation line-up, this 22ft 6in unit is also the heaviest. While we legally towed it with our 3000kg-rated MU-X, one of the 3500kg-rated wagons, from Grand Cherokee to Discovery 4, would allow you to use all of the payload allowance.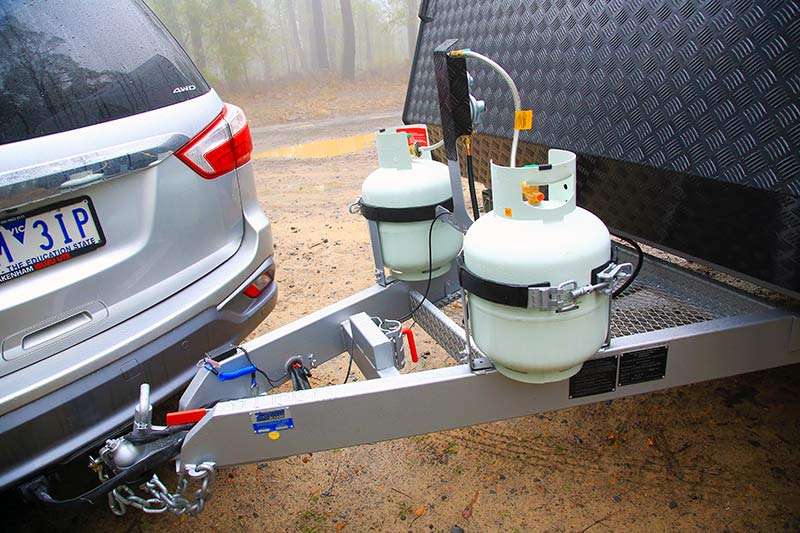 The New Generation might not break any moulds but it does present very nicely. Couples in search of an attractive bitumen cruiser would do well to check it out.
THE SCORE
FIT AND FINISH –

LAYOUT –

INNOVATION –

HITS & MISSES