Within the Australian caravan manufacturing industry, it's not unusual for a new builder to pop-up now and again. In fact, it happens with some frequency. I had heard of Wonder Roo Caravans, and even seen a few on the road during my own travels. However, I had not had the chance to step inside one, given the manufacturer is relatively new to the scene.
As Victoria woke up after a lengthy lockdown, one of my first orders of business was to hitch this 19ft 6in Wonder Roo XXI Pearl tandem-axle rig to my MU-X and head off for a shakedown run.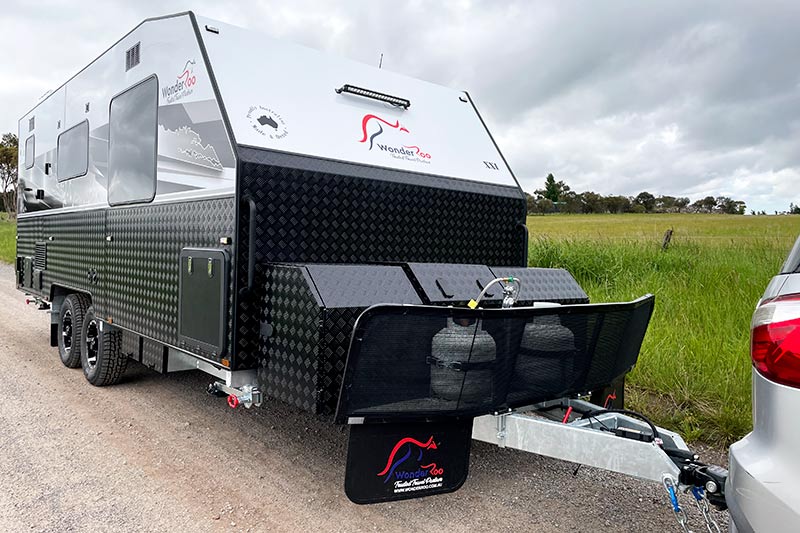 Wonder Roo Caravans offers its vans in various formats. These include 'Bronze', 'Silver', 'Silver+' and 'Gold'. Each package option provides a different level of specification, with Bronze being the entry-level and Gold the top-end. Our Wonder Roo Pearl was fitted out with the Silver pack.
EXCELLENT TOWING CHARACTERISTICS
The first thing I noticed as I headed north on the Hume Highway was just how stable this van felt under tow. The weather was blustery, with lots of trucks passing, but despite these less-than-ideal conditions, I was able to maintain a constant 95km/h with confidence. The van used a DO35 coupling and I detected no 'porpoising' on the tow pin.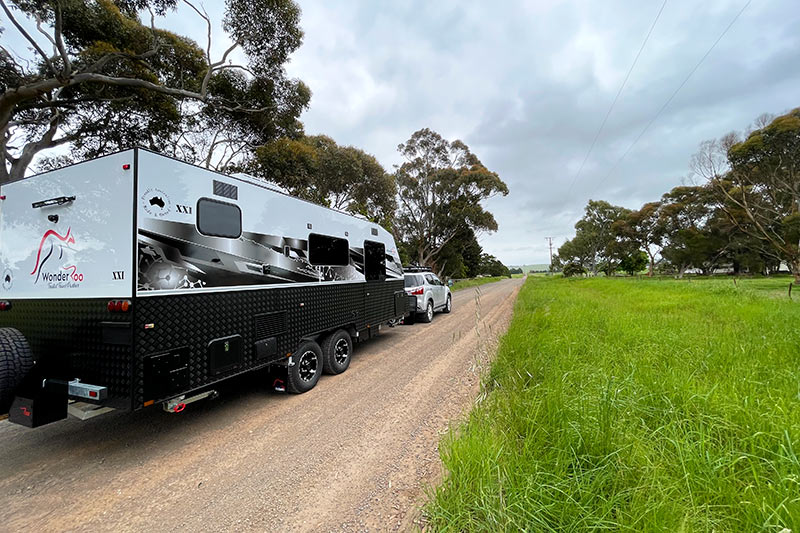 I should point out that I was not using any towing aids whatsoever. The excellent towing characteristics may have been helped by the BMPRO electronic sway control system fitted to this van – all I can say is that I was impressed.
Another noteworthy point regarding the various package options is that they determine the construction method for the van. The Bronze, for example, provides a standard meranti timber frame and aluminium cladding, while the Gold gives a TIG-welded aluminium frame clad with composite aluminium.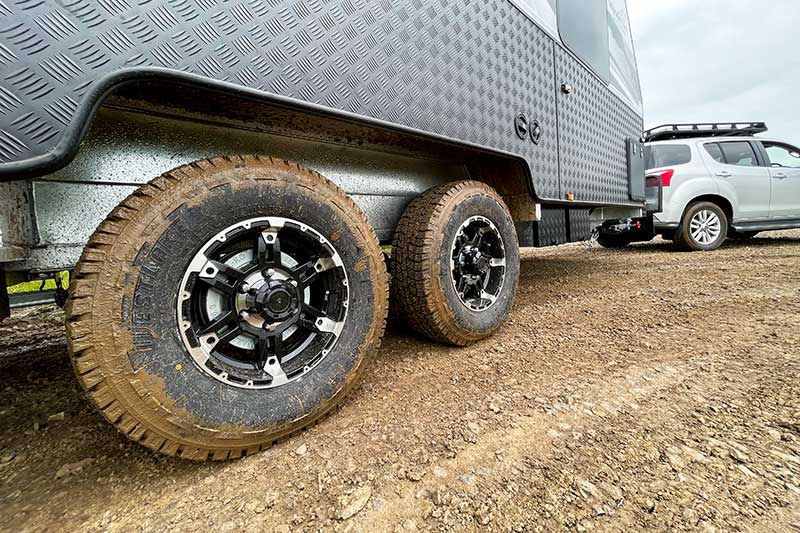 In Silver spec, our Pearl had CNC-routed A-bond exterior plywood walls (rather than a traditional frame) that had been clad with composite aluminium. It's not a common construction method; however, it is in use by some of Australia's most-loved manufacturers, and it appears to have been done well in this caravan. The pieces of plywood are locked and bonded together to effectively create one-piece walls.
The roof, meanwhile, is a one-piece fibreglass construction, while the floor is a 17mm honeycomb plastic structure that will never rot.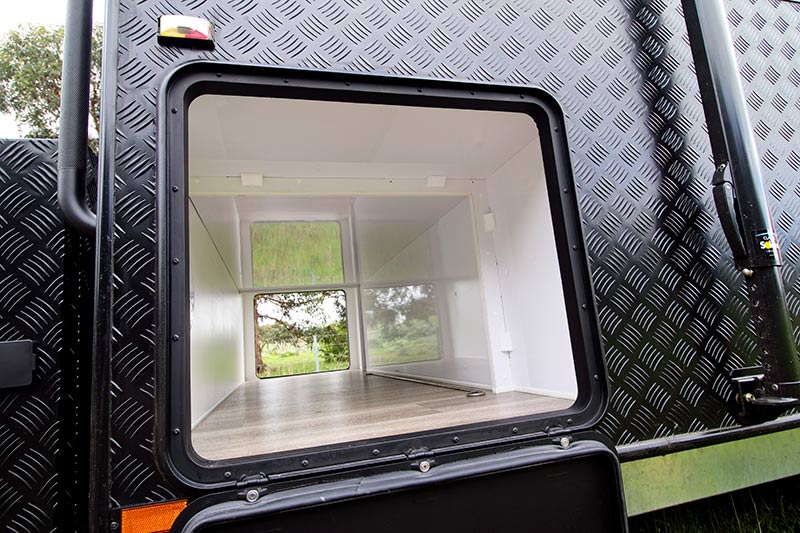 All external joinery appeared sound, smooth and well-executed. Now, black checkerplate has been used extensively on this van. It stretches about halfway up the front and 860mm up the sides.
The exterior fitout is quite reasonable, too – it has all the expected features. These include a 600mm LED light bar at the front and rear, a reversing camera (the in-car display is provided at the handover), and a very generous checkerplate storage box on the A-frame.
This box contains a slide-out tray on either side. The nearside tray would easily accommodate a portable fridge or barbecue; however, the offside tray is on the small side, though it should still fit a 2kVA generator, should you with to pack one. In the centre, you'll find a storage compartment for general items. A mesh stoneguard is there to protect the dual 9kg gas cylinders and the front cladding.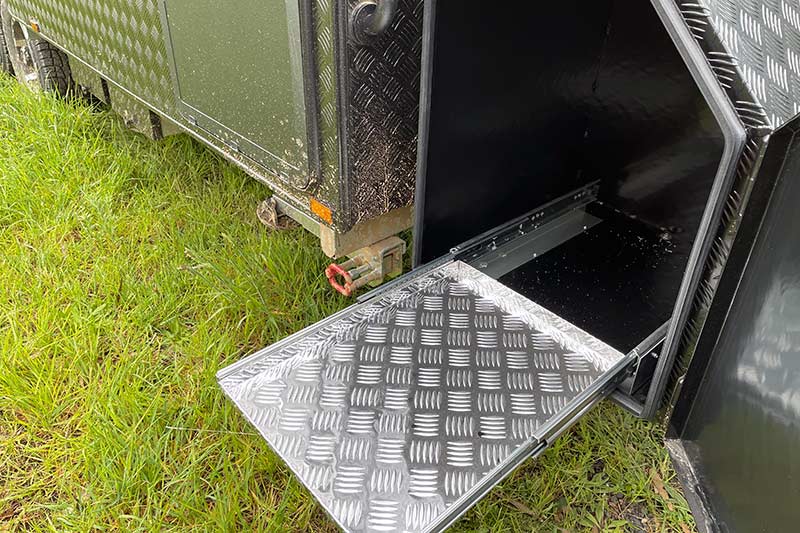 On the nearside is a full-length roll-out awning, three 480mm LED awning lights, a fold-down picnic table, a 12V point, a couple of speakers, and a large full-width tunnel storage system. This, coupled with the space available in the checkerplate box, provides very adequate external storage solutions.
As part of the Silver pack, our review Wonder Roo Pearl was fitted with a 110L grey water tank behind the axle set, while two 95L fresh water tanks were fitted towards the front. When full, these tanks will contribute to the ball loading; however, considering the unladen ball mass is not inordinately high (150kg), I don't see any issues here.
There is, of course, a mains water inlet. This is mounted to a chassis rail behind the rearmost offside wheel, high up and out of the way.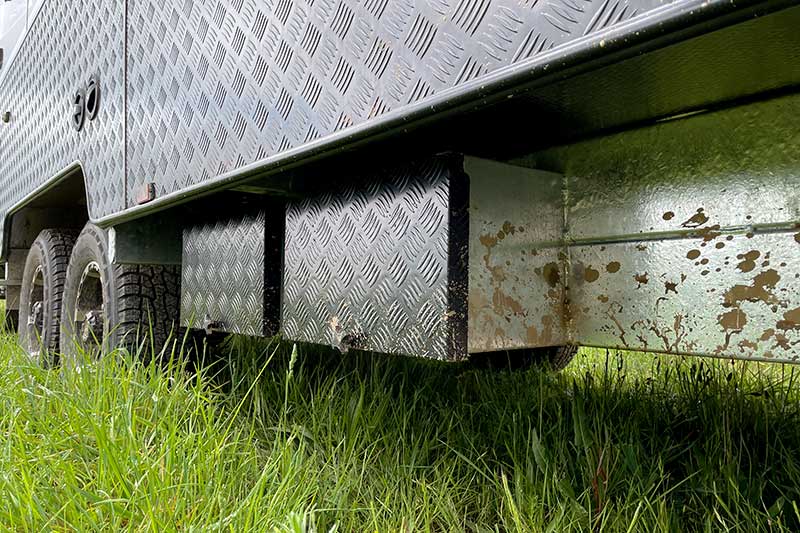 The 12V system is very good. It is comprised of two 100Ah lithium batteries, mounted to the offside chassis rail behind protective checkerplate. These batteries are connected to two solar panels on the roof. Wonder Roo has opted for the BMPRO BP35HA-II battery management system, which itself is hooked to the BMPRO Odyssey Link system. This system provides at-a-glance information on the 12V state of play, water tanks, etc., via a digital display. It is, in my experience, a decent system.
INSIDE THE WONDER ROO
I was, in all honesty, pretty pleased with the interior fitout. The layout of our review rig doesn't break any moulds; however, the presentation was very neat and tidy. It was better, in fact, than some vans by manufacturers that have been around longer.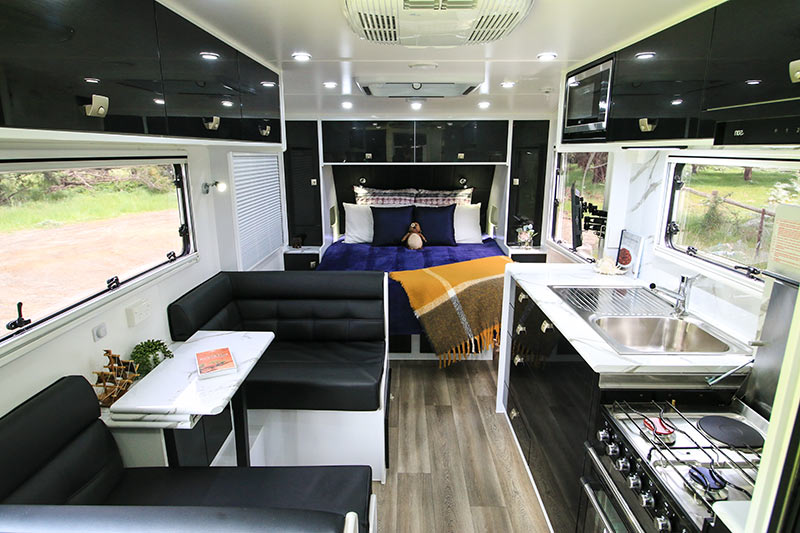 First, storage throughout is excellent. I particularly liked the large four-door storage system in the entryway. This will hold a lot of gear – it even comes with coat hooks!
In the nose of the van is a queen-size bed surrounded by wardrobes and overhead lockers. Nothing new about that. Naturally, some of the storage space beneath the bed is occupied by the tunnel boot, but I did like that 'his and hers' drawers had been fitted to the bed base for easy access.
The kitchen is fitted with a Swift four-burner cooktop, griller and oven. Now, bench space is sparse here. Frankly, you're limited to the hinged section of bench above the cooktop, or using the dinette table. It's worth pointing out, though, that reduced kitchen bench space is the trade-off when a manufacturer also fits a spacious rear bathroom.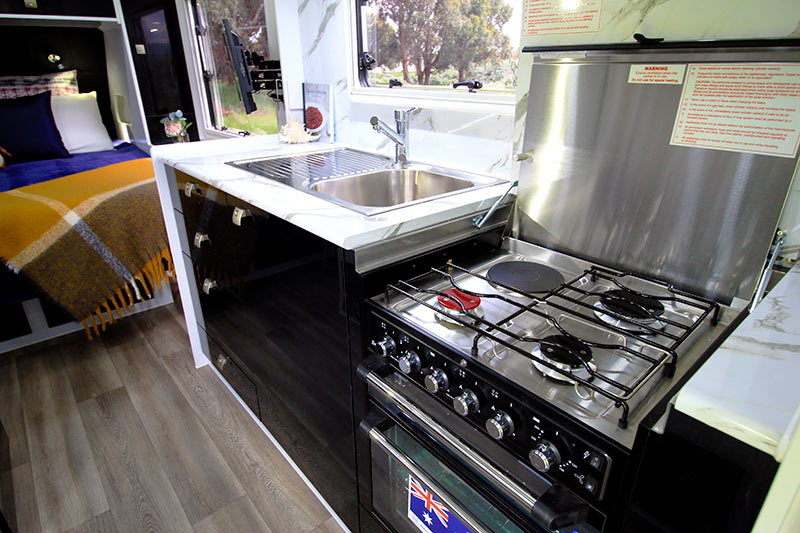 I don't think there's any denying that the bathroom in the Wonder Roo Pearl is attractive. It includes a wall-mounted front-loader washing machine, a generous vanity, offside cassette toilet and nearside, fully-moulded fibreglass shower that should not leak, being a one-piece unit.
Yes, there are plenty of appliances fitted, from a 24in flatscreen smart TV and Belaire reverse-cycle air-conditioner, to your choice of a 182L Thetford absorption fridge or a 175L compressor unit.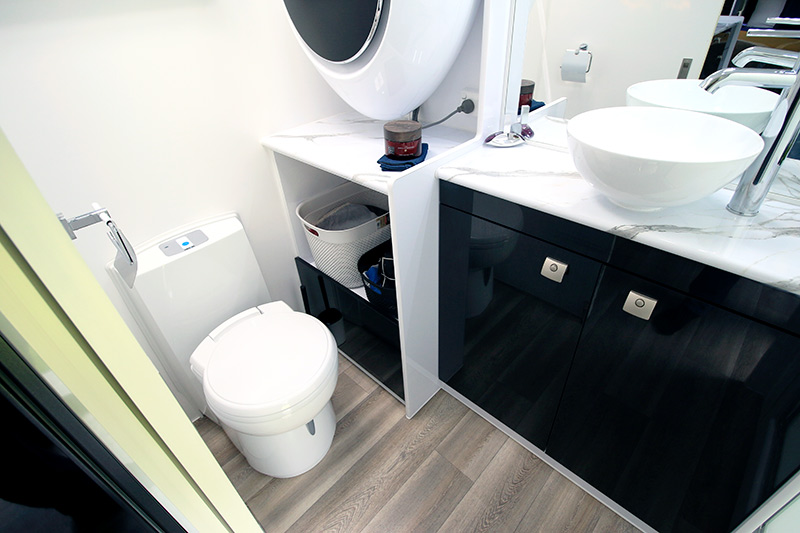 Behind a locker door, you'll find the BMPRO digital display and a touchscreen RV Media stereo system.
If I was to get picky about any areas of fit and finish, it's to point out an old bugbear: the cabin entry/exit points for plumbing look a little untidy. A plastic collar or similar would finish things off nicely. That aside, I found it difficult to fault the interior finish. 
GORV'S VERDICT
The Wonder Roo XXI Pearl in Silver specification is no lightweight. It tips the scales at 2652kg Tare and offers an ATM of 3200kg, giving it reasonable payload capacity of 548kg.
It's worth noting that various upgrades outside of the pre-determined packs are available. For example, should you wish to upgrade the suspension only, Wonder Roo can accommodate.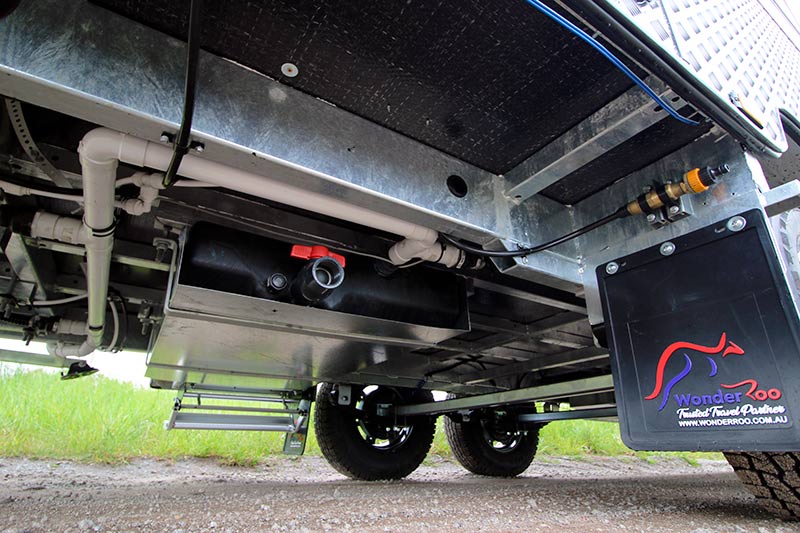 The warranty varies slightly depending on which package option you choose. Our review van came with a two-year manufacturing warranty and a five-year structural warranty, as well as two years of Australia-wide roadside assistance.
This van, all things considered, is well worth a look. Aside from it's pleasing towing characteristics, it has a generous and well-considered fitout.
THE SCORE
FIT AND FINISH –

LAYOUT –

INNOVATION –

HITS & MISSES