From a week-long celebration of my 90th birthday, including visiting a local zoo with my family, to sharing an evening with former Heywood Apex members and their wives who were staying at the Lakeside Tourist Park at Halls Gap, it has been a very busy month.
I even headed to an ACC Lone Trekkers muster at Lakes Entrance, Vic, with activities that included a luncheon cruise on the Gippsland Lakes, visits to a homestead and a winery, topped off by a wonderful helicopter trip over the Gippsland Lakes before driving home. Phew!
MY 90TH BIRTHDAY
I'd been enjoying a great ACC Gippsland Gypsies Muster at Maryborough, Vic, and after dinner on the Sunday evening one of my friends said, "Come for a walk, Lionel – and no questions."
"Why no questions?" I asked her.
"That's one," she replied. "No more!"
When we got back, everyone was sitting in the dining area – and there was an iced cake with 90th birthday and candles on it – plus there was a box of goodies. They were singing 'Happy Birthday to You!' I was about five hours short of being ninety but it was a great start to a week of celebrations.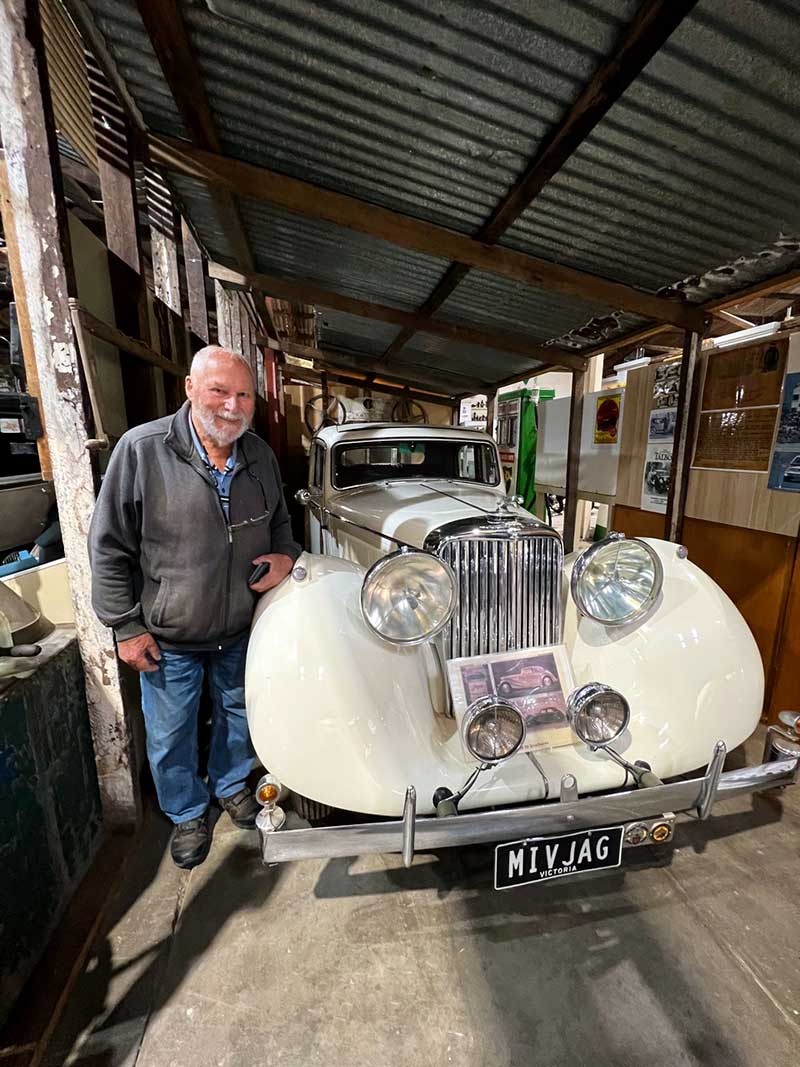 The next morning, after driving home under blue skies through the lovely Victorian countryside, I arrived home at the same time as my grandson, Reece, who had driven up from Melbourne to share my birthday – and yes – my birthday had arrived and to prove it, daughter Sue had baked and iced a lovely cake complete with candles.
After Reece went home, I thought it would be a quiet week. But the greatest surprise of all was on the Wednesday when I had a phone call from my eldest daughter who I thought was in Alice Springs. "Look out of your window," she said. "You will see us driving into you driveway."
I was surprised, amazed and delighted! They are here until after the new year and will be sharing Christmas with Sue, Shaun and me.
My birthday hadn't ended yet – we had a lovely family weekend with two grandsons, one with his partner and two great-grand-daughters plus a couple of dogs!
We went to the Halls Gap Zoo on the Saturday morning and were very lucky as the rain waited until we had finished before heading for pies and pasties at the Halls Gap Bakery. A few people topped it off at the nearby ice creamery.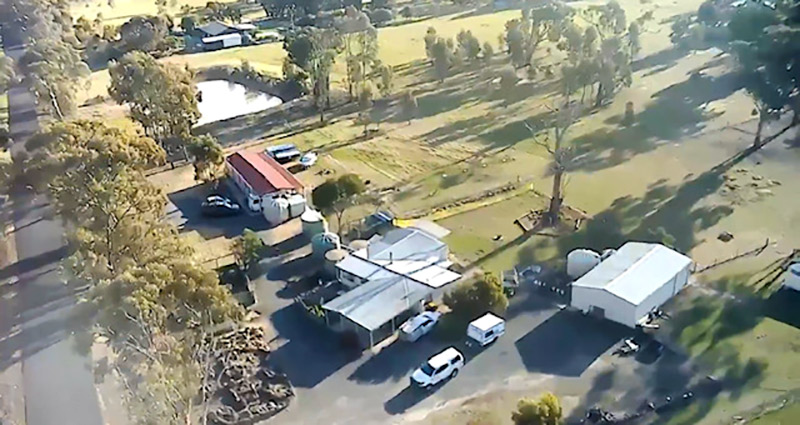 Cameron – one of my grandsons – had brought his drone with him and took a lovely pic of my place from the air.
I didn't count all the birthday cards and the avalanche of Facebook congratulations messages – but there were many.
A wonderful birthday!
APEX AT HALLS GAP
A former Apexian I met one night, earlier in the year at Walkamin in Queensland, rang me recently and invited me to join him and fellow former Apexians and their partners at their annual get together at the Lakeside Tourist Park at Halls Gap.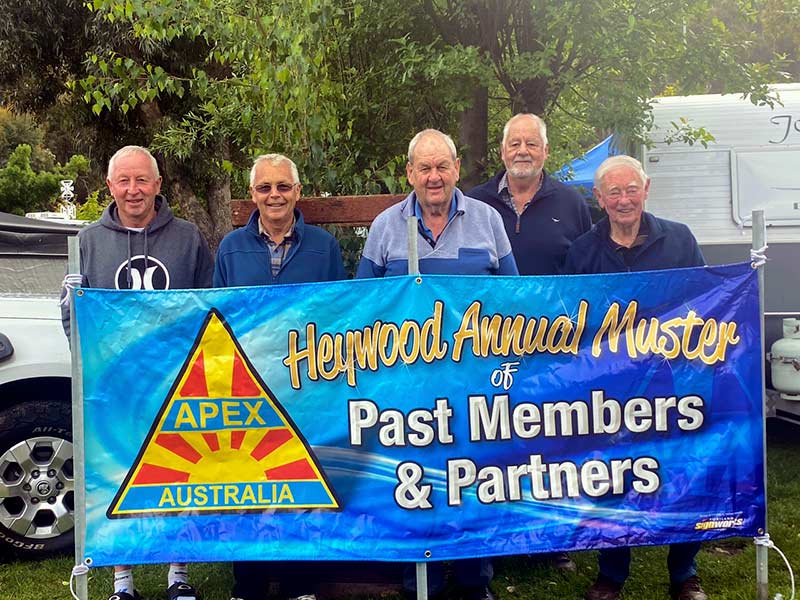 It was a lovely evening and as they were raising funds for a charity, I sold them some of my $10 books with $5 going to their charity and $5 to me. It raised a clap and autographed books sold well.
THE LOVELY LAKES
On the way to Beaconsfield, Vic, where I was spending the night at a friend's place before we moved on to an ACC Lone Trekkers muster at Lakes Entrance, Yemmy started to make strange noises as I slowed to a stop.
We couldn't find out what it was so I rang my Sprinter guru, Eric, and he told me to check the wheel nuts for tightness. He's a genius because one front wheel had loose nuts and tightening them cured the noise.
The tyre looked a bit dodgy so Yemmy's booked in for some new tyres at my local Bridgestone dealer.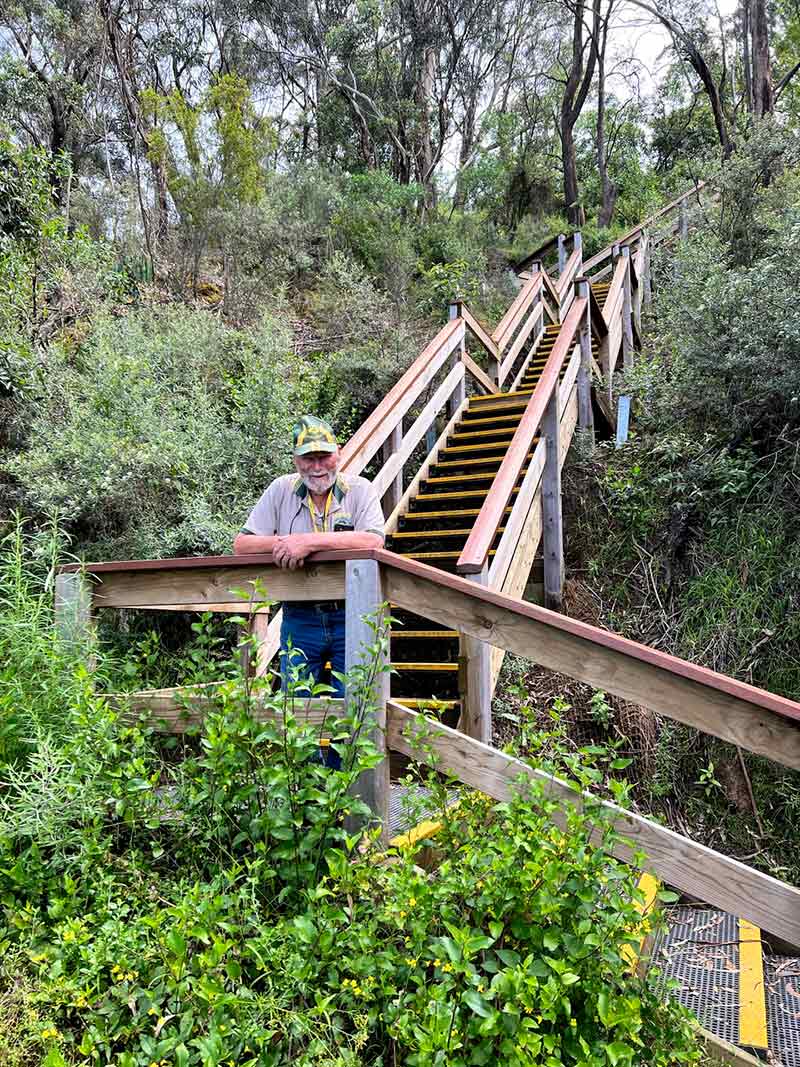 We had a busy but enjoyable week and organiser Reg had booked us on a lovely luncheon cruise on the Gippsland Lakes with lunch at the Marlo Hotel. There was an excellent commentary as we cruised along – we saw the lakes and much more from a helicopter later in the week.
One day we visited Nyerimilang Heritage Park and four of us decided to walk down to the lake via 95 Steps. The other three were more worried about me and the steps than I was – after all I'm only 90! I did get a certificate when we got back to the shop!
Another day saw us visiting a winery. We had had home-made scones with cream and jam with our coffee. Our two lady members lashed out and had the wine tasting as well. On our way to and from the winery, we spotted the sign to the airport – more on that later.
We had a farewell dinner together across the road at a bowls club on the Friday night but Michael and I stayed on until Sunday as the weather on Friday and Saturday didn't look good for our planned helicopter flight.
We put one of our days waiting to good use by visiting a motor museum at Mafra plus climbing a steep hill near Stratford on the way to see great views of the Avon River. I had no idea there was a hill near Stratford, although I have passed through the town many times.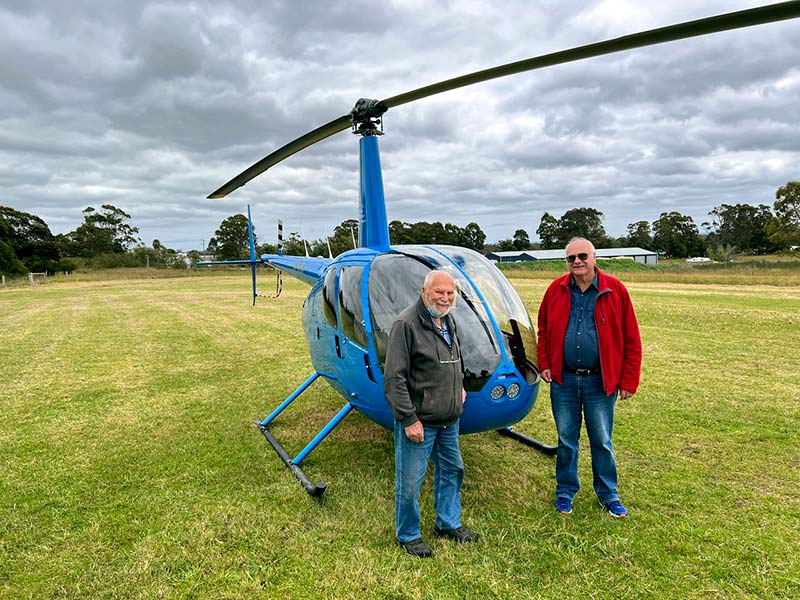 We set off nice and early on the Sunday morning and drove out to what we thought was the airport. It was an airport but not the one with helicopters! A friendly farmer who had been chasing his cows in a paddock near the runway came and told us we were at the wrong airport! Who would have thought there would be two airports in a town like Lakes Entrance?
We got to the right airport a bit late but they didn't mind and we were soon in the air where the views were great. Our pilot gave us an interesting commentary that made it all the better.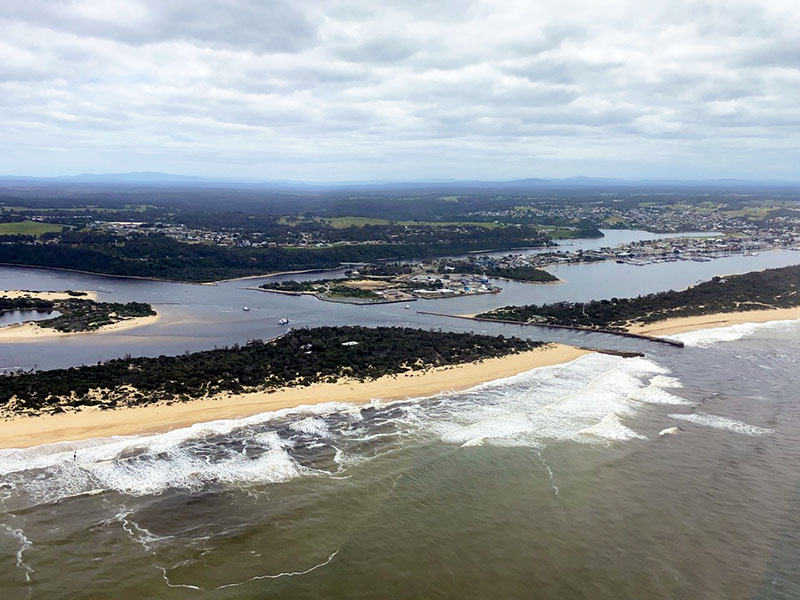 We had taken the cover off my iPhone for something and had accidentally turned the brightness down so I had a blank, black screen and had to take photos by guess. Amazingly, most of them came out quite good so I'll put one or two on here.
Have a great Christmas and I'll see you next year