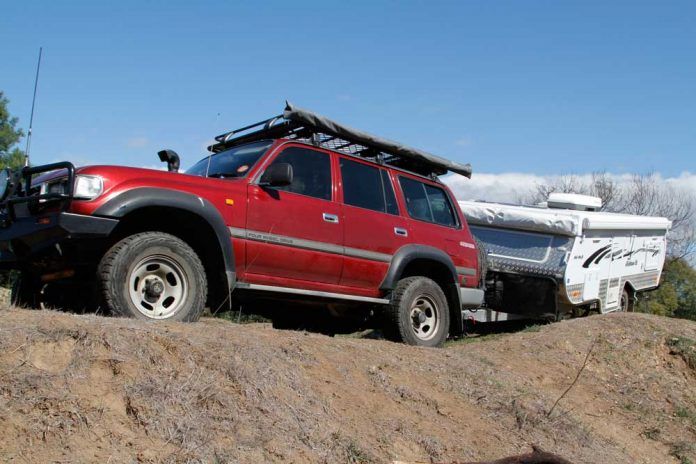 Offroad caravans come in all shapes and sizes. But the truth is, offroad caravans are not created equally.
Many caravans badged 'offroad' are genuine bush-thumping beasts that will follow the tracks of your 4WD deep into the most unkempt areas of Cape York. Sadly, though, there are just as many caravans bearing the offroad moniker just for marketing appeal.
1. OFFROAD CARAVANS' CHASSIS
There's a school of thought that the more steel underneath a caravan, the more robust it must be. Not true. When it comes to tough-as-nails caravan chassis, quantity does not always equal quality. It's more important that the chassis has been engineered for the job at hand. Remember: all that steel is heavy and unnecessary weight behind your 4WD is never welcome, especially in remote areas and on serious offroad tracks.
Many Australian caravan manufacturers have, in recent years, discovered the benefits of aluminium chassis or hybrid chassis incorporating steel main rails and aluminium cross members with sections punched out – an engineering technique that reduces the weight of the chassis while increasing its strength.
So don't be fooled into believing that an offroad caravan just needs steel and lots of it.
2. SUSPENSION
You probably know the feeling: after travelling a long stretch of serious corrugations, you wonder whether the inside of your caravan has withstood the journey. Will you find a door off its hinges when you open the caravan door, or perhaps the dinette table on the floor?
Most caravan manufacturers making a genuine attempt at building a true offroader will fit the van with offroad trailing arm suspension or a load-sharing setup such as the Simplicity system. For good reason. A decent independent suspension system will make the van travel smoother, putting less stress on other structural components, such as the frame, and making it less likely your internal cabinetry will rattle apart.
The good news is, high quality, offroad, independent suspension systems are widely available for Australian caravans. We recommend Cruisemaster XT by Queensland's Vehicle Components, and Al-Ko's new (but well and truly torture-tested) Enduro Outback, as two credible systems that won't let you down.
A word of caution: be sure that the suspension system is actually designated for true offroad touring as distinct from 'rough road' use – even the Cruisemaster and Enduro systems come in 'light duty' derivations: CRS and Cross Country respectively.
3. FRAME
This is a difficult one. The fact is, aside from the electrical wiring, the frame is the one component of a caravan that you can't visually inspect for yourself. Manufacturers using timber frames will insist that the inherent flexibility of timber is a benefit for offroad caravanning, allowing some movement with changes in the road surface and even changes in temperature. Over decades, they'll tell you, aluminium is also subject to metal fatigue.
On the other hand, manufacturers using aluminium will point to the potential for wet and dry rot of timber frames, among other potential drawbacks.
There has been a lot of innovation in this field. Kedron Caravans uses an interlocked aluminium frame secured by steel anti-vibration henrob pins, and fixed downwards and sideways with huck bolts and galvanised plates, along with a one-piece aluminium roof frame. Sunland Caravans, meanwhile, builds its roofs and walls from 25x25mm and 25x50mm welded box-section aluminium. Bushtracker – another well-regarded offroad caravan builder – also uses box-section aluminium.
Swing and roundabouts, as they say, but aluminium frames seem to be the future for offroad caravans.
4. COUPLING
Whatever you do, don't head up the Tele Track with a standard ball coupling. There's nothing wrong with the venerable ball coupling, mind you, if you're limiting your travels to the blacktop. But since they only articulate 22 degrees before binding up, it's only a matter of time before something breaks in an offroad situation.
Australia has no shortage of genuine offroad couplings that rotate 360 degrees, from the McHitch to the poly-blocks of old, to the D035, among others. For the peace of mind, they are also relatively inexpensive and can usually be fitted aftermarket too (depending on the stud pattern on your A-frame) – this is good news if you're buying a secondhand rig.

5. THE UNDERBELLY
The fastest way to separate the true offroaders from the imposters is to inspect the van's underbelly. Nothing will break faster on your van in offroad conditions than the PVC grey water plumbing underneath if it's not properly protected, and the genuine article will have an absolute minimum of PVC, with what little there is strapped up high and protected with some galvanised sheeting or similar.
Similarly, be on the lookout for dangling electric brake wiring – often, you'll see a terminal block between the chassis and the brake drum. This is a dead giveaway that the van's manufacturer hasn't thought the van through properly. In fact, it's downright dangerous, since a flying stone could conceivably slice the wiring and leave your van without brakes. Unlikely, yes. But possible.
Check the floor, too. Is it properly sealed against water ingress (since the van is likely to see its share of water crossings)? Sometimes, the floor will be protected with a full sheet of galvanised steel, if the floor is made from ply (which should be at least 12mm marine).
What about the water tanks? No doubt they'll be guarded by gal sheeting, as almost all are, but are the side taps protected too, or are they protruding and vulnerable to stone-strike?
This list is by no means exhaustive. When it comes to true offroad caravans, there's much more to consider, such as front stone guards, side protection (often in the form of checker plate, propeller plate or Rhino coating), the tyres, and more. Of course, a van equipped for serious offroad, remote adventures should, arguably, be fitted with more than the standard 100L water capacity you'll find on many Australian offroaders.
And what about power? A reliable 12V system is an important consideration, too, as is refrigeration (absorption or compressor?) and gas supply.
What do you think? What else makes a top offroader, and are Australian caravans too often victims of marketing hype?