You don't last more than 40 years in business without doing something right. Last year, Alan Graham's Caravans and RVs marked four decades as an RV dealership. The centrepiece of the celebrations: a specially-designed caravan, the AG40.
This van, built by Concept Caravans, proved immensely popular. Only 40 were built and they sold like hotcakes out of the family-run dealership on New South Wales' Central Coast.
And so Alan Graham's Caravans and RVs is doing it again, this time with the Newlands Onyx. Exlusive to Alan Graham's, only 40 of these Onyxes will be built and sold. We were given special access to this limited-edition rig, hitching it up in Melbourne for a closer look just before it was put on a truck bound for the Central Coast.
NEWLANDS ONYX: A TOUCH OF TRADITION
Alan Graham's has a 14-year relationship with Concept Caravans, which also manufacturers the Newlands and Franklin brands. It's thanks to this longstanding relationship that Concept can build 'special occasion' caravans for Alan Graham's, such as this Onyx and the AG40.
At heart, the Newlands Onyx is a traditional van with a meranti timber frame and aluminium cladding on a 6in SupaGal chassis with tandem-axle leaf-spring suspension. That's not a criticism; in fact, there remains a large market for 'stick and tin' blacktop tourers such as this, and the Onyx is up there with the best of them.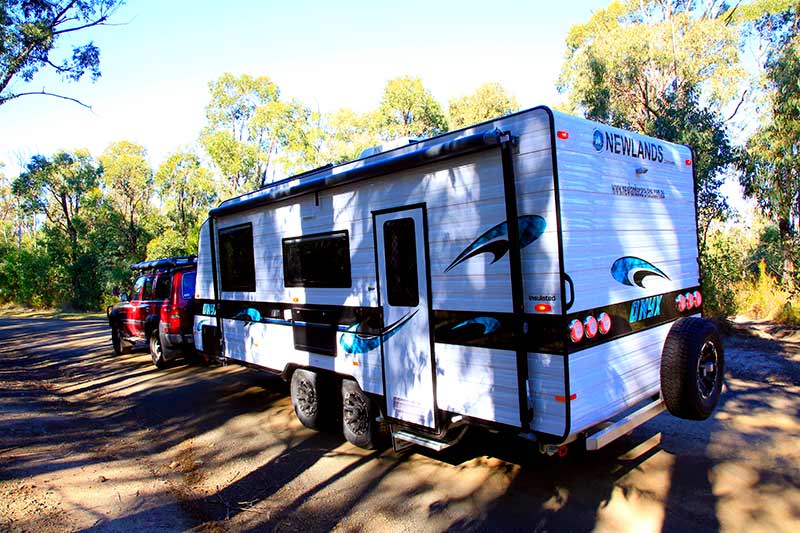 As a limited edition van, Alan Graham's has packaged it up with as many extra features as possible. In fact, they tell me that this van is $5000 cheaper than what it would otherwise cost out of Alan Graham's. And the Newlands Onyx does present as decent value for money. It is, after all, a tandem-axle 26-footer (overall) with an onboard bathroom for $61,990 – and on the face of it, the van looks ready to hit the road.
Underneath, the Onyx is fitted with dual 95L water tanks and even a grey water tank. I'd personally like to see the PVC plumbing fitted with a stoneguard but, then again, this van isn't designed for serious offroad work. The town water inlet on the offside is protected by its mounting point: a steel plate fixed to a chassis cross member.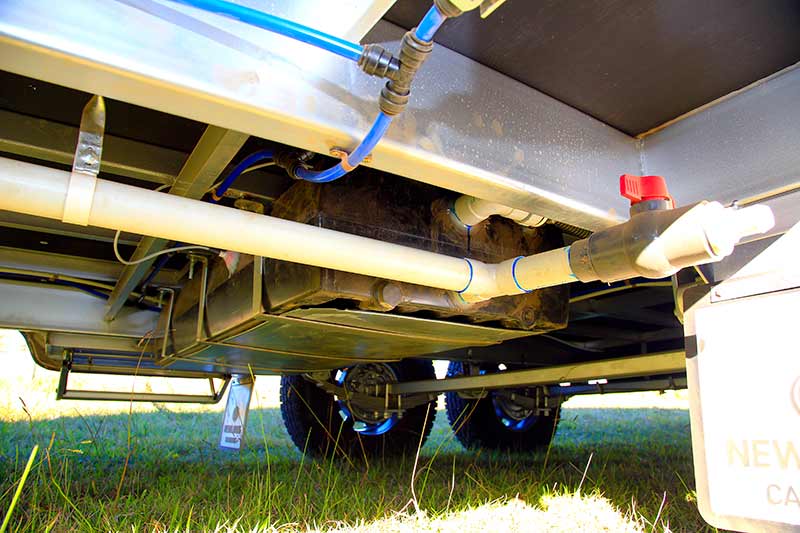 Up front, there are two 9kg gas cylinders on the drawbar – I was pleased to see the gas regulator protected by a sheet metal guard. The coupling is of the 50mm ball variety – perfectly suitable – and the rearview camera is wired to the drawbar, ready to be plugged into the monitor inside the tow vehicle.
The Onyx also gets a roof-mounted solar panel along with a decent amount of external storage. The gal-lined front boot is reasonably standard in terms of its size – it's also home to the onboard battery and BreakSafe unit – but there's also a three-quarter tunnel boot provided on the nearside. Why only three quarter? Well, that's due to the position of the offside hot water heater.
Among the other external features, there's a roll-out nearside awning and awning light, a 12V point (both USB and cigarette lighter-style), a rear-mounted spare wheel, fold-down picnic table, and a gas bayonet for a BYO barbecue (a built-in barbecue isn't included). Personally, I'd like to see a speaker or two fitted to the outside to go with the Finch stereo/DVD/MP4 player inside. Having said that, I think this Newlands Onyx is, externally, quite well-equipped, both from a storage and features point of view, for extended holidays.
INTERIOR FITOUT
I referred to the Onyx earlier as 'traditional' but the interior is fitted out with the expected contemporary amenities, and the cabinetry reflects modern construction methods. The overall fitout, from the joinery to the alignment of the cupboard doors, is millimetre-perfect.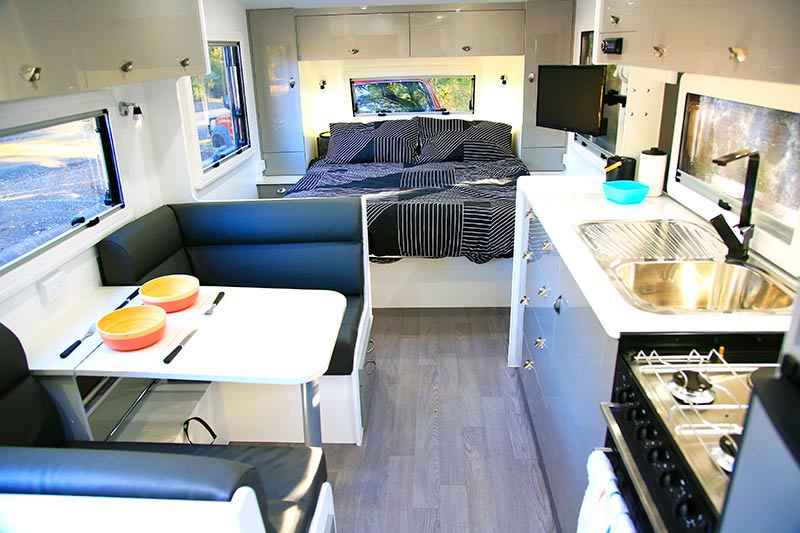 The layout is very similar to that of the AG40: a north-south queen-size bed in the nose, a nearside dinette and offside kitchen in the middle, and a bathroom spread across the width in the rear. Indeed, this is a popular layout for couple's vans, and that's because it simply works well, allowing a manufacturer to fit the necessary living features at sensible proportions.
The kitchen has a four-burner cooktop, griller and oven, and a stainless steel sink. The fridge-freezer is a sizable 190L three-way unit with microwave above. Although an under-bench pull-out pantry isn't provided, there is otherwise a decent amount of storage options, from drawers to cupboards.
The cafe-style dinette comes with a tri-fold table, three overhead lockers, a couple of reading lights and, my favourite, slide-out footrests instead of footrests that snap-up into position. An advantage of this style is it allows access to the under-seat storage space. Simply slide out the tray and fit the supplied (and colour-matching) cushion. A small disadvantage, I suppose, is finding somewhere to store these cushions when not in use.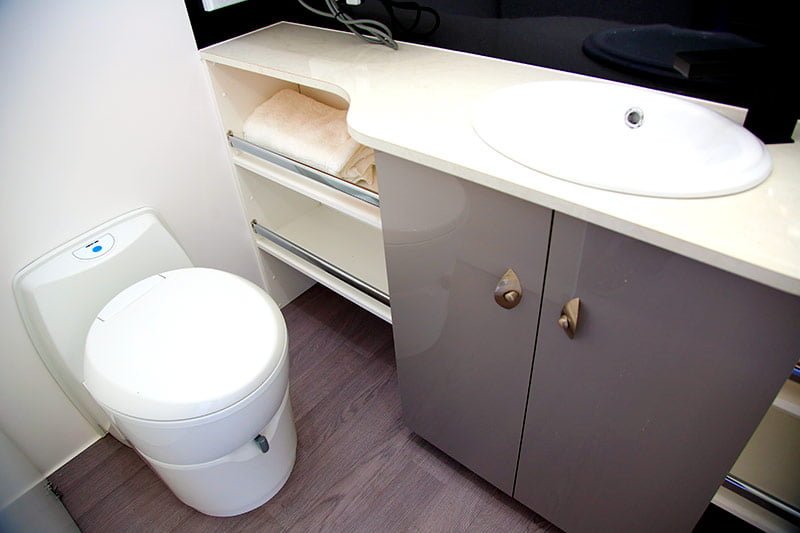 The bedroom gets a fair share of natural light, thanks in part to the front window which, by the way, has a stoneguard. I know a front window seems a small point, but I've seen a number of comparable vans lately that, for reasons unknown, simply don't have one.
On the offside, at the end of the kitchen, is a a swivel bracket so the flatscreen TV can be watched from the bed or dinette. And while the bedroom has the standard features, including reading lights, overhead lockers and wardrobes, the position of the aforementioned hot water service means there's no lower wardrobe storage on the offside, though there is clothes storage above.
The bathroom gets an offside Thetford cassette toilet and a nearside moulded-fibreglass shower, with the vanity inbetween. Two shelves sit either side of the sink, below the bench – perfect for towels and the like. There's also an under-sink cupboard and another cupboard above the front-loader washing machine that's mounted to the rear wall.
Naturally, a reverse-cycle air-conditioner is part of the Onyx package, in this case an Aircommand Cormorant system. There's also a BMPRO RV View battery monitor, which displays the battery's charge and discharge status, volts and amps.
Overall, I thought the interior was more than just presentable; it's warm and very inviting.
GORV'S VERDICT
The Newlands Onyx is a mid-weight van. It's Tare of 2223kg is quite reasonable, as is its 500kg payload capacity.
Aside from the fit and finish, the Onyx stands out particularly for its value. This is indeed a lot of van for a reasonable price.
They're only making 40 of these… but something tells me Alan Graham's Caravan and RVs will wind up making more!
THE SCORE
FIT AND FINISH –

LAYOUT –

INNOVATION –

HITS & MISSES