I was a bit apprehensive about going to an Irish festival with my nemesis, Murphy, along but he kept his head down most of the time. Our Australian Caravan Club branch, the Gippsland Gypsies had organised a muster at Koroit for the festival and our Australian Caravan Club Great Ocean Roaders branch was also there for the weekend.
The lovely little town had a distinct hue of green and was full of Irish activity all weekend, including a very colourful parade on the Saturday.
GOOD NECK EXERCISE
Tickets for the Friday night concert were sold out in January but one of our members couldn't attend and I scored his ticket. It was a lovely evening slightly spoiled by one uneasy family in the row in front of me. They constantly changed seats and when grandpa or his daughter sat in front of me, their heads blocked my view and I had to constantly move my head to see the stage. I guess it was good exercise – particularly when the lady moved her head in time with the music!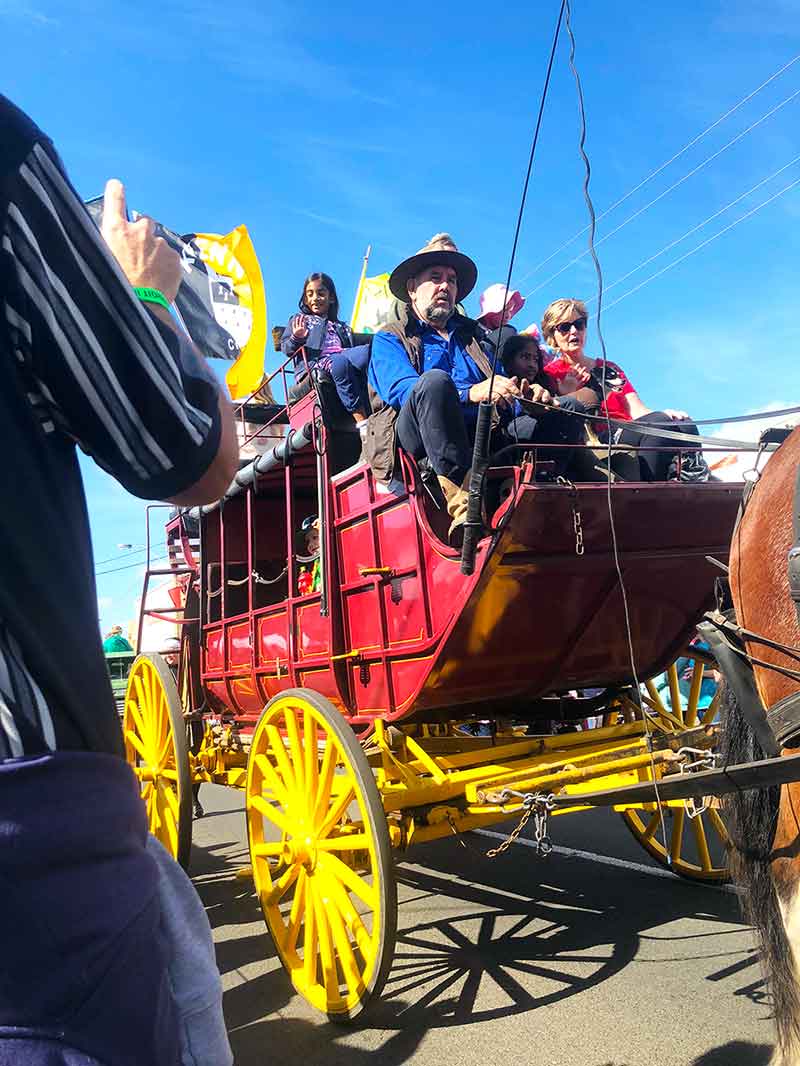 Some older readers will remember author Frank Hardy and his books, especially The Power and the Glory that caused quite a stir at the time. The Hardy family hails from near Koroit and Frank's daughter, writer and world traveller Shirley Hardy-Rix, was the festival ambassador – she gave a fascinating on-stage interview with the MC.
Singer Damien Leith and his two off siders were the highlight of the evening, keeping us entertained with their repertoire of Irish songs, with some Roy Orbison for good measure.
NEW TRAVELLING COMPANION!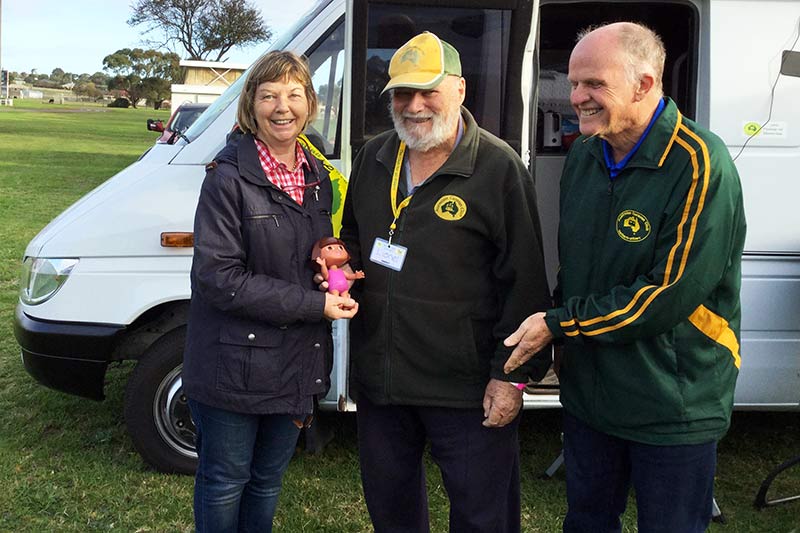 My Irish friend Vivien was concerned that I didn't have a female traveling companion and presented my with a small model of Dora the Explorer. I'm not keen on carrying a doll around, although I do have a little fluffy cat sitting on the dashboard – she sleeps 24/7 so isn't very good company.
LONE TREKKERS AT ILLAWARRA
Before you start wondering what trekkers are doing up near Wollongong, I must point out that the Illawarra I'll refer to is about 10km from Stawell, Vic, and is a district and not a town. It did boast a school, a hotel and a post office back before WWI, but all that remains is a sign marking the site of the school.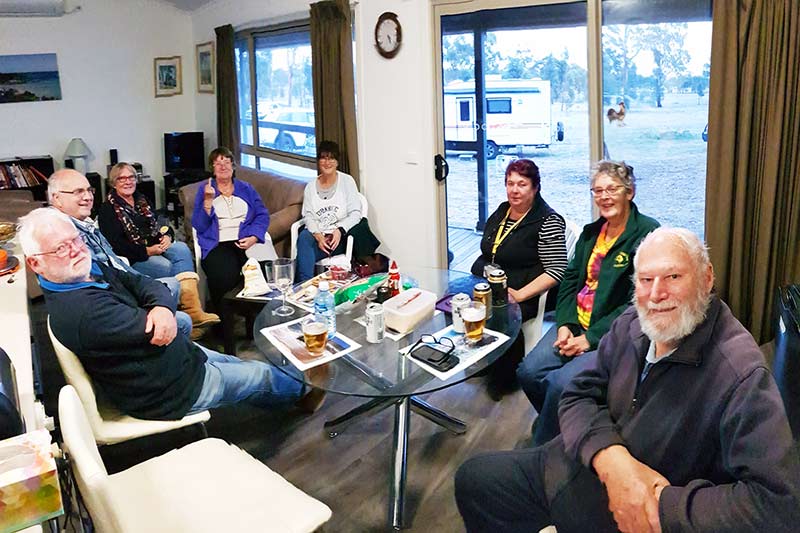 The Australian Caravan Club has a Special Interest Group (SIG) called Lone Trekkers for members who travel on their own and they convened a muster at my place at Illawarra recently. The weather was cold and windy, so most gatherings were in my lovely warm lounge room and the promised campfire wasn't lit until the last night when a couple of hardy souls toasted their fronts and froze their backs for a little while.
Nine of us gathered during the Australian Caravan Club muster for a weekend that included happy hours, a mystery tour of the lovely Grampians, a bacon and egg breakfast, a visit to Ararat that took in the view from One Tree Hill, the monthly market, the Chinese Museum and J Ward – formerly a jail for the criminally insane. J Ward was interesting but very depressing – it made you take stock of how very lucky we are to live in a more enlightened age.
Imagine the freezing cold cells in the winter and having to take all your clothes off outside the cell before you were locked in your small room with only a canvas 'anti-suicide' blanket on your bed!
NO PIZZAS FOR MOTHER
We had decided we'd have a pizza night on our last night and were amazed to find the first pizza shop we tried was closed for Mothers' Day! Fortunately, Stawell has more than one establishment selling pizzas so I rang through our order and we picked up eight boxes of varied and delicious food.
Monday morning came all too soon and the trekkers headed off – some back to their homes in Victoria, NSW and Queensland, while Tasmanian Bernie headed for WA across the Nullarbor.
It was very quiet after they had all left but by the time you read this I'll be somewhere in Far North Queensland enjoying the warmth.
SOMEONE GOT THE BOOT
While exploring the coast west of Port Fairy recently, looking at a free camp near the sea, I came across a surprising sight: hundreds of boots and shoes along a fence by the roadside!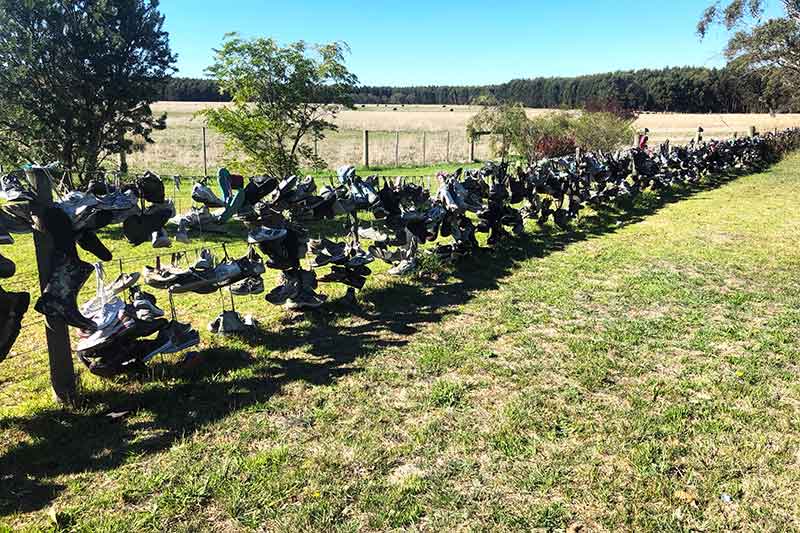 The free camping area is where the Fitzroy River meets the sea and it looked a lovely place to spend a day or two if you have your own facilities, although there is a toilet a little walk from the camping area.
I thought I'd got to the camping area and was surprised to see a sign that said No Camping. It was the boat launching area and the quite large camping reserve was a little further on with a few shady trees and a view of the river.
See you down the track.