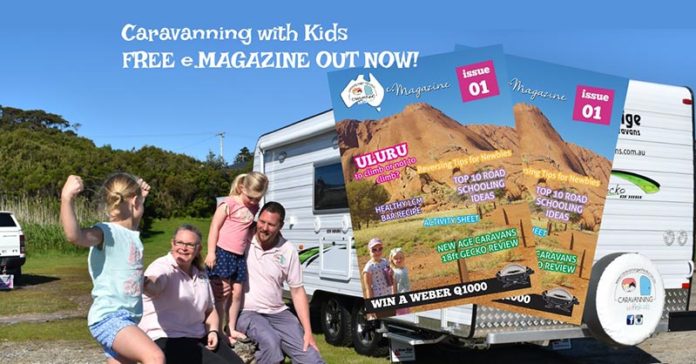 Caravanning with Kids has just launched its first e-magazine.
Packed with hints, tips and activities by caravanners with extensive first-hand experience of touring Australia with children, the Caravanning with Kids e-magazine is also completely free.
Caravanning with Kids was launched in May 2015 by Victorians Adele and Wayne Dyson.
"We were both fairly new to caravanning and had fallen in love with the lifestyle and wanted to share tips, tricks and information with other caravanning families," Adele said. "Our website is filled with articles, tips, reviews and is also the home of our online shop and popular Australian-made travel journals and caravan/camper log books.
"We are not on the road full time, we are just your average family who found caravanning and have reconnected over weekends away and school holiday adventures.
"We are so happy to see our first digital magazine launched. It is a true labour of love that was inspired by our team and our growing community, who all love digital magazines. We wanted to connect with more travelling families, share more stories and great articles and offer travelling families a publication written just for them. Real stories from real families."
We asked Caravanning with Kids for their top tip for a happy, fun adventure with children.
"Less really is more," Adele said. "Every caravanning adventure we go on, we end up taking less and less and less for the kids. They explore, use their imaginations and make new friends. The 'things and toys' we packed would more often stay in the van unused! If they are not there, our girls do not miss them."