My late wife, Vi, and I called in to the newly opened Walkamin Central Caravan Park in 2006 – a year after it was opened. We intended staying for just a couple of nights but ended up staying a fortnight! We had succumbed to the spell of this lovely, spacious caravan park and its magnetic powers. After Vi died nine years ago, I've kept up the tradition and have returned for extended stays most years.
There were hardly any trees at Walkman Central in those early days but now the park abounds with lovely, shady trees including some banana plants.
A VERY DIFFERENT LAYOUT
Lucy and Terry didn't open just another caravan park. Lucy visited nearby Rocky Creek free camp and asked people what they wanted in a caravan park. As a result of this survey they found that RVers don't like to be regimented into rows so they made the layout of this spacious park into groups of four rigs around a pole with four power outlets, four taps and a dustbin. This has turned out to be a major attraction, with everyone able to have lots of space and park whichever way suits them.
Back in the early days, Lucy ran the park from their adjoining house. But since then, they have built an office onsite and have appointed managers to run the park. Lucy still takes a turn to relieve the manager when they have a rostered day off, although she and Terry have bought a small farm and spend a lot of time there.
MANAGERS
Current manager Lyn Laws and her husband, Bob, spent a lot of time as customers in the park until this year when she accepted the position as manager. Bob also works in the park and they fit right in with the friendly atmosphere of the park, joining in the happy hours that take place in the shed every night.
THE SHED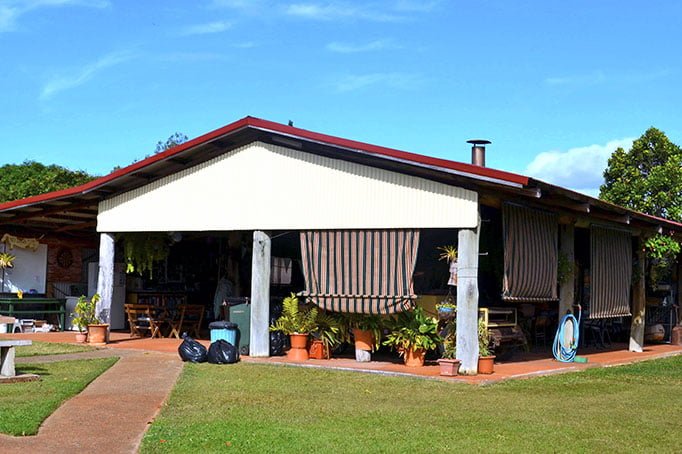 To call it a shed is doing it an injustice! It has walls on two sides, a concrete floor and is furnished with tables and chairs plus sofas and armchairs around the huge fireplace where cheery fires keep patrons warm on chilly nights
The shed also doubles as a very well-equipped camp kitchen with two barbecues, a pizza oven, microwave, toaster, etc.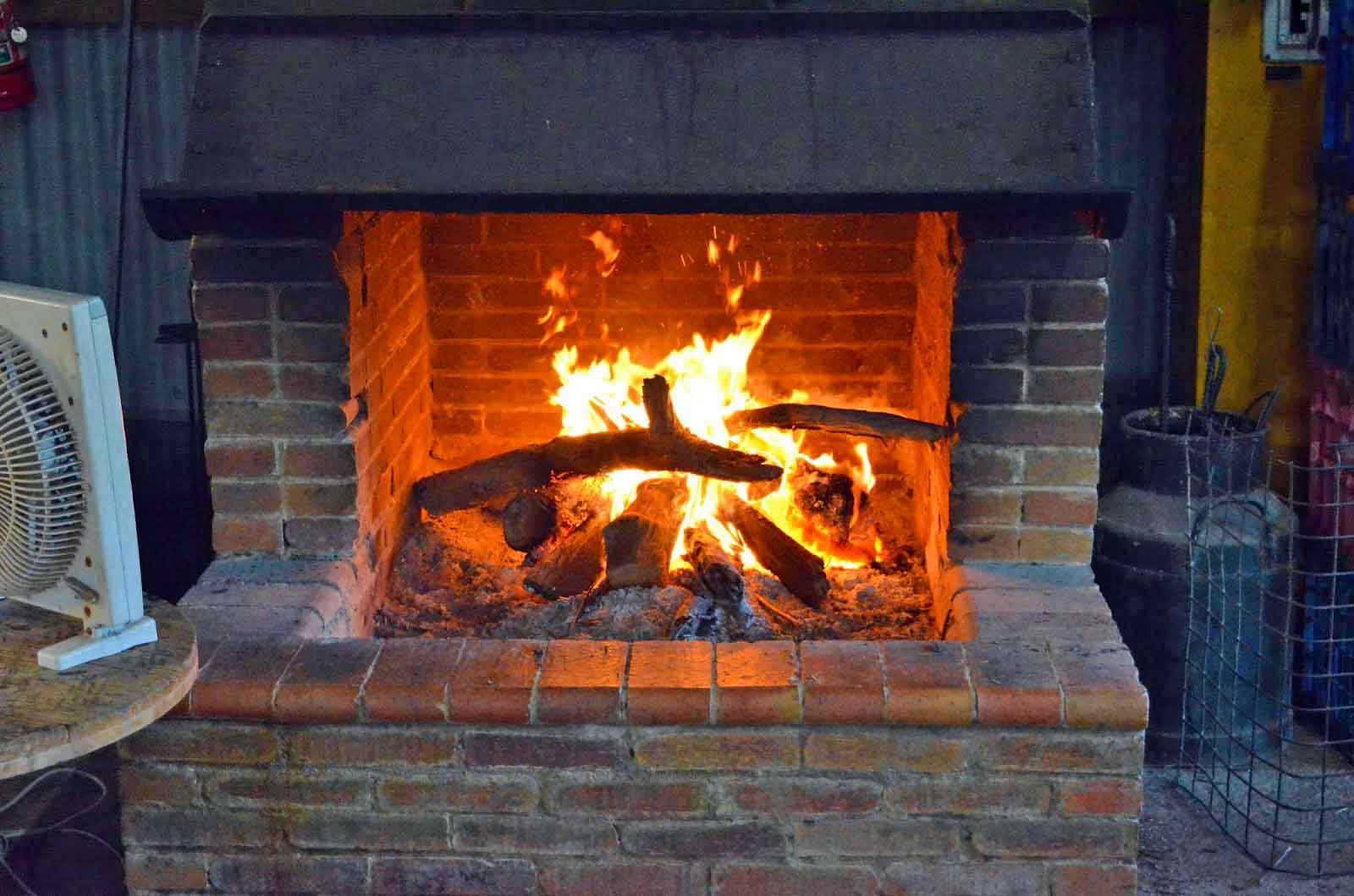 Friday night is barbecue night, when people bring their own meat that is cooked for them and share an abundance of side dishes prepared by the ladies.
CHRISTMAS IN JULY
A long standing tradition of the park is a Christmas in July that sees the shed transformed with decorations and the tables set out with tablecloths and bonbons.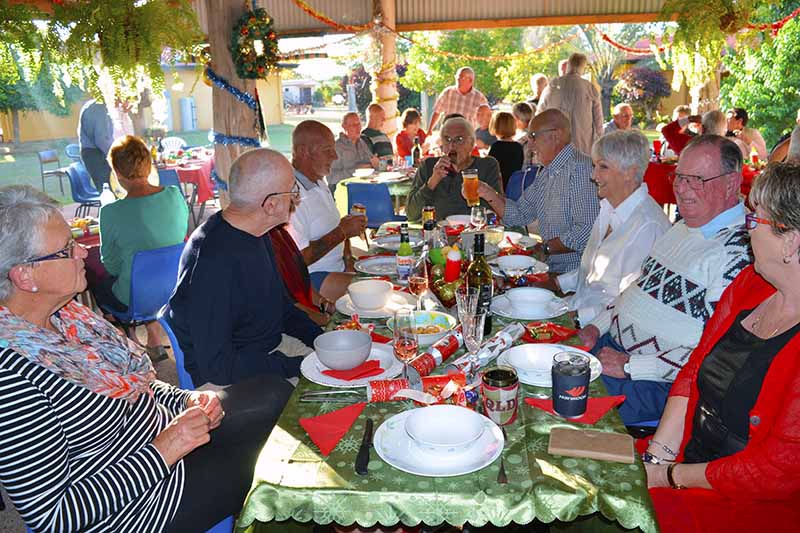 Everyone provides a present so when the jovial red-clad gentleman arrives  everyone gets a pressie from Santa. It's a fantastic night and as the guests are all park residents, no-one has to drive home afterwards!
A BIT OF HISTORY
Scattered around the park are relics of machinery from earlier days and there's even a windmill, although it doesn't pump water these days,
LOCAL ATTRACTIONS
Situated about halfway between Atherton and Mareeba, Qld, Walkamin is ideally placed to visit the many Atherton Tablelands attractions, like the  Mining Museum at Herberton and historic Chillagoe, with its cave and mining history.
If you are into coffee, there are many places to visit – Coffee Works in Mareeba has a display of historic coffee makers and tasting of a large choice of coffee plus chocolate and other tempting goodies.
Jaques Coffee Plantation on the way to Kuranda has tours of the property, a film showing the Jaques family history in growing coffee and the obstacles they have overcome. They also have coffee and liqueur tasting plus a fine dining area.
A third place for coffee addicts is Skybury Coffee Plantation, where once again they also serve meals – this time with a wonderful view from the verandah.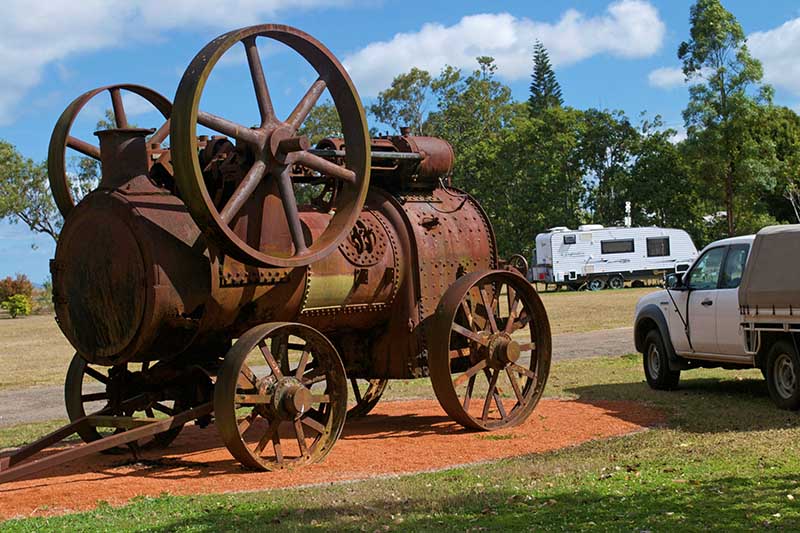 STRONGER DRINKS AND FOOD
A very short drive from the caravan park takes you to the Mount Uncle Distillery and the Bridge Cafe set among a plantation of tall lady fingers banana plants. They make delicious coffee liqueurs at de Brueys Boutique Wines – but enough about drinks.
There's a great choice of places to eat in all the little towns on the Tableland and whatever cuisine you prefer you will find it catered for somewhere not too far away.
MARKETS
Every weekend there are markets somewhere on the Tableland. Kuranda, with its market-like shops and eating places that are open all week, is within easy reach and the large shopping complex at Smithfield is at the bottom of the hill on the way to Cairns.
For other shopping there's a Coles and Target plus an IGA in Mareeba or, if you are looking for a bigger choice, the Super IGA in Atherton has a huge range. There's also a Big W and a Woolworths in Atherton.
ABOVE THE TREES
An outing not to be missed is the cable car ride from Smithfield to Kuranda. Sitting in an enclosed cabin with huge windows you get fabulous views as you climb up above the trees. You can either do a one-way trip with someone to pick you up at the top, or do the return trip back down. There's another choice – you can catch a train in Cairns that climbs up the mountain to the Kuranda Railway Station.
IRIGGATION COUNTRY
Crops flourish on the Tableland helped by the climate and the availability of water channelled from the scenic Tinaroo Dam. Set in rugged bushland there are a number of popular camping spots along the banks of the huge storage area.
BALLOONING
They call Mareeba, Qld, the Ballooning Capital of Australia and coaches bring travellers from Port Douglas and Cairns before dawn to watch the balloons being inflated and then to soar over the green and fertile area around Mareeba. Visitors to Walkamin Caravan Park with time to spare often book a standby trip and save a lot of money.
– Lionel Mussell
FAST FACTS
Walkamin Central Van Park is situated on the Kennedy Highway, 15km from Mareeba and 17km from Atherton, Qld.
Powered sites: $26 a night for two people. Extra person $8 a night.
Unpowered sites: $20 a night.
Cabins: $95 a night for two people or $110 a night for three people.