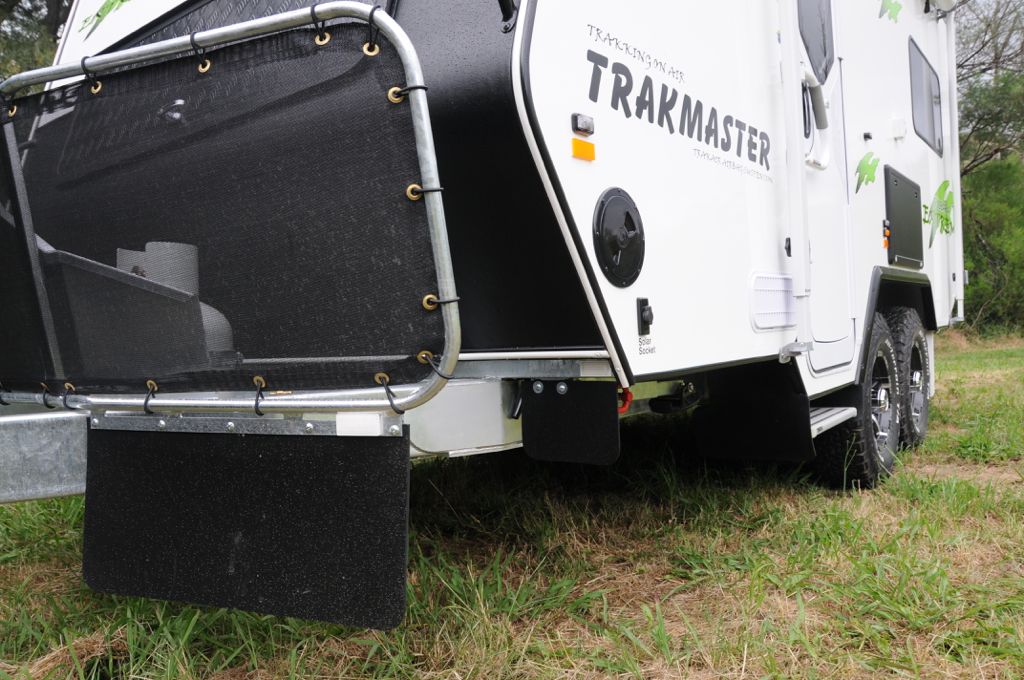 I have owned, travelled in and reviewed a lot of caravans over the years, so when it came to putting my money down for a long term offroader, I already had a short list.
It wouldn't have been everyone's, because we all travel in different ways, which is why caravanners are always keen to learn how others do it.
And while many might be happy with rudimentary comforts, their partners may not. So, if you are planning a number of longish trips over a period of time, you have to compromise or plan to spend a bit of time travelling on your own!
[If you like this article, Like Go RV on Facebook!]
Other factors I took into account were:
It had to withstand rough offroad travel for up to 10 years, yet still have good resale value afterwards;
We wanted a full-height caravan for rapid set-up 'on the fly' and for maximum thermal insulation;
It had to be compact enough to follow the wheel tracks of our Land-Rover Discovery 3, and narrow enough so that we could travel without towing mirrors in the bush;
It should weigh no more than about 2.5 tonnes laden for ease and economy of travel offroad; and
It should be energy efficient, allowing us to live off the grid for a week or more at a time.
After considering several options, some too large and heavy, and some too small, all paths led us to Trakmaster. Now, after taking delivery of our 15ft 6in x 7ft Pilbara Extreme model and covering about 10,000km, here are the things we love about it…
1. TOUGH LOOKS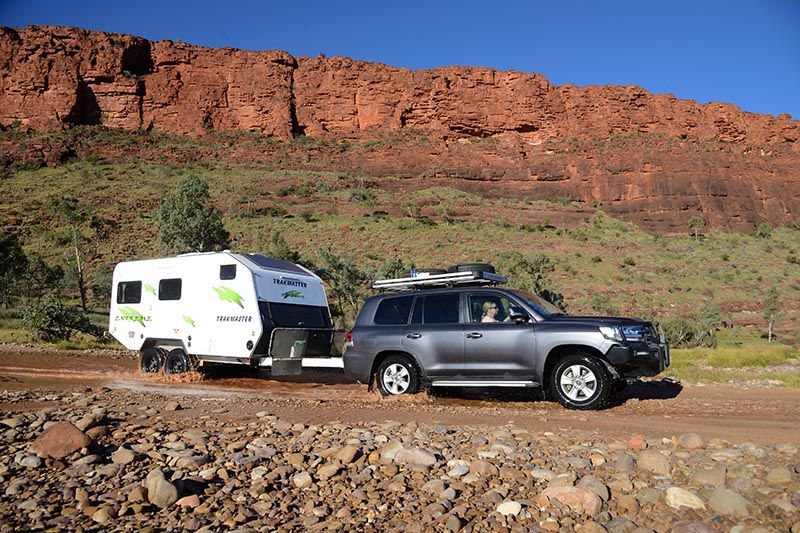 From the moment I first saw it in prototype form at the 2014 Melbourne Leisurefest caravan show, I loved the tough, 'Tonka-toy' look of Trakmaster's Pilbara, with its steeply-raked rear end, composite walls and wild body graphics. So did a lot of other people, it seems, as the Pilbara has since become Trakmaster's biggest seller.
The limited edition 20th Anniversary Pilbara Extreme builds on that theme with a raft of additional hard-core offroad features, ranging from extra stone protection to impact cushioning air suspension, standard lithium battery power, rear-mounted MaxTrax and rear tow hooks, among other things. It looks even tougher and purposeful behind our chunky LR Discovery – at least, that's what people constantly tell us!
2. AIR SUSPENSION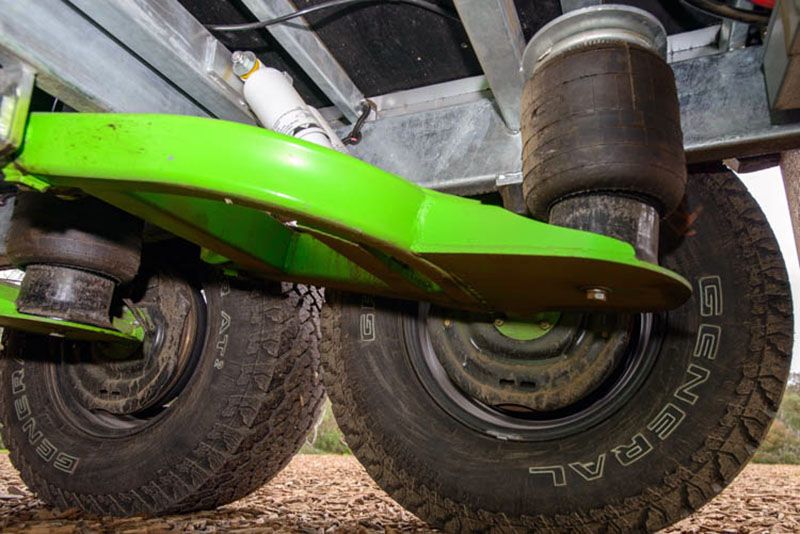 The Extreme's standard Trakair air suspension isn't a gimmick. It really smoothes out corrugations and gives the caravan and its contents a much easier time, ensuring they will take this sort of sustained punishment longer. Being self-levelling, the Extreme remains more stable in uneven territory and, combined with the Disco's air suspension, maintains high ground clearance under the van's DO-35 hitch when the road is rutted or undulating. The thing I also appreciate when you stop for the night is that it is manually adjustable from side to side, so I don't carry levelling chocks anymore. Combined with the Disco's manual ride height adjustment, I can level it on most surfaces.
The softer ride also allows me to run lower tyre pressures on and offroad than I would otherwise and I now set my General Grabbers at 33psi cold on bitumen and 23psi cold off bitumen. The Trakair's on-board compressor allows road pressures to be restored once I hit the blacktop again.
3. COMPACT LAYOUT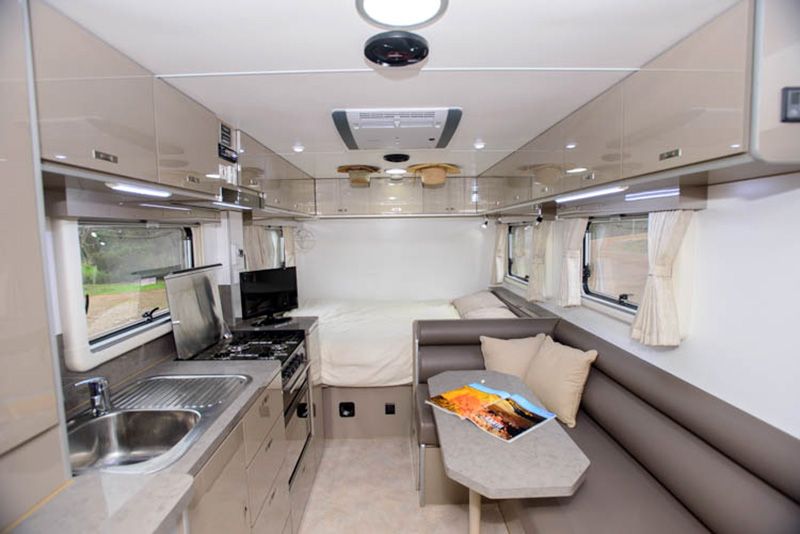 Trakmaster Extremes normally come with a front corner combined shower and toilet ensuite, but my wife wanted a separated shower and toilet, so I persuaded Trakmaster to adapt the front bathroom from a larger 19ft x 7ft 6in Pilbara to fit my 15ft 6in x 7ft Extreme.
It came down to the millimetre, but it works perfectly and it is roomier than some of the ensuites I have encountered in larger touring vans. To make it all work within our Extreme's limited confines, we had to run the queen-size bed across the raised rear of the van, with the kitchen opposite an L-shaped lounge. To everyone's surprise, it all works perfectly and looks far more spacious than it actually is, thanks to my wife Wendy's inspired choice of décor.
In fact, Trakmaster has since built several other Pilbaras and Extremes for other customers based on our design.
4. FIT FOR PURPOSE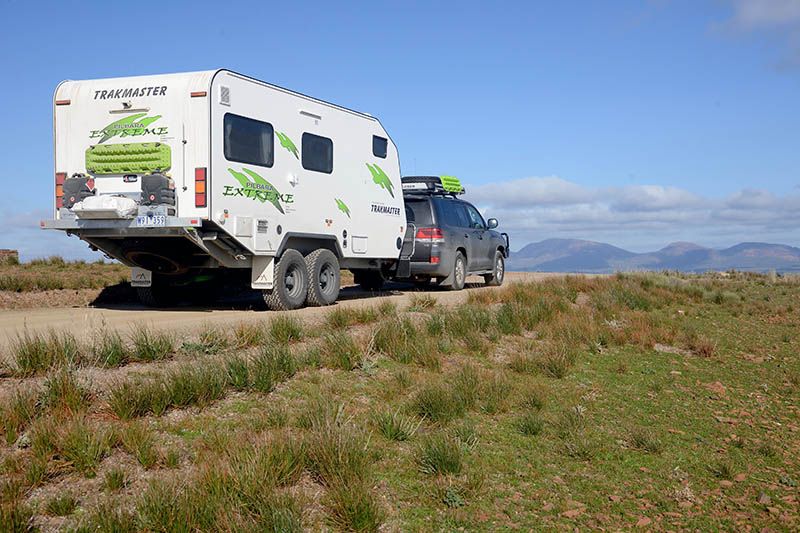 All of the above would be useless if the Extreme wasn't fit for its intended purpose, but it is. Trakmaster founder and former outback tour guide Russell Seebach started making custom-built offroad vans in the mid-1990s because he saw conventional caravans fall apart in the remote places he visited.
Trakmasters have since gained a well-deserved reputation for strength and longevity to the point where many owners keep returning for their second or third. Perhaps the Trakmaster Owners' Club itself is the greatest testament, with a membership of around 400 – impressive when you consider that Trakmaster has built fewer than 1000 caravans in the 21 years since it was founded!
5. SELF-SUFFICIENCY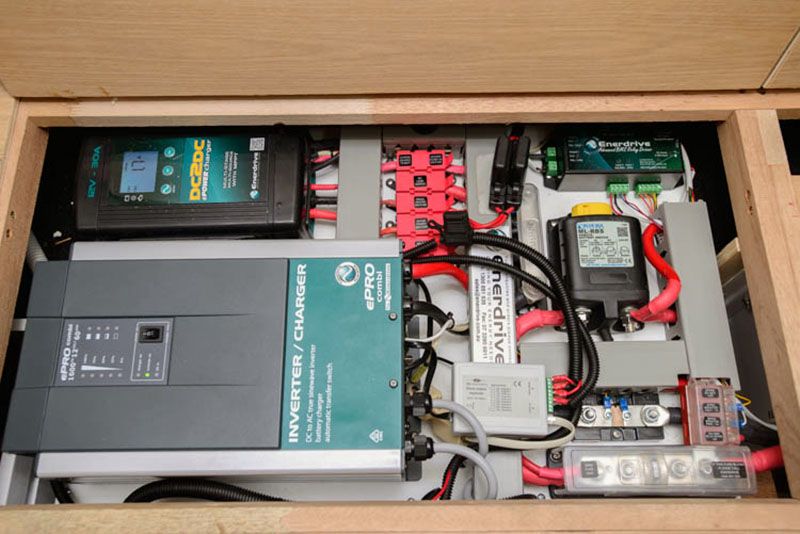 The other impressive thing about the limited edition Extreme is its ability to remain self-sufficient off the grid for extended periods. Regular Extremes have a 200Ah Enerdrive lithium ion battery with a DC to DC charger and two roof-mounted 150W slimline solar panels.
Ours also has a 1600W Enerdrive Combi inverter charger and three roof-mounted 150W glass solar panels, so we can also run small 240V appliances like a coffee pod machine in remote areas. Call us soft – I don't care!
6. THE HEAT IS ON
Finally, one thing we would not be without in our Extreme is our Truma E2400 gas heater, which makes those cold nights and frosty mornings on the way north a pleasure, rather than a chilly chore. I considered a diesel-fuelled heater, but we already had bottled gas for cooking (electric/ceramic hotplates take too long to heat up and cool down in my opinion) and I didn't want to have to carry a second (diesel) fuel source, which a diesel heater would have necessitated.
So now we have got just the caravan we wanted. Tough, smooth riding, relatively compact and very comfortable!