There's something to be said for compact caravans. Typically, they'll be light enough for a Prado, an older HiLux, or even an old Ford Falcon wagon.
The Little Caravan Company has been on the scene for about four years. As its name suggests, this manufacturer, based in Campbellfield, Vic, specialises in keeping things as small as possible.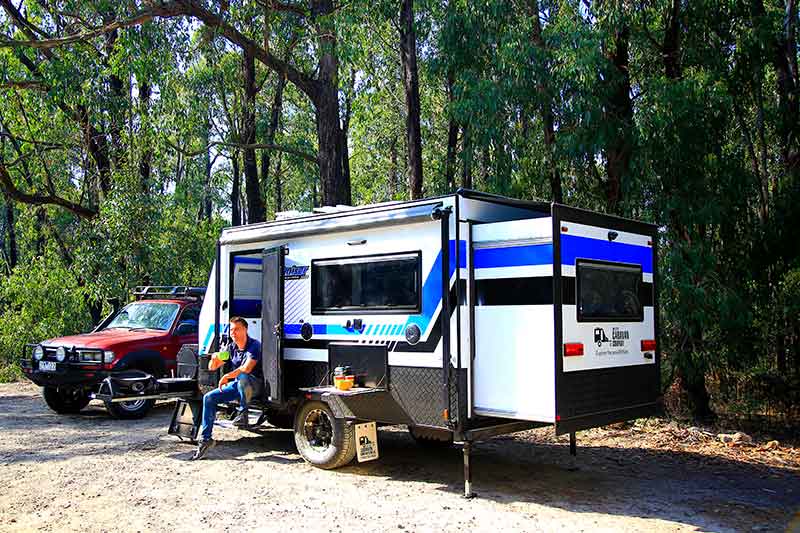 This philosophy makes sense. As a general rule, the smaller the van, the more manoeuvrable it will be. Without question, it will be easier to reverse, more manageable in tight city streets and its lighter weight should mean less fuel consumption.
The Little Caravan Company's Optimiser Series 2 is a case in point. With its overall travel length of 6m and Tare weight of 1650kg as standard, it balances size and weight against a suitable amount of living space. Truth be told, thanks to the rear slide-out (which opens at the push of a button), the Optimiser Series 2 feels more spacious than its size suggests.
OFFROAD WITH THE ON-ROAD
This van comes in both an on-road and offroad version. We hitched the on-road rig to our old 80 Series Cruiser and headed north on the Hume Highway in search of a testing ground. Ordinarily, a van such as this would call for some winding bitumen roads and an open highway, but The Little Caravan Company wanted me to put it on some gravel bush tracks. Who was I to argue?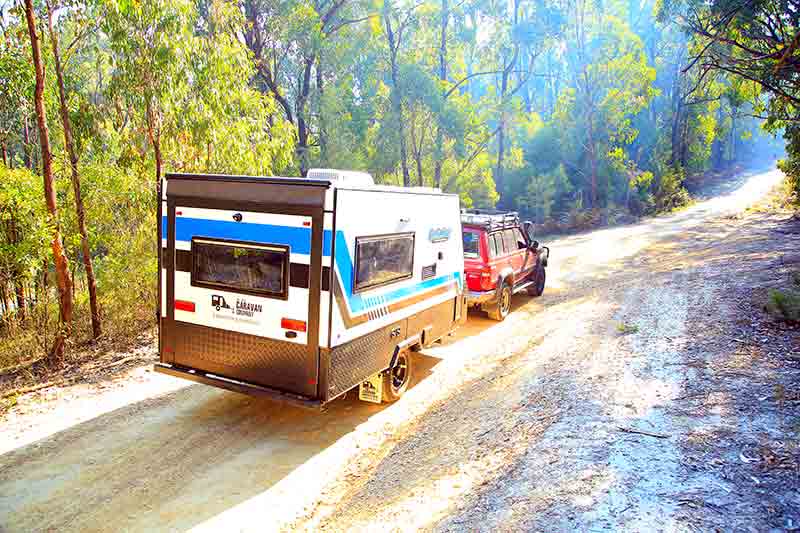 The on-road Optimiser is built on a 4in G&S chassis with single-axle leaf-spring suspension (with one shock absorber per wheel), while the offroader gets a 2in chassis raiser and independent G&S Crossrider TS suspension.
Its frame is built from meranti timber, while its side cladding is composite aluminium fitted to a Z-channel fixed to the chassis, below floor level – this should add to the van's overall rigidity while minimising the potential for water ingress.
Now, our review van was fitted with some optional extras. It had a second 130W solar panel, two 120Ah deep-cycle batteries (instead of the standard 105Ah item), a queen-size bed inside instead of a double bed, a microwave and a second 90L water tank. Therefore, our van was heavier than standard, with a Tare of 1860kg.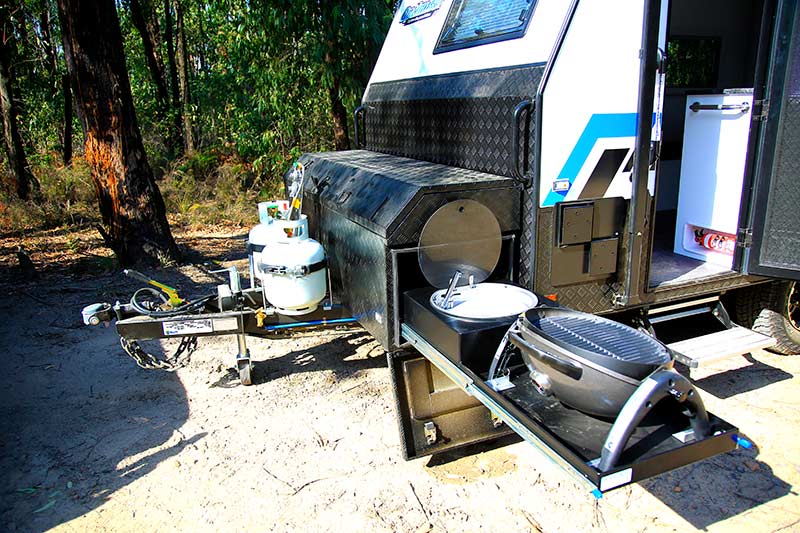 Having said that, it was still an easy tow, both on the open highway and on gravel roads. The rear bumper came close to the ground as I carefully crested some steep undulations, but thankfully I avoided damage.
Our review van from The Little Caravan Company also had an upgraded ATM – 2050kg is standard on the on-road Optimisier Series 2, but ours could be loaded to 2460kg. A payload capacity of 600kg is more than adequate.
Up front, our van had a DO35 coupling and a large checkerplate storage box divided into two compartments: an offside storage space accessible from the top and side; and a nearside compartment that houses the van's slide-out kitchen. There is a small storage space above the kitchen for items such as the corner stabilisers' winding tool.
Any compact caravan is bound to have comprimises. In this case, the interior kitchen is quite small but this is offset by the aforementioned slide-out unit, which has a barbecue and sink with hot and cold running water. The barbecue connects to the van's gas supply via a chassis-mounted bayonet coupling.
As mentioned, this van was fitted with two 90L fresh water tanks. Now, they can be filled in the usual way, but The Little Caravan Company has also fitted a special tap to the mains-pressure water inlet (where you'd connect your hose for constant water supply) which allows both tanks to be filled via that same inlet. An external shower has also been fitted to the offside.
Other external features include a couple of speakers, a roll-out awning and LED light, a 12V point, a fold-down picnic table, a fold-out entry step, and a relatively high waste of black checkerplate. At the back of the van is a reversing camera which, by the way, is fully wired to the drawbar. Because this is primarily a blacktop touring caravan, the underside isn't extensively armour-plated.
INSIDE THE LITTLE CARAVAN COMPANY OPTIMISER
Despite the Optimiser Series 2's small towing 'footprint', the layout feels quite open and livable for two people. The rear slide-out opens in mere moments but, due to the overhang, it's important that the rear stabilisers are in place beforehand.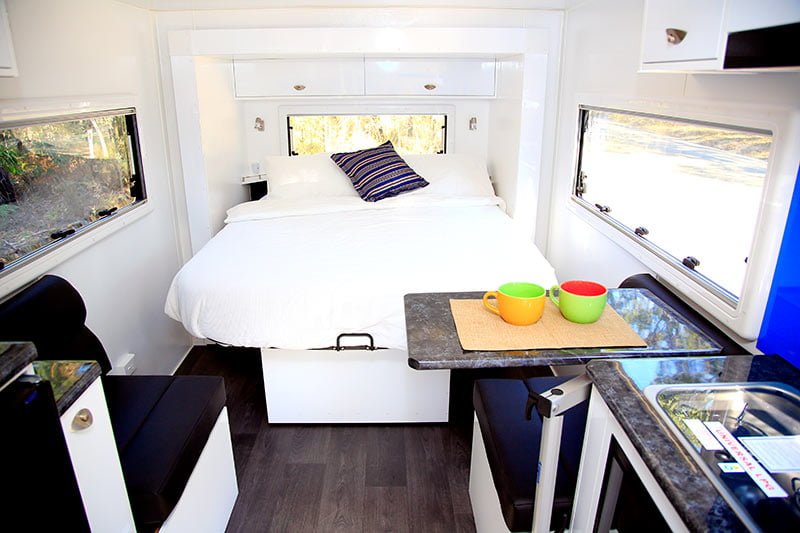 The bed has a couple of overhead lockers, reading lights, and 12V points so you can keep your iPad or phone charging while reading it in bed. The mattress lifts on gas struts to reveal some storage space. Even though our review van had a queen-size bed instead of the standard double, I felt that the bedroom was still quite roomy.
The dining area is, unsurprisingly, quite small. It is comprised of a seat either side of the van and a Lagun table (which can be manoeuvred to suit your seating position). I think this setup is a good use of space and certainly preferable to shoehorning in a cafe-style dinette (which would inevitably increase the van's overall length). The van's batteries are located under the offside seat, beneath the ply support, along with the Camec Break Away system.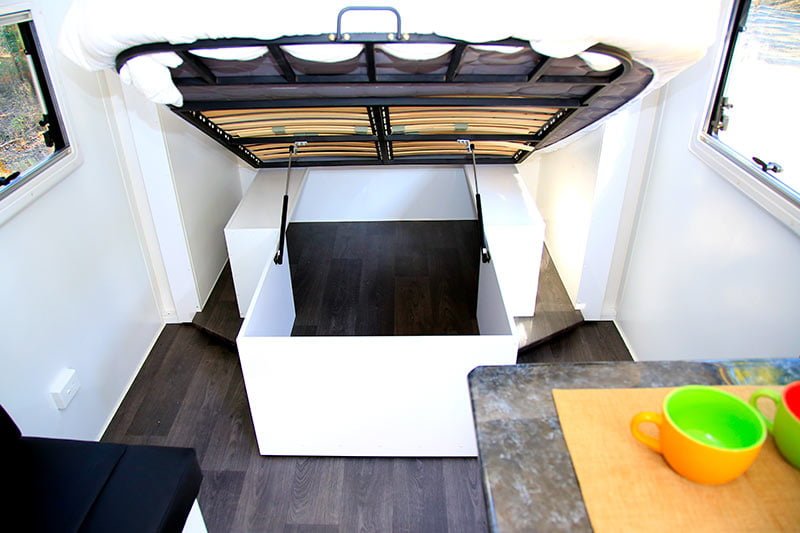 Although I mentioned that the kitchen in this van is necessarily small, it's certainly not ill-equipped. On the nearside is a two-burner cooktop, with optional microwave and drawer beneath, while opposite is an 80L compressor fridge and shelf above. There's a bracket here for the supplied 22in TV.
One of the lockers above this shelf is home to the solar regulator, hot water service switch, water level indicator and water pump switch, and even the stereo system. Centralising all of these switches behind a locker door certainly makes the walls 'cleaner', though I'd personally like the hot water switch next to the bed so I could turn it on without getting out of bed (I prefer to turn the water heater off overnight).
Finally, across the front of the van is a sink, a suite of drawers and overhead lockers, and a couple of cupboards.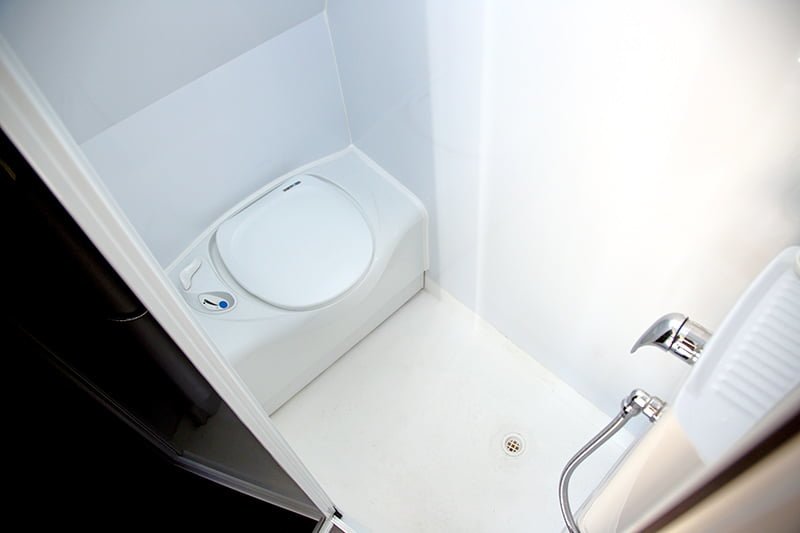 The bathroom, meanwhile, is in the front offside corner. It's a combo unit that includes a Thetford cassette toilet, hand-held shower, and a fan hatch.
It all adds up to a bright, suprisingly spacious and convenient interior. Yes, there are some compromises – no wardrobes, for example – but small vans will always involve a trade-off of some kind.
GORV'S VERDICT
In standard format, I see this van as a well-equipped holiday-park tourer. However, with its 90L of standard water storage and 130W solar panel, it does have some limited free-camping potential. The updgrades on our review van, though, increase its off-grid range.
Overall, I liked the 'small and light' nature of the Optimiser Series 2. Two people who were perhaps interested in downsizing, or for whom a large caravan was either too expensive or would require a tow vehicle upgrade, would do well to check this one out.
THE SCORE
FIT AND FINISH –

LAYOUT –

INNOVATION –

HITS & MISSES