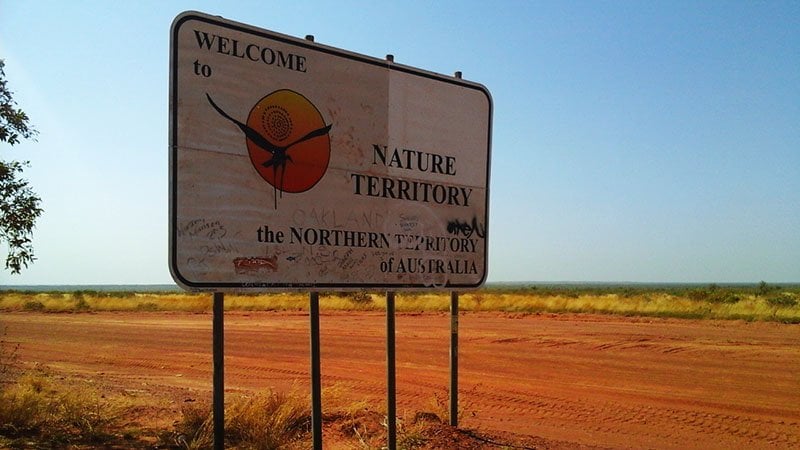 I wanted to go Alice Springs again. I had been there twice before, once from the north and once from the south, both times via the Stuart Highway.
I was in Katherine, NT, and I wondered if I could change things a bit. I got the map out and saw a couple of different options, but one really took my interest. I did a bit of research and a bit of planning; not only was this going to be different, it would also be educational for my Dutch wife and our three daughters.
THE PLAN
We would travel 126km south-west from Katherine to Willeroo on the Victoria Highway. We would then head south-west 570km from Willeroo to Nicholson in Western Australia on the Buntine Highway. This part of the journey would take us through Wave Hill.
The Buntine Highway is a former stock route. Noel Buntine was one of the original road train pioneers of the mid-20th century and the first to transport cattle with double deck trailers. He started with one Mack truck, then bought at least one extra truck every year. By 1981, Noel's fleet had grown to 49 trucks and 150 trailers, which made him the largest cattle-carrying operation in Australia. Noel died at the age of 66 in 1994 and was inducted into the National Road Transport Hall of Fame.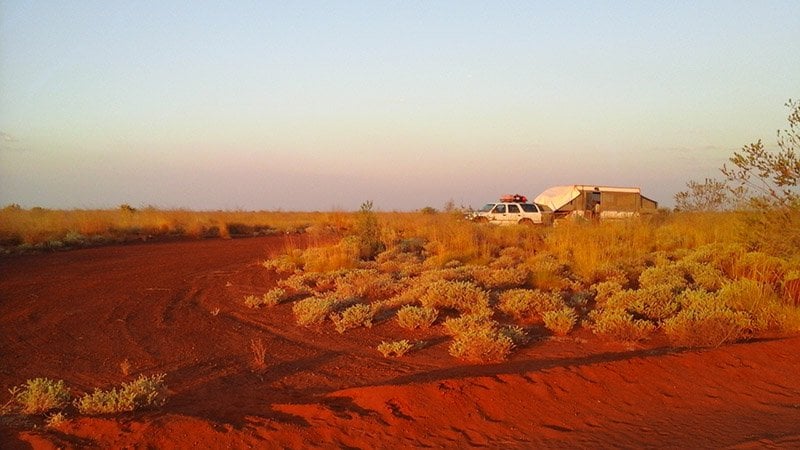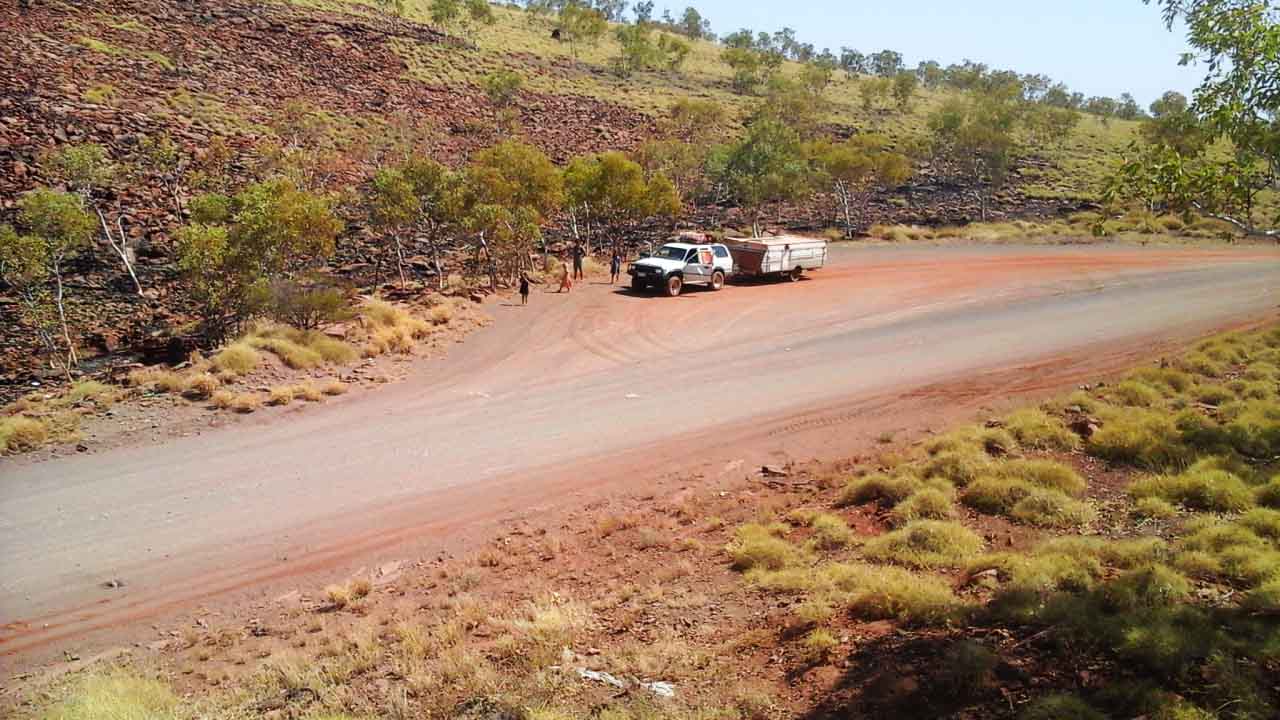 Before leaving Katherine, stock up on water, food, fuel and make sure your first aid kit is well stocked. We made sure we had enough food to last our family of five for three weeks and enough drinking water to last five days which, at 5L per person per day, is 125L. We also carried an extra 100L. Once you leave Katherine, there are only limited supplies at Kalkarindji and Halls Creek. Also, the Katherine Visitor Information Centre is a good place to find out about road and weather conditions.
WAVE HILL
The Buntine Highway took us through the small (but big in history) town of Wave Hill. Wave Hill is known primarily for the August 1966 walk-off by the Aboriginal pastoral workers. The Aboriginals were working for Vesteys (cattle) Station; they were unhappy with their working conditions and treatment. In 1967, the mob moved to Wattie Creek, which was a place of significance to the Gurindji people. In 1972, Prime Minister Gough Whitlam announced that funds would be made available for the purchase of properties that were not on reserves, and Lord Vestey offered to surrender 90 square kilometres to the Gurindji mob. Then, in 1975 at Wave Hill, Whitlam poured a handful of sand into Vincent Lingiari's hand. This symbolic gesture led to the passing of the Northern Territory Aboriginal Land Rights Act in 1976.
While at Kalkarindji, we visited the Art Centre, which has a great exhibit about the Wave Hill walk-off and wonderful works of art by the Gurindji people. The centre is open from 9am to 4pm, Monday to Friday. A permit is not required, but visitors are advised to phone 0427 177 779 prior to visiting, as the centre may be closed for cultural reasons or when artists are attending events elsewhere. Another point of interest in Kalkarindji is Wattie Creek, a great spot to swim.
There is a service station and store at Kalkarindji with very limited supplies, but you can also get drinking water there. Between Katherine and Kalkarindji, we had three one-night camps. There are plenty of spots along the Buntine Highway to pull off the road and set-up camp.
THE DUNCAN ROAD
The next leg of the journey was from Nicholson on the Western Australian border to Halls Creek: 173km south-west on the Duncan Road and also a stock route to aid the cattle industry. Duncan Road was named in honour of Ron Duncan, who worked for Main Roads WA. In 1940, Ron was appointed to the position of assistant engineer of the north-west. He was based in Carnarvon and was responsible for the main roads in the region going all the way from Shark Bay to Wyndham. The department's only engineer, Ron would drive from Carnarvon to Wyndham and back at least twice a year, camping in creek beds or staying with Main Roads workers. He is remembered as a down to earth and great pioneering worker. Ron died in 1960; the following year, the Duncan Road received its name to honour the man who pioneered the roads in the north-west.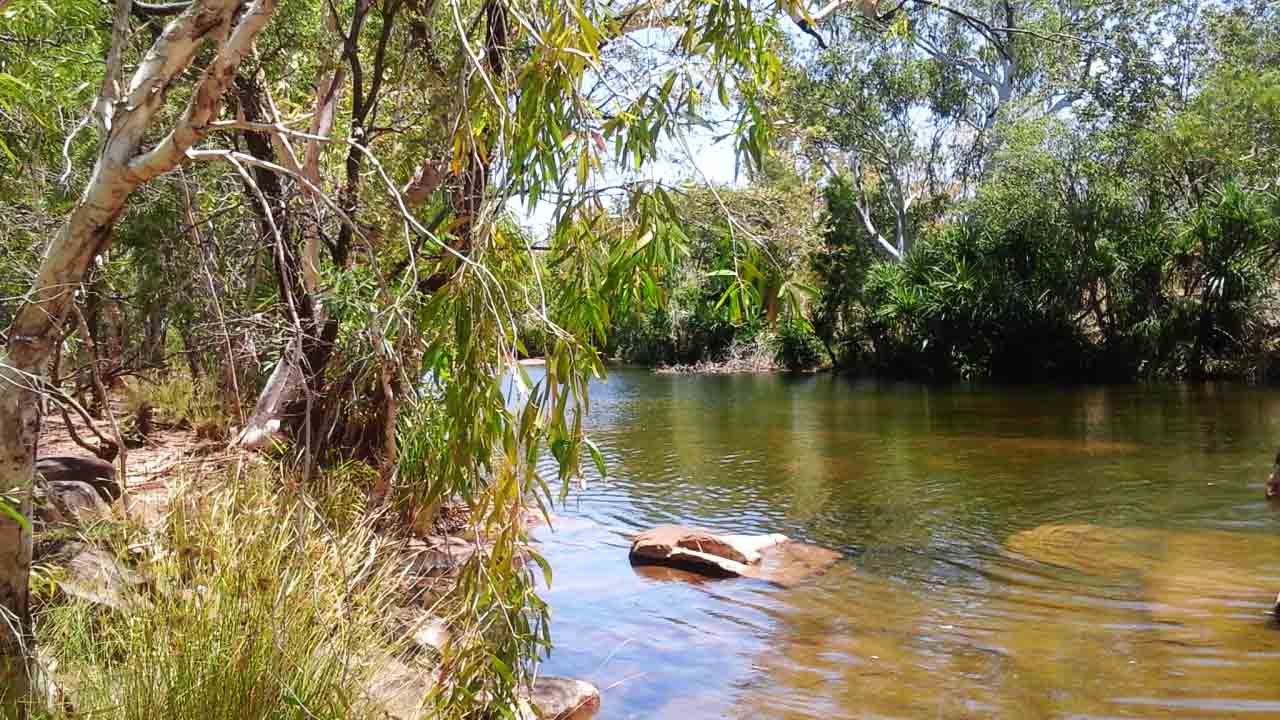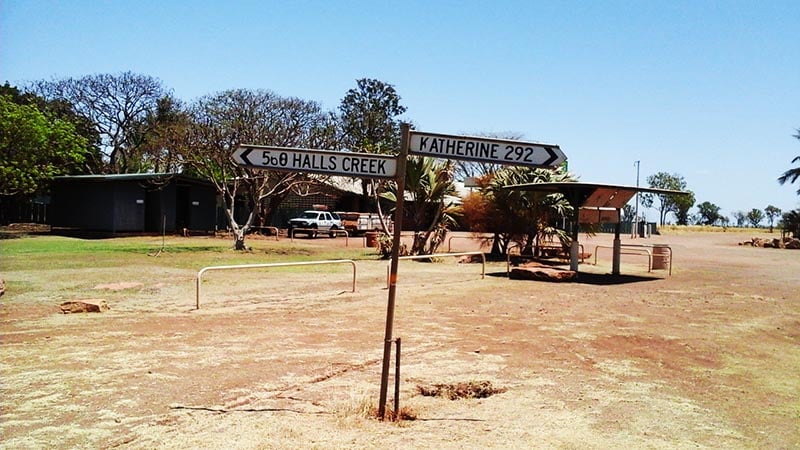 Duncan Road ends at Halls Creek, an old gold rush town. We stopped first to camp at Palm Springs and then Caroline Pool near Old Halls Creek, a great camp spot in an old creek bed with beautiful scenery and wildlife. (The GPS coordinates for Caroline Pool are 18 13 36 S  127 45 35 E). After a couple of relaxing days at camp, we proceeded to Halls Creek, which is in the heart of the Kimberley and is the closest town to Purnululu National Park and to the turn-off to Wolfe Creek National Park, the site of the second largest meteorite crater in the world.
THE TANAMI
The next leg of this trip was the longest: 1035km south-west on the Tanami Track from Koongie Park in Western Australia to the Tilmouth Roadhouse in the Northern Territory. If you plan to tackle the Tanami, stock up in Halls Creek with drinking water and fuel. There is also a basic IGA supermarket if you require any other supplies. The next chance for fuel, water and food is an Aboriginal community called Yuendumu (if you like the band Midnight Oil, you will recognise that name).
The distance between Halls Creek to Yuendumu is about 752km and this is the only fuel, water and food stop on the track, as the Rabbit Flat Roadhouse is no longer open. There are no designated camp spots along the Tanami, but we found some great spots where you could get off the road, set-up camp, light a fire and stare at the endless stars on a clear desert night sky.
The Tanami Track crosses the Tanami Desert and offers some sensational sunsets and sunrises for the early birds. From Yuendumu to Tilmouth is 102km, and from there to Alice Springs is 188km on bitumen, which I must say was very welcome after nearly 1000km of corrugated road.
It was a surreal feeling to see civilisation upon arriving at Alice Springs. It had been three weeks since we left Katherine and we had travelled some 2844km, 2600km of which was on dirt. We experienced extreme temperatures of 45.5 degrees Celsius, saw some truly spectacular country, met lovely people along the way, learned a lot of Australian history and a lot about ourselves as a family.
Would I do it again? In a heartbeat. It was a fantastic trip filled with unforgettable experiences.
TRIP NOTES
The roads in this part of Australia are heavily corrugated and there's a lot of bulldust with which to contend. I towed a Jayco Swan with my Toyota 4Runner without any troubles; however, the roads were dry.
I would recommend that you only attempt this trip with a 4WD as the road conditions can change very quickly. It is also a good idea to carry a good air-compressor so that you can put air back into your tyres after airing down for the unsealed roads.
Carry lots of spare water, food, fuel, a properly stocked first aid kit, and a means of emergency communication, such as a satellite phone.
Be certain that your 4WD and van are in good mechanical condition before attempting a trip such as this.
The Royal Flying Doctor Service provides a 24-hour medical and emergency service for remote areas such as this. For this region, phone  1800 625 800 or (08) 9417 6389 if you're on a satellite phone.