If I was to mention Jurgens Caravans, a particular style would come to mind: a beige, slightly textured exterior finish, a distinctive shape and woodgrain interior. For many years, this look has served the company well.
Now, a whole new Jurgens van has arrived. The Solaris, launched at the Adelaide Caravan Show in February, is an effort by the company to attract a different breed of customer. Truth is, the traditional Jurgens Caravans look is popular with a certain part of the market but it isn't everybody's cup of tea. But the Solaris, with its fibreglass composite walls, CNC-cut glossy interior and ABS panels front and rear, sports an entirely mainstream aesthetic.
But is the beauty of the Solaris only skin deep? We hitched it up for a closer look. And it turned out that appearance is only half the story.
JURGENS CARAVANS SOLARIS – POINTS OF DIFFERENCE
While the traditional Jurgens vans, which remain in full production, are known for being light, the Solaris is somewhat heavier. Though they are not directly comparable, the well-known Lunagazer, which is about 300mm shorter in length, weighs about 1750kg Tare. Our review Solaris (layout C6603), however, weighs in unladen at 2200kg. Its ATM of 2750kg, meanwhile, provides a 550kg payload capacity. That's a lot of food, clothes, wine and water.
It's also wider, 110mm in fact, than other Jurgens vans. Naturally that means more living space.
Finally, the Solaris offers greater ground clearance than other Jurgens caravans. In this case, ground clearance is 355mm.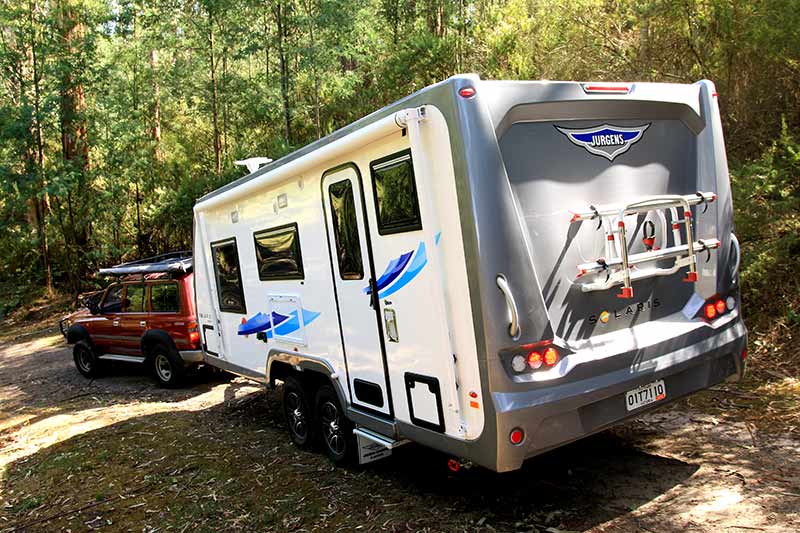 Under tow, the Solaris performed as solidly as expected. The van is fitted with Al-Ko ESC as standard and, in extremely windy conditions, we towed it at about 90km/h on the highway, experiencing no sway or porpoising on the towball. The Solaris was as surefooted as they come.
It is a dirt-road-capable caravan built on Jurgens' own 'Optima' steel chassis with independent trailing arm suspension and 16in wheels. The floor is a 38mm composite panel with a high density foam core, while the roof is a 29mm foam-core composite panel.
Two 80L water tanks are fitted as standard, and if you think you'll need more, a third 80L tank can be optioned in, as can a grey water tank.
The Solaris comes with a decent amount of external storage, too, and I liked that the front boot has a separate compartment for the dual 9kg gas cylinders – this boot setup is fairly typical for all Jurgens caravans I have seen.
A tunnel boot is also included; however, our review Solaris was fitted with a nearside slide-out barbecue, which necessarily takes up some of this space.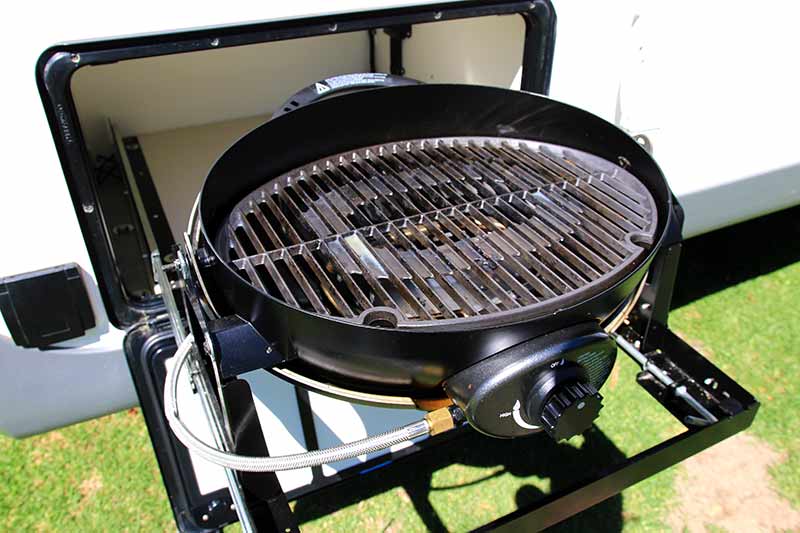 In terms of 12V power, the van gets a 125W solar panel and a 100Ah deep-cycle battery, though a second 125W panel and battery can be fitted as an option. A BMPRO 12V/240V battery management system is fitted as standard, too.
Our van had a rear-mounted bike rack – also an option – and an electric entry step, a 12V powerpoint, a TV mount and a roll-out awning. It all adds up to a reasonably well-equipped exterior with no glaring imperfections.
WORLDS APART
If the Solaris looks nothing like a Jurgens from the outside, wait until you climb aboard. In place of the faux woodgrain is a contemporary, glossy interior worthy of a second look. The overhead cabinets are less obtrusive than those in other caravans, providing a sense of openness. And if the red leather used on the dinette cushions in our review van isn't to your taste, there's an array of colour options available.
The nearside kitchen comes with a four-burner cooktop and griller, sink with flick-mixer tap, an assortment of drawers and cupboards, and a sensible amount of bench space. A Camec microwave is set into the overhead cabinetry at the rear end of the kitchen. If I was to criticise anything about the kitchen, it would be the height of the microwave – setting it at bench height or lower seems safer. I'll point out, though, that Jurgens is not alone in this – many caravan manufacturers mount their microwaves above the shoulder height of the average Joe.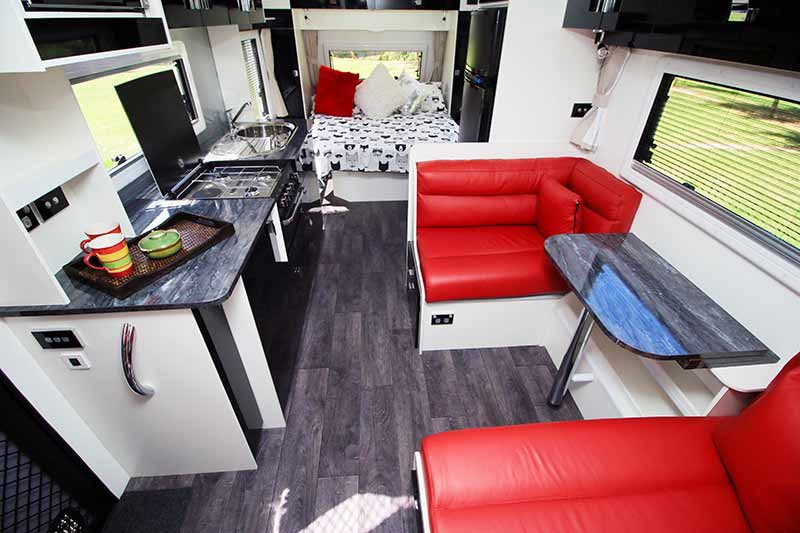 The offside dinette, meanwhile, has a tri-fold table, reading lights, and overhead lockers with downlights set into the cabinetry and LED strip lighting above – it's quite classy.
A three-way 185L Thetford fridge is fitted between the dinette and the bedroom, though the fridge can be upgraded to a 150L 12V compressor unit (in which case, you'd want to get that second solar panel and battery, too, I reckon).
As for the bedroom, there are a few things that stood out to me. First, I liked how the tall cupboards at the foot of the bed were angled in such a way as to optimise the sense of space. The layout 'flows' unimpeded from kitchen to bedroom. Second, I liked that the BMPRO display was located alongside the 240V circuit breakers, a 12V powerpoint and the switches for the 240V/gas Swift hot water service inside in an offside bedroom cupboard – keeping these items together in a cupboard, in one place, certainly declutters a van's walls.
In the usual way, the bed lifts on gas struts to reveal a fair amount of storage space beneath the innerspring mattress.
And what would a long-term touring caravan be without an onboard bathroom? While many of the traditional Jurgens caravans I've seen have rather dark bathrooms, care of a small window (or no window at all), the Solaris' bathroom is bright and cheerful, thanks to a nearside window and glossy cabinets that reflect the light.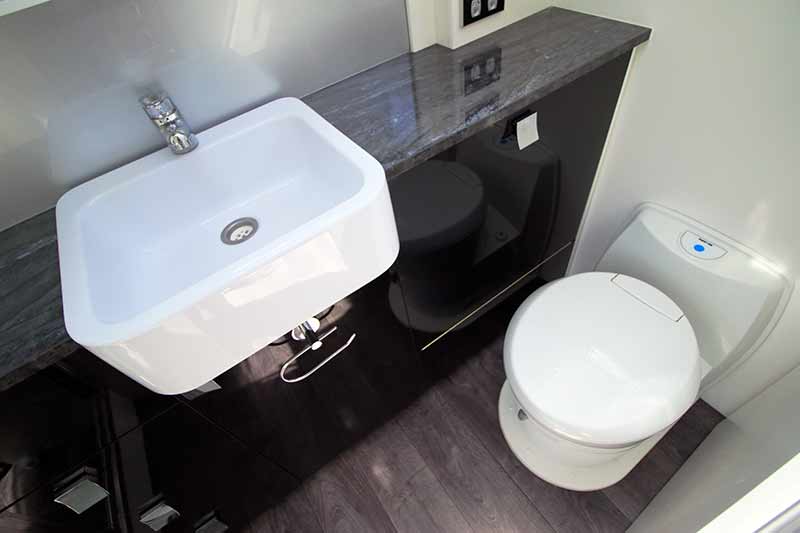 There's a central vanity, a nearside cassette toilet, offside shower, and a wall-mounted front-loader washing machine. Plenty of cabinets, too. I did wonder, however, if it would be worth sacrificing the cabinet alongside the toilet to provide more legroom. Also, my personal preference would be to have the loo on the offside; that way, the business of removing the cassette is a little more… discreet.
Other features include a roof-mounted air-conditioner, a 12V Sirocca fan, a stereo, a flatscreen TV, and more. The Solaris doesn't seem short on equipment for the asking price.
GORV'S VERDICT
There's no denying that, in appearance, the Solaris and the rest of the Jurgens line-up are worlds apart. It has the mainstream appeal that the rest of the Jurgens line-up lacks. Don't get me wrong, the Lunagazer, Sungazer, et al, have their place, but with the development of the Solaris, Jurgens can now cast a wider net as it competes for a larger slice of the market.
I felt that the Solaris ticked a lot of boxes, and for its size the van is still not inordinately heavy. And so far, the outlook for the Solaris is sunny: on its launch at the Adelaide Caravan Show, Jurgens Caravans sold five. A solid start.
THE SCORE
FIT AND FINISH –

LAYOUT –

INNOVATION –

HITS & MISSES