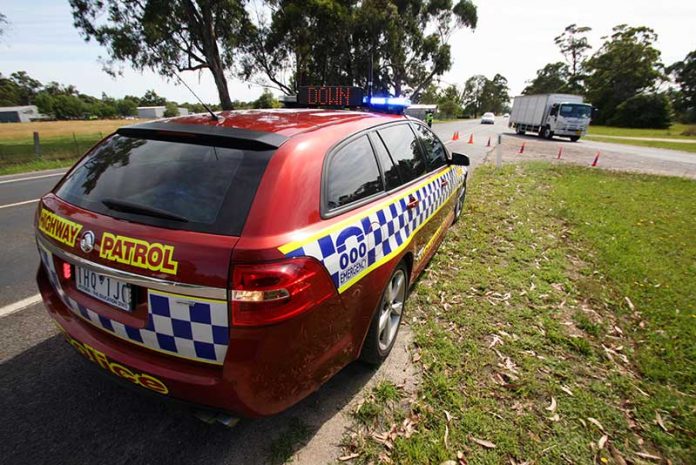 Every now and again, social media catches fire with news of a police blitz on caravan safety and towing compliance. Invariably, it goes that on a certain highway, police are pulling over caravanners, weighing the rigs, and issuing fines.
Caravan too heavy for the tow vehicle? Not using tow mirrors? Police around Australia have become more proactive when it comes to enforcing the laws that govern safe and legal towing. And their enforcement powers are very real.
But what actually occurs during a roadside caravan check? And what are the penalties that apply to caravanners who have hitched their wagon to an unsuitable tow vehicle, or who have otherwise broken the rules?
POWER TO STOP
Police have various powers under the national Road Safety Act. The act confers police with the power to stop and inspect any vehicle on the road. They also have powers to ensure motorists follow direction.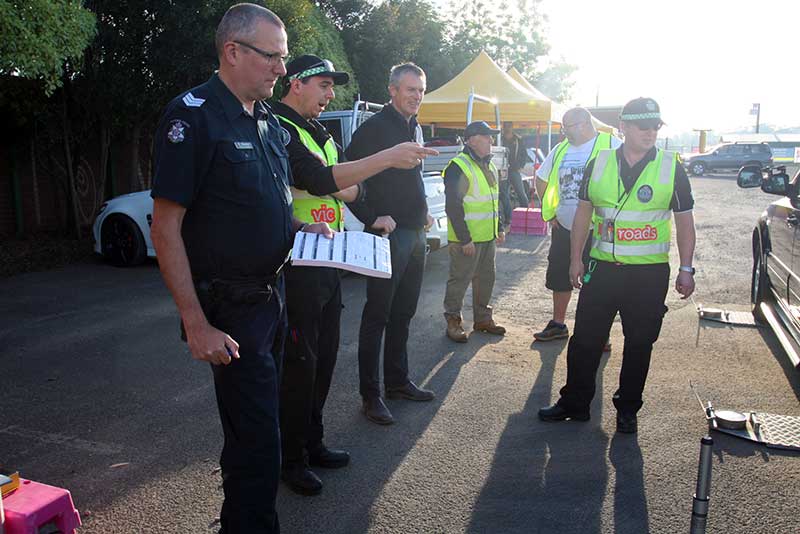 "For instance, if a police officer inspected a vehicle or caravan and found it to be unsafe or unroadworthy, they could direct the owner not to use that vehicle until certain things had been done to it," Sergeant Graeme Shenton of Victoria Police said.
Sergeant Shenton has been a driving force behind various caravan safety inspections and educational campaigns in in Victoria, having conducted operations in Newmerella, eastern Victoria, and even joined forces with the Facebook group Everything Caravan and Camping and other organisations to conduct free caravan checks at Melbourne Leisurefest last year. And while he speaks from a Victorian perspective, each state has its own 'road rules' which are taken from the Road Safety Act. Police powers to stop, inspect and direct are therefore almost identical from one state to the other, Sergeant Shenton told GoRV.
FINES
It's clear that any caravanner can be pulled to the side of the road by a police officer for the purposes of a compliance inspection. In Victoria, however, the focus remains on education, not enforcement, but Sergeant Shenton warns that may change.
"The conversation that we've started in the media among caravanners has hopefully encouraged them to check their vehicle and van," he said. "We want them to do this not because they might get 'pinged' but because it's the right thing to do – let's look at prevention rather than booking people."
But if doing the right thing by your loved ones and other motorists isn't enough motivation to load your van according to your vehicle's limits, perhaps a fine will be.
In Victoria – and the applicable fine structure is very similar across the country – police are empowered to issue fines as follows:
Less than five per cent over ATM/GVM: $238;
Between five per cent but less than 10 per cent over ATM/GVM: $317;
Between 10 per cent but less than 15 per cent over ATM/GVM: 634; and
Between 15 per cent but less than 20 per cent over ATM/GVM: $1580.
WHAT TO EXPECT
At any roadside caravan check, you can expect to have your entire rig weighed. The tow vehicle will be weighed using portable scales to ensure it hasn't been loaded beyond its GVM, the caravan will be weighed to ensure it's within its ATM, and a motorhome will be weighed to check it's within the permitted GVM.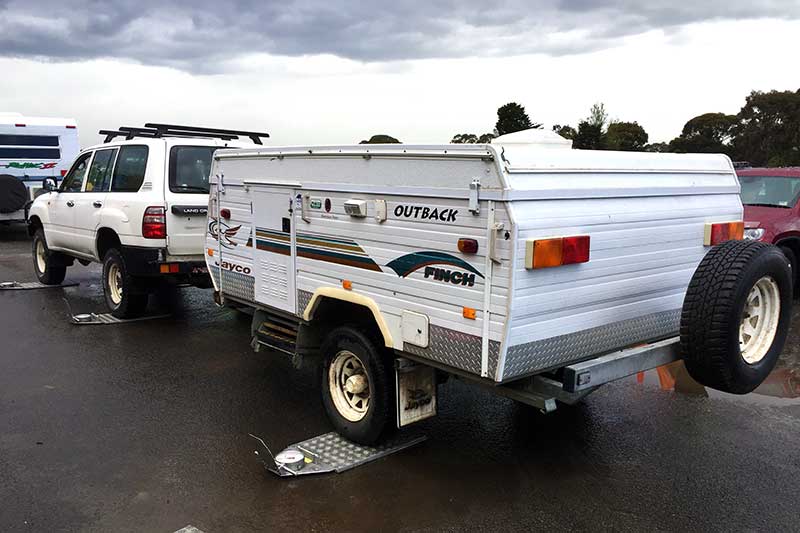 The actual loaded weights will be then checked again the compliance plates of the van and vehicle. In some instances, police will refer to a comprehensive guide to vehicles' towing capacities published each year by the Australian RV industry.
Police will also check that all taillights and electrical connections through the trailer plug work, that the tyres are roadworthy, that any additional loads are properly secured, and that the van and anything attached to it doesn't exceed any dimensional limits. Even D-shackles are checked for adequacy.
The driver will be breathalyzed and have their licence checked, and the van and tow vehicle's registrations will be checked, too.
What happens if a police officer finds a van to be overweight? Is the driver left to wait on the side of the Hume Highway for a tow truck to collect the caravan?
"With the vast majority of overweight vans we've looked at during our inspections, we've been able to make some changes that have made them legal again, such as dumping the fresh or grey water in the tank," Sergeant Shenton said. "Or after weighing the tow car, we might have discovered some extra load capacity, so we've been able to move some of the van's load into the car.
"We do have a duty of care to other road users and to the person we're speaking to, but police have some discretion. If, for example, the tow vehicle was loaded with a mum, dad and three kids, and there wasn't anything that could be done to make the setup legal again, it would probably not be wise to leave them stranded on the side of a busy road. In that case, we would look at whether the van was over-engineered, whether the ATM was set lower than the group axle capacity and suspension rating, for example.
"The police can then direct the caravanner to head to the nearest town or caravan park where they can make the necessary adjustments."
Police also have discretion in terms of whether to issue a fine for an overweight caravan. If, for example, a caravan is over-engineered and the loading infraction is relatively minor, a cooperative attitude will improve the driver's chances of escaping a ticket.
IGNORANCE IS NO DEFENCE
As far as the police are concerned, the person behind the wheel is responsible for any and all transgressions associated with the towing setup.
Unlike a heavy commercial vehicle, such as a transport truck, in which there is a chain of responsibility from the driver to the person who loaded the vehicle to the owner of the vehicle, compliance responsibility for a light vehicle always rests with the driver.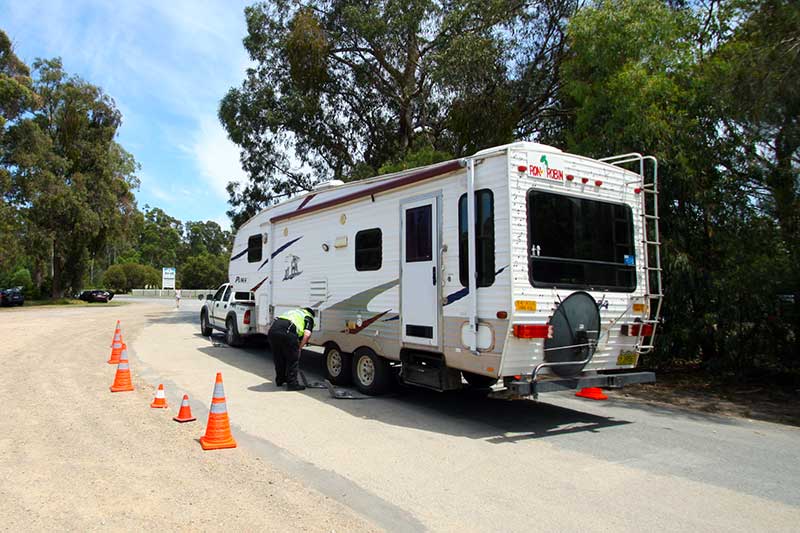 Did a mate lend you the van and vehicle for your family holiday, assuring you that all was fine? Doesn't matter. The driver cops the fine. Take it up with your mate. If the vehicle and/or van are unregistered, the driver is also liable for any and all fines, regardless of who owns them.
TOW MIRRORS
Are tow mirrors mandatory? This is not a yes or no question. If your factory-fitted side mirrors provide a clear view along both sides and to the rear of your trailer, fine. However, with most caravan and tow vehicle combinations, this is unlikely.
"Some people might say that you can't see the traffic behind you with tow mirrors but you can if the people behind you are travelling legally – at least two seconds behind," Sergeant Shenton said. "It's not your responsibility to see someone travelling illegally behind you."
But how can a police officer determine the adequacy of a driver's rear vision in the side mirrors? Easy: a tape measure.
"If tow mirrors aren't fitted, then during an inspection we will open your two front windows and measure to the outside of both side mirrors, and then we measure at the widest point of the trailer, and as long as the measurement at the mirrors is greater than the widest point of the trailer, you're compliant – it's as simple as that," Sergeant Shenton said.
And no, a camera mounted to the rear of a caravan is not a substitute for tow mirrors.
CARAVAN SAFETY
Attitudes towards safe, compliant towing are changing, Sergeant Shenton says. The online conversation among RVers is overwhelmingly now in favour of how to do the right thing, with anyone advocating a less-than-legal approach quickly shouted down by enthusiasts who want to enhance the reputation of the RV lifestyle.
Yes, the days of hitching up a grossly overweight van to an obviously under-rated vehicle, 1970s-style, are well and truly in the past, where they belong. Caravan safety and towing compliance inspections, however, are here to stay and on the rise, whether the police objective is enforcement, education or both. It is as important as ever that vanners take it seriously and make no assumptions as to the towing capacity of their vehicle.
If yours is an unsafe towing combination, a fine could be the least of your worries.
Images: Marty Ledwich, RVeethereyet.com