Steak and pepper, lamb, pork, kangaroo, emu or humble, the pie is unassuming, warming, and comforting. It's Australia wrapped in pastry.
For breakfast, lunch and dinner, Aussies love pies at the footy, down by the beach, at work, in the shade on a summer day and, of course, we love stopping for a good pie when we're out with the caravan or camper.
While getting a good pie is relatively easy when you're at home, the trouble is finding a good pie when you're out and about. To get some tips, I took a quick trip to Fernvale.
PIE HEAVEN
For those who don't know, Fernvale is in the Brisbane Valley not far from the Queensland capital, surrounded by lakes, open skies and photogenic wilderness.
Beyond its natural beauty, Fernvale, like many country towns, has a bakery. For me, there is no clear line between religion and baking and the Old Fernvale Bakery is heaven sent. The two bakers, Brad Gordon and Matthew Brown, have bagged more awards, trophies and prizes for their culinary delights than there are sesame seeds on a burger bun. They are creative souls with a palpable love of the art and craft of baking. Here are their tips for finding a quality pie when you're on the road.
Making around 160 different flavoured pies and numerous gluten-free pies, the Aussie pie is certainly at the heart and soul of life in this bakery.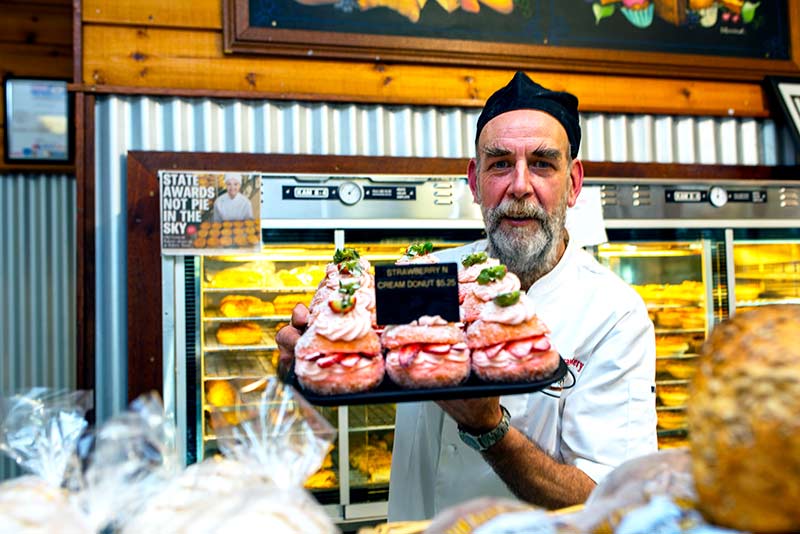 With 40 years of experience, Matt Brown has a flour slurry rather than blood running through his veins and isn't frightened to share a tip or two to passing caravanning nomads.
When it comes to pies, Matt says "to start with you have to have quality meat and after the meat is seasoned and cooked properly, you have to have good pastry". That's where Brad Gordon steps in. Brad was the best pastry exhibitor at the 2018 Queensland Baking Show.
Brad said the taste of travellers was changing, with many travellers now also looking for a gourmet pie experience. That means "whatever meal you ever want to eat should be in a pie".
PIES FOR ALL SEASONS
Pastry-wise, Matt said traditionally you should find flaky pastry on the top of your pie, with the bottom of the pie being a little firmer but not too soft or too chewy. Brad said a pie side that's too chewy was a "bit like biting into a brick".
"On the other hand," Matt interrupted, "if the sides are too soft and it spills all over your lap, that's not cool."
He said a good pie would be the entire package of quality flour, margarine and ingredients.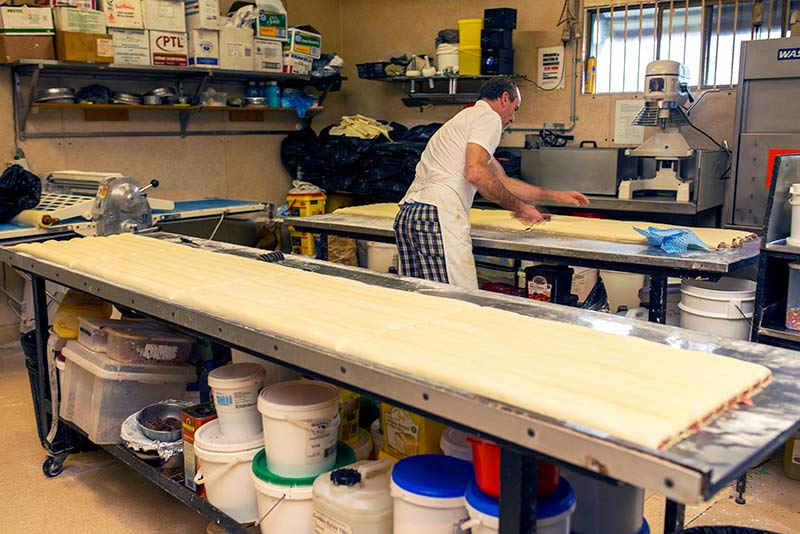 Fernvale Bakery owner Bill Rose believes that few people understand the importance of the quality of the flour. He said a good baker understood that the quality of the flour changed depending on the region from which its wheat was grown, as well as changed in flavour and quality according to the seasons. He said the protein content of flour would change in different seasons and that would have an impact on the flour they chose to make their pies in order to maintain a high-quality product.
Matt said flour from Queensland varied from flours produced in Western Australia, where those flours tended to have higher protein content and would readily absorb more water than a flour from the eastern states.
All of those considerations determine the quality of the pie crust, and Matt said chewy pastry left a nasty aftertaste that should always be avoided. For Brad, it's a delicate balance. He agreed a pie crust should be soft and nice to eat while still holding the pie ingredients properly.
ADVENTURE PIE
Flavour-wise, both bakers said pie connoisseurs were becoming much more adventurous.
"You used to get just plain cheese and bacon and now you're getting flavours like pork belly and honey-soy chicken," Brad said.
While many travellers kept an eye out for any bakery boasting pies baked in a wood-fired oven, Matt said that unless you really cared for a smoky, ash-laden flavour, don't worry too much about the sort of oven your pie was baked in.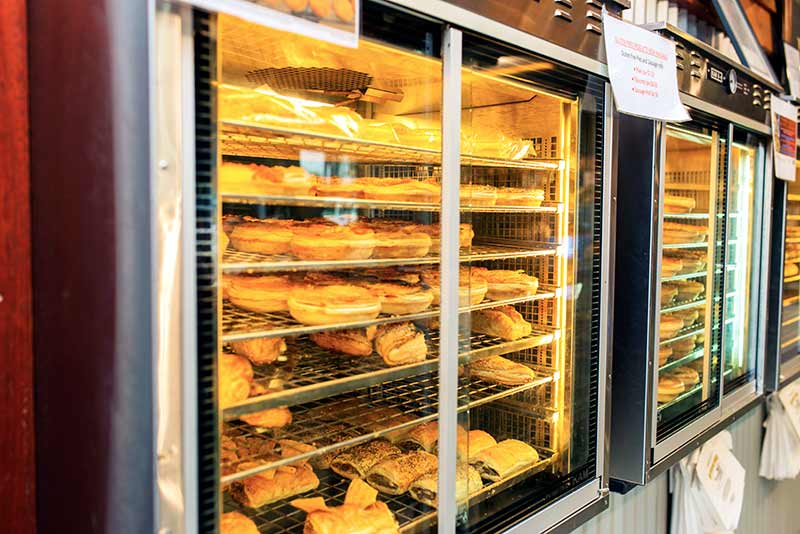 "I've baked pies in every sort of oven, from diesel, to rack ovens, electric and gas-turbo ovens and as long as the preparation is done properly to prepare the heat for your pies, you can pretty much bake them in anything," he said.
PIE FOR NOW
Life on the open road means that sooner or later you're going to break camp and move on. That's a problem if you've found a great bakery. It means taking a supply of pies with you.
Both bakers insisted that you shouldn't destroy their hard work by heating your favourite pie in a microwave. They said the results were never worthy of the pie. Matt put it simply and passionately: "Don't kill our pies by putting them in the microwave."
Brad agreed. He said the only way was to heat the pie in a conventional oven at 180°C for 20 minutes.
Fernvale Bakery owner, Bill Rose, said there were also health considerations when saving a pie for later consumption. His advice: never buy a hot pie and then allow it to cool, store it in the fridge and then re-heat it. Apparently that's a good recipe for food poisoning.
To avoid growing bacteria, buy a cold pie that the baker has already cooled once, and finish baking the pie in one final heating of 20 minutes. Bill said a well-made pie would keep for two or three days before needing to be heated for the final time and consumed, but should only be cooked at the bakery, cooled and re-heated once.
"Pies are meant to be kept below 5° and then heated above 60° but should only go through that process once," he said.
FIRST GLIMPSE AND FINAL SATISFACTION
When it comes to finding that gourmet pie experience, Brad reckoned the first trick was to see if there were a lot of cars parked outside. He also recommended talking to the locals to get the lowdown on the quality of the pies.
For these bakers, providing an array of pie flavours is there ultimate goal because their greatest pie satisfaction comes from watching the smiles on the faces of their customers. And those smiles among the customers, perhaps, are the best hint that you're in the right bakery and have every good chance of buying a good pie.