Winter is around the corner so I've packed my bags and hit the road northwards towards Queensland. I'd planned a very relaxed itinerary, with a daily target of 300km or less. It was relaxing but a bit boring, so I increased the last two days kilometres and arrived at the Kilkivan bush camp a day early.
The weather all the way from home was mostly sunny although a bit cool first thing in the morning. I mention that because Yemmy's cabin heater control was stuck on cold!
I changed my plans a bit as I wanted to use my 240V heater in the evenings and early mornings so the first stop was at a lovely waterside caravan park at Barham, just over the New South Wales border.
The next night, I planned to stay at the Narrandera showgrounds but when I spotted a sign that said '65km to Ardlethan' I changed my mind and headed for one of my favourite stops.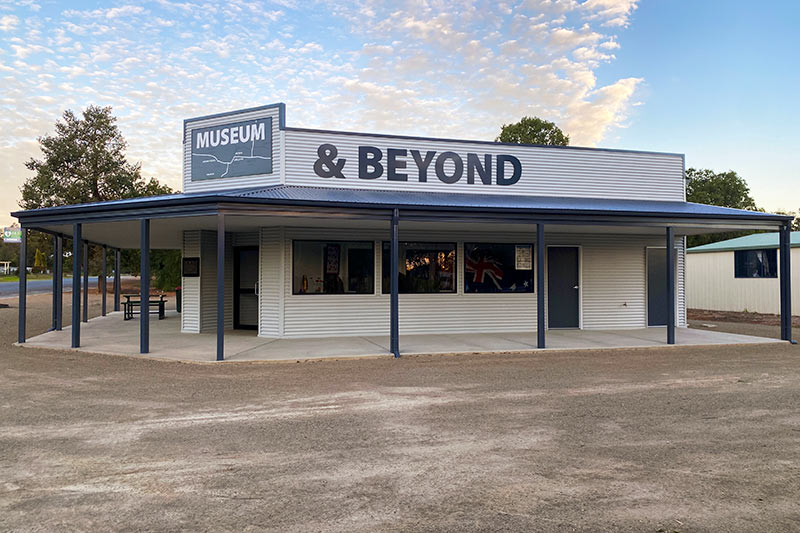 The free camp at Ardlethan has four powered sites where for $2 you get 12 hours of power and another $2 takes it up to 24 hours. There are toilets, a free barbecue and a lovely park that you cross to get to the local shops. 
It's walking distance to the bowling club where I ate most of a huge chicken parmigiana  Ardlethan is the 'birthplace' of the kelpie dog and there a little statue of a dog in the park.
ANZAC DAY
I usually play my trombone at Anzac Day services but my travel plans ruled that out this year. I arrived at the Peak Hill Caravan Park just as they re-opened the office after they had attended the Anzac service and it was great to catch up with former owners Leighton and Pauline, who happened to be visiting the new owners – their daughter and son-in-law.
The first time Vi and I visited the park, they had installed heating under the shower bases and Leighton had made the shower doors into bi-folds to make more room at the washbasins.
I was writing for another magazine back then and Leighton pinned my article about the park on the noticeboard in the laundry.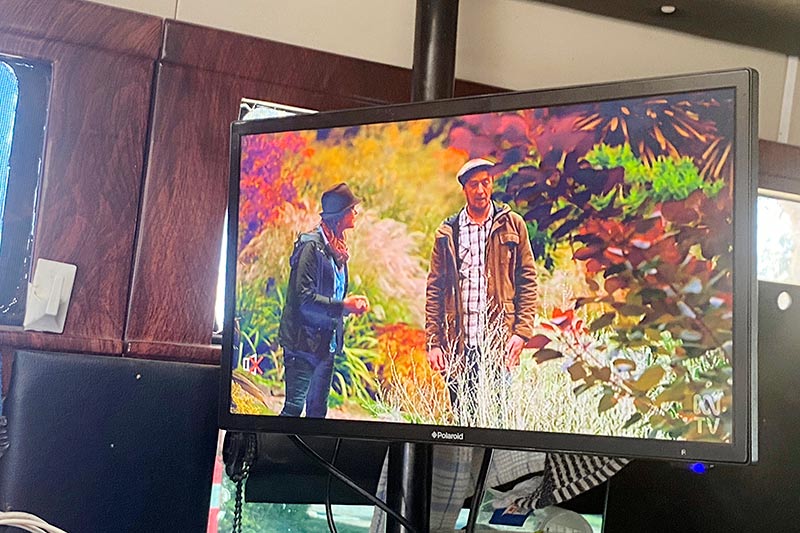 Leighton has helped me with little modifications to Yemmy over the years, but I had told them there was nothing that need fixing this time. Wrong! The park has cables for TV to each site and I complained that my ABC channel was pixillated. Leighton came and we checked various things until we discovered the fault was in one of Yemmy's cables.
A replacement cable lurking in one of cupboards fixed it, but the cable goes along out of sight, behind the sink. Down there was another cable that connects the laptop to the telly. I thought I'd left it at home last year but it had been hiding there all the time.
MORE CHANGES
The annual show was on at Narrandera so the showgrounds camping was closed. It was warmer now so I stayed off power in a rest area about 16km from there.
Next day, it was over the river and into Queensland at Goondiwindi. I'd intended stopping but I did some shopping and kept going. Rest areas along this road were not too attractive so I found a little spot off the main road and it was a very peaceful spot with hardly any traffic.
That meant I was here at the Kilkivan bush camp a day early. We are having a gathering of Apex 40 members here on our way to the major event at Bargara next week.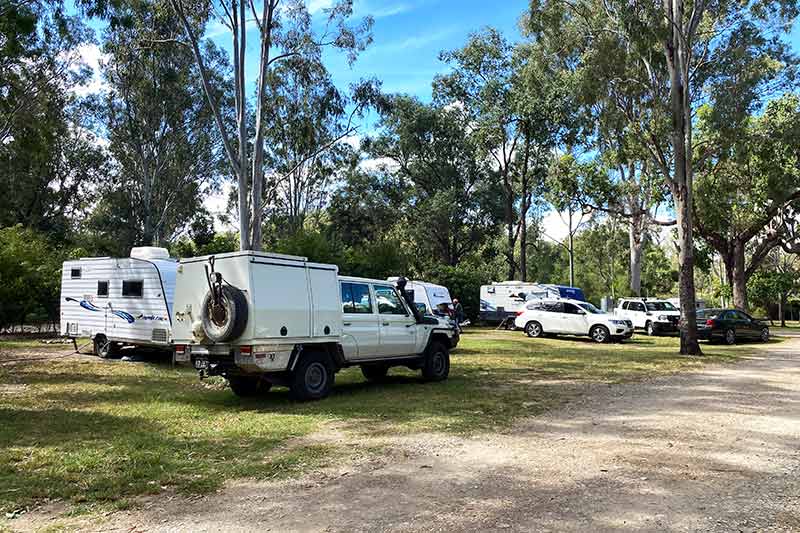 There's no telly, phone or internet reception here but it's a delightful spot and I'm sure we will have a ball. There is a bit of internet at the top of the hill and it gets my steps up!
The rest of the 40 Apex 40 campers arrived today and it was great to catch up again, although I had forgotten most of their names!