If you're a worry-wart like me when it comes to travelling in areas known for scorching temperatures and croc-filled water, such as the East Kimberley, you might resort to sticking to public pools, or cooling off under your shower, rather than messing with nature.
During our months exploring the east Kimberley region of Western Australia earlier this year, it was quite dry thanks to a few fairly uneventful wet seasons. But despite the lack of rainfall, we managed to find a handful of magical and seemingly untouched areas to take a safe dip.
For a lot of travellers, Kununurra doesn't get half the credit it should. Many use it as a 'restocking' destination. A place to simply fuel-up – for both vehicles and people – before moving on, and we were the same. But we now see it as much more.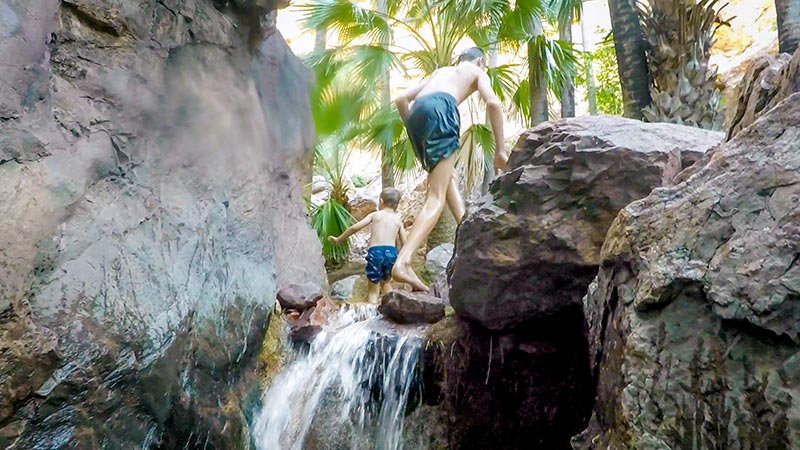 Once we realised there were so many incredible places to swim and explore within 100km of Kununurra, we decided to base ourselves there and explore the area. Even if getting off the beaten track isn't really your style, you too can enjoy a lot of our favourite places to escape the heat. Most require minimal driving on unsealed roads and provide waterfalls that will leave you in awe of how such a tropical paradise can be found among the otherwise barren, outback landscapes of the region.  
SECRET POOLS
Arguably our favourite spot in the region, and located 30-odd kilometres from the heart of Kununurra in a conservation park, these 'secret pools' are also known as Spring Creek.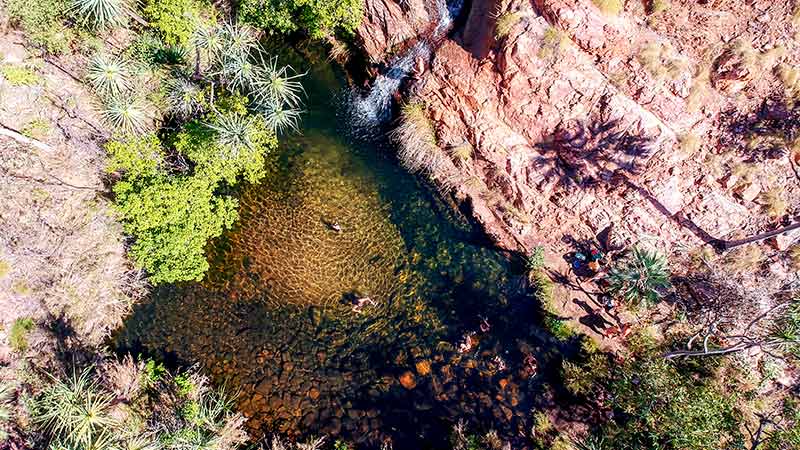 With a little 4WDing required for clearance, and a few rocky water crossings on the way in, these tiered waterfalls will have you feeling like you've stumbled into a different world.  
If you're fit, you can clamber up the first waterfall to find more falls, along with a handful of more pools to play around in.
Spring Creek is of Parry Creek Road. No camping or overnight parking is allowed. Look for the sign for the Ngamoowalem Conservation area on the left, about 10km past the turn-off to Buttons Crossing.
SWIM BEACH
Swim Beach is right before the Ord River Bridge on Victoria Highway, Kununurra. It's a public picnic ground that's part of the local dam system, and remains one of the more popular and accessible swimming areas.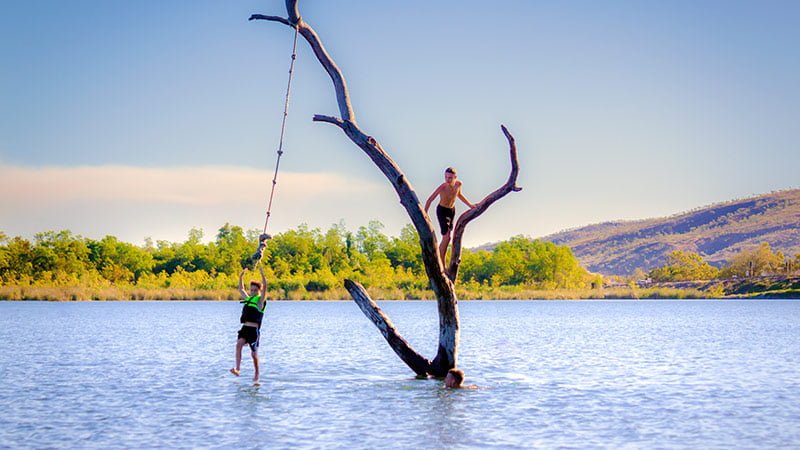 With a rope swing on a tree a few metres out into the water and under your feet in the shallows feeling nice and sandy, it's an ideal spot to stay cool.
The locals assured us we were safe swimming amongst the freshwater crocodiles in there. We were warned, however, to not cross the dam wall to the other side as that's where the saltwater crocs live.
LAKE ARGYLE
Around an hour drive from Kununurra is Lake Argyle, where you'll find Western Australia's largest man-made freshwater lake.  At capacity it covers over 700 square kilometres, and really needs to be seen to grasp its size.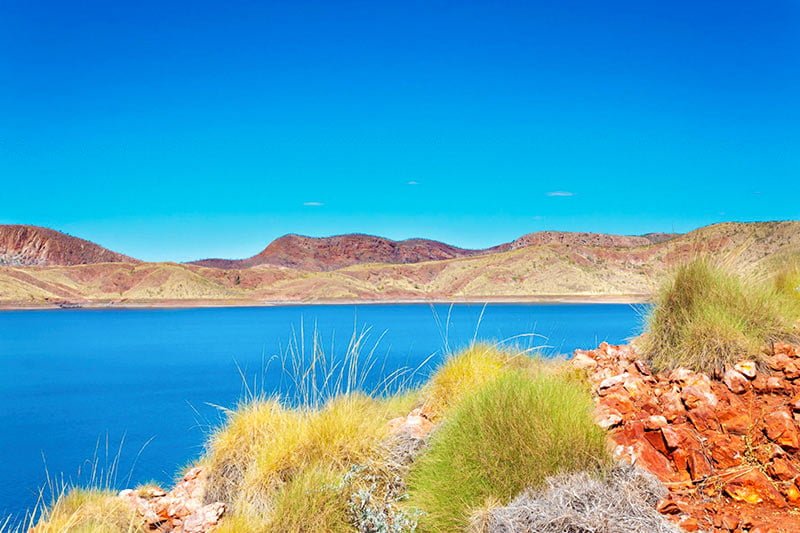 This lake is home to over 30,000 freshwater crocodiles, and again locals swear it is safe to swim – and there is even a yearly swimming competition held here.
If the thought of freshwater crocodiles makes you nervous, we'd recommend going on one of the many cruise tours available, as your hosts will share the best swimming spots on the lake – and you'll potentially feel safer if you're with a large group in the water. Safety in numbers, right?
EMMA GORGE
Emma Gorge is within the El Questro Wilderness Park of the East Kimberley, which is on the eastern side of the Gibb River Road, so there is a small amount of driving on unsealed roads required to get there.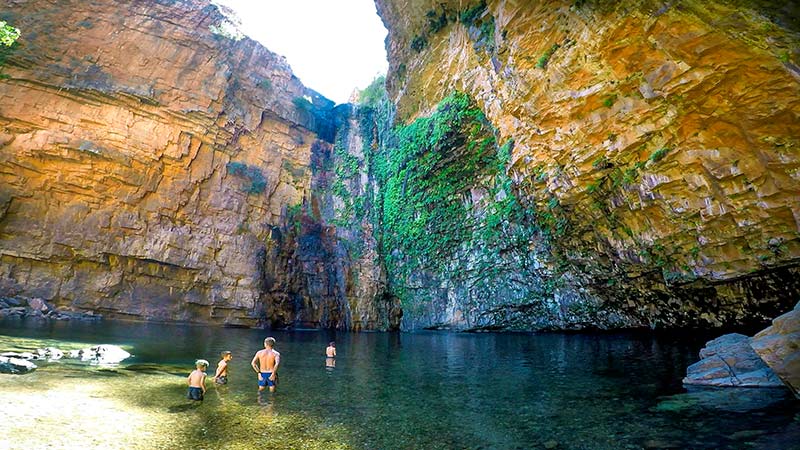 It is one of the more accessible gorges to swim in within the park, with an easier walking trail to its falls following a rocky creek. A little past halfway in is a clear pool that is a great spot to stop for a swim. At the very top of the gorge, you'll be mesmerised by the water droplets falling from the 65m waterfall above in the corner of the horseshoe-shaped gorge.
Now, the water here is cold! Like, really, really cold, but there are also small hidden hot springs that are well worth searching for.  
MACMICKING POOL
This is another magnificent waterfall within the El Questro Wilderness Park, and the reward for the full hike within El Questro Gorge.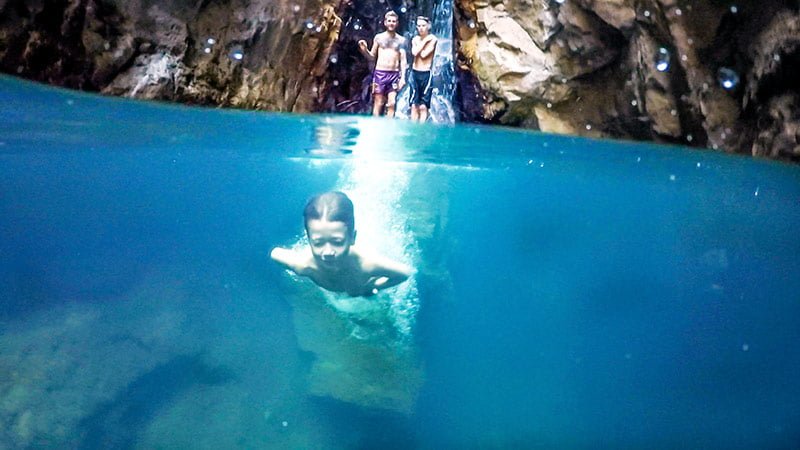 You can either trek in and stop at the halfway mark, have a swim in the crystal-clear water and turn back, or climb past the boulder and continue on. The trail gets tougher and rockier during the second half, but man oh man, the view at the top is so worth it!  
EAST KIMBERLEY'S ZEBEDEE SPRINGS
This enchanting spot is also located in the El Questro Wilderness Park. Its clear thermal waters and tropical surroundings make it the perfect place to spend the morning. The water temp is a blissful 28-32 degrees year round.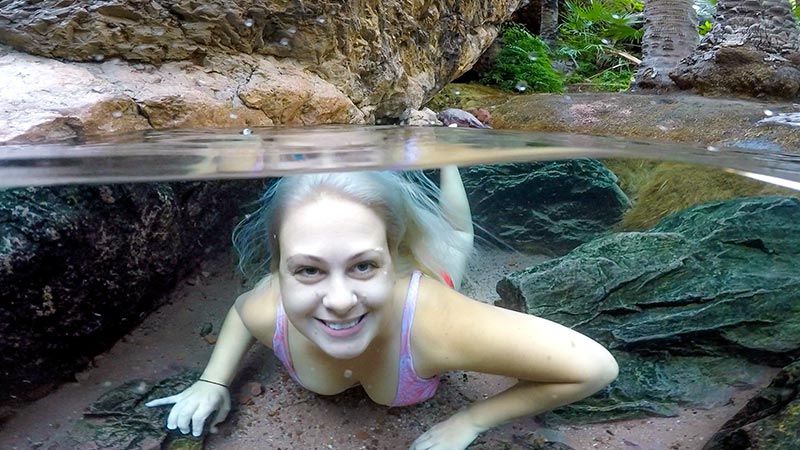 While not typically somewhere you'd expect to go during the heat, these thermal pools are enclosed and shaded by rainforest, so they don't actually feel as hot as everywhere else – plus, they're only open between the cooler hours of 7am to 12pm each day. 
SUMMING UP
Of course we have by no means explored every corner of the East Kimberley – we skipped the Gibb River Road, for one – which means all of the magnificent gorges and waterholes that are reserved for the Gibb adventurers are omitted from our list.  
But this is predominately a 'fail-safe' guide to places to swim in the East Kimberley that retain their waters year-round, regardless of the intensity of the wet season.
We are positive that when we get back to the East Kimberley region (hopefully after this next Wet) we're bound to have new favourite locations to add to this guide.
Safe travels and happy exploring!
FOLLOW KOOL KAMPERS
Website: www.koolkampers.net
Facebook: www.facebook.com/koolkampers
Instagram: www.instagram.com/koolkampers_travelling_aust