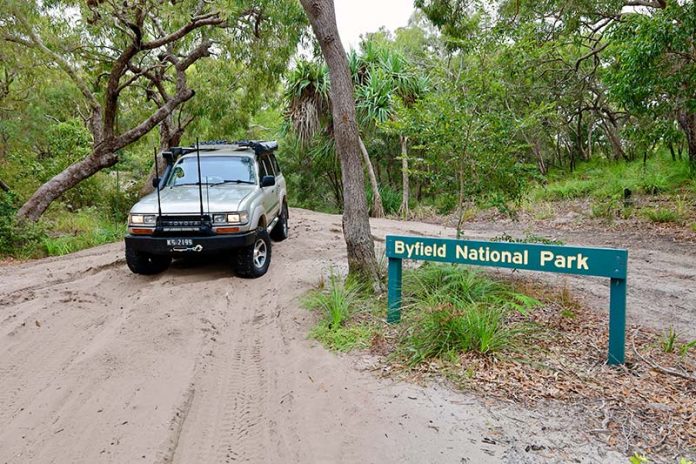 Byfield is on the Capricorn Coast, about an hour's drive north of Rockhampton, Qld. It's claimed to be the start of the largest undeveloped area on the central Queensland coast, and with its massive amount of plantation pine forests, rugged mountains and many acres of low growing heathlands covering countless sand dunes, it's not hard to see why.
ACCESS TO BYFIELD
Getting to Byfield is as easy as heading north along Byfield Road from Yeppoon, through lush Queensland farmlands where mango, pandanus and pineapple plantations flourish in the rich volcanic soil, where rugged pinnacles and the coastal range shadow the gullies below. Mount Ganter, Maryvale, Bayfield, Castle Rock and Rocky Perch are significant landmarks that you can't miss as you head further into Byfield.
Before heading into the Byfield National Park and State Forest, it is recommended that you drop into the Byfield store for last-minute supplies, a coffee or some local knowledge about current warnings, as the people here generally have their finger on the pulse.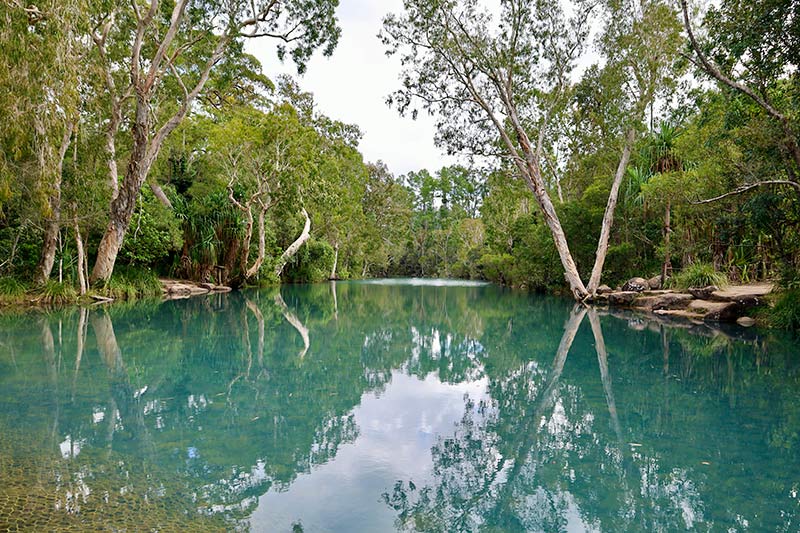 Byfield State Forest covers an estimated 25,000 hectares with a diverse range of pine plantation, which is logged commercially. It has large areas of wallum swamplands along with side pockets of stunning rainforest areas. Sections of the forest are regularly shut for harvesting but they are sign-posted as 'no entry'.
The great thing about this area are the activities at the various campsites. Upper Stoney, on the banks of Stoney Creek, offers swimming – a welcome relief when the days are hot and steamy. Across at Red Rock, the camping areas are huge, with large, grassy sites, plenty of tall trees for shade, and dogs are allowed if kept on their leads. Water Park Creek is another great camping spot where you can swim, explore surrounding areas on the walking trails and even have a quiet fish. With abundant water beside the camp, kingfishers, doves and other birds often call this haven home.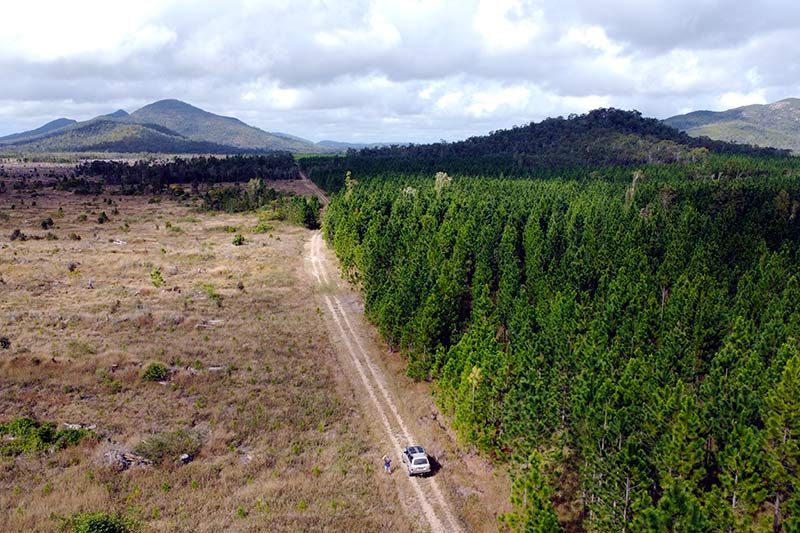 Byfield also has two farm stays: the Ferns Hideaway, and Forest Fields campground. I stayed at Forest Fields during my most recent visit. There's up to 20 free-range sites among an old citrus orchard. Fires and dogs are allowed, and there are bush showers and proper flushing toilets. It's a peaceful place, where wompoo pigeons nest, there's possums at night, not to mention other tropical animals in the dense rich rainforest surrounding the farm.
Byfield State Forest is used for other recreational activities, including bushwalking, offroading, fishing and mountain bike-riding.
EXPLORING THE NATIONAL PARK
Byfield National Park is to the east and offers next-level exploring, but you need to be self-sufficient and 4WD-savvy. Listen to the local warnings on the radio and from the Byfield shop, and be aware that this area really isn't camper trailer or caravan-friendly.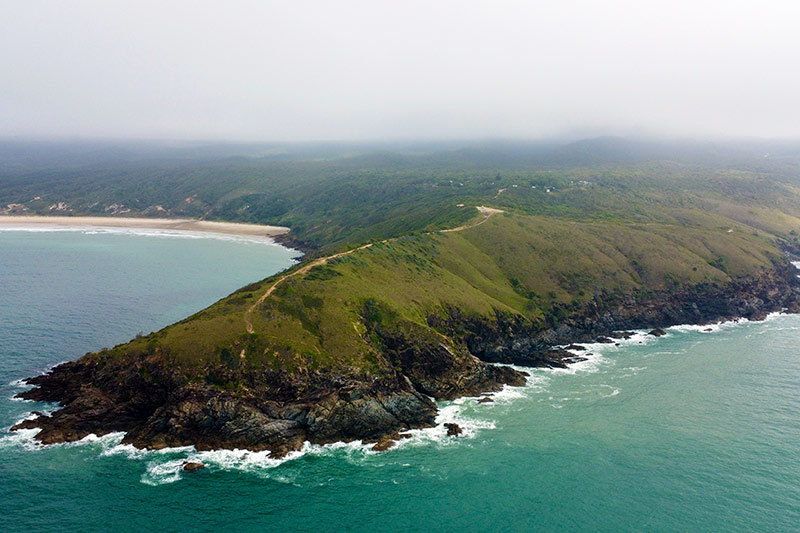 As you head out from Byfield along Waterpark Road, then onto Stockyard Point Track towards the coast, there are beautiful pockets of ancient cycads and the colourful Byfield red grevillea all under tall gums. The road in is often compared to tracks like those of Cape York: narrow and rough, with several deep creek crossings before you hit the sand tracks.
In some designated areas, it is recommended that you lower your tyre pressures because the sand is extremely soft, and with around 60km of trails within the northern end of the park, this reduces damage to the trails, gives you better traction and allows for better control of your vehicle.
It's an amazing journey. As you hit the sand tracks, you'll notice that the sand is stark white, to the point that you need to wear sunnies, and often there are dingo prints on the road. When you crest some of the higher hills, the views across the vast vegetation are simply stunning.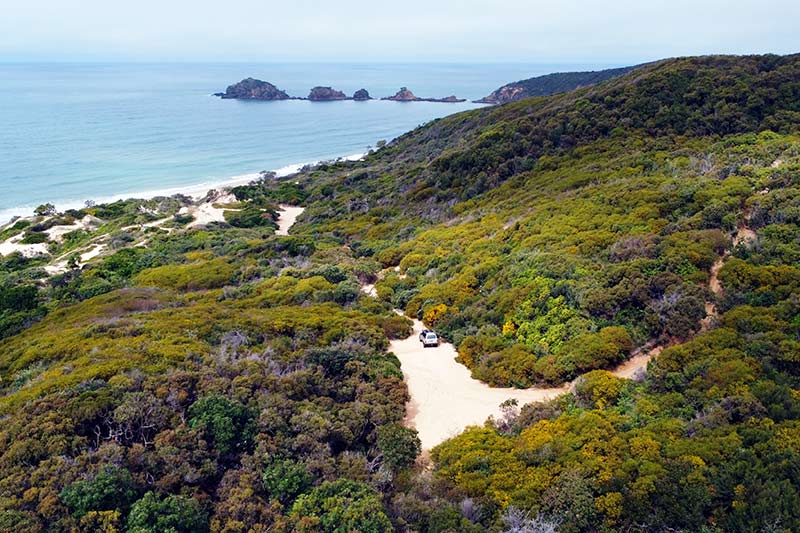 As you get closer to the coast, Big Sandy appears before you. This massive sand dune has to be attempted with respect. It's a 1km uphill run in your 4WD, and if you have the wrong tyre pressure you'll need to reverse back down and start again. This is the last major obstacle before hitting Nine Mile Beach and your designated campsite, which must be booked online before you arrive.
INCREDIBLE BEACH DRIVING
Nine Mile Beach is just that: nine miles of unbelievable beach driving. A word of caution though: there are 4m tides here, so you need to know what the water is doing at any time. There is only one way in and one way out.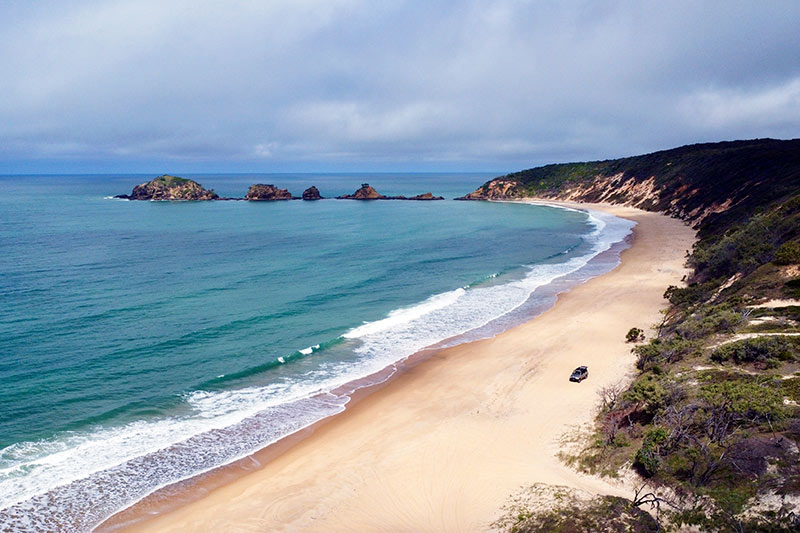 There are four campsites along the beach, each with their own special quality. Some have views of the open water, some have dune walks and, at others, you can watch the sun set behind you over the mountains. There are no toilets or fresh water available, so you need to be self-sufficient and adhere to the rules of the park.
For the adventurous, a great test of your driving skills is to head to the very northern end to Five Rocks Beach, down the Death Valley Track. Getting there is as easy as heading back off the beach, down Big Sandy and following the signs to Five Rocks.
A trip to Byfield isn't complete until you have headed to Stockyard Point, where the views are some of the best along the Queensland coastline, and westward back towards the rugged mountains overlooking Byfield.
The aptly named Death Valley Track is extremely narrow, the trees touch the roof and the sides of your 4WD, and it can be very soft and rutted after heavy use. But once you get down to the beach, it is simply stunning, with views to Five Rocks (yes, there really are five rocks) and north up the coast.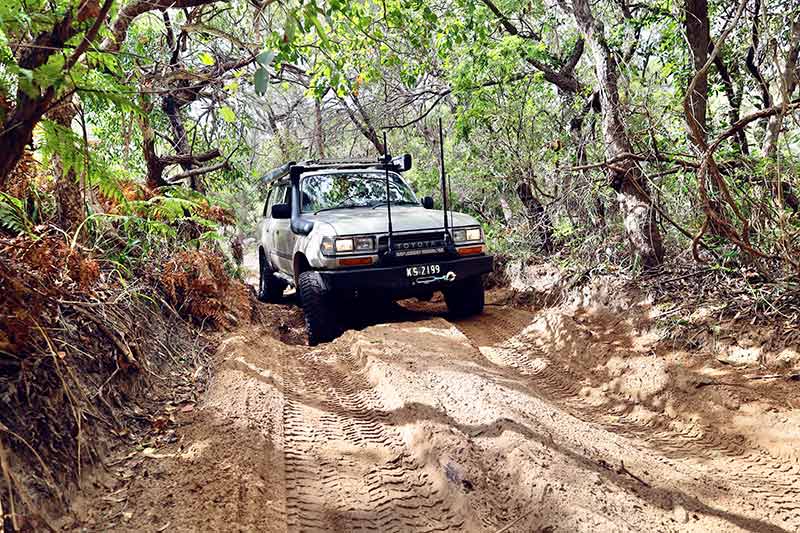 Queensland's National Parks and Wildlife Service goes to great lengths in this area, with weed control, 4WD traction ramps on significant fragile areas, and intersection numbers on tracks that criss-cross each other. Working with the local Durmbal people, NPWS maintains the park to high standards.
There is a host of walking trails, from 30-minute walks to overnight trails that have walk-in-only campsites south at Corio Bay. But this park doesn't come without danger. Being in the north Queensland region, be wary of signs that highlight these dangers. These may include crocodiles, dingoes, bullrouts, weather conditions, tides and current sand drifts. 
Any current warnings can be found online at www.npsr.qld.gov.au, at the Byfield store or by speaking to a ranger in the area. Nonetheless, this is one destination that you'll want to re-visit, as one trip is never enough.
FAST FACTS
WHERE
Byfield is an hour north of Rockhampton on Queensland's mid-north coast. There are two sections to the park, which are intersected by Byfield Road. To the west is Byfield State Forest, where controlled logging operations take place year-round in the pine plantations. To the east is Byfield National Park, which is predominantly sand-driving along coastal tracks.
CAMPING OPTIONS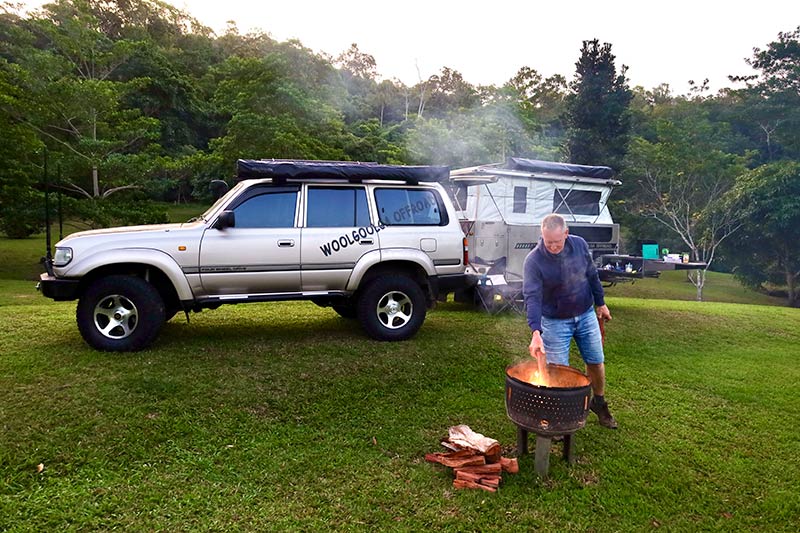 There is a plethora of campsites to choice from depending on your setup. In Byfield State Forest, there is Upper Stoney Creek campground right on Stoney Creek, which is beautiful and peaceful, plus the swimming is great in the large waterholes. Across in the national park, there's Red Rock campground in amongst large gums, while up the road at the Water Park camp, there is access to another local creek for a dip. 
If beach camping is your thing, head onto Nine Mile Beach to the allocated areas. Right in the heart of Byfield are a couple of beautiful farm stays, including Forest Fields and Ferns Hideaway.
THINGS TO SEE AND DO
Byfield is all about nature, whether it be coastal views, hiking, birdwatching or just relaxing. The 4WD tracks on the western side of Byfield Road are relatively easy through the pine plantations, but on the eastern side of the road you'll need some experience to navigate your way to the coast.
More information: www.parks.des.qld.gov.au/parks/byfield