We tested the 1800 Bunk ST by Goldstream RV to show that pop-tops can be just as kitted-out as any comparable hard-roofed caravan. Sure, there are compromises, but they're relatively minor.
I know, pop-tops aren't as easy around the campsite as a conventional caravan but let's be honest: aside from a undoing four clips and raising the roof from the inside, there isn't much setting up involved.
[If you like this article, Like the Go RV Facebook page!]
GOLDSTREAM RV 1800
The 1800 is small in stature but I reckon that's a good thing. A compact van should weigh less and, in theory, should be easier to manoeuvre at the van park. In the case of our test pop-top, both of these boxes are ticked. Weighing 1892kg Tare, it's perhaps slightly heavier than some similarly-sized pop-tops on the market but not prohibitively so. Its ATM, 2500kg, means an available payload capacity of 508kg – a realistic figure.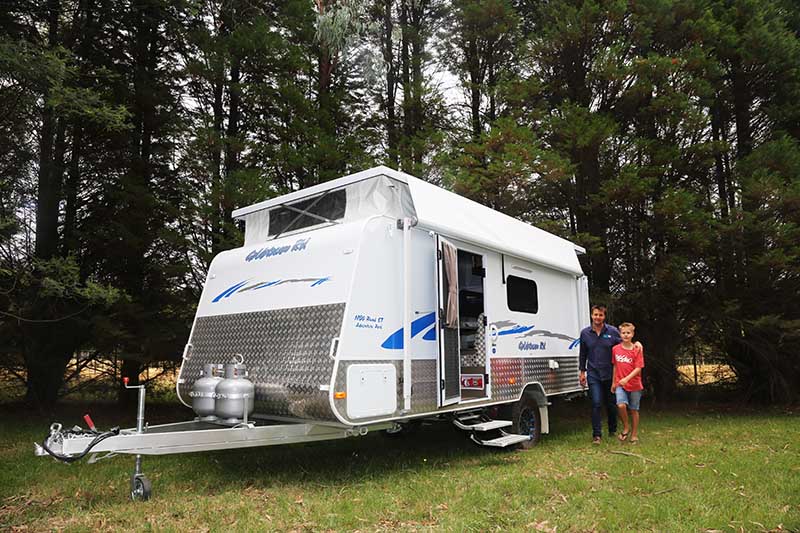 This rig was fitted with Goldstream's so-called Adventure Pack, which is comprised of Al-Ko Enduro Cross Country Suspension, an upgraded fridge/freezer (though the 190L unit fitted to this van is larger again than what you get in the Adventure Pack), an 80W solar panel, a ducted heater/air-conditioner, Dometic windows, and a reversing camera.
But what I really like about the Goldstream RV 1800, and proof that pop-tops are just as capable as any caravan, layout-wise, is the onboard bunks and combo bathroom. Who would've thought? The bathroom is made of moulded fibreglass and includes a Thetford toilet, washbasin and a variable-height shower rose, while the two bunks each get a window, reading light and 240V power point. There's even a cabinet between the bunks and bathroom – just the spot for the kids to store their gear.
BEDROOM, KITCHEN AND DINETTE
Up front, there is a small amount of storage space beneath the east-west queen-size bed. Unfortunately, the Finch ducted climate control system, Truma 14L hot water service, 100Ah deep-cycle battery and Projecta battery charger take up most of the storage space here.
The single wardrobe in the front nearside corner probably isn't quite enough space but to fit two wardrobes would probably require the van to be instead fitted with a north-south bed, which would impinge on the living space. There are, however, lockers above the bed, which should help.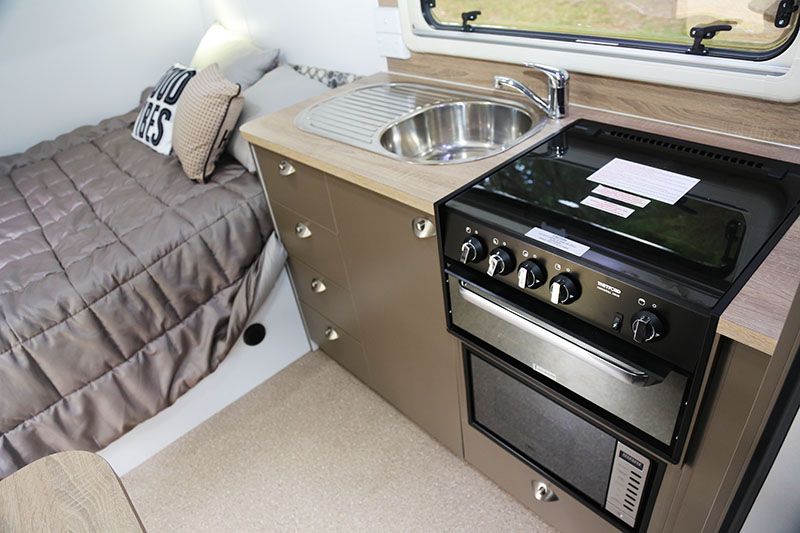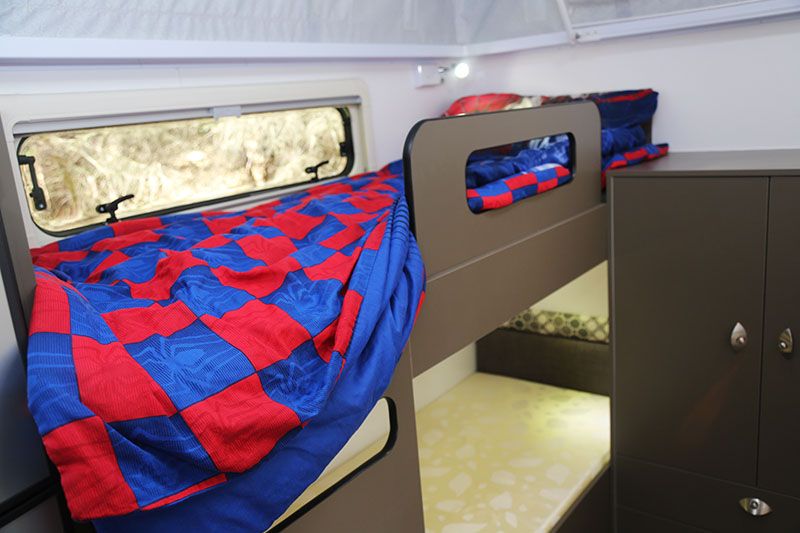 The kitchen has a Thetford Minigrill MkIII four-burner cooktop and griller, an NCE microwave, overhead lockers, cupboards, a stainless steel rangehood, and that upgraded 190L three-way fridge/freezer. The dinette opposite is good and comfy, with storage beneath accessible by a drawer.
Like most manufacturers nowadays, Goldstream uses a CNC router and edge bander to create the internal furniture. The result is a streamlined, modern-looking caravan.
CHASSIS AND SUSPENSION
The Goldstream RV 1800 Bunk ST is not an offroader. Its suspension, for a start, is designed for rough-road touring and the undulations of national parks. It's a very competent system, though.
The chassis' 4in main rails run the entire length of the caravan and are fitted with a 2in raiser for additional ground clearance.
The underside the van is tidy, with the plumbing and electrical wiring strapped out of harm's way. I appreciated the fact that the PVC (a material prone to shattering if hit hard enough by a wayward stone) is kept to a minimum, and I also liked that the electric brake wiring runs directly into the hubs – a neat presentation that also minimises the potential for damage to this vital cabling.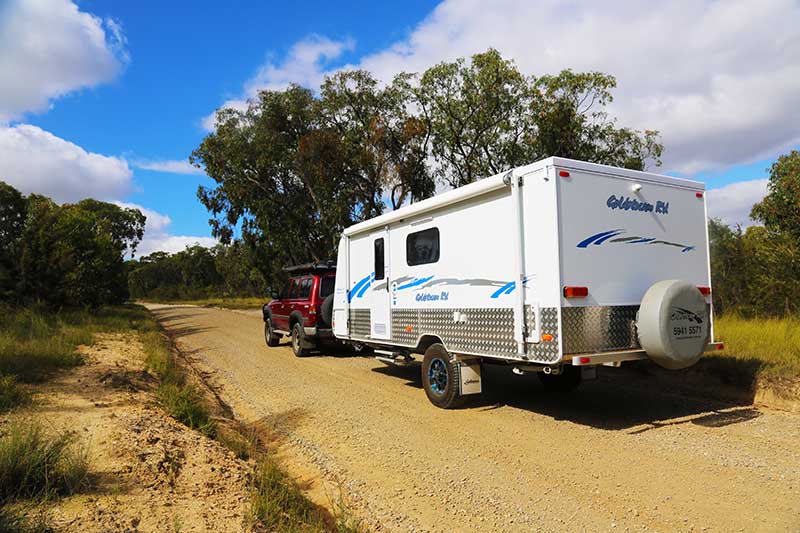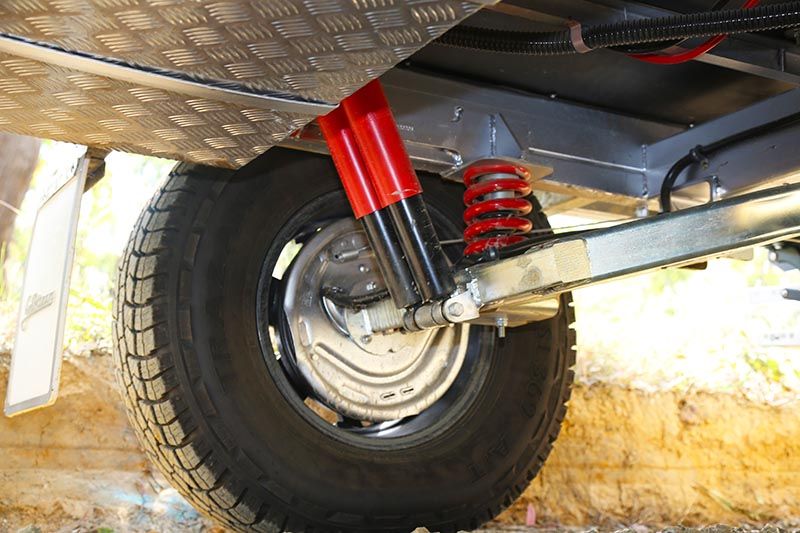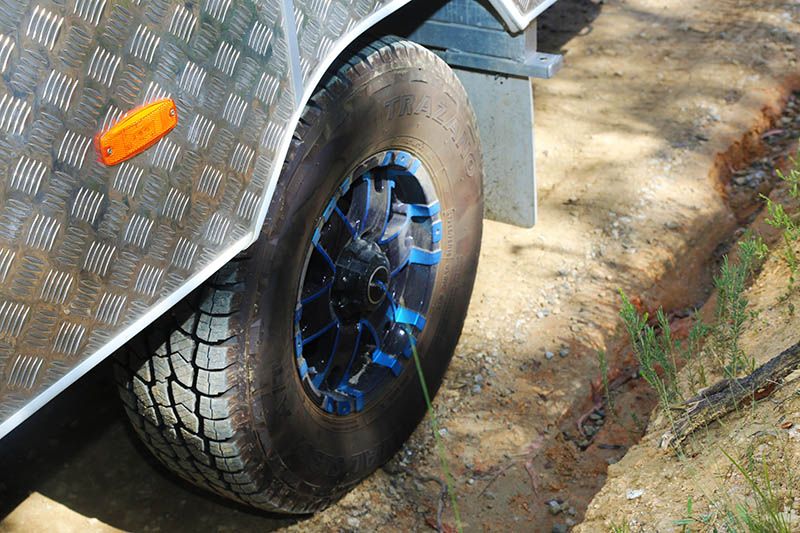 The Goldstream RV 1800 gets two 80L water tanks, each protected by checkerplate. It's enough water to keep you going for a week away from civilisation if you keep the showers to a bare minimum.
External storage isn't a highlight of this pop-top, however. In fact, it's limited to a full-width tunnel boot. I prefer a traditional front boot but, I realise, to fit one instead, or as well as, would mean adding length to the rig and coping the additional weight and cost penalties.
I wasn't overjoyed by the way the rear arm of the Dometic roll-out awning covered the access point for the toilet cassette. To empty the cassette, you'll first need to open the awning. It's by no means a deal-breaker, though.
In terms of construction, Goldstream uses traditional meranti timber that's clad with smooth composite aluminium; time-proven caravan construction.
GO RV'S VERDICT
Undoubtedly, the 1800 Bunk ST is timber-and-aluminium proof that pop-tops are viable alternatives to hard-roofed rigs. Frankly, it has more or less the same level of equipment as any other comparably-priced vans, with the added benefit of a lower towing profile and, to an extent, lighter weight.
If you think you can cope with 60 seconds of additional setting-up time, I strongly recommend considering a pop-top for your next van purchase, and can recommend the 1800 Bunk ST. It'll require a mid-range 4WD for towing duties in light of the 2500kg ATM (and 212kg unladen ball weight), but it tows well.
Give it a look.
THE SCORE
FIT AND FINISH –

LAYOUT –

INNOVATION –

HITS & MISSES