I left you last month at the Kilkivan Bush Camp and what a great week we had there. It was an informal gathering of Apex 40 members on our way to an Apex 40 'Rort' at Barmera near Bundaberg, Qld.
From Kilkivan it was just a three-hour trip to our next stop at the huge Big 4 caravan park at Bargara, opposite a lovely green park that runs right to the foreshore. 
This proved to be a week of actively, with two buses arriving at 9am every morning to pick up all 104 of us Apex 40 members for a great day of sightseeing that some days continued until late at various venues for dining and dancing.
CHILDERS
We spent nearly a whole day at Childers, Qld, a town that is most remembered these days because of the backpacker disaster some years ago when a fire in the night killed a number of backpackers and many others left with no possessions.
Our first stop was the cinema, where the owner explained how she had bought the cinema some years ago and had restored it to its former glory. The local mayor gave us a talk about the disaster and how the people of Childers had rallied round and helped the survivors.
Mickey Mouse and Donald Duck then entertained us on the big screen before we were given scones and cream, tea and coffee, before exploring the rest of the town, including a military museum packed with memorabilia.
Our group split up into smaller parties to drive out to a local winery, where the owners gave us a talk about their wines as we tasted their full range – many of us bought bottles to drink later.
MON REPOS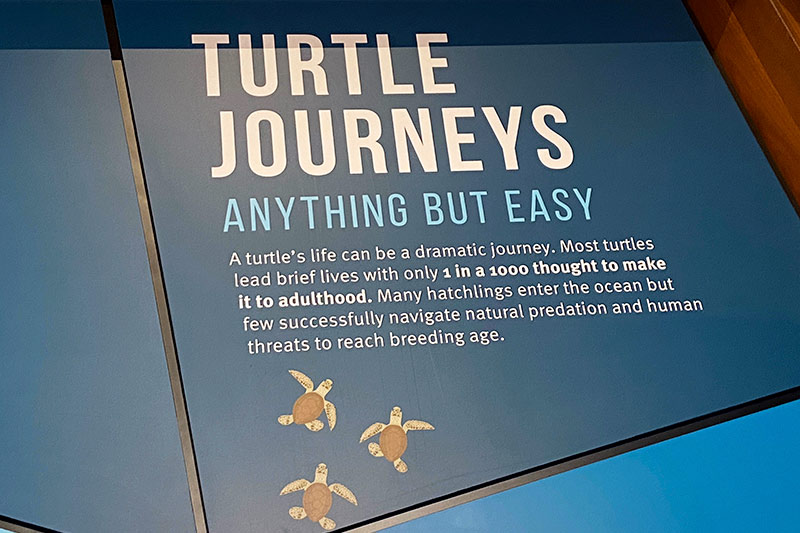 The turtle sanctuary at Mon Repose was an eye-opener. Unfortunately, it wasn't the right season to see turtles come up the beach to dig their laying hollows and lay their eggs, but there was plenty of information and videos showing the whole process.
As usual, we were split into a number of groups for our tour of the exhibits and for watching the video, and the morning ended with tea, coffee, biscuits and cakes. A great end to an interesting day.
SWEET POTATOES
Our visit to a huge sweet potato processing plant was interesting. I'm not a fan of sweet potatoes but it was an eye-opener to see the washing, grading and packaging of this popular vegetable.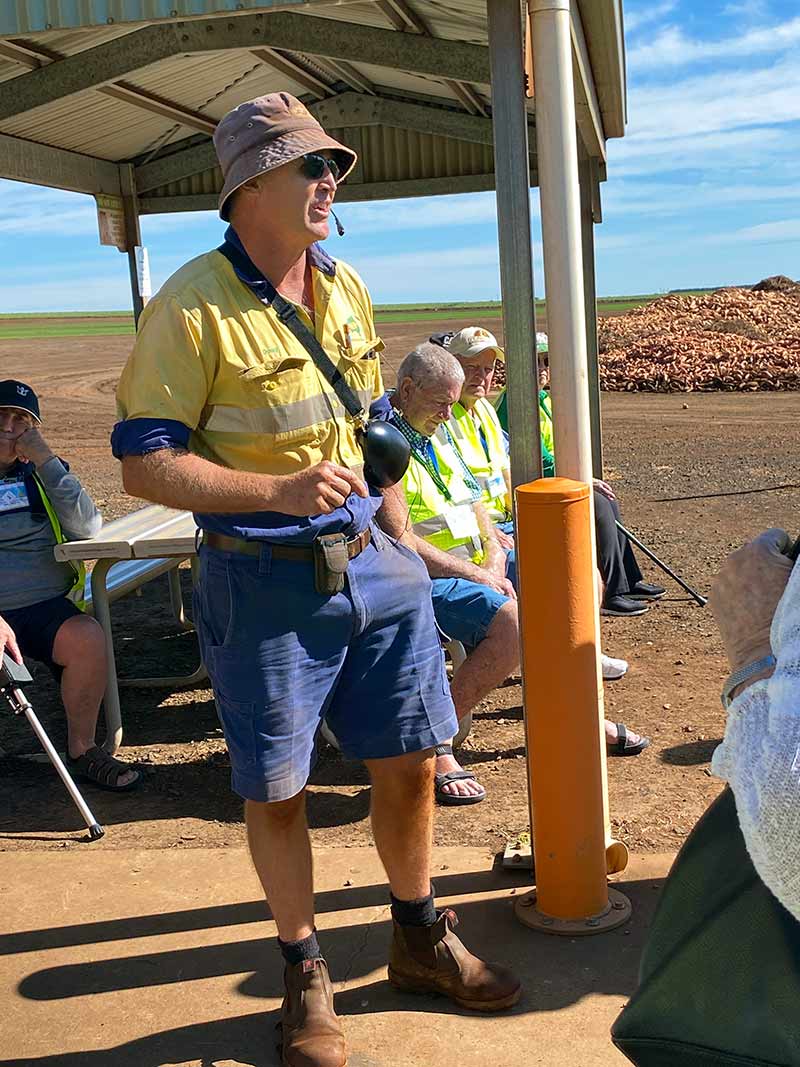 Once again we were split into smaller groups and allocated a guide who enlightened us as to what was going on. Our first talk was given outside in a perishingly cold wind and I was glad when we moved back inside the complex. A large percentage of Australia's sweet potato harvest is processed and distributed at this factory.
BUNDY RUM
The Bundaberg Rum Distillery was a popular event and once again we were divided into manageable groups. Besides visiting all the exhibits and the huge showroom/shop, we were given tastings of our choice – delicious.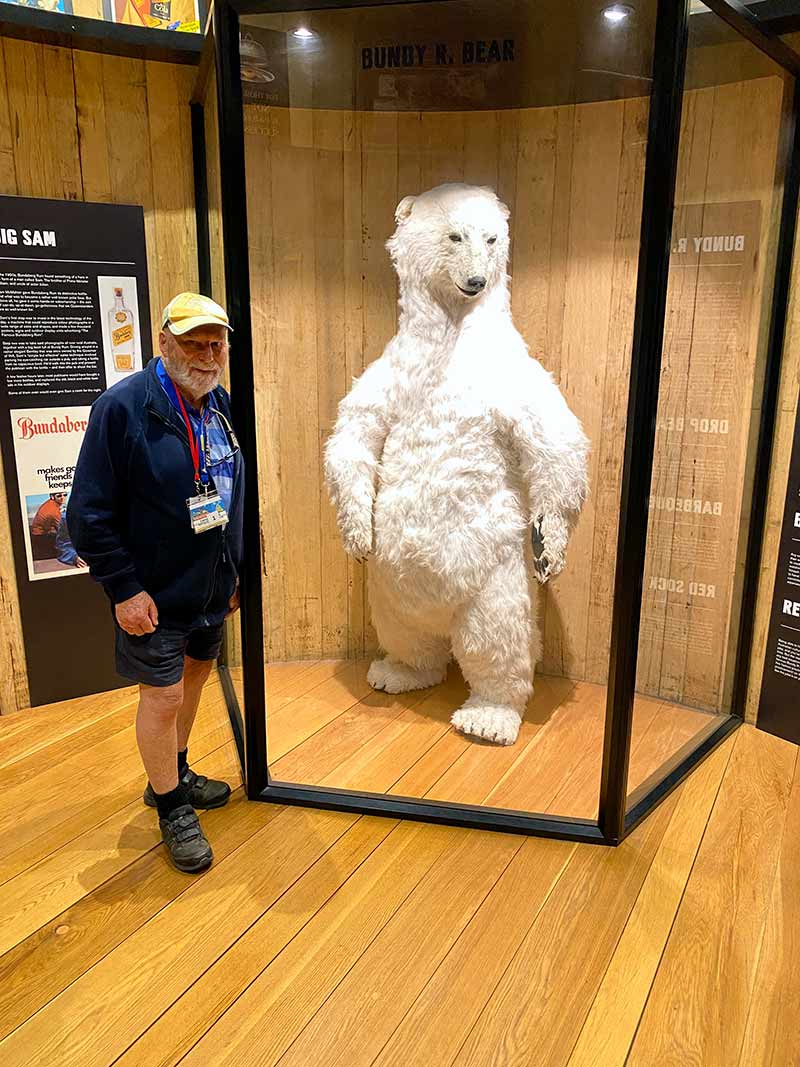 Sunday morning breakfast was served in the park near the sea and across the road from the caravan park. It was catered by the local Apex Club and bacon, eggs, beans and bread rolls was just the start as there was a selection of fruit to follow – a great job.
BACK TO TRANGIE
All good things come to an end and after a farewell barbecue in the camp kitchen it was time to hit the road again, with Yemmy's nose pointed south towards the Australian Caravan Club's Chairman's Muster back down to the Trangie Caravan Park near Dubbo, NSW.
The park was full to overflowing but it didn't faze new owner Paul and his busy family, and they still put on their traditional Thursday pizza night despite the additional crowd. They have installed a production-line pizza cooker and it did a great job rolling out the selection of pizzas – and there were even seconds served.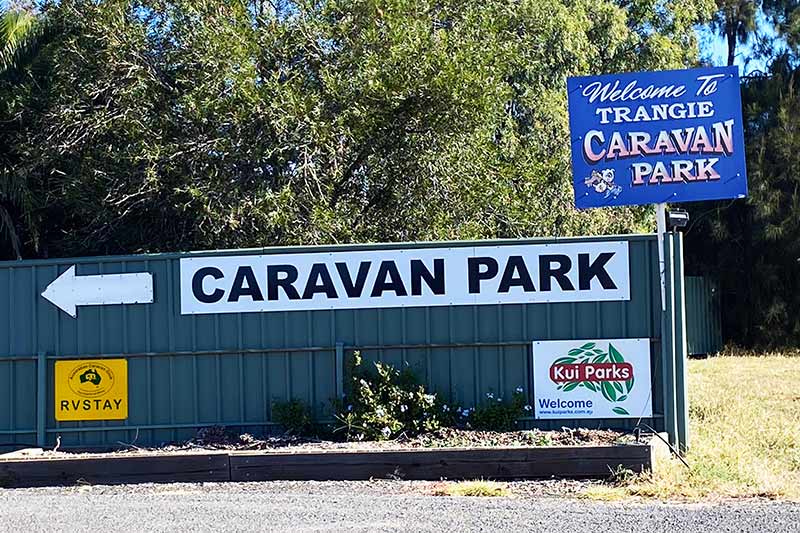 The week wasn't as busy as the Apex 40 event but there was lots to see in the surrounding areas and people chose which ones they wanted to see.
One very interesting visit was to the nearby Cotton Gin and once again we were divided into groups but this time the groups visited the gin at staggered times. We were in the first group and the wind was freezing as we waited for the tour to start.
Everything is controlled by computers in the gin but when our fourth and last group were there the system broke down.
LONE TREKKERS LUNCH
We have a Lone Trekkers group within the ACC for people travelling on their own, and at Trangie we made up nearly a quarter of the caravans there.
Twelve Trekkers went out to lunch in a lovely cafe  in Trangie one day and it was great – great food and great company.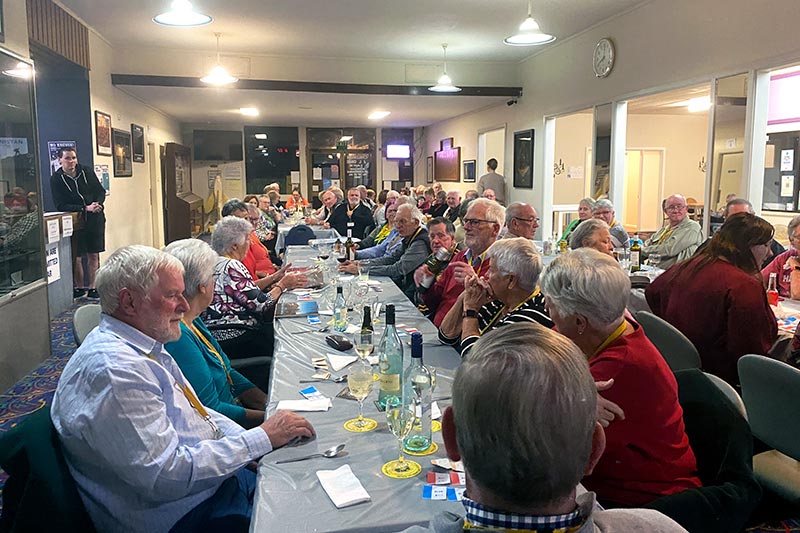 We all gathered at the Serviceman's Club for our farewell dinner. Once again a great meal and fellowship.
LAKE ELPHINSTONE
I chose a different route when I left Trangie to head back north and had Lake Elphinestone near Glenden as my transient destination. Last year the lake was dry and I just stayed one night.
This year, it had sparkling water so I stayed a few days. I parked near another Sprinter motorhome and it turned out to be Jeff, who I had met in the same place a few years ago. We clicked and spent a lot of time yarning under his awning.
I'd forgotten to fill Yemmy's water tank and was running low on water but had 20L in a jerry can and I thought I could transfer the water into my tank with a little pump that is driven by an electric drill. It didn't work – yes, Murphy again. There are no water taps at the lake except in the showers and toilets.
A passing lady had a pump that plugged into a cigarette socket and it worked a treat. I've now bought a similar pump and it works!
BOWEN TO ROLLINSTONE
After a look around Bowen, where Vi and I had enjoyed many stays, I got back on the road north.
Jeff had told me about a golf club at Rollinstone that allowed RV parking and had hot showers for just $5 a night so that's where I stayed the next night. It had a bar and it just happened to be pizza night, so I ordered a large Hawaiian pizza and could only eat half of it. Little did I know that my winter hideout at Walkamin, Qld, were having a pizza night the following day so I took my half pizza over to the shed and joined them.
WALKAMIN AT LAST
It was great to get a warm welcome when I arrived and my site near the shed is ideal. With my up and downing it had taken me more than 5000km to get here this year but it was well worth it.
There will be lots to tell you next month – but that's it for now.