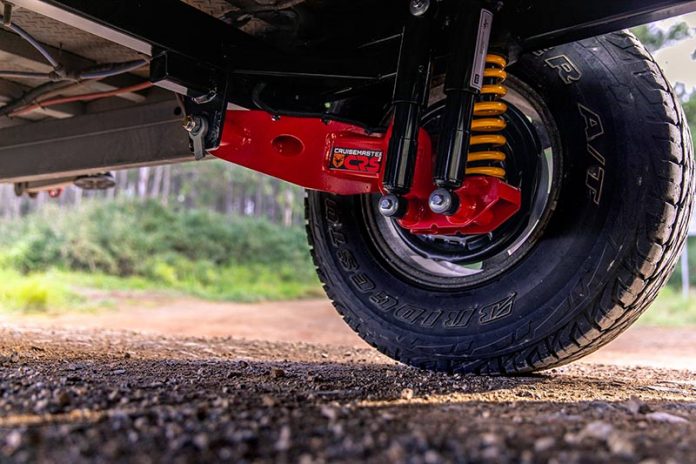 RV suspension manufacturer Cruisemaster has released a new generation CRS system, CRS2.
CRS – Country Road Suspension – was developed to cater for vanners interested in independent trailing arm suspension without the extra weight of a full offroad system.
CRS2 is the result of Cruisemaster's "continuous improvement program" and customer feedback, the company said. It was developed by Cruisemaster's inhouse engineering team.
"Over the past 12 months it has been tested both through our gruelling real world R.A.T. Run program as well as our newly developed on-site corrugation simulator," the company told GoRV.
According to Cruisemaster, key improvements include a greater load-carrying capacities, with a 2.5-tonne ATM for single-axle caravans and 3.5-tonne ATM for tandems available.
Redesigned mounting points are said to make CRS2 easier and cheaper to install, while the integrated cable management system keeps underside cabling out of harm's way.
"Part of the CRS2 redesign was to add greater protection to the arms' grease nipples. The positioning has been moved to the protected part of the arm to greatly reduce the chance of rock damage," Cruisemaster said.
CRS2 also includes a lower jacking point compared to the original CRS system. "Some real-world feedback received was around the jacking point being too high for easy use. The jacking point is now lower, increasing ease of use for the end user."
For more information, visit www.cruisemaster.com.au